The Annual NBA League Pass Rankings, Part 2
Illustration by Elias Stein
VIEWING ALERT!!!!! At 7 p.m. ET on Thursday (10/23), The Grantland Basketball Hour makes its triumphant debut on ESPN. Your hosts? Bill Simmons and Jalen Rose, who will be joined by Jeff Van Gundy, Doc Rivers, Michelle Beadle, Zach Lowe and rappers Notorious B.I.G. and Tupac Shakur. We made up only two of those guests. Watch us live, add us to your DVR season pass, do whatever you need to do. One hour of free basketball chatter, 7 p.m. Thursday, ESPN. See you there.
If you missed Part 1 of Bill and Zach's 2014-15 League Pass Rankings, as well as the convoluted but strangely effective explanation of their scoring system, CLICK HERE. Here is Part 2: the top 15 teams.
Houston Rockets
Simmons: I don't enjoy watching Dwight Howard play basketball. It's that simple.
Lowe: I still love watching him play defense. He had some "Holy shit!" defensive moments in crunch time of that Portland series.
Simmons: Great point. I will amend to "I'd rather sit through Season 1 of The Leftovers again than watch Dwight Howard play offense." But I could see them missing the playoffs for five reasons: Dwight's health (you never know), Post-Contract Ariza (in this case, we DO know), no proven bench guys whatsoever (aren't they gonna miss Linsanity, or am I crazy?), McHale's coaching (sorry, no. 32, you know I love you), and Year 2 of the whole "Dwight and James are our leaders" thing (I mean … come on). Remember, you could finish 48-34 and miss the playoffs in the West. At gunpoint, I'd pick the Rockets or Blazers to fall out if I had to pick anyone from last year's eight.
Lowe: That's bold. I get the concerns, especially with big-man depth, but it's hard to see a team with a healthy Howard-Harden combination missing the playoffs. One of Jeff Adrien and Joey Dorsey will emerge as a useful bench big, Trevor Ariza will fit in, and Terrence Jones should take another leap. The real reason they're this low on my scale: their interminable parade to the foul line, and the league's most homerific, anti-referee, anti-3-point-shot broadcast crew.
Simmons: Can we at least agree that the Rockets could finish as a top-12 team that still misses the playoffs?
Lowe: I'd say this: They're a playoff team that is one serious injury from being a lottery team. But you can say that for anyone outside the Thunder-Spurs-Clippers trio atop the West.
Simmons: For the record, I will always dislike the decision to let Chandler Parsons leave. That three-year offer sheet made him untradable? Fine. Year 1, you're not dealing him, anyway. Year 2, it's a fair number with salaries going haywire. And Year 3, the salary cap is going to be roughly $400 million per team. I'm not selling my Dork Elvis Fan Club membership or anything, but I thought he whiffed on that one. Well, unless he knows he's getting Rondo. (And he might.)
Lowe: The real killer was letting Parsons out of his deal one year early, though there's a near–100 percent chance that doing so was part of the price Houston paid for Dwight Howard. (Dan Fegan represents both players.)
Simmons: I'm going with a 100 percent chance.
Lowe: The next year is big for Houston. Parsons's megadeal would have prevented them from opening up major room this summer, but with the cap set to soar in 2016-17, they could have kept Parsons and still had max-level room in the summer of 2016. So in the summer of 2015, the salary downgrade from Parsons to Ariza could really make a difference in free agency. (It will always make a difference in the trade market, of course — even as soon as this season.)
Simmons: So unless they sign Rondo (not unrealistic), Kevin Love (unlikely), Aldridge (makes no sense for them) or Marc Gasol (ditto), suddenly they're looking at overpaying Paul Millsap, Arron Afflalo, David West, Luol Deng or Ricky Rubio or else they'll regret letting Parsons leave? I don't like their chances here — and I don't like losing assets for nothing.
Lowe: You don't think Aldridge would theoretically make sense as their Chris Bosh fallback?
Simmons: Nice, you took me off the hook with the Portland Soccer Moms!
David Sherman/NBAE via Getty Images
Minnesota T-Wolves
Lowe: This is our last certain lottery team, and they're up this high because of you.
Simmons: Why, thank you. Good news, Minnesota fans … even though you haven't made the playoffs in 10 years, you're our highest-ranked League Pass lottery team by far! Pour some skunked champagne over each other's heads!
Lowe: I ranked them 11 spots lower than you, so I'm here to be the buzzkill: This team has some exciting pieces, particularly the young dunkers, but that doesn't necessarily translate into exciting 48-minute NBA basketball games. Zach LaVine has looked overwhelmed in preseason, and Andrew Wiggins is facing stiff veteran competition for minutes — unless/until Flip Saunders The GM trades one of Corey Brewer, Chase Budinger, or (least likely) Kevin Martin. It's a lock that Cleveland and Minnesota will have calls about trading Brewer into the Keith Bogans Memorial Trade Exception.
Simmons: LaVine looking overwhelmed in the preseason was a bigger lock than me ranking the T-Wolves too high. Come on, you're not a wee bit excited to watch the T-Wolves?
Lowe: It's weird — I like watching Rubio, Thad Young, and Nikola Pekovic, and the young guys are fun. I'm just not sure the collective will be as fun as the individual parts. The court is ugly, but the top-notch broadcasting duo of Dave Benz and Jim Petersen earns points. I learn something every game.
Simmons: I'm excited to start developing a fully formed opinion of Wiggins. (Can he become this generation's T-Mac? Is he a poor man's T-Mac? Is he a bankrupt T-Mac?) I'm excited for Rubio's contract year. I'm excited for Shabazz Muhammad and Anthony Bennett being in crazy-good shape. I'm excited for every Gorgui Dieng 20-10-5 game that makes me regret trashing Minnesota's 2013 draft-day trade, but still. I'm excited for lots and lots and lots of dunks and alley-oops. I'm even excited for the whiff of post–Kevin Love Ewing Theory potential. It's just too bad they're stuck in the West.
Lowe: I can't believe I forgot about Gorgui! He's going to be fun, and Minny will at least toy with playing Dieng and Pekovic together. I'm not sure the Ewing Theory will apply, but I can tell you this: The franchise is very eager to prove it can succeed without Love. That relationship was borderline poisonous by the end.
Charlotte Hornets
Simmons: "They could trade Bismack Biyombo straight up for David West and I still don't think they're a contender." —Zach Lowe.
Lowe: Alert to sloppy news aggregators: I DID NOT SAY THIS!
Simmons: You thought it — it's the same thing. These guys intrigue me because they can play defense, they have a crunch-time guy who needs to be double-teamed, and they just slapped together one of the NBA's all-time irrational-confidence backcourts. Lance and Kemba?!?!?!? They even have an irrational-confidence owner! These guys won't back down from anyone — especially naysayers like you, Zach Lowe.
Lowe: Charlotte jumped 12 spots over last year's League Pass ranking, and it feels right. Professor Al is a joy, and Lance Stephenson upped their score in both individual appeal and unintentional-comedy potential. Toss in a solid announce team and arguably the league's best court, and the Hornets have arrived.
Simmons: My four big questions that I hope to solve while watching a little too much of them: Can Kemba become the Eastern Conference's version of Damian Lillard? Can the Vonleh-Zeller combo give them 30-35 minutes of young legs and athleticism? Can Lance be functionally crazy instead of dysfunctionally crazy? And can MKG make the leap into … I don't know, an elite defender who can't be left wide open offensively for 48 minutes a night?
Lowe: Kemba needs to shoot 3s well before we can put him in the same conversation with Lillard. MKG's remade jumper looks nice, but we have to see if it's real. I hope it is. Dude could be a better Tony Allen — an elite perimeter defender who can be hyper-aggressive and perfectly balanced at the same time. That's a hard double to pull, and he won't be able to pull it in big minutes if he's a total zero shooting the ball.
Simmons: You're souring me on Charlotte. Stop throwing facts and hard evidence at me. Just stop.
Lowe: Sorry.
N'awlins Pellies
Simmons: Anthony Davis, Anthony Davis, and Anthony Davis. Oh, and Anthony Davis. Did I forget anything?
Lowe: Monty Williams's suits! Ryan Anderson is back! I wish I enjoyed watching their perimeter players half as much as their big guys. I wish all three of Davis, Anderson, and Omer Asik could play at the same time — and Williams will likely give that at least a token early shot. But something about watching Tyreke Evans and Eric Gordon …
Simmons: Those guys definitely fail the "Would It Be Fun To Play With Him?" test. But Davis, Asik and Jrue Holiday … that's a pretty nice start. I wish we could bring Don Nelson out of his Hawaii hibernation to coach these guys. There's a legitimately entertaining style lurking somewhere in here. Let's just say that I don't trust Monty Williams to unleash it.
Lowe: I kind of trust him. He runs some funky stuff on offense, even if too much of it results in midrange jumpers. That's part of the reason it's good to have Anderson back — he really opens up their playbook. They were a solid offensive team last season, and lights-out when they had all their guys. The defense is the bigger question, though it's hard to be even below-average with Asik and Brow.
Simmons: Would you trade Nerlens Noel, Elfrid Payton and a 2015 late lottery pick for Holiday and one year of Asik? Because that's what New Orleans did. Yikes. Then again, in all caps, THIS TEAM HAS ANTHONY DAVIS ON IT! So who cares?
Lowe: There's a very strong chance those deals will end up on the bad side of the ledger in the aggregate, and they are part of the reason the Pelicans have no depth. The rising cap might help them, since they should have flexibility at some point to add another cog. Small-market teams are nervous about banking enough revenue to spend well over the cap when it gets into the $100 million range down the line, but the TV deal and a revamped revenue-sharing system should empower that sort of spending.
Claus Andersen/Getty Images
Toronto Raptors
Simmons: Infinitely more fun on the Trade Machine than League Pass. Do you realize they have $28 million worth of Johnson/Fields/Hayes/Williams/Hansbrough expirings? My God. I need to take a long shower and regroup.
Lowe: Hold on, hold on. Amir Johnson is really good! Lou Williams is the king of the 2-for-1, non–Chris Paul division. Tyler Hansbrough might be a psychopath! Their GM dropped the F-bomb at a public rally!
Simmons: Good work, I'm back in on T-Dot. You needed only 35 words to sway me.
Lowe: These guys are fun! They carry over almost the entirety of a team that was really good. Lowry-DeRozan is a legit top-five NBA backcourt, and I'm pumped for Year 3 of Jonas Valanciunas. He has issues defensively around the rim and he'll pump-fake himself into the ground on offense, but the guy can flat score on the block. Get onboard, unless you hate Canada.
Simmons: How dare you. I love Canada, I love Canada Dry, I love the Canadian national anthem, I love Canadians, I love Lorne Michaels, I love Steve Nash, I love hockey … (this could go on for 1,750 more words, so I'll stop).
America's Team
Simmons: A.k.a. the 2015 Washington Professional Basketball Team! Guys, you had me at hello. You didn't have to go and sign Paul Pierce. You had me at hello.
Lowe: I do not endorse this nickname. I do endorse John Wall fast breaks, Bradley Beal stretching his game, Nene's passing and angry dunks, everything about Marcin Gortat, and Paul Pierce already getting four guys suspended and nearly smushing poor Tom Thibodeau in a Pierce–Joakim Noah sandwich. DeJuan Blair and Kris Humphries were sneaky good signings, and Professor Miller, PhD, is still holding office hours down in the low post for all you suckas. Maybe this team should be higher?
Simmons: I think you're right. We did our rankings before we found out that America's Team wants to thug it up and embrace the spirit of the Bad Boy Pistons. It's a great idea. Maybe they can't beat Cleveland in a talent show, but they can beat them up inside, use their depth to wear them down, and maybe rattle them with the whole hard fouls/trash-talking/eyeballing routine. It just can't be forgotten how many key Cavs have never been in a seven-game war. That's their biggest issue in my opinion.
Lowe: I was just having this conversation with a front-office guy the other day. Sometimes you get so deep in the weeds, you forget about the obvious stuff: Cleveland's second- and third-best players have never been to the playoffs.
Simmons: By the way, I would have picked America's Team for the Finals if I hadn't watched Randy Wittman coach last spring, or if I hadn't seen John Wall trying (and failing) to run a half court offense against a tough defense in Round 2. They're a year away unless Bradley Beal comes back from that broken wrist and makes "The Leap." (INJURY GODS — LEAVE BRADLEY BEAL ALONE!!!!) And even then, they're a Washington pro sports team, which means they're destined to choke in the playoffs to a less talented team in the worst possible way. (Cut to Dan Steinberg and Joe House nodding sadly.)
Lowe: I thought Wittman did a nice job against Chicago in the playoffs with some X's-and-O's tweaks that worked, but yeah, the jury is still out.
Simmons: I notice you didn't mention the Indiana series.
Lowe: The only bad thing about Washington being good: No more of Steve Buckhantz, their play-by-play guy, being unable to hide his anguish during broadcasts. I loved that. "Nick Young shoots … and it's another miss."
Phoenix Suns
Lowe: We ranked them no. 30 before last season. That's one of the biggest mistakes in Grantland history.
Simmons: It's right up there with Andrew Sharp telling Mallory Rubin in our L.A. office that he hated two things in life: cats and baseball. He now lives in Washington, D.C. You don't mess with Mallory Rubin.
Lowe: To be fair, I had the 2013 Suns ranked higher than you, but we were both so, so far off. In our defense, I don't think anyone working for the Suns expected them to be so entertaining, let alone to snag 48 wins. They won't catch anyone off-guard this season, and the loss of Channing Frye's deadly pick-and-pop game will cramp their spacing. But they'll be fun as long as they run like hell with dual point guard lineups, and I'm all in on Markieff Morris as a jack-of-all-trades at power forward. Plus, Alex Len might play if he stops breaking bones in his hand. Eric Bledsoe's brutality, Goran Dragic's trickery … I love these guys.
Simmons: Ditto. I love that Jeff Hornacek basically came out and said (I'm paraphrasing), If you thought we played with a speedy pace last year, that was nothing — just wait until you see us this season. I get the feeling that the dual point guard lineup IS their offense. Dragic, Bledsoe, Isaiah Thomas, even Tyler Ennis … I could see two or three of them playing for 90 percent of these games. Three point guards at once?!?!?!? I mean, why not? It's never going to be an elite defensive team, so their offense becomes their defense — that pace they create is going to suck opponents into their breakneck vortex. Over 82 games, that's a nightmare for everyone else. Well, except LeBron and Love, Durant and Westbrook, and everyone on Golden State. I think they'll have a GREAT time in these games.
Lowe: Gerald Green's nutty heat checks are perfect for this team, though it wouldn't shock me if they traded him at some point. For now, enjoy the ride, with narration from the great Steve Albert.
Simmons: And Thomas is a potential heat checker, too! I love his 2003 Nick Van Exel/Mavericks potential for them. He should shave his head, wear no. 31 and study YouTube clips like this one.
Lowe: He might have the best hesitation dribble in the league. So fun to watch.
N.Y. Knickerbockers
Simmons: I never expected them to score this highly, but man … MSG, Carmelo (our most divisive NBA star), Phil Jackson is-he-awake-or-napping shots, Earl Smith III, Jose Calderon's offense (perpetually underrated), Jose Calderon's ghastly defense (properly rated), Derek Fisher's expensive suits, the goofy celeb shots, the Spike-Phil feud, the classic uniforms, the storied history (a history of six Finals appearances in 68 years, but still), the first-class TV production, Clyde's outfits, the MSG crowd during a big game, and, of course, the comedy of Amar'e's Expiring and Bargnani's Expiring bouncing around and roping me into yet another Trade Machine session.
Lowe: You nailed it. This team isn't very good, but everything around it is splendid or funny — or both. It's only preseason, and Amar'e is reminding everyone to stay off the unintentionally funny defense corner he and Bargnani own. And we haven't even mentioned the Mike Breen–Clyde Frazier broadcast duo, or Pablo Prigioni sneaking around for steals in the backcourt. It feels right to have the triangle back in our lives.
Simmons: And if that's not enough, Rondo might be a Knick in three months. I factored in a possible Rondo trade for my ranking: Shumpert, Amar'e's expiring, a 2018 no. 1 and one protected pick swap at some point before the year 2275 for Rondo and Gerald Wallace. CALL IT IN, ZACH! CALL IT IN RIGHT NOW!!!!!!
Lowe: It's not like the Knicks have ever traded all their good assets in exchange for a superstar they could just sign in free agency a few months later. (Wait … ) This is a new Knicks era. They've been more careful building for the future. They actually made a trade last summer in which they were the team acquiring draft picks. The Knicks! Rondo is basically the polar opposite of a triangle point guard, and that's another variable that shrinks his trade market for Boston.
Simmons: I'm always dumbfounded when NBA teams make decisions based on the "system" of some coach or GM who might not be around in three years. Doesn't it make more sense to acquire the best talent you can find, then build the right system around that talent? (Sorry, I can't let this Knicks thing go — it's Boston's best chance for a Rondo overpay. Just humor me.)
OKC Thunder
Lowe: We did these rankings before Durant broke his foot, but I can't decide if letting Westbrook run wild for 15 or 20 games might somehow make the Thunder more watchable — at least until we get tired of the Westbrook Show.
Simmons: I hate losing Durant for six to eight weeks from League Pass exactly as much as I love Westbrook saying night after night, "Don't worry, guys, I got this." Maybe it's a wash.
Lowe: We might see Westbrook crack 30 field goal attempts in one or two games.
Simmons: Or 12. In general, I'd boycott the Thunder if I didn't love watching Durant and Westbrook so much. We just watched the Thunder miss the Finals because OKC had to play a washed-up Derek Fisher, in crunch time, in its biggest playoff games. What happened this summer? They turned two 2014 first-rounders, some cap space and Kendrick Perkins's Expiring Contract into Mitch McGary, Anthony Morrow, a D-Leaguer, and Kendrick Perkins's Expiring Contract. Anthony Morrow. That was your big move, OKC???? Zach — click on this link for me.
Lowe: Umm … Wow. This just got serious. Look, using a first-round pick on Josh Huestis and sending him to the D-League would grate a bit if I were Durant. That's one potential contributor down the drain until next season. But the Thunder have a ton of unproven young guys, and they're only about $2 million below the tax line. Paying the rookie scale for Huestis and signing someone with the full midlevel would have taken them over the tax — and hard-capped them.
This is the part where you mention that they could, you know, just pay the tax.
Simmons: They could just pay the tax.
Lowe: And two years ago, they traded Harden to duck it. But with the cap and tax climbing, they would have paid it in likely only a single season. They are concerned about the roster-building restrictions that come with paying the tax, but your point is fair. Also, their TV guys have become increasingly aggressive homers as the team has gotten better and better. They have an "us against the world" tone that almost makes me uncomfortable. The court and jerseys are horrific.
Simmons: And also, they could have, you know, just paid the tax. The good news is, Clay Bennett and Aubrey McClendon will probably clear $40 million in profit this season. When is someone selling #freedurant T-shirts? I want one.
Lowe: [Backs away slowly from laptop.]
Nathaniel S. Butler/NBAE via Getty Images
Chicago Bulls
Lowe: This feels high. It feels optimistic. I'm nervous.
Simmons: It's definitely a deeper and more talented team than the 62-win Bulls from four seasons ago … but that team starred Derrick Rose when he was a 10 out of 10 on the Athletic Freak Scale. Will he ever play that fearlessly and that recklessly again? So basically … I don't know.
Lowe: I love me some Chicago Bulls defense, and the three key supplementary pieces Chicago nabbed in Pau Gasol, Nikola Mirotic (drilling off-the-dribble 3s in preseason!), and Doug McDermott could help Tom Thibodeau expand a stale playbook. But half of that playbook stays closed if Derrick Rose isn't healthy enough to dominate. Fingers crossed. Watching Thibodeau juggle the offense/defense elements of his four-man frontcourt will be fascinating.
Simmons: Here's another Eastern team that can knock the young Cavs around and get into their heads. But they also have more unanswered questions than any other contender. Can Taj Gibson jump a level? Can McDermott and Mirotic guard ANYONE? What are they getting from Rose? Was Pau on cruise control during the Lakers/D'Antoni era, or is Pau more washed-up than we realize? Can you play Pau and Noah at the same time? Intriguing — all of it. We should have ranked these guys higher.
Lowe: I think we'll see a lot of the Pau-Noah combination, and the high-post passing will definitely produce some Hoop Nerdgasms. And I might be the last guy on the Neil Funk–Stacey King corner. I find them funny, and there is some old-school broadcasting gravel in Funk's play-by-play voice. Like, I can picture him going out for whiskey with Jerry Sloan back in the day.
Simmons: I'm with you on Neil and Stacey. And don't tell anyone, but I'm secretly pumped to watch McDermott. I love anyone and everyone with 25-foot range. It's why I loved Curry so much before the 2009 draft. It's also why I got stuck holding all this Jimmer stock. You want any?
Lowe: [Backs away slowly from laptop again.]
Dallas Mavericks
Lowe: We both had them in the same spot. It feels right. Dirk is still Dirkilicious, Rick Carlisle's flow offense is gorgeous when well executed, and the front office is good at finding creative drive-and-kick guys who can execute it well.
Simmons: If Carlisle could figure out how to use Monta Freaking Ellis, he's DEFINITELY figuring out the perfect way to use Chandler Parsons. Because Houston never totally figured it out. By the way, I love that Chandler's weight goes up and down just like Chandler Bing's weight did on Friends.
Lowe: They lose some shooting and beardy zest with Jose Calderon gone, and DeJuan Blair and Shawn Marion were exactly the sort of strange square pegs who also fit the rightly shaped holes. But Brandan Wright and his giant arms are still here, and Carlisle will find cool stuff for Jae Crowder (looking beastly in preseason), Al-Farouq Aminu, and maybe even Greg Smith. Tyson Chandler's snarling dunk celebrations are the best, and he has a nice two-way synergy with Dirk.
Simmons: The whole thing sounds Dirkilicious. That's the greatest name for an NBA blog that hasn't happened yet.
The Champs
Lowe: You came to your senses! Look at San Antonio, tied for no. 4 overall — and a strong no. 6 on your ballot!
Simmons: Last year, I thought I'd be bored of them from a League Pass standpoint. Turns out it's never boring to watch offensive basketball played beautifully and brilliantly.
Lowe: There's nothing more to say about these guys, other than that we need to savor what could be the final season for both Duncan and Manu.
Simmons: And maybe our final season for Parker as an elite playmaker (very quietly, it's Year 14 for him!!!) and Boris Diaw playing at the right weight. I love watching Boris as long as he's an A-cup. My biggest question: How will they remain motivated after last season? How do you top redeeming one of the worst sports defeats ever, winning the NBA title at home AND murdering the LeBron era in Miami? There's some decent letdown potential hanging over this season. Then again, who cares?
Lowe: This whole section should really just be the Spursgasm GIF from their Game 6 win over Oklahoma City last season — the best possession of the year: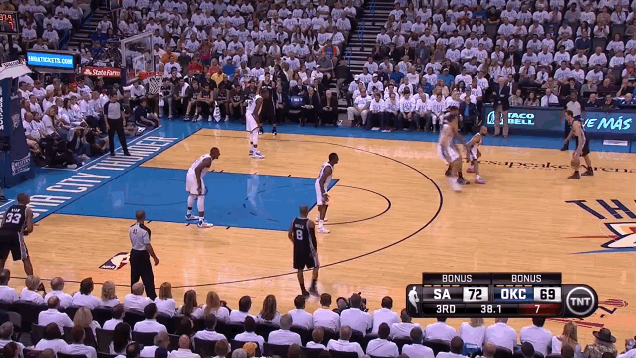 G-State Warriors
Simmons: Let's pour out a 40 for the 2013 League Pass champs.
Lowe: The king is dead, and I'm not sure why. The broadcast looks and sounds as good as ever with Jim Barnett back, Steph Curry is still a #LeaguePassAlert founding star, and Steve Kerr promises to make the most of all the passing here. Shaun Livingston brings even more of that, plus a post-up game that gives a team lacking off-the-bounce drivers another way to get the ball inside. Andrew Bogut will be up to his usual dirty tricks and expert rim protection. Did we subconsciously avoid a repeat?
Simmons: No way. They were leapfrogged by two better choices. Simple as that. They're rerunning everything we loved about last year's squad, only Livingston's versatility makes them even more entertaining (especially when they play him with Curry and Thompson). I'm semi-intrigued to follow Thompson's whole "Wait a second … you're the reason we didn't get Kevin Love???????" subplot that kicks off in late November once the Love-LeBron pairing blows everyone away. (And that's happening.)
Lowe: Klay has looked great for Team USA and in the preseason. I wrote that they should have pulled the trigger, but this has a chance to be an all-time NBA "What if … ?" Oh well — no. 3 is still damn good. This team is a must-watch.
Simmons: And we didn't even mention Steve Kerr dusting off his coaching PhD from Pop College and Phil University. I can't wait to see him improve their ball movement, argue with referees, conduct in-game interviews and try desperately to remain composed during every Curry heat check. How do we have two NBA teams more entertaining than this one?
Ethan Miller/Getty Images
L.A. Clippers
Lowe: You love these guys. You get to watch them in person a lot, which means you don't have to listen to Michael Smith's schoolgirl gushing on television.
Simmons: Plus, I sit right across from Ballmer's seats, so I can gawk at him as he's behaving like a heavier, balder Bob Sacre in real time. I put the Clips over the Warriors for three reasons. First, they feature more day-to-day dunks, alley-oops and general WHOA moments. Second, I think they're making the 2015 Finals. And third, give me in-the-moment Ballmer reactions over in-the-moment Joe Lacob reactions every day of the week and twice on Sunday.
Lowe: Yeah, this isn't rocket science. These guys have been awesome to watch since the league shipped them Chris Paul, and they became more interesting last season once Griffin seized some of the playmaking duties. And now he's stroking 3s in preseason!
Simmons: He's the best value pick for MVP at 12-to-1. I mean, you should always, always, always, ALWAYS wager on LeBron with these things. (He's even odds right now.) But if the Clippers win 60-plus games and grab a top-two seed, those Blake odds would be a helluva hedge. You don't think about these things because you're the NBA Spock, and Vulcans don't gamble.
Lowe: I used to gamble. The anxiety outweighed the rush of winning for me. I'm not sure either Blake or Paul will ever win an MVP as long as the other is around and healthy for most of the season. They are such equal partners now that it's hard to separate them. Watching how Spencer Hawes fits with Contract Year DeAndre Jordan will be fun. Doc is going to give that double-barreled center look a go.
Simmons: They better reinforce the rims at Staples to be safe.
Lowe: If you're into drinking games, try taking a drink every time Hedo Turkoglu licks his hands. Two sips when someone mauls Griffin under the rim, he reacts with that stoic stare, and all of Twitter somehow blames Griffin. Chug when Matt Barnes does something insane. And then just be ready to dial 911.
Simmons: And if you want to stay sober, then drink every time Ballmer DOESN'T have a maniacally giddy reaction to any Blake home dunk. I can't tell you how much more fun it's going to be to have a benevolently wacky billionaire owner at these Clippers home games over the Guy Who Shall Not Be Named who dressed in all black, ordered people around, cheaped out for decades, didn't care about the fans and happened to be a sullen, potbellied racist.
Cleveland Cavaliers
Lowe: You're practically giddy over David Blatt.
Simmons: I like NBA coaches who (a) try shit, and (b) give Grantland interviews. I'm that easy.
Lowe: I've said enough about these guys. They are going to be dynamite to watch. A big man like Kevin Love — someone with legit range who can pass, screen and dribble — is a dream toy for Blatt.
Simmons: And LeBron! In 11 years, LeBron played with only one elite player who made him better: Dwyane Wade in 2011 and most of 2012 before he slowly turned into Heavier, Moodier, Not-As-Good Dwyane Wade. Kevin Love will make LeBron better every single game. Remember, LeBron has never — not in his entire life — played with a great rebounder, a great outlet passer, or a great pick-and-roll forward. Never. Not ever. I can't wait to watch them. I want to upgrade my score to a perfect 50. Is it too late?
Lowe: You're short-changing Bosh as a pick-and-pop guy who gave LeBron space to work and defended his tail off in Miami.
Simmons: Bosh was a very good pick-and-pop partner for LeBron. Love could be a GREAT pick-and-pop partner for LeBron. That's my defense.
Lowe: Regardless, it will be fascinating to see how democratic the Cavs can really make their offense, how they upgrade their roster, and how Blatt manages his defense. Blatt is talking about switching up tactics depending on matchups and lineups. That kind of toggling has gone out of style. Coaches have gravitated toward "Pick one system, drill it to death and execute it." Going against the grain is risky, especially with so many younger guys who aren't good at defense.
Simmons: And what happens when Varejao gets hurt? If anyone out there thinks the Cavs are getting 100 games out of Anderson Varejao over the next eight months, I have some Pets.com stock to sell you. These guys still need a rim protector, but I think they know it.
Lowe: They get the top spot in spite of the ugliest uniform/court design combination in the league. That's how excited we are for these guys. I can hear Austin Carr cackling from 500 miles away.
Simmons: I didn't love their other offseason moves. Shawn Marion looked just about done as a playoff guy last year. Same for Ray Allen (if they get him). Mike Miller is a beloved teammate, but you might get one good playoff game per round from him. James Jones … blah. Brendan Haywood … blah. But you know which two moves I really liked? When they landed the league's best player and the league's second-best power forward.
Lowe: The cascading series of lucky breaks they needed to pull all that off, starting with the location of LeBron's birth, is legitimately unbelievable.
Simmons: One other thing — every 2015 Cavs home game is going to be appointment viewing. Even the ones against Philly and Utah. Everyone forgets how fantastic their home games were in 2009 and 2010, how much energy ripped through that building every night, and how LeBron always seemed to feed off his hometown peeps. They went 39-2 at home in 2009 with inferior talent, a clueless coach and a roster that couldn't do 40 percent of the stuff that this 2015 Cavs team can do. These LeBron 2.0 home games are going to be a borderline religious experience. I really believe that. It's just one of many reasons why they're our 2015 League Pass champs.
Filed Under: 2014-15 NBA Preview, Houston Rockets, Minnesota Timberwolves, Charlotte Hornets, New Orleans Pelicans, Toronto Raptors, Washington Wizards, Phoenix Suns, New York Knicks, Oklahoma City Thunder, Chicago Bulls, Dallas Mavericks, Golden State Warriors, Los Angeles Clippers, Cleveland Cavaliers