The Tiers of the NBA: Ranking the Teams From Top to Bottom
Scott Halleran/Getty Images
It's that time again. I hope you spent the weekend and Monday night hugging your loved ones, sipping nice wines, renting the movies that have been languishing on your personal backlog, and savoring the fleeting touch of the autumn sunshine on your skin.
The NBA is back. This season feels a bit more predictable than the last, in the macro sense. Fewer teams are straddling two possible strategic paths; almost everyone appears to have chosen at least a short-term team-building plan. There doesn't appear to be a Portland or Phoenix waiting to shock us all by blowing past its expected win total.
It's time. Here's our annual Tiers of the NBA.
Championship Contenders
San Antonio Spurs
Tim Duncan is 38, Manu Ginobili is 37, and Tony Parker is 32, and there will come a season when one or two or even three of them fall apart due to age, and it will be terrible, oh so terrible, how will the Spurs adjust, especially since Boris Diaw is fat sometimes, and the Coyote has cracked-out green eyes … oh my god, but wait, I sense something that transcends all of these anxieties and indeed transcends all time and space and physical matter — I think I feel a SPURSGASM!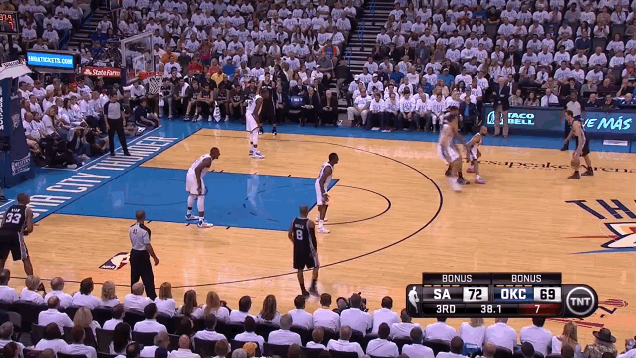 These guys enter as favorites. The only reason to slap that label upon anyone else is that San Antonio plays in the West, where it will have to navigate a three-round minefield of upset threats instead of sleepwalking into the conference finals. (By the way, at least two Western Conference teams have suggested in meetings with NBA officials that the playoffs should feature the top 16 teams by record, regardless of conference affiliation, per multiple league sources. The idea does not appear to have much traction.)
The Spurs sport the league's most polished motion offense, and the more time the full roster spends together, the more counters and reads they can add — stuff they'll be able to execute in their sleep by April. All three franchise cornerstones have already revealed their age in various ways; the system and unequaled depth have allowed San Antonio to compensate. Tiago Splitter cemented his two-way value in the playoffs with whip-smart passing and a killer combination of speed and size on defense that troubled both Dirk Nowitzki and LaMarcus Aldridge. Diaw in his second full season proved he can start when the Splitter-Duncan combination cramps the Spurs' offense.
Danny Green and Kawhi Leonard can match any starting wing combination in the league. The Spurs will never stop innovating. They will stretch one or two guys during the regular season, tweak the playbook, and experiment with lineup combinations. Gregg Popovich will rest everyone as often as it takes to get the team ready for the playoffs. This is how you resist the inevitable ravages of age.
Oklahoma City Thunder
We'll have lots more on these guys next week. The Thunder have to avoid falling too far behind while Kevin Durant recovers from a broken foot, and pray Durant makes a complete recovery with no recurrences of the fracture. There is a perception that this team has stagnated — that the current mix of players and head coach is simply not good enough to get over the hump.
There are real issues, especially with Scott Brooks, but if this team is healthy in May, it emphatically belongs in this group.
Los Angeles Clippers
The Clips by the end of last season were a mature team comfortable in their own skin on both ends of the floor. Chris Paul's injury foisted off more of the creative duties on offense on Blake Griffin, and that dash of variety helped. The Clips had the league's most prolific offense and sustained the same level of production against two very good defenses in the postseason.
They managed that despite Paul's injury, J.J. Redick experiencing a ton of health problems, and Jared Dudley's lost season. The team's projected starting lineup for this season logged just 90 minutes in the 2013-14 regular season, and the Clips mostly bricked away from deep on spot-up looks and catch-and-shoot chances, per both Synergy Sports and the NBA's SportVU player tracking data.
Redick's return should goose that number and give the Clips a secondary ball handler capable of keeping the offense moving. Matt Barnes's brutal preseason slump is worrisome, but Spencer Hawes will provide spacing that the Clips did not get from any of their rotation big men — assuming he proves last season's 3-point barrage was not an outlier. Hawes is a dynamite passer, and he should spend ample time alongside both DeAndre Jordan and Griffin.
The Clips made huge strides in Doc Rivers's first year importing an amped-up version of Tom Thibodeau's defense. They finished seventh in points allowed per possession and held steady at that level when Griffin and Jordan played together — a change from previous seasons, when those two were an uncoordinated mess.
Still: The Clips struggled against the league's best offenses. That's not atypical, but the Clips surrendered about 108 points per 100 possessions against the league's dozen best offenses — equivalent to what the Lakers' defense, third-worst in the league, gave up for the season. Getting through Kevin Durant and all the go-go wings in San Antonio, Dallas, Houston, Golden State, and Portland might prove difficult with a three-man wing rotation of Redick, Barnes, and Jamal Crawford. The Clips survived in the playoffs last season largely by scoring the hell out of the ball.
The defense should improve with another year of seasoning under Rivers, and the offense will be as lethal as ever.
Cleveland Cavaliers
I've written enough about these guys. They are going to be an offensive juggernaut, and any public soft-pedaling of expectations is baloney. They are a contender, especially given their residence in the horrid Eastern Conference, and this season is almost entirely about building an above-average defense in time for the playoffs.
AP Photo/Jeff Haynes
Invitation Is Stamped and Ready to Mail
Chicago Bulls
We learned our lesson last season: Chicago has to stand behind the velvet rope until Derrick Rose proves he is healthy.
Rose finished the preseason with a flourish, and if he can regain 85 percent of his MVP form, the Bulls will knock that velvet rope over, punch the bouncer in the face, and order drinks at the contender's bar.1 Chicago without Rose is a team of very nice second and third options who will grind you to dust on defense, and we've seen the limits of that sort of team.
Chicago ranked 28th in points per possession last season, as all those third options drained the shot clock with passes, cuts, screens, and handoffs until some unqualified sap had to create something from nothing.
Give those third options an alpha dog to break down defenses, and the picture looks very different. With Rose driving-and-kicking, Jimmy Butler will catch the ball and turn to see a few more feet of open space and a defender scampering over a longer distance to get back out to him — a defender prone to a blow-by. Mike Dunleavy will get cleaner 3s, Pau Gasol can take a second to size up a midrange jumper, and the passing lanes will be just a bit wider for all the tic-tac-toe goodness Gasol and Joakim Noah will give us.
There will be spacing issues, especially if Thibodeau is hesitant to give Nikola Mirotic big minutes alongside Rose and the other starters, but Rose in 2011-12 showed he can guide a top-10 offense even with two elbows-in clods like Noah and Carlos Boozer. The Noah–Taj Gibson front line produced surprisingly well on offense last season, and that's good, since you know Thibodeau will lean on that pair during crunch time.
The Bulls don't have a ton of two-way players, but with Gasol, Mirotic, and Doug McDermott onboard, they should be able to craft some balanced lineups.
The Western Bloodbath: Above the Fray
Golden State Warriors
The Warriors are the team outside the Spurs-Thunder-Clippers trinity with the best chance of developing the kind of two-way balance that is a prerequisite for title contention: Golden State has the defense down already; it ranked third in points allowed per possession last season; and these guys will be stingy as long as Andrew Bogut is there to wall off the rim.
The offense didn't hold up its end of the bargain, but that figures to change with a new coach and improved depth on the perimeter. Golden State finished about 11 percent of its possessions with an isolation play, the third-highest mark in the league, and famously tossed the fewest passes of any team — by a mile. As John Schuhmann pointed out, passing is not a proxy for good offense; some teams have great isolation scorers and post players and can score efficiently without aping the Spurs.
The Warriors are not one of those teams. They can go one-on-one and work the post in small doses, but given the splendid passing, killer shooting, and high basketball IQ across the roster, this should be a team that slays with motion and smarts. The Dubs didn't generate many assist opportunities relative to league average last season, but when a pass did directly set up a shot attempt, Golden State set the nets on fire, per SportVU data.2
Shaun Livingston should emerge as the backup ball handler the Warriors couldn't find last season, and new coach Steve Kerr will be more diligent about carrying one starter over to the second unit. The starting five was the best five-man unit in the league last season, but Kerr should at least think about swapping in Draymond Green for David Lee against defenses that stray off Lee to clog the lane. Green could be Golden State's version of Diaw, and Lee could still play heavy minutes running the second-unit offense from the elbows.
Regardless, this team has all the tools. It is close to being in its own tier, a step above the other teams here.
Memphis Grizzlies
The Grizz bared their teeth on defense once Marc Gasol and Tony Allen returned from injuries; only the Bulls were stingier after mid-January, per NBA.com. We know Memphis is going to make you earn it.
Scoring is the problem. This team cannot win three playoff series with a sputtering offense that hovers just below league average and doesn't have a high single-game ceiling even when things are clicking.
That could change. All the key guys are healthy, Dave Joerger and the players have a better understanding of each other after a rocky honeymoon, and the team has mercifully tethered Tayshaun Prince to the bench. Prince is the Kendrick Perkins of wing players, and the Grizz don't have the kind of superstar scorer that allows for a player like that to get heavy minutes.
The Grizz notched 108.3 points per 100 possessions when Gasol, Zach Randolph, and Mike Conley shared the floor, a mark that would have ranked in the top five overall. Their new starting lineup, with Allen and Courtney Lee on the wings, offers the best two-way potential of any group since Memphis traded for Shane Battier down the stretch of the 2011 season. Lee's shooting fluctuated wildly last season; the Grizz will need him to be a consistent off-ball threat.
Quincy Pondexter is back to nail some corner 3s, and Vince Carter figures to play a huge role as Memphis's best off-the-bounce option on the wing. The Grizz offense can get post-heavy and predictable. It might have the ingredients to tilt that equation the right way.
Memphis has depth at every position. Watch out.
AP Photo/Mark J. Terrill
The Western Bloodbath: A More Uncertain Search for Balance
Houston Rockets
No one can stand Dwight Howard and James Harden. Howard is always doing some over-rehearsed mugging for the cameras, and he annoyed 29 fan bases in his Dwightmarish journey from Orlando to L.A. to Houston.
Harden flops and flails his way to endless foul shots, doesn't bother trying on defense, and jab-steps everyone into a daze when he gets the ball.
But don't forget: These guys are both awesome. Howard had an underappreciated rebound year last season, and he's feeling better today. Harden's defense is abominable, but he has been at least semi-competent in the past, and he can absolutely be the no. 1 option on a good offense.
With Trevor Ariza onboard, the Rockets will now start three elite defenders. Ariza is a downgrade from Chandler Parsons on offense, but Houston was fourth in points per possession last season. The team ranked just 12th on the other end and could use a bit more balance in its overall profile.
These Rockets are still a piece away, especially since they gave up two valuable reserves — Omer Asik and Jeremy Lin — in their blue-balls pursuit of Chris Bosh. They may not have the flexibility to play as much small ball as they might like, and their bench is one giant question mark.
But they have the tools to add another piece, and in Year 1 of Harden and Howard, the Rockets were not far from being a top-10 team on both ends. Do not sleep on these guys.
Dallas Mavericks
Never sleep on these guys — not as long as Dirk Nowitzki is raining jumpers and Rick Carlisle is blending the league's wackiest set of players into a piece of basketball art. Dallas had the NBA's best offense after the All-Star break, and with Chandler Parsons and old friend Tyson Chandler sliding into the Shawn Marion–Samuel Dalembert starting spots, the Mavs' starting lineup is damn near unguardable.
Building a reliable defense will be hard. Marion guarded four positions, and with him gone, Chandler is now the only plus defender left among the starters — assuming he perks up after growing miserable in New York last season. The West is littered with killer wings, and the Mavs have no one in the starting lineup to guard them.
Jae Crowder and Al-Farouq Aminu bring beastly defense off the bench, and Carlisle's unusual management of Nowitzki's minutes3 ensures both will get plenty of time alongside Dirk. Aminu should also get a chance to reprise Marion's role as a backup power forward, but the Mavs might feel a little short on backup heft if they waive Greg Smith.
This is a weird team, and it may not be able to build the sort of defense required to survive three Western Conference playoff series. It's hard to build a defense around one man, and Chandler, at age 32, isn't the anchor he was during the 2011 championship run. One long-term Chandler injury and Dallas might be in the lottery.
Of course, you could say that for any team in the middle of this insane conference. Dallas is going to be a problem. Do not be surprised if it is pushing an elite team in the second round.
Portland Trail Blazers
Very similar to the Mavs, only with less depth and an offense that declined a bit after a red-hot start. Portland doesn't have one interior defender on Chandler's level, and it had perhaps the best health-related fortune of any Western Conference playoff contender last season.
You've surely heard about the stat showing that after making a 20-win leap, as the Blazers did last season, teams tend to regress the following year. Perhaps that applies here. But Portland's 33 wins from 2012-13 undersell the talent on that team; it ended the season on a 13-game losing streak after players sat out, and then stayed out, with nagging injuries. The 2014-15 iteration will benefit from wonderful roster continuity, plus at least the potential of Will Barton, C.J. McCollum, Steve Blake, and Chris Kaman beefing up the bench support.
These Blazers might never be able to build an above-average defense, even if they dive in from the wings more to contest midrange jumpers, wall off the bucket, and scrap for turnovers — tactics that Terry Stotts is preaching in preseason. But an average defense combined with a top-five offense can get you to 50 wins — and the playoffs. The Blazers might be the playoff incumbent most ripe for regression, but they've done enough to start on the good side of the ledger.
AP Photo/Mark J. Terrill
Potential Interlopers — Western Conference
Phoenix Suns
Everyone's favorite regression candidate is hoping to survive Channing Frye's departure by slotting Markieff Morris into his starting spot and banking on Anthony Tolliver and Marcus Morris to fend off the trickle-down effect at power forward.
Markieff Morris doesn't have Frye's range, but he might shoot more 3s as a starter than he did as a post-up scorer in reserve. If he catches the ball at the top of the arc with the defense scrambled, Morris can drive and dish in the mold of a skinny Diaw. He can both trail the Suns' go-go fast break and (almost) run with the three-headed point guard monster of Goran Dragic, Eric Bledsoe, and Isaiah Thomas.
The Suns have the goods to hang in again, even though they won't catch the league off-guard. They defended well with the Markieff Morris–Miles Plumlee big-man duo, they might get a full season out of Bledsoe, and Alex Len will get a shot at backup center. They'll feel Frye's loss at some point, but this is a deep team with some positional flexibility. Don't be shocked if its games 81 and 82 matter.
New Orleans Pelicans
The Pellies have the highest ceiling of this group thanks to our new overlord Anthony Davis and a starry top six that have at least a shot at meshing better than anticipated. The combination of Omer Asik and Davis should shut off the rim for a team that ranked a ghastly 26th in points allowed per possession last season, especially if Monty Williams follows Thibodeau's Team USA lead in dropping Davis back against the pick-and-roll.
But the team's offense bogged down when Davis shared the floor last season with true centers like Alexis Ajinca and Greg Stiemsma. Asik is a better pick-and-roll player than those two, but he has stone hands and his range extends no further than the length of his arm. Toss in Tyreke Evans, a non-shooter and perhaps the de facto starter at the barren small forward position, and the Pelicans might not have enough spacing in their potential starting five.
New Orleans is frighteningly punchless beyond its top six, but Williams still has a few remedies at hand. He could start Darius Miller at small forward and stick him in the corners, and then have Evans driving like a bulldozer off the bench with Ryan Anderson — a.k.a. the Grenade Launcher. Lineups featuring those two scorched earth last season, and though Anderson is a defensive liability at power forward, the basket should be a no-fly zone as long as either Davis or Asik are nearby to patrol it. Having Jrue Holiday back hounding dudes at the point of attack will be huge, and he's a good enough shooter to spot up around Evans's pick-and-rolls when they share the floor.
This is a shallow team that can't afford bad luck with health, and the two highly paid wings here — Evans and Eric Gordon — have to prove they can blend with everyone else. There are too many questions to slot these guys into the playoffs ahead of more accomplished teams, but there could be something here. There'd better be, considering all the first-round picks they've tossed away.
Denver Nuggets
The hardest team to peg — a 15-deep sprinting machine with several key guys coming off major injury, and the deadliest home-court advantage in the league. Danilo Gallinari's return would give them some small-ball versatility, but it's unclear if Brian Shaw has any interest in going that route with so many rotation bigs.
Timofey Mozgov should open at center alongside Kenneth Faried, and that is where the questions start. This was a bad defensive team last season, and it was even worse with the Faried-Mozgov front line, which became a late-season staple, per NBA.com. Faried is still learning the nuances of NBA positioning, and he's undersize. Mozgov has a reputation as a rim protector, but it has never translated over extended NBA minutes. Denver doesn't get enough defense on the perimeter to survive mistakes down low.
The Nuggets should have more shooting on the wing with Gallinari and Arron Afflalo back, and Ty Lawson is a roadrunner with the ball as long as he can play on a balky ankle. Still: They were below average on both ends last season, and there's a big jump from that level of output up toward 50 wins.
Eastern Conference: Not a Second-Round Pushover
Toronto Drakes
The Drakes were one of just two Eastern Conference teams to crack the top 10 in points both scored and allowed per possession, and they've brought back the whole band — plus two key additions.
Lou Williams provides more potency off the pine than John Salmons. James Johnson can shift between both forward positions, and he can guard the bulky Joe Johnson–type wings that eviscerated Toronto on the block last season. Both are nice spot options, but there should still be plenty of time left over for Greivis Vasquez to fill the wing alongside Kyle Lowry in those dual-point-guard lineups that hammered the league.
Lowry and DeMar DeRozan enjoyed career campaigns, but nothing about them felt unsustainable. Terrence Ross will get better as he cleans up his spacey off-ball defense, and the Raps badly need his 3-point shooting.
The swing factors are inside. The Raptors need Amir Johnson's ankles to hold up, and for Jonas Valanciunas to take a mini leap on both ends of the floor. His post game could open avenues to more efficient scoring for a team that can get a little too giddy from midrange, and he's a half-second away from being a solid rim protector on defense. That half-second can be everything in the NBA, though. Opponents shot 51.4 percent at the rim when Valanciunas was near both the shooter and the basket, a hefty number, and the Raps gave up a hair more points than normal with the Johnson-Valanciunas duo on the floor.
This team is the best bet to snag the no. 3 spot in the East …
AP Photo/Carolyn Kaster
Washington Wizards
… especially so because the Wizards are without Bradley Beal for at least the first month or so of the season. Martell Webster is also hurt, leaving a lot of minutes for Otto Porter and Glen Rice Jr. — two guys with essentially zero NBA experience. The ouchies also force Paul Pierce to play as something like a full-time small forward, and chasing around speedy wings all season will tax the old guy's legs.
The Wiz have the goods to ride this out, and they'll be dangerous once they get their full complement. Their starting lineup destroyed opponents, and though Pierce can't fly into transition corner 3s like Trevor Ariza, he can ease into different creases along the arc and create some one-on-one offense late in the shot clock.
Kris Humphries and DeJuan Blair offer more stability off the bench after the Wiz last season leaned on a Drew Gooden–Al Harrington pairing that felt like a novelty act — even when bench units featuring those guys, plus Beal and Professor Andre Miller, PhD, would go on giddy runs. A deeper big-man rotation is a must. The Wiz outscored opponents by 216 points in the 982 minutes when Nene and Marcin Gortat shared the floor and were a combined minus-112 in all other minutes, per NBA.com.
Humphries brings just enough rim protection to work as a backup center, and Pierce can slide to power forward when the Wiz need some spacing. Trade a few pull-up 2-pointers for rim attacks and catch-and-shoot jumpers, and the Wiz can craft the kind of offense that will really make them dangerous. John Wall has the skill set to engineer that kind of change.
Atlanta Hawks
The third-best team in the East before Al Horford's pectoral injury gets to reincorporate its best player into a pass-happy, triple-heavy system that the other guys mastered without him. Horford's injury allowed Atlanta to discover the power of going five-out with a Pero Antic–Paul Millsap front line.
Horford has only dabbled with a corner 3, but he is by far Atlanta's best interior defender, and he can guard power forwards if Mike Budenholzer decides to experiment with a bigger Horford-Antic frontcourt.4 The Hawks defended at a top-five rate when Horford was on the floor, and though they don't have the personnel to maintain that level for a full season, Horford can transform this team into a real threat.
He gives Atlanta a legit post-up option when the shot clock is ticking away, key for a team that has really only one perimeter player — Jeff Teague — capable of creating his own shot.
This team is good, but the uncertain ownership situation clouds everything.
Charlotte Hornets
Charlotte is a sexy pick to nab home-court advantage in the playoffs after perking up on offense in the second half of last season and stealing Lance Stephenson — a second pick-and-roll threat the team desperately needed to ease the burden on Kemba Walker.
Let's pump the brakes. Stephenson helps, but he's a below-average 3-point shooter; he passes up open looks now and then, and defenses aren't afraid to help off of him. He's an upgrade over Gerald Henderson, but he won't solve Charlotte's cloggy spacing.
Marvin Williams is a stretch as a full-time power forward. He doesn't play as big as Josh McRoberts, he's not nearly as good a passer/screener, and Utah was horrible on defense with Williams in that role. The big-man rotation behind Williams and Al Jefferson is a jumble of unknowns, though Cody Zeller came along down the stretch.
Bottom line: This team could be really good, but it has to squeeze out something like an average offense without slipping too much on the other end.
Eastern Conference Morass: Four Teams, Two Spots
Brooklyn Nets
The team most likely to vault into the above group — if its key guys can stay healthy. The Nets are boring, and they're going through an identity transformation that might have them looking more like the P.J. Carlesimo plodders from 2012-13 than Jason Kidd's turnover-forcing small-ball machine that flummoxed the league after January 1 last season.
And that's fine, provided the various lower extremities of Deron Williams and Brook Lopez remain intact. The Nets have size and enough good players to keep defenses honest and win a solid number of regular-season games. They defended well in the limited minutes that Kevin Garnett and Lopez played together last season, and Mason Plumlee emerged as a capable replacement center.
Brooklyn has decent depth, and the super-Yugo duo of Bojan Bogdanovic and Mirza Teletovic offers stretchy shooting and Kidd-era positional funkiness. Rebounding could be a major issue, but the Nets will hang around every night.
AP Photo/J Pat Carter
Miami Heat
You know you're down on the Heat when Dan Le Batard hangs up on you to end an appearance on his show. I hope they prove me wrong, but I don't buy these guys as a no-brainer top-five team in the East. They're dangerously thin after the top four of Dwyane Wade, Bosh, Luol Deng, and McRoberts, and if Wade fades again, this team doesn't have a reliable no. 1 option with the ball.
Erik Spoelstra will make up for that with spacing and passing, and Bosh can toggle between perimeter release valve and post-up centerpiece. But Bosh and Wade together couldn't keep the team afloat without LeBron. Miami was a net-negative with LeBron sitting in each of the last three seasons, and the last two non-LeBron lineups featuring both Wade and Bosh went a combined minus-14 over 249 minutes, per NBA.com.5
Miami's point guards subsisted on LeBron's passing, Chris Andersen and Danny Granger are aging, and the rest of the team is unproven. The Heat have the same defense and rebounding limitations that hurt them last season, only with their best overall defender now in Cleveland.
Miami has the chops to exceed expectations, but those initial expectations might be too high.
New York Kazoos
The Knicks ranked 24th in points allowed per possession, and they're going to give huge minutes to a bunch of defensive liabilities — especially if both Amar'e Stoudemire and Andrea Bargnani earn core rotation spots.
Iman Shumpert is the only plus defender among the perimeter core, and even he loses his head at times. But you can see something here. The Knicks have looked more coordinated on defense in the preseason, having ditched Mike Woodson's helter-skelter switcheroos for a more conservative system. Samuel Dalembert makes you think about it at the rim, and Jason Smith can work his way into being a neutral presence — while raining midrange jumpers on offense.
Charlotte proved last season that a smart scheme can hide a few weak defenders at once, but that's a hard trick to pull off with limited personnel.
It will take time to learn the triangle, and New York has to grapple, again, with Anthony's proper position. New York sports a historically great shooting point guard in Jose Calderon and enough rotation wings to mimic the killer 2012-13 team by sliding Melo to power forward and surrounding him with shooters.
But that could harm the team's defense and limit playing time for some veteran bigs who might grow ornery. Triangle teams have tended to play big — it is the triple-post offense, after all. It will take New York time to find the right balance, and the team will have to fight for the no. 8 spot if it can't construct a workable defense.
Detroit Pistons
Mostly covered here, where I predicted that Detroit would make the playoffs and rejigger its rotation in ways any coach with a pulse would have settled upon last season. The subsequent Jodie Meeks injury hurts, since it raises the specter of Josh Smith strolling into 20-footers from the small forward spot, but the Pistons have enough wings to minimize that in Kentavious Caldwell-Pope, Kyle Singler, and (gulp) Caron Butler.
Friskier Than Expected
Utah Jazz
This should not have been the worst defensive team in the league last season — even with so many young players and Tyrone Corbin turning Marvin Williams into a full-time power forward. They had size on the wing, and Derrick Favors is a bouncy young rim protector.
Everyone else had issues, especially the plodding Enes Kanter, and there were too many possessions on which Utah's players did not appear to understand what they were supposed to be doing.
Much of this will change. Everyone is a year older, and some of these guys, including Favors, Kanter, Gordon Hayward, and Alec Burks, are entering the phase of their careers in which we'd expect major growth. Rudy Gobert is ready for more time, provided he can keep his fouls down and catch the round thing that guys are throwing at him on offense.
Most of all, Quin Snyder will have these guys dialed in to concepts they can grasp. The upgrade from Corbin to Snyder might be the biggest coaching upgrade of the summer, and Snyder will loosen things up on offense with loads of 3s — even from Kanter! — and nifty ball movement. The Jazz won't hunt for a playoff berth, but they should crack 35 wins.
AP Photo/Matthew Holst
Milwaukee Bucks
It's natural to sleep on Milwaukee after a 15-win catastrophe in which just about everything went wrong. O.J. Mayo was fat, Brandon Knight got hurt in the first quarter of the first game, Ersan Ilyasova (again) failed to find his footing until it was too late, and Larry Sanders was a disaster on and off the court.
There is talent here. Sanders is an elite rim protector when he's healthy, staying off haze-inducing substances, and being polite to referees. Ilyasova and Sanders brought a complementary mix of skill sets to a legit NBA starting front line, and though Jabari Parker has to find his NBA range, the new Parker-Sanders starting duo offers similar promise. All three of Mayo, Jared Dudley, and Khris Middleton can be solid NBA wings; there's a good chance the Brandon Jennings–Knight swap will eventually be known as the Khris Middleton trade.
Giannis Antetokounmpo isn't ready to run point, but he's plenty ready to do loads of other things. Zaza Pachulia and John Henson are perfectly nice backup bigs. If all goes right, the Bucks could chase 35 wins. Seriously. If things don't all go right, the Bucks will look to unload a veteran contributor if they can nab some future assets. For a bad team, Milwaukee has a lot of intriguing trade pieces.
Orlando Magic
Giddy-up, Elfrid Payton! The Magic averaged 22.7 drives to the hoop last season, per SportVU data, but 17 of those drives evaporated with the departures of Jameer Nelson and Afflalo, and the elbow that smashed Victor Oladipo's face.
That puts a ton of pressure on Payton for a team hoping to outpace expectations and establish a road map to post-Dwight relevance. Tobias Harris might be the most dynamic off-the-bounce threat left (aside from Payton), but he's a better driver when he plays power forward and scorches slower dudes. Channing Frye is the starter there now, and he and Nikola Vucevic, freshly extended, should make for a versatile offensive pairing.
Frye's lethal pick-and-pop game should open up driving lanes for Payton, Oladipo,6 Evan Fournier, and Maurice Harkless, who got braver with the ball at the end of last season. Frye's presence might give Harris more time at small forward, where he could revive his bully post-up game against wing defenders.
This team will work its tail off, and it has the raw material for a feisty defense.
Boston Celtics
This team could bottom out by trading both Rajon Rondo and Jeff Green, but as long as those guys are playing for Brad Stevens, the Celtics will compete. When Rondo plays hard, the Celtics will be giving heavy minutes at the guard spots to three absolute pit bulls in Rondo, Avery Bradley, and Marcus Smart.
Bradley is the only plus shooter among Boston's guards, save for the biweekly Marcus Thornton eruption, but Boston made do in the preseason by using Jared Sullinger and Kelly Olynyk as bombs-away floor spacers. That's a promising formula, since Rondo can contort the ball through passing angles that no one else can see. The Sullinger-Olynyk combo lacks any rim protection, but Boston allowed just 101.9 points per 100 possessions when they played together last season — the equivalent of a top-10 mark, per NBA.com. That's only a small sample, but it's promising; both are heady players who rebound well.
Less Frisky Than Expected; Just Plain Bad
Indiana Pacers
Roy Hibbert could help the Pacers defend their way into the race for the last couple playoff spots, but the new starting wings — C.J. Miles and Rodney Stuckey — aren't world-beaters on that end, and the backup options are ugly.
The clanky Pacers had the league's worst non-Philly offense over the second half of last season, and it's hard to see how they are going to score without Paul George and Lance Stephenson. It doesn't help that George Hill, David West, and C.J. Watson are starting the season hobbled. Indy presents almost zippo off-the-dribble danger7 and doesn't have the shooting, speed, or high-level passing ability to make up for that with ball movement.
Going small with Chris Copeland or Damjan Rudez at power forward might help, but it would torpedo the defense. If that defense slips toward league average, Indy could be very, very bad. Hibbert's presence and Frank Vogel's expert coaching should help Indiana maintain a solid defense, but "solid" is a steep drop from historically great.
AP Photo/Jae C. Hong
Los Angeles Lakers
The JaVale McGee of NBA teams — more avant-garde public art project than basketball team. Byron Scott doesn't want to shoot 3s, and Kobe Bryant is morphing into the kind of profanity-spewing grizzled caricature who might actually buy into such an objectively dumb strategy as evidence of "old-school" grit.
Bryant is cursing more than a Quentin Tarantino gangster, and random supporting kooks like Nick Young, Carlos "GET DAT" Boozer, and Robert "Bob" Sacre are stealing scenes.
Disabuse yourself immediately of any notion that this team can compete for the no. 8 seed. The Lakers are going to be very bad while marking time before the next free-agency period. There's a chance this is the greatest stealth tank job of our generation.
Sacramento Kings
If these guys were in the East, you could talk yourself into a world in which they edge toward 38 wins and chase the no. 8 spot. Alas, they play in the West, and there's no real sign of a decent team lurking here.
The Kings played around .500 ball when all three of Rudy Gay, DeMarcus Cousins, and Isaiah Thomas were healthy, but Thomas is gone, and the Kings have struggled on defense for damn near a decade now. Cousins has made huge strides on that end, but he's never going to be an elite rim protector, and Mike Malone faces a huge challenge in getting these guys to play a coherent system.
Good news, though: The Kings are going to be entertaining! Owner Vivek Ranadivé has pitched the idea to the team's brain trust of playing 4-on-5 defense and leaving one player to cherry-pick, according to multiple sources familiar with the matter. The Kings aren't actually going to do that, but their D-League might, and it shows Ranadivé is committed to pushing boundaries in his search for an offbeat brand of "position-less" ball.
They'll also be active on the trade market, and I'd love to see them either move Jason Thompson or use him as a backup center. In Gay, Derrick Williams, and even Omri Casspi, the Kings have the tools to play small-ball lineups, but that will be a tiny feature of their rotation as long as Malone starts the Cousins-Thompson duo. The rising cap has renewed interest in Thompson as a bench big, according to several sources across the league.
Minnesota Timberwolves
They're on a rebuilding path, again, even if several roster pieces don't fit that long-term trajectory. The Wolves are reportedly dangling Chase Budinger already, and if they limp out of the gate, it won't surprise anyone if they shop Kevin Martin and listen to offers for Nikola Pekovic.
The Wolves appeared to chase short-term wins in swapping a nice Miami pick for Thaddeus Young in the Kevin Love deal, but this team doesn't have the juice to hang in the West. They'll struggle to space the floor, and opponents could feast on offensive boards against the Young-Pekovic front line.
Young has always been a minus rebounder at power forward, and the team's defensive rebounding has collapsed for three years running when Pekovic has played without Love, per NBA.com. Flip Saunders will experiment with a Gorgui Dieng–Pekovic combination, but they didn't play a single minute together last season, and the spacing will only get worse.
The One Team That Has Earned Its Own Category
Philadelphia 76ers
This team will be bad at basketball. Fortunately, the NBA includes 29 other teams. Let the games begin.
Filed Under: 2014-15 NBA Preview, Boston Celtics, Brooklyn Nets, New York Knicks, Philadelphia 76ers, Toronto Raptors, Chicago Bulls, Cleveland Cavaliers, Detroit Pistons, Indiana Pacers, Milwaukee Bucks, Atlanta Hawks, Miami Heat, Orlando Magic, Washington Wizards, Dallas Mavericks, Houston Rockets, Memphis Grizzlies, New Orleans Pelicans, San Antonio Spurs, Denver Nuggets, Minnesota Timberwolves, Oklahoma City Thunder, Portland Trail Blazers, Utah Jazz, Golden State Warriors, Los Angeles Clippers, Los Angeles Lakers, Phoenix Suns, Sacramento Kings, Charlotte Hornets