That Was a Goal: The Premier League Weekend in Five Goals
Glyn Kirk/AFP/Getty Images
The story of the Premier League this weekend, told in five goals. Get some.
Adel Taarabt
QPR got its much-needed first win of the season on Saturday against Fulham. They owe the three points, largely, to the performance of Moroccan attacking midfielder Adel Taarabt. After the match, new-ish QPR manager Harry Redknapp — the man charged with saving QPR from being relegated — called the Taarabt a "top, top player." He also called him a "fruitcake," and compared him to Paolo Di Canio.

If you handed Redknapp a white board and told him to sketch out something tactical on it, he'd probably draw a picture of his dog, Rosie, running on sands of the English south coast. To be fair, Rosie is a top, top dog. But if Redknapp does have a tactical philosophy, Taarabt, at his best, captures it. Redknapp's Tottenham team played like they had nothing to lose, like the game was still fun. Saturday's West London derby victory over the Cottagers was the first evidence that some of Redknapp's "fucking run around a bit" influence is rubbing off. QPR are still in a perilous position, second from bottom, with only lowly Reading below them. But being cagey and well-organized isn't going to be enough. They're going to need full points from matches against beatable teams, like Fulham. Sure, Taarabt got a lucky bounce due to Brede Hangeland's lead-footed attempt at stopping him. But maybe QPR is due for some good fortune.
Sergio Agüero
What a hockey assist from Yaya Toure. By my count, his pass to Samir Nasri froze 10 Newcastle players. Roberto Mancini can do all the tactical juggling he wants — three in the back, four up front, five in the middle, or Mario Balotelli as the lone striker up top, driving his desert camouflage Bentley around in circles outside of the penalty area (sorry, that's just something I have scribbled in my dream journal) — doesn't matter. Tackling? Let Gareth Barry tackle. Yaya Toure is too busy being a 6-foot-3 monolith who also happens to be able to pass like a psychic.
Wayne Rooney
Robin van Persie is out of his mind.
Andreas Weimann
With all due respect to Santi Cazorla (who grabbed a hat-trick against Reading on Monday), Aston Villa's Christian Benteke was the B.M.O.C. of Premier League this weekend, scoring two against a gassed (both in terms of looking out of shape, and a being little presumptuous about the caliber of their opponents) Liverpool, and leading Villa to a 3-1 victory, at Anfield. The 22-year-old Belgian international striker (born in Kinshasa) is able to play in the box, using his 6-foot-3 frame to soak up physical marking from centerbacks, or in between the final two-thirds of the field. Even keeping the latter in mind, this interplay with Andreas Weimann is outrageous, as Benteke drags Martin Skrtel completely out of the play, and then back heels him into a shame locker. Yes, you, Martin Skrtel.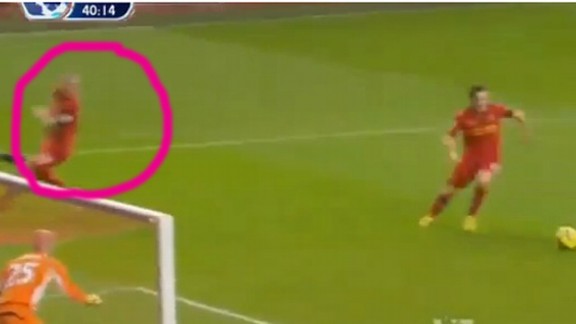 Also? Stewart Downing is probably not a fullback.
Hear that? That would be the sound of me kind of, sort of getting on the Aston Villa bandwagon. Seven goals in two games, a dedication to attacking football, relying on youth (most of the starting 11 at Anfield were in their early 20s), and a very good manager in Paul Lambert. Oh, and Randy Lerener is the owner. What could possibly go wrong?
Jan Vertonghen
I was trying to place the sound that Spurs defender Jan Vertonghen makes when striking the ball. Then I realized it: This goal sounds like Vertonghen's last name. Just listen to it: Ver-TONG-hen. This is not particularly spectacular, and this game will be remembered for Hugo Lloris's finishing move on Michu as much as anything else, but the victory put Spurs into fourth place, and if they can just get someone other than Jermain Defoe to do their finishing for them in January, they might just stay in that spot.
Filed Under: English Premier League, Manchester City, Manchester United, Soccer