Premier League Pass & Move: One-Horse Town
Laurence Griffiths
A look at this past weekend's Premier League action.
The Tortoise and the Hare
Mike L. Goodman: Ahh, the Manchester derby, where championships are won and lost, seasons decided, the fates of coaches and managers alike resting on the razor's edge. Or not. A 38-game season is deceptively long, and how a team fares against the majority of the league is much more important than how it does against its chief rival. Last year, for example, both Manchester City and Chelsea took more points off of teams in the top five (Arsenal, Chelsea, City, United, Spurs) than United did, and United walked away with the league. Spurs performed much better against elite teams than Arsenal, but Arsenal nipped them at the wire for the fourth spot. There are, in fact, 78 points available against the bottom 13 teams in the league (with Liverpool and Everton currently not quite Champions League contenders but still better than hoi polloi below them on the table). That number of points, coincidentally, would have gotten a team second place last season. United took 69 of those points last year. That's why they won the title so easily.
So far this year United have had only had two opportunities in five games to take points off of lesser opponents; they did so both times. Meanwhile, City has already lost at Cardiff City and drawn away at Stoke. Those are five points that title contenders can't afford to leave on the table. At the end of the season, if City nip United at the wire, it will be easy to remember how dominant they were on Sunday. If United take the title, though, how likely is it that we'll point to five points dropped by City on the road against mediocre teams at the start of the season?
Grudge matches like the Manchester derby are exciting because they give the impression that they are title deciders. But the team capable of the highest highs doesn't win the league; the team that's most consistent does. Judged in that way, United's doing just fine, and it's City that have fallen off the pace.
A Little Bit of Skill
Goodman: Among many great performances on Sunday, Samir Nasri stood out for Manchester City. It was only fitting that he scored the cherry-on-top goal in City's cakewalk, given that he played the hockey-assist pass in their first three goals.
For the first goal he delivered a tricky, short pass that proved to be a perfect example of why sometimes an added bit of flair isn't just showboating, but is actually a tool to gain crucial space for a teammate. Nasri held the ball on his right foot and faked a cross, which forced United's right back, Chris Smalling, to shade him to that side. The quick little flash of skill from Nasri (at 0:50) doesn't give Smalling the chance to switch onto Aleksandar Kolarov to cover for United's sleepwalking midfielder Antonio Valencia. Smalling tries, but Nasri has created the tiny pocket of space that Kolarov needs to get his cross in to Sergio Aguero's foot for an incredibly controlled volleyed finish. In the (proverbial) box score it looks like a simple pass to an overlapping run, but Nasri did a lot of very subtle work to give Kolarov the time and space to play the cross.
There wasn't anything particularly subtle about his work for goals two and three. The second score came off a well-delivered cross; not much more to it than that. The third goal came as the result of a beautiful weighted through ball. Nasri-to-Touré and Touré-to-Nasri were City's two most frequent pass combinations on the day, and as you can see, there were five or six times when Touré fed the ball to Nasri in the attacking half as Nasri moved inside from the wing.
Nasri then ran at the defense before carving United's back line open with a gorgeous pass to Alvaro Negredo, who played it across the face of goal for Aguero to finish.
The goals Nasri created did an excellent job of highlighting exactly what it is he's always done well. A through ball, a set piece delivery, and a timely bit of trickery — these are all skills nobody has ever doubted Nasri has, but ones that he is sometimes knocked for not bringing to bear often enough over the course of a season. Then again, big performances in Manchester derbies have a way of making everybody forget about consistency, at least for a little while.
All You Heard Was Hush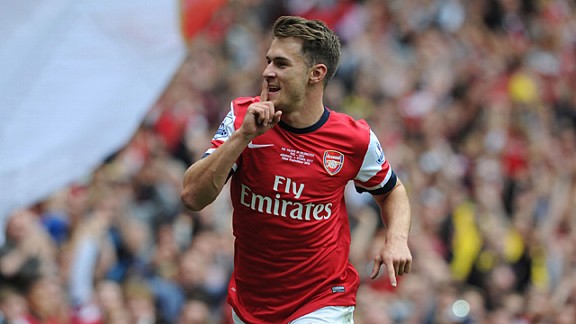 Chris Ryan: I don't know if there has ever been a more deserved "shhh" celebration than Aaron Ramsey's against Stoke on Sunday. In 2010, Ramsey suffered one of the more horrific injuries seen on a soccer pitch. He was back with Arsenal the following season, but according to Arsene Wenger, it has taken him three years to recover, mentally, from what happened that day at the Britannia Stadium.
Sunday he scored his seventh goal in all competitions (from just eight shots on target!). He peeled off after volleying in Mesut Özil's free kick deflection, ran past the cheering Arsenal fans off toward the visiting Stoke fans, and put his fingers to his lips.
Football fans do a lot of nauseating things, but Stoke supporters booing Ramsey when he has played against their team has always rubbed me the wrong way. How do you boo a guy who almost lost a leg on a football field? I admittedly pay a little too much attention to goal celebrations — whether they're over-the-top or muted — but I defy anyone, outside of Stoke, to find much of an issue with Ramsey's. If I were him I probably would've shown Stoke fans a different finger.
Free Juan Mata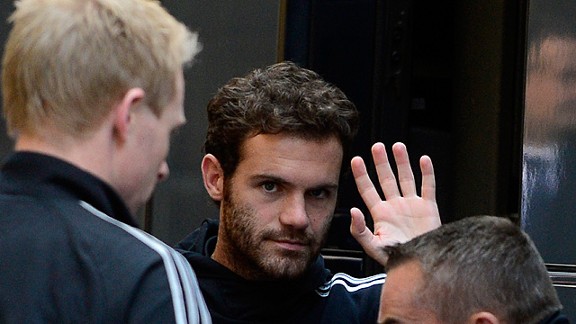 Ryan O'Hanlon: There are two universal truths in football: (1) After 90 minutes the Germans win, and (2) You want Juan Mata to be your best friend. Everybody loves Mata. Everybody except for his current Chelsea manager, that is. Unfortunately, Jose Mourinho comes from a different universe, where fun is clawing another man's eye from his skull.
Of all the mini-wizard no. 10s Spain has churned out, Mata tiki-takas the least, more often pushing the game toward a chance on goal than waiting for The Ultimate Chance on Goal. Not fast or strong or anything, really, the dude just knows where to be — and once he gets the ball, it almost always goes to where it needs to be next: into the goal or to the feet of someone who can put it into the goal. It's probably why he has done so well in England, putting together arguably the best first two years from any foreign import to the Premier League, quite clearly Chelsea's best player over the past two seasons (in which they won the Champions League and the Europa League). And it's definitely why we all love him; Johnny Kills gives me goals.
Or maybe people love Juan Mata because he looks like an inner Wayne Rooney matryoshka doll, just with hair and better skin. Or maybe they love him because he loves London. I mean, look at this Facebook album! There's Juan looking sort of pensive in a peacoat in front of the London Eye! There's Juan looking at a phone with some random guys in front of a river! There's a house with sneakers glued to it! There's Juan wondering where he'll go next!
That last one's grimly poetic-seeming, after Mata, who has only played sparingly under Mourinho, didn't even make Chelsea's bench for Saturday's win over Fulham. He's been frozen out of the team, and each game he misses seems another lost episode of Juan's Wild English Adventure. (Please don't let it be "Vacation.") It's one game less we get to see him play. And it's one game more likely he doesn't play in the World Cup or, worse, post any more photos. Is it part of Mourinho's devious plan to ruin Spain? Is Oscar actually better than him? Maybe his dog (he has to have a dog) bit Jose's cat (he has to have a cat)? Looking for answers here is foolish, though, considering neither you nor I am The Special One — but we can all agree that it's sad, which is the one thing Juan Mata never should be.
Leighton Baines Free Kicks Are Basically Penalties at This Point


(GIFs via FeintZebra.Uk)
Ryan: I don't know what's funnier: that these free kicks basically disprove the existence of physics, or that Kevin Mirallas thought there was a chance in the world he would be taking them.
Head Cases
Goodman: The second half of West Ham against Everton was an absolutely enthralling 45 minutes of soccer. Everton managed to come from behind twice, and pulled ahead through a late winner from Romelu Lukaku. Sadly, though, Everton's resilience, and the fact that they are the last remaining unbeaten team in the Premier League, shouldn't be the real story. The real story is what happened to Lukaku after he scored. At the 0:50 second mark, Lukaku took a vicious blow to the head and crumpled to the ground, where he would remain motionless for some time.
Everton were out of substitutions, and after spending roughly a minute shaking out the cobwebs on the sidelines, Lukaku reentered the game to play the last 10 minutes or so. In case you think maybe the collision wasn't as bad as it looked, in his postgame interview Lukaku said that he had no idea he had scored until the doctor told him so. Here's a 20-year-old player who suffered a blow to the head, was examined by a doctor to whom he revealed memory loss, and was allowed to continue in the game. And it wasn't even the most egregious example of disregard for brain injuries this month. While defending a cross against Manchester City, Stoke defender Robert Huth was hit in the head and clearly lost consciousness on the field. He, too, was permitted to continue playing.
The NFL has taken a lot of deserved criticism over the past few years for the way it has dealt with head injuries. Now, though, they at least have procedures in place designed to protect players and teams from themselves. The NFL's steps may have come too late, but they are still far ahead of anything that European soccer has put in place. For soccer, "knocks to the head" are still something to be gritted through and joked about the next day.
Now, football and soccer are obviously very different sports. Procedures that work in one probably won't work in the other, and each sport obviously faces very real challenges relating to protecting players while trying to minimize the fundamental changes that new measures will make to the game. But at least football has, at long last, recognized that head injuries are a real problem that must be addressed. The fact that soccer continues to willfully ignore it is shameful.
Our Fearless Leader
Graham Parker: So Paolo di Canio has gone. Seems like only yesterday he was adding 14 new twigs to the bundle of rods he'd tied together with the force-of-too-much-personality, while criticizing said twigs in public for lack of heart/brains/punctuality/ability to pass an ice-cold Coke. And now just six months into his reign, Sunderland's sawdust Caesar is gone, after one final hapless stand against the boinging partisans and ultimately his own troops.
Di Canio's final words as Sunderland manager came in a a press conference in which the great leader declared that his players needed "to release the rubbish from their brains." A day later, he was released from his duties. He'd lasted only 13 games.
A lot has been said about the fascist ideology with which Di Canio may or may not have a fantastically nuanced fascination, but the focus on that phenomenon ensured that from the day of his arrival to the ignominy of his departure, the club had the air of a dark cartoon about it — the coach's serious initiatives regarding fitness and professionalism were always offset by bizarre and rambling pronouncements from a man in thrall to his own force of will.
As time progressed, Di Canio seemed to have failed to heed the fate of the first manager to briefly work under club chairman Ellis Short. Like Roy Keane, Di Canio relied on autocratic authority based on his reputation as a great player. And also like Keane, there's a strong suggestion with Di Canio that he may be headed for a short-lived coaching career of ever-shorter auspicious beginnings, as the heady fumes of his playing reputation drift away quicker each time. Without that aura, you have an isolated man vulnerable to the same results he claims to inspire — one season's legend-making Newcastle win turning out to be worth less than the next season's West Brom embarrassment, say.
As for who replaces him, the smart money is on Good Di (Matteo) following Bad Di (Canio), but given the PR shambles his appointment caused among the solid union men and women in Sunderland's fan base, I believe I actually answered this question on Twitter on Saturday, when he was still manager, and all of U.S. Soccer social media seemed to be in fits of anxiety about the potential fate of Jozy Altidore under the Italian:
Sunderland's next coach, the embalmed corpse of Lenin, will get the best out of Jozy.

— Graham Parker (@KidWeil) September 21, 2013
Couldn't be worse than Alex McLeish.
Filed Under: Chelsea, Chris Ryan, English Premier League, Graham Parker, Manchester City, Manchester United, Premier League, Soccer