Picking the Perfect Bracket: West Region
AP Photo/John Bazemore
Over the next two days, we'll be going region by region, helping you pick your Bracket all the way from the First Four to the Final Four. Earlier, we picked the Midwest Region. Now, the West.
The Junior Varsity Bracket
If you're an Ohio State Buckeye fan, rejoice. Not only is your team very good, and not only is it peaking at the perfect moment, but it won the damn tournament lottery by ending up in a region where Gonzaga is the no. 1 seed and New Mexico is the no. 3. Take a moment to really digest that. Actually, I'll do you one better — tell me which of these 1-seeds you'd rather face: Louisville, Kansas, or Indiana? How about the other 3-seeds in the field: Marquette, Florida, or Michigan State? No? None of them? You'll stay put? The fact is, even the most pessimistic Buckeye fans have to be smiling right now, because the obstacles on the path to the Final Four look like mere pebbles.
And by the way, Ohio State got the cushiest 2-seed by virtue of … being the worst 2-seed. By the selection committee's own #@$*ing rankings! Let's take yet another moment to applaud those fine folks for whatever it is they do.
[Click to Enlarge]
FIRST FOUR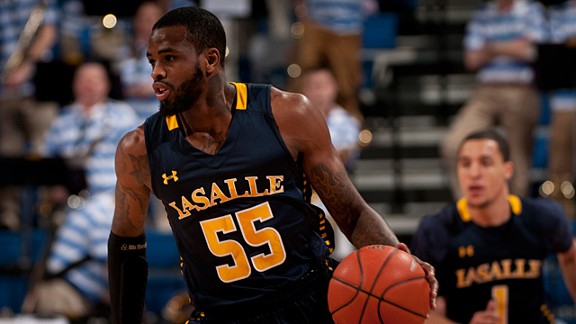 (13) Boise State vs. (13) La Salle
Analysis: Like most good Americans, I hate the First Four, but I have to admit this game holds a special appeal: It's a perfect contest of strength between the Mountain West and Atlantic 10. For some reason, it seems like the entire country is really, really high on the Mountain West. How else can you explain a team like Boise State making it? Sure, the Broncos beat Creighton on the road, but that win looks less impressive all the time; they also lost by four points at Michigan State, but the only other notable nonconference game was a 21-point loss at Utah. Follow that campaign with a 9-7 Mountain West record, and you're not left with an impressive résumé. But you could say the same thing about La Salle, I suppose; a few good A-10 wins, an early win over Villanova, a run at the Big Five Philly city title, and not much else. This could be an early indication of what to expect from each conference. I happen to believe the A-10 is great, and that La Salle's regular-season wins over Butler and VCU mean more than Boise's over Colorado State and UNLV. And I happen to believe the Mountain West is about to repeat last year's fizzle-out.
Winner: La Salle
ROUND OF 64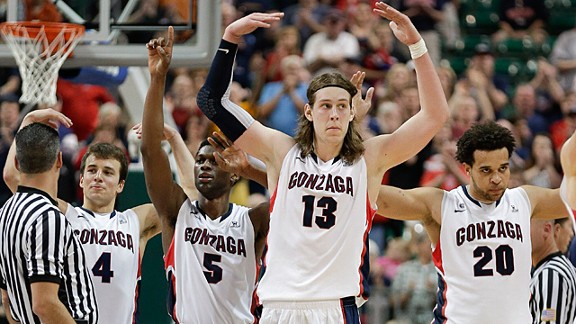 (1) Gonzaga vs. (16) Southern University
Analysis: If you're the kind of person who always makes legitimate picks without going upset crazy, and yet you manage to nail the first time a 16-seed ever beat a 1-seed, you'll have bragging rights for life. It would be incredible. And you can only attempt to pick the king of all upsets once. Try it again, and your credibility is gone. So temping … but I'm not completely stupid. Just sort of dumb.
Winner: Gonzaga
(8) Pittsburgh vs. (9) Wichita State
Analysis: A dead ringer for Cincinnati vs. Creighton in the Midwest Region. Do you take the elite Big East defense or the untested Missouri Valley Conference team? All Wichita State has done is beat Iowa on a neutral floor, and, yes, somehow win in Richmond against VCU in the second game of the season. (Admittedly, I have trouble reconciling this result with my pro-VCU worldview; my excuse is that it was really, really early.) Pittsburgh has been in the grinder all season, beating teams like Syracuse and Georgetown and nearly upsetting Louisville on the road. Easy game to call.
Winner: Pittsburgh
(5) Wisconsin vs. (12) Ole Miss
Analysis: I love this game. If you believe, as I do, that Wisconsin coach Bo Ryan enjoys stamping out rogue strains of individuality by breaking free spirits wherever he can find them, then you know he's licking his chops for the Marshall Henderson showdown. Henderson is the Ole Miss madman who screams and taunts and punks his way through every game. He's the polar opposite of the Badgers; or, as Grantland's Mark Titus calls them, the Buzzcuts. And these Buzzcuts are good. The Badgers have become one of the most efficient defensive teams in the country while maneuvering on offense with their typical snail's pace. With a team of upperclassmen like Jared Berggren and Ben Brust and Mike Bruesewitz (do people in Madison call these guys the Killer Bs? If not, they should …) and a coach like Ryan, this is "team discipline" taken to an absurd extreme. I'm convinced Bruesewitz wears his hair in red curls to disguise the fact that he and the rest of the Badgers are robots. Playing in the SEC — hell, even winning the SEC — does not prepare you for this machine-like style.
Winner: Wisconsin
(4) Kansas State vs. (13) La Salle
Analysis: Kansas State has seven losses, and all of them are to tournament teams (Gonzaga, Michigan, Iowa State, Oklahoma State, Kansas thrice). Only one of those games — a four-point loss to the Jayhawks — came at home. Only one of those teams — Iowa State — is seeded lower than fifth in this year's tournament. That's an excellent résumé for a 4-seed. Rodney McGruder and Angel Rodriguez should have no trouble scoring against La Salle's perimeter, but the real trouble spot for the Explorers is the fact that Kansas State is one of the best offensive rebounding teams in the country. That means Bruce Weber's team will probably have a few second chances (assuming they even need them). And speaking of Bruce, don't you think it must be nice for the Wildcat players to be free of Crazy Frank Martin? They must feel so free, like the kids from Dead Poets Society standing on their desks.
Winner: Kansas State
(6) Arizona vs. (11) Belmont
Analysis: When Sean Miller has decent teams, he tends to make some headway in the tournament. And that's just what this Arizona group is — decent. Not as great as we thought after the home win against Florida, and not so good that the Wildcats could ever contain UCLA's high-powered offense in three tries. But decent. A lot of people are picking Belmont to pull off the upset, but I get the feeling that those people know more about Arizona than they do about Belmont, and are trying to find a team to fulfill their anti-Zona bias. The problem is that though the Bruins shoot really, really well from 2-point range — like, best-in-the-nation well — none of the starters or prominent bench players stand above 6-foot-7. That might be fine in an Ohio Valley rivalry game with Murray State, but Arizona has three competent freshmen over 6-8, a scoring swingman in senior Solomon Hill, and two guards averaging double-digits to go along with them. Essentially, Arizona has no reason to respect Belmont's interior game, and can work on stifling the 22 3s per game the Bruins attempt. Scoring won't come easy, even with Arizona's relatively weak perimeter defense, and the Cats will advance.
Winner: Arizona
(3) New Mexico vs. (14) Harvard
Analysis: Mountain West aside, I have a lot of respect for New Mexico. Steve Alford's team is the classic example of why it's usually stupid to judge teams by conference (though I'm guilty of it myself). There's no reason why teams from the same league have to share similar DNA, and even though San Diego State, Colorado State, and UNLV will inevitably burn out, New Mexico might have a different fate in store. Where conference affiliation does come into play, I think, is in the quality of the opponents you face and how that prepares you for March. New Mexico will be in trouble against an elite defense, because it hasn't seen one since at least December (count me as one who thinks UNLV and San Diego State's out-of-conference results discredit the high defensive ratings they've amassed since January), but I'm not stupid enough to believe that Harvard has a chance.
True fact about Harvard: The team's point guard is called the "coxswain," because they're preppy Ivy League snobby rower snobs. (Sorry, this is my only chance as a Duke fan to deflect the hate to someone else.)
Winner: New Mexico
(7) Notre Dame vs. (10) Iowa State
Analysis: The Irish are 12-8 in their last 20 games, which sounds worse than it actually is; we're talking about the Big East here. Their slow, plodding pace, combined with a defense that keeps teams off the line, should frustrate Iowa State. But it could also keep them in the game. Factor in Iowa State's efficient, balanced offense, with six players averaging more than nine points per game, and you've got a team built to endure Notre Dame's torpidity.
Winner: Iowa State
(2) Ohio State vs. (15) Iona
Analysis: Not needed. Here's a funny video with a dog.
Winner: Ohio State
ROUND OF 32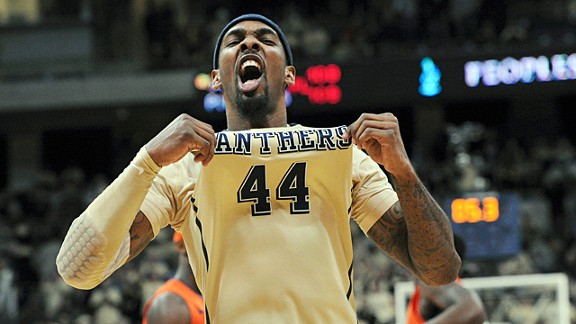 (1) Gonzaga vs. (8) Pittsburgh
Analysis: Here it is. Every single year, there's an 8-versus-1 game that everybody loves. Call it the Temptress 32. Pittsburgh over Gonzaga is the Temptress 32 game. You've heard all the reasons. Pittsburgh has incredible metrics — Ken Pomeroy has them as the seventh-best team in the country — that show a remarkably efficient team on both sides of the ball. Moreover, they show a team that has underachieved with a 12-6 conference record. But wait — that conference is the Big Friggin' East. Of course they've underachieved; nobody lives up to their metrics in the Big East. And yeah, Gonzaga's offense is great, but Butler held the Zags in check, and Butler is like a poor man's Pittsburgh; not quite as strong, not quite as slow. And unlike Butler, Mark Few will only have a day to prepare for the Panthers. Plus, Pitt is great on the road, so it won't matter that the game is in Salt Lake City. And ask yourself — what do we really know about Gonzaga? That they beat a couple Big 12 teams in December before winning a lot of West Coast Conference games? Are they really ready for this?
Winner: Pittsburgh. I may be a fool, but I've been seduced by the Temptress 32.
(4) Kansas State vs. (5) Wisconsin
Analysis: You know how Wisconsin is always better than everyone thought in the regular season, and then it has a tough tournament game that includes a 10-minute spell without a field goal and you go, "Oh, yeah. That's why they're Wisconsin."?
Winner: Kansas State
(3) New Mexico vs. (6) Arizona
Analysis: Arizona is going to lose to an elite team, and the question you have to ask is "Do you believe New Mexico is elite?" I believe the Lobos are semi-elite, and I believe that their height and defensive strength will keep Arizona from doing too much damage offensively. Kendall Williams is a natural scorer, and Jordan Adams's Pac-12 semifinal performance shows what a natural scorer can do against Zona's weak perimeter defense. New Mexico's Mountain West brethren will be down for the count by this point, but the Lobos march on.
Winner: New Mexico
(2) Ohio State vs. (10) Iowa State
Analysis: The Cyclones are an offense-first team, which is unfortunate against a top-10 defense. Ohio State can be beat when you shut down Deshaun Thomas and exploit the limits of its other offensive options, but Iowa State isn't the team to make it happen. The Cyclones' own balanced attack might help a little, but unless Aaron Craft gets in early foul trouble, Korie Lucious's ability to run the offense will be seriously compromised.
Winner: Ohio State (I'm probably going to hell, but that picture cracks me up.)
SWEET 16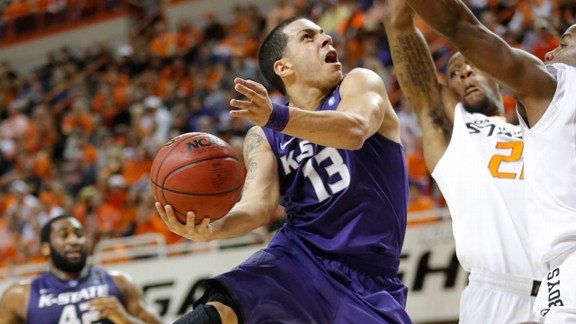 (8) Pittsburgh vs. (4) Kansas State
Analysis: Remember when Butler stunned Kansas State, 63-56, in the 2010 Elite Eight? That's the same kind of game I'm expecting here, and it's interesting to me that Martavious Irving and McGruder, freshmen at the time, both played in that matchup. That feeds into something I'd already considered; the Wildcats will be ready. Certainly more so than Pittsburgh, a team whose upperclassmen have only won two NCAA tournament games. Usually the rule of "go with the better defensive team" would apply here, but the Wildcats have been building their team for a few years, and Pitt will be in serious letdown mode after beating Gonzaga.
Winner: Kansas State. Just be advised this is a gut call.
(2) Ohio State vs. (3) New Mexico
Analysis: This is where the ride ends for New Mexico, and it's purely a function of the fact that while Ohio State has been honing its Craft (HAHHHH SO FUNNY) all year in a succession of Big Ten battles, New Mexico has been grinding out slim victories against Mountain West teams of questionable quality. The knock on Alford's New Mexico team is that though they do everything well, they can't seem to put a team away. That's not going to fly against a squad with Big Ten and Final Four chops like Ohio State. The Buckeyes have the experience to be fearless.
Winner: Ohio State
ELITE EIGHT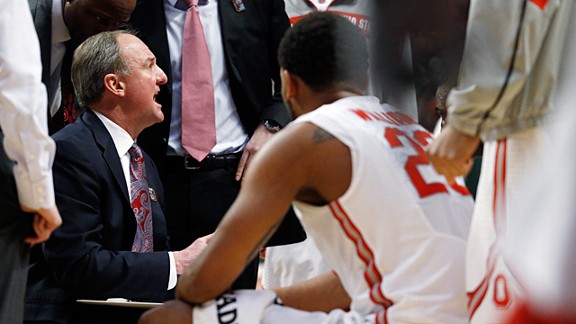 (2) Ohio State vs. (4) Kansas State
Analysis: The Buckeyes will win because they've been there. They have more talent, better defense, and a better tournament coach. It's going to be exciting watching the top half of this bracket play out, but the truth is that the committee put the whole region on a tee for Ohio State. With the leadership of Craft and Thomas and Lenzelle Smith Jr., and the continued improvement of role players like LaQuinton Ross, Shannon Scott, and Sam Thompson, net-cutting season is just two weeks away for the Buckeyes. So if you know any nets, tell them to keep away from Ohio State players for the next month; those dudes are trouble.
Region Winner: Ohio State
Filed Under: College Basketball, March Madness, Shane Ryan