Overrated or Underrated: 2012 in Sports
Oli Scarff/Getty Images
It was a year that provided plenty of personalities, story lines, and moments, but the question is, which of those moments got their due and which did not? Could LeBron James actually be underrated? Could the Olympics? They just might be.
Underrated: LeBron James's Game 4 of the Eastern Conference semifinals at Indiana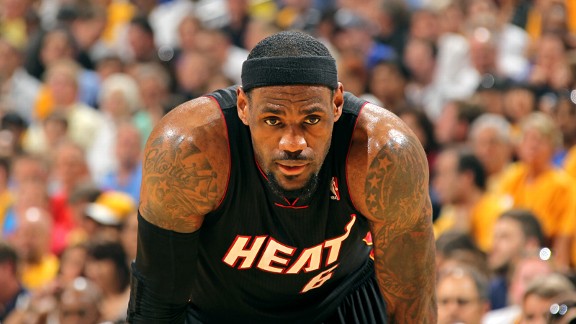 Everyone remembers the 45-point evisceration of Boston on the road in an elimination game, and the ultra-efficient inside-out torching of the Thunder in the Finals. But Game 4 against the Pacers has sort of gotten lost in the shuffle, which can happen, I guess, when a game kicks off one of the greatest 15-game stretches in the entire history of a sport. Miami felt like it was on the verge of a franchise-altering crisis going into Game 4, down 2-1 to a feisty Indiana team and missing Chris Bosh. Dwyane Wade had shot 2-of-13 and snapped at Erik Spoelstra during a Game 3 blowout loss. It wasn't an elimination game, but in that moment it was hard to imagine Miami coming back from a 3-1 deficit against a Pacers club that clearly didn't fear them.
And when Miami fell behind by 10 points in the first half of Game 4, looking a bit listless, it was tempting to start thinking about the consequences of a conference semifinals loss. Would they make a panic trade of one of the stars? Would they conclude James and Wade just couldn't coexist well enough to win a title? Would they fire Spoelstra before his extension — which was signed before the season — even kicked in?
Then LeBron and Wade went absolutely bananas, scoring 38 straight points for Miami in a second-half stretch for the ages. It wasn't just the production; it was the way it looked. Both were cutting actively off the ball and feeding each other for the sorts of semi-improv scores we all envisioned when they teamed up. Spoelstra began leaning on sets in which Miami cleared one side of the floor for LeBron and letting James go to work. He was dominant in those sets, which were rarely a major part of Miami's offense before, and they morphed into post-ups as the playoffs wore on — the post-ups for which Oklahoma City had no answer. It all just came together, at a startling speed. James finished with 40 points, 18 rebounds, and nine assists, numbers that no other player has ever put up in a postseason game since the mid-1980s. He hit post-up shots, jumpers, graceful floaters over Roy Hibbert in the lane — shots he just didn't quite have down even two or three seasons before. It was masterful, and the Heat needed every bit of it.
— Zach Lowe

Overrated: The Criticism of Russell Westbrook
It's not that Westbrook is faultless, above criticism, or Chris Paul. In any given game, he might make a half-dozen or so shaky decisions: driving into traffic without a plan, failing to hit Durant in the tiny window before a defender denies him, or firing one of those horrid pull-up 20-footers in transition. It's fair to knock him for those things; every possession matters when the competition gets tougher, and Westbrook doesn't make optimal use of those possessions. But the criticism became too loud, too narrow-minded, and too lacking in nuance. It ignored (in some quarters) that Oklahoma City's starting lineup was devoid of shot creators beyond Westbrook and Durant, and that Durant, even within that lineup, went through entire possessions in which he did little but stand around with his hands on his hips. Westbrook's occasional ball-hogging may have fed that tendency, but it was a tendency that Durant has to own.
The criticism also ignored that Oklahoma City has had the league's best overall offense for two years running, even after the James Harden trade. There comes a point at which nitpicking becomes a reach too far, and when you're nitpicking the league's best offense, you've reached that point.
Westbrook is putting up career-best assist numbers this season and dishing a wider range of passes every day — tricky drop-off passes to bigs in the lane, on-target pocket dishes to an empowered Serge Ibaka, and kickouts to shooters everywhere on the floor. All of which are passes he couldn't make at the beginning of last season. Harp all you want; Westbrook is one of the league's 10 best players, and only improving.
— Lowe
Underrated: The Continued Career of Jason Hanson
I am getting older again, which means I've cogitated more about NFL placekickers this season than I ever have before … and Jason Hanson in particular, because at age 42, Hanson is (REDACTED) years older than I am, and because Jason Hanson has been the kicker for the same NFL team for half my life and continues to cling to his job. Hanson has been around for so long that most people don't seem to bother remarking on his remarkability, except in fantasy football-related quips. As I write this, Hanson has converted 28 of 32 field-goal attempts, including 2-of-3 from beyond 50 yards.
And I understand it may not feel special, since we've become accustomed to aging kickers, since Morten Andersen did the job until he was 47, and since, according to those books I read as a kid, George Blanda was still booting kickoffs while cashing Social Security checks. But I worry, amid the rise of the Legatrons, that it will become a prerequisite for kickers to be able to regularly convert 60-yard field goals, in which case the aging kicker will fade into obsolescence, in which case we may finally realize that swiping with one's toe at a leather spheroid while 11 angry men charge into your face is not something that the average 42-year-old could do without wrenching tendons and synapses he didn't even know existed. For that reason alone — for fending off youthful challengers for two decades — Jason Hanson should be an American hero, but I don't even know if anyone realizes he's still here.
— Michael Weinreb
Properly Rated: The Year in Quarterbacking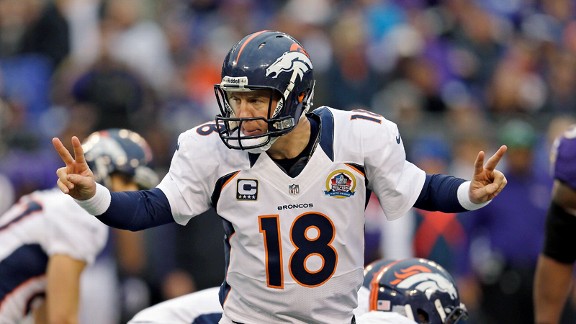 There's really no way to underrate the most important position in sports, so that really only leaves two options with regard to the never-ending attention the guys under center have gotten since early April. Starting with the RG3–Andrew Luck talk and continuing with Peyton's return, Harbaugh's switch, and Brady's dominance, it might seem like too many words have been spilled. This year, though, the adulation is warranted.
Griffin has turned into one of the must-see attractions in all of sports, all while reviving a sports city desperate for a star. Luck has stepped in for the greatest of all time and led his team to the brink of the playoffs. Said greatest has made his team into what might be the most dangerous in football. And Brady is having the best season of them all. All that, and no mention of what Russell Wilson has done in Seattle, or Aaron Rodgers's continued greatness in Green Bay. This season has provided the rare opportunity to see two generations play, and thrive, together — one much the product of the other. In terms of its stars, the league's future is only outshined by its present.
— Robert Mays
Overrated: John Calipari
He recruited an exceptional group of freshmen and won a national title, and college basketball fans quickly began to lose their minds. All we heard was that he'd cracked the code and discovered the secret formula for winning championships. What we forgot was that it's damn hard to win the big dance under any circumstance, and it's even harder when your teams are stacked with freshmen. The Davis-Kidd-Gilchrist-Teague squad was special, but so was the Wall-Bledsoe-Cousins team from 2010, and they didn't even make the Final Four. As this season's team is showing, Calipari's year of glory predicts nothing about the future. Just like every other coach in the game, he's still more likely to never win another national title than he is to win even two more. Serenity now.
Underrated: Ian Poulter
OK, I'm probably biased because I watched him lead Europe to an insane comeback win over the Americans at the Ryder Cup in Chicago. Fair enough. But the fact is that with a lifetime record of 12-3, he's the best Ryder Cupper of his generation, and he has a puncher's chance to become one of the greatest of all time. As it stands, he has the best winning percentage of any European golfer with more than three matches under his belt. Medinah was his transcendent moment, when he fully earned the comparison to Ryder Cup icons like Montgomerie, Langer, Faldo, and Ballesteros. More remarkably, he did it on enemy soil, amid a constant stream of abuse from American fans who found him an easy target because of his flamboyant clothing and unapologetic intensity. He endured, and he became a legend.
— Shane Ryan
Underrated: Andy Murray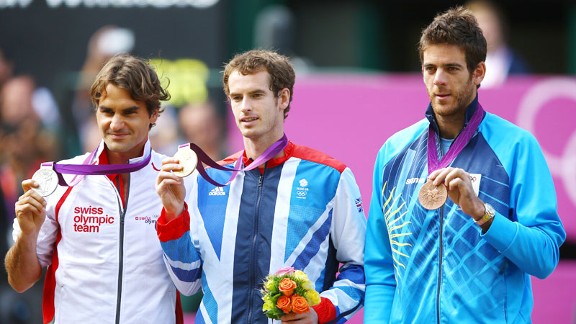 When an athlete is right on the bubble of greatness, it's often easier to rag on that person than on the hundreds of professionals that will never approach the cusp. For no athlete has that been truer in recent years than for Andy Murray. Yes, people use "The Big 4" in conversation — the others being Federer, Nadal, and Djokovic — but that's always really meant "the big three and Murray."
Well, this year, on paper, things finally changed. First, Great Britain's Murray delighted London by winning gold at the Olympics, held at Wimbledon, and then turned around a few months later and won the U.S. Open. To me, it's never really been talent that separated Murray from the rest of the pack, but simply being a slight head case that could never get his mind to slow down in the biggest of moments. Now that he finally has, he may be taken a bit more seriously, but it still feels as if it's "The Big 3 and Murray, who finally figured it out enough to get one, but only in a year with a less-electric Novak, an aging Roger, and an injured Rafa." Like LeBron finally getting his title in the lockout-shortened season, there's no taking Murray's victory, but calls to throw on an asterisk won't be far behind.
We don't seem ready to treat Murray like a great one, partly because he's fooled us so many times in the past, but we really should start. He's very good at tennis — very, very good at tennis. Professional tennis. It will be interesting to see how he's discussed come the 2013 Grand Slam season, but a large part of me thinks that, unfortunately, despite his 2012 accolades, he will still be the bubble boy.
— Rembert Browne
Underrated: The Effect of Team USA Basketball
For the past two Olympics, Team USA Basketball has provided an opportunity for the league's elite to play in the rare company of players who share their lofty status. In 2008, it was Jason Kidd and Kobe Bryant providing a much younger core of LeBron James, Chris Paul, Carmelo Anthony, and Deron Williams with lessons and examples of how star players should prepare and think about the game. Most walked away from those summer games with a newfound sense of purpose and, in some cases, those intangible lessons manifested themselves in on-court results.
With much less fanfare, we are seeing the same effect happen to a new crop of players after their gold-medal win in London, but rather than taking sage-like wisdom from players like Kidd or Bryant, it's been the influence of James that has been clear. Inspired by their peer's newfound championship success, Anthony, Kevin Durant, and Russell Westbrook have all started this season with a sincere commitment to becoming better playmakers. Westbrook is averaging a career best in assists per game, and in the Knicks' new spread system, Anthony is, at times, looking like Dirk Nowitzki with his quick passes out of double teams to open shooters.
Durant, however, has been the best example of how the involvement in USA Basketball produces positive change. Always a brilliant scorer, the lanky forward's career high in PER (28.32) has been a result of a spike in his assist rate. This improvement as a facilitator is the primary reason Oklahoma City is still a strong favorite to win a title despite the loss of James Harden.
The effect doesn't just stop there, as Anthony and fellow USA Basketball teammate Kevin Love are showing noticeable improvement on the defensive end of the floor. Anthony's improvement from "uninterested" to "selectively engaged" hasn't been nearly as dramatic as Love's newfound activeness, but it's a key reason for the Knicks' surprisingly good start.
For Love, the Olympics this summer might have been a wake-up call. Not often is a player of Love's offensive ability ever in real danger of losing minutes because of defensive deficiencies, but with Team USA, he was faced with the harsh reality that a lack of defensive effort simply meant another All-Star caliber player would be summoned from the bench to replace him. It's those types of humbling moments that the Team USA experience has brought, and all they've done is make the NBA and its players better.
— Brett Koremenos
Underrated: Minnesota Women's Hockey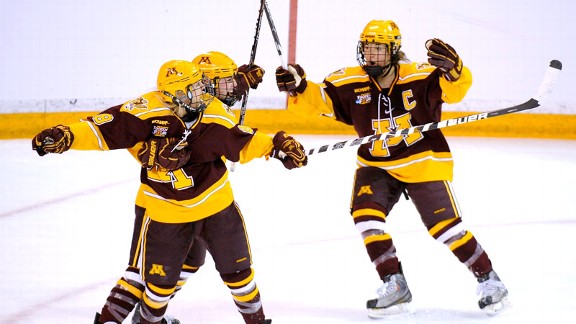 Arguably the most dominant team in the country this calendar year has been the University of Minnesota's women's hockey program. The Golden Gophers have gone 37-2-2 in 2012, a record that includes both a national championship win over rival Wisconsin back in March and a 20-0 start to the 2012-13 season (in which they've outscored the opposition 114-12). Before this year, the record for consecutive victories in NCAA women's hockey belonged to the 2008 Harvard team, who had won 21 in a row. The Gophers cruised easily past that mark back in November with a 9-1 win over Minnesota State; in the weeks since, they've extended the streak to 28 straight.
Junior Amanda Kessel (sister of Phil and Blake) and freshman Hannah Brandt (Minnesota's "Ms. Hockey", given to the best high school player in the state last season) lead the NCAA in pretty much every statistic; both are pretty strong bets for the 2014 Olympic team, as is team captain Megan Bozek and her monstrous slap shot.
Sure, you could argue that the team is properly rated in the small world of women's hockey — you have to go all the way back to March 5 of this year to find a USCHO.com D-I Women's Poll in which the team isn't the unanimous no. 1 — but in the wider world of sports, their easy dominance has been overlooked. I know this because I overlooked it myself, until — in Minnesota on assignment to cover the men's team — I heard such good things that I made sure to go catch a game at Ridder Arena. A few hours later, I left the rink in such complete awe of their casual supremacy that I haven't really shut up about it, including right now. I wish I could find some of the goals I saw that day on YouTube, but they don't appear to exist there. In this day and age, that's about as underrated as it gets.
— Katie Baker
Underrated: Serena Williams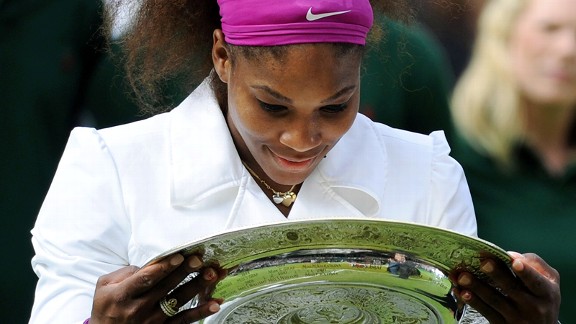 Serena went 71-5 in singles and doubles combined, won seven singles titles, won the WTA Championships, and casually stormed her way through a field-obliterating summer during which she won Wimbledon singles, won Wimbledon doubles, won the Olympic singles gold medal, won the Olympic doubles gold medal, and won the U.S. Open, mostly by totally annihilating anyone, single or plural, who stood on the other side of the net. She did it all at the age of 30-31, and barely a year removed from a nightmare chain reaction of medical emergencies (lacerated tendons from an accident with broken glass, pulmonary embolism, multiple surgeries, not one tiny bit of a joke) that nearly killed her. I am seeing stars just from writing that sentence, but the attention she got for this from the sports culture at large was, what? Maybe a 10 percent premium over what Andy Roddick pulled down for retiring in a nice way? Maybe 15 percent? Can we get a smattering of polite applause for the supernova in human form, please?
I realize that Serena has become a kind of null factor of awesome that people largely don't want to deal with … so they don't. But if Roger Federer had done what she did, or if Maria Sharapova had done it, the population of the world would still need a respirator. Appreciate what she has done; it is astonishing.
— Brian Phillips
Underrated: 2012 Olympic Games Opening Ceremonies
I'm only calling London's Opening Ceremony for the 2012 Games underrated because there's literally no way you could overrate this. I mean, seriously.
— Sarah Larimer
Filed Under: Andrew Luck, Brian Phillips, Carmelo Anthony, Katie Baker, Kevin Durant, Kevin Love, LeBron James, Miami Heat, Michael Weinreb, Oklahoma City Thunder, Peyton Manning, Rembert Browne, Robert Griffin III, Robert Mays, Russell Westbrook, Serena Williams, Shane Ryan, Tom Brady, Zach Lowe