Our Three Favorite Things About This Eric Bledsoe–to–DeAndre Jordan Alley-oop
1. THE BLAKE GRIFFIN MISDIRECTION
This is immense. Eric Bledsoe streaking down the court, locking eyes with Blake Griffin like they were about to reenact the kiss scene from The Notebook, going way beyond telegraphing a pass to some sort of … I don't know, sky-writing of a pass, and then … NOPE! DeAndre! Flush! I hope people start doing this to Blake in real life. I want to spot Blake at Yard House, stare DEEP into his eyes, start walking toward him with a napkin and a pen, and then BOOM ask the waitress for her autograph.

2. THE ERIC BLEDSOE INSTANT CELEBRATION
The Clippers have a tendency to be a little too pleased with themselves whenever they manage to dunk the basketball. Don't get me wrong, I love dunk celebrations. This blog is basically DunkCelebrations.Tumblr.Org. But when you do it every time, it sort of loses its magic. Bledsoe's freakout is different, though. It's full of innocence and wonder. He loses it. Look how much he likes dunks!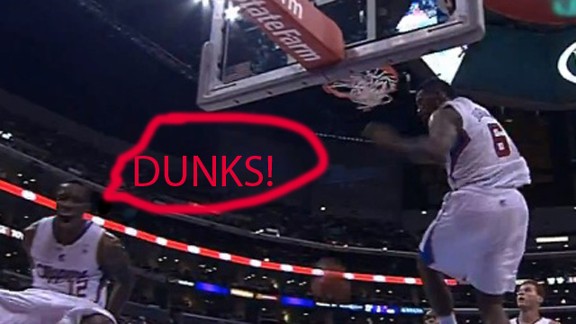 3. "NOPE"
Here's an anecdote from the annals of Robert Mays going to Clippers games last season: "One of my favorite moments of last year was this play, late in the season, when he literally found the receiver on a deep pass, reached his hand out to gauge where he was, and found the ball in the air. So, I asked him after the game if he'd ever played football. His answer: 'Nope.'"
Yup!
Filed Under: Blake Griffin, Los Angeles Clippers, NBA