NFL Run & Shootaround: LuckStrong
AP Photo/Rick Osentoski
On any given Sunday (or Monday, or Thursday), your NFL Run & Shootaround crew will be gathered around multiple televisions, making inappropriate jokes and generally regressing to the mean. Catch up on all the NFL action right here.
Believing Is Art
I don't know when a series of improbable events starts to mean something, but I do know it looks that way in Indianapolis. The Colts were dead on more than one occasion yesterday in Detroit, but when Andrew Luck got the ball back down five with 1:07 left, I'm not sure anyone watching doubted how it would end: with a 75-yard drive and a Colt in the end zone.
There are plenty of rational explanations for what happened at Ford Field in the final six minutes and 40 seconds, just after Luck's pass for T.Y. Hilton was intercepted with Indianapolis down 12. Detroit has struggled to develop its running game all season, and few teams are less apt at draining the clock at the end of games than the Lions. The result was two stalled drives that could've ended the game but instead handed the ball back to Luck, who's an explanation all his own. The most notable play on the Colts' final drive wasn't the throw to Reggie Wayne or the one to Dwayne Allen on the sideline. It was the willingness to spike the ball on an early second-and-1, understanding that in that situation, the down was inconsequential. Andrew Luck is going to be great, but I'm not sure any of us knew how much his head — or his legs — would play a part in it.

Those are the rational explanations. Now for the irrational ones. The relationship between a coach and his players changes over time. Often, it's the process of a paternal connection slowly changing into one more attributable to a peer — not unlike the transition many have with their own fathers. Like any team looking to rebuild, the majority of the Colts roster is under the age of 25 and closer to the early stages of that bond. A 52-year-old Chuck Pagano is close in age to many of their fathers. When Pagano says that one day he's going to be dancing with his daughters on their wedding days, it's near impossible for the young men in that room to not feel like they have some part in him getting there. Since arriving, the message from Pagano and his staff has likely been one of starting over, of belief. That belief goes both ways.
Belief is a funny thing when it comes to football teams, and especially young ones. The NFL is such that the level of talent between franchises is never that disparate. With the draft as the great equalizer, nearly every team is on the same footing in building a contender. If one of those 32 teams has a central, unifying force that defies any type of logic or explanation, it shouldn't seem so strange that such a team would be prone to defying logic or explanation. For as much as Luck or the Lions played their part, the takeaway from the Colts' eighth victory is that when the offense jogged onto the field with 67 seconds to play, they were just as sure they'd pull it off as any of us watching. Just as they have all year, they had something extra, and right now, it's as real as anything.
— Robert Mays
In Other Words …
(All GIFS by HeyBelinda)
Meanwhile, in Matthew Stafford's Personal Hurt Locker
This is the face of someone staring into what might have been. One no. 1 draft pick watching another. Whoever directed the broadcast of the Lions-Colts game has a keen eye for human suffering, because they kept cutting to Matthew Stafford pacing the sideline during Andrew Luck's fourth-quarter, game-winning drive. What's the opposite of clear eyes, full hearts, can't lose? Whatever it is, Stafford might as well have had it written on a placard hanging around his neck. And can you blame him? I can't think of a more profound juxtaposition of organizations than Detroit and Indianapolis. Superficially, Indy seems to have a roster full of doers and triers and go-getters. Detroit has guys who kick quarterbacks in the balls, and purposely sabotage their own team. Indy has a coach who has become a symbol of inspiration. Detroit's doesn't understand the rules of football. It's impossible not to love this Colts team. Meanwhile, despite Stafford's cannon and Megatron's Rice-chasing season, it's getting increasingly hard to pull for the Lions.
After claiming that Ndamukong Suh celebrated while Colts lineman Winston Justice lay on the ground with a concussion, Indy guard Colt McGlynn said, "If that had happened to one of their players, we'd never do something like that. But that's what makes this even sweeter. That's why they lose. I hope they never win another game." He might get his wish — this season, at least.
— Chris Ryan
Touchdown Celebration of the Week: Stevan Ridley
Burn It Down
When Philip Rivers's pass for Malcolm Floyd was intercepted in the end zone yesterday, it was a fitting end not just to the Chargers' season, but to the entire Turner-Rivers era in San Diego. There's been an obvious irony to the patience the organization has shown for Norv Turner in the past couple seasons, considering the unceremonious exit given to Marty Schottenheimer after his 14-2 finish in 2006. Save for Rivers's performance in his only AFC championship game, it's been some time since San Diego could actually consider itself relevant in the Super Bowl picture. Part of the blame lies with Turner (and for the past two seasons, on Rivers) and part of it lies on general manager A.J. Smith. There will be calls for change in Philadelphia, New York, and Kansas City this offseason, but aside from the Chiefs, no organization is more in need of an entirely new start than San Diego.
The advantage the Chargers once had in personnel is gone, and Smith has run his course as their decision maker. Turner is almost surely gone. The question now becomes what Rivers's future is in San Diego. After a stretch of seasons as an MVP candidate and mentions alongside Brady and Manning, Rivers has turned into a middling quarterback on a bad team. The thought that his 2011 was an aberration has been replaced with the understanding that it may be a trend that San Diego isn't willing to shell out more than $30 million for. What is clear is that something has to change, and in changing something, it may be time to change everything.
— Mays
The Silver Linings Playbook
Round of Applause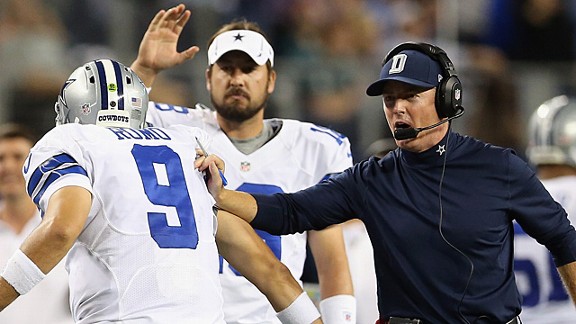 Last night I had the pleasure of attending the Sunday-night game to see my beloved Cowboys host my abhorred Philadelphia Eagles.
As we now know, Dallas, in typical Jason Garrett–era fashion, got off to a slow start but then got it together and picked up a victory against the incompetent Eagles.
The game was important to me — not only because I finally got to see them win at Jerry's World (first in four attempts since setting up my annual pilgrimage) — but because, with his second-quarter strike to Dez Bryant, my favorite player, the much-maligned and possibly cursed Tony Romo, was able to set the team record for touchdown passes, eclipsing Troy Aikman's mark. He had long surpassed the totals of legends Roger Staubach and the solid but less notable Don Meredith and Danny White.
I expected the Cowboys to make a big deal of the accomplishment; ream gathers around him, game gets halted, standing ovation from the crowd. Nope. None of it. Just a ho-hum mention by the P.A. announcer and then right to the extra-point attempt by Dan Bailey.
Just like that, the moment was gone. My buddy Darren (another die-hard Romo supporter) and I became frustrated. Would this happen to anyone else? If Drew Brees sets any kind of record the game comes to an abrupt halt, right? Female New Orleans fans in attendance flash him without even asking for beads. Equipment managers rush out to bronze the birthmark under his eye. The whole thing becomes a huge spectacle.
Not Romo. He'll continue to be underappreciated by the vast majority of NFL talking heads and even his own team.
Well, Tony, speaking as someone who middle-named (is that a real term?) his son after you, I will tell you that there are fans out there who are thankful for your efforts.
Now go out there and continue to dazzle — while also tanking three of the last four so we can move on with a new coach we hope is named Payton.
— Sal Iacono
The Money Pit
The bottom finally fell out for Mark Sanchez on Sunday. The numbers were bad — 10-for-21, 97 yards, three interceptions — but the performance, somehow, was even worse. Patrick Peterson was generous enough to drop a pick-six that would have served as an insurmountable margin of victory. Sanchez seemed to meander through his progressions before making reads at half-speed, like a sputtering 16-bit video-game system trying to load information from a dirty cartridge. Sanchez's interceptions (particularly the first one) somehow seemed like passes he regretted before even making the throw. He played so poorly that Rex Ryan benched him for Ryan Lindley, a rookie quarterback making his second start, who went 10-of-31 for 72 yards and converted zero of the 15 third downs he faced. Rex Ryan saw that guy and said, "Our starting quarterback can't beat him." That's how bad Mark Sanchez looked on Sunday.
How bad was Sanchez? Bad enough to make the Jets look the concept of sunk costs in the eye and sigh disenchantedly before giving up. Regardless of whether the Jets choose to start Sanchez, Greg McElroy, or Tim Tebow this weekend, they're stuck with Sanchez for another year. After they flirted with Peyton Manning this year and wanted to clear up cap space during the offseason, the Jets gave Sanchez a contract extension that guaranteed his compensation for 2012 and 2013 at a total of $20.5 million. The move made some financial sense, but the Jets didn't use their newly cleared cap space for very much this offseason, and it ran the risk of becoming an albatross if Sanchez turned sour in 2012. As it turns out, that's exactly what's happened. The Jets can cut Sanchez this offseason, but they'll be paying him $8.75 million regardless of what uniform he's wearing. Sanchez would still count against the cap, and his signing bonus would accelerate into the 2013 season, which would hinder New York's chances of re-signing Darrelle Revis (and acquiring a real quarterback).
Ryan said in his Monday press conference that he "had three good quarterbacks," which begs the question of where he's hiding them. At the moment, he has three imperfect options and little to play for. If they plan on moving on from Sanchez after this season and absorbing that sunk cost, it's wise of them to give a combination of McElroy and Tebow a shot. If they have any hopes of rehabilitating Sanchez with a better quarterback coach this offseason (like, say, Norv Turner) and giving him one last shot to compete in 2013, it's probably best that they put Sanchez back in for the final four games of the year and hope that he experiences some sort of rebound heading into 2013. He certainly can't be much worse than he was on Sunday.
— Bill Barnwell
Filed Under: Andrew Luck, Bill Barnwell, Detroit Lions, NFL, Robert Mays