NBA Short-Attention-Span Power Rankings: The Rolling Thunder Revue
Andrew D. Bernstein/NBAE via Getty Images
A survey of the players and teams making moves in last night's NBA action.
1. Nasty Boys
Sunday afternoon, after the Thunder suppressed a late-game Clippers insurrection on the road in L.A., our own Rembert Browne tweeted this:
i never realized how obnoxious these thunder players were until this game.

— Rembert Browne (@rembert) March 3, 2013
He was obviously referring to Serge Ibaka lowering the Batum on Blake Griffin …


But there's more to it than just one dirty play. You can make the argument that, in the last decade and change, championship teams need a big man (Shaq, KG, Tim Duncan, et al.) or a point guard who elevates the game of the players around him (Chauncey Billups in '04, Jason Kidd in '11). That's debatable. What's not debatable is that championship teams are very rarely actually liked. With the exception of Dallas a few seasons ago — who had a few "isn't it nice that he got one" guys, and beat one of the least-liked teams since the Bad Boys Pistons — teams that want to win the Finals can't worry about being loved.
For the last couple of seasons, the perception of the Thunder — the odd James Harden party photo aside — was that they were everyone's favorite nephews. Home before 10 p.m., playing Wii and drinking root beer; wide-eyed and just happy to be here so early in their collective careers. They wanted to be adored, and we were more than willing to do so.
Not this season. This season, the Thunder seem to have more of a chip on their shoulder, a little bit of an edge. There's an institutional cold-bloodedness — dealing James Harden rather than being held hostage by a season-long "will he or won't he" narrative, and snatching Derek Fisher from the Mavs. Then there's the team's on-court demeanor. Maybe it's the long-term, good-bad influence of Kendrick Perkins, who could seemingly get into a shoving match in a room by himself. Kevin Durant, who has racked up a surprising amount of technicals in an effort to prove how not nice he is, has said as much about the former Boston tree trunk. But look at the performance they put in yesterday: Durant trash-talking Caron Butler, whom he was pretty much putting in a basketball coffin; Ibaka smashing the Griffin family jewels, then clapping to a booing Staples Center crowd and, a few plays later — after swatting a Matt Barnes shot attempt — giving the Dikembe finger-wag. I was particularly partial to Russell Westbrook's greater Los Angeles stare-down after the dagger jumper with :26 left. (To be fair to Russ, he was apparently looking for his dad in the stands … but still.)
Even Hasheem the Dream got in on the action:

The Thunder are kind of obnoxious. And you know what? They wear it well. After the game, while some were calling for Ibaka to receive a retroactive suspension for his nut-tap, Perkins, to quote a truly terrible Nas line, saw the whirlwind of beef and inhaled it. "I didn't see it to where it was like that flagrant. [Ibaka] took [Griffin's] arm and knocked him down. The dude [is] known for flopping anyway, so that's what it is." Sorry, the Thunder are not sorry.
2. LeBron James
That's not a dagger, that's a captive bolt pistol. And this isn't a struggle face …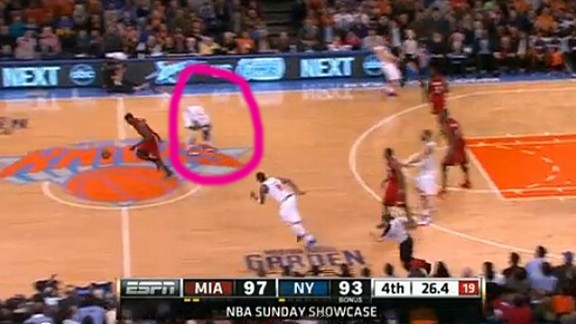 That's just Carmelo Anthony's realization that no matter what he does — even 32 points on national television against the defending champs — if LeBron wants something bad enough, he's going to get it.
That's just Melo's life now. Anthony might lead the league in having great games that just happen to coincide with someone on the opposing team capturing the imagination of the basketball world.
3. Kobe Bryant
"All things being equal, I'd rather be in Milwaukee." —Josh Smith, probably.
"Who would be the worst person to high five right now?" — Kobe Bryant, definitely.
4. Chandler Parsons
Not shown: Chandler Parsons going 12-13 from the field, 6-7 from behind the arc, and putting in a 32-point performance to help the Rockets blast off on the Mavs.
5. John Wall
Somehow the phrase "splitting defenders" doesn't quite capture this.
Bonus Boogie Cousins Content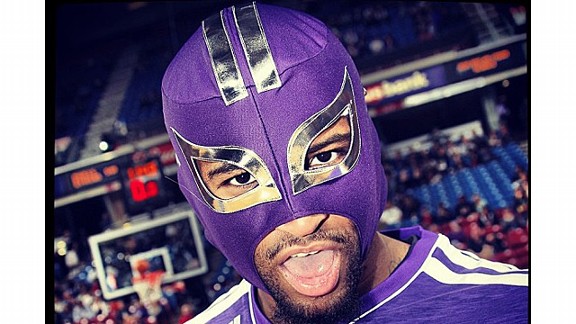 This is a picture of DeMarcus Cousins in a luchador mask on Latino Heritage Night in Sacramento, and I am dead.
Filed Under: Blake Griffin, Carmelo Anthony, Chris Paul, Chris Ryan, John Wall, LeBron James, Los Angeles Clippers, Miami Heat, NBA, New York Knicks, Oklahoma City Thunder