NBA Short-Attention-Span Power Rankings: The Great Flight North!
Nathaniel S. Butler/NBAE via Getty Images
A survey of the players and teams making moves in last night's NBA action.
1. Joe Johnson
Hey, guys, maybe you weren't in the last meeting, so I just want to catch you up. Apparently, the Barclays Center fills up on a cold Tuesday night when Milwaukee comes to town, the crowd actually rocks out a little, the Lakers-Staples theater lighting looks awesome, the Bucks are/were something of an arch-nemesis of the Nets (winning 13 in a row against the franchise, regardless of what side of the East River they were located), and Joe Johnson is now an ice-cold closer with a disturbing, growing dagger collection.


You don't want to miss this stuff? Don't miss the meetings! There's tons of important information, and the pastries are pretty decent. So think about your life priorities. Right, Jay?
Right. That's three in a row for B-K. They play a rematch with the Bucks tonight in Wisconsin. If there is a heaven, the Bucks will have a starting five featuring Monta Ellis, Brandon Jennings, and Josh Smith. Hahahahahaha.
2. Kenneth Faried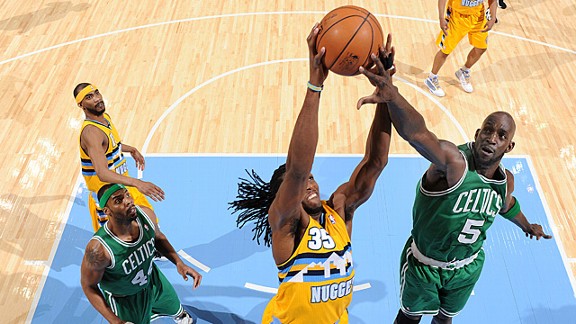 Seven points and 16 boards is Rodman-ian.
3. The Toronto Wing Players Who Need a Cool Nickname
Are the Raptors the most exciting team in the league right now? They've got the second-longest winning streak of any club, north of Miami. Rudy Gay, Terrence Ross, and DeMar DeRozan are the most exciting wing-trident (wing troika? wing pyramid?) in the Association. Gay, especially, has been revelatory, averaging around 20 points and seven boards per game, in his last 10. He also clowned Wale during last night's Wizards-Raps clash in D.C.:
So he's going to Springfield for that alone. We just need to come up with a nickname for the Gay-DeRozan-Ross trio. The Great Flight North? Help me out here. UPDATE: Turns out Raps fan James David already came up with this. Salute to him!
4. Tony Parker
I watched a little bit of Spurs-Kings toward the end of the night. I got a chance to see Tony Parker score about six of his eventual 30-point tally. You know how they adjust certain statistics for pace? They need to adjust certain statistics for being guarded by Jimmer. That being said, Parker was playing liquid basketball. And that's kind of the problem. Ordinarily, if you were the point guard on a 43-12 team, and you were averaging 21 points, nearly eight assists, had a PER of 24, you'd be in the conversation for MVP. Parker's game is almost too smooth, too effortless. You barely notice the outrageous performances he puts on. Also, he's playing in a league with LeBron James and Kevin Durant, and nobody else is going to win MVP for at least the next five years.
5. The People's Republic of Utah
There's your man Alec Burks with the magic trick. The Utah Jazz handed the Warriors their sixth straight loss last night, turning up the spotlight on Golden State's crumbling defense. The Jazz, though! Seven players in double figures, a dangerous looking Gordon Hayward in his return to the team (well … can Hayward really look dangerous?), great nights from Randy Foye, Paul Millsap, Big Al, and Derrick Favors. Utah may or may not stand pat at the deadline, but if they keep all their pieces, they have a lot of depth to run out at Oklahoma City or whoever they match up with in the first round of the Western Conference playoffs.
Filed Under: Brooklyn Nets, Chris Ryan, Denver Nuggets, NBA, San Antonio Spurs, Tony Parker, Utah Jazz