NBA Short-Attention-Span Power Rankings: Everybody Fights, Nobody Quits
Ron Hoskins/NBAE via Getty Images
A survey of the players and teams making moves in last night's NBA action.
1. Mike Woodson
Yo, this guy played Carmelo Anthony 33 minutes against the Warriors, even though it looked like Melo was chasing David Lee around with a shopping cart tied to his leg, nobody can tell the star why there's fluid in his knee, and the Knicks were down by 30 from what seemed like the opening tip. Good thing there isn't some kind of laborious postseason event on the horizon!

2. A.J. Price, the Vesely Whisperer
This is by far my favorite part of Michael Lee's very good Washington Post feature on the Wizards' 2009 lottery pick:
"The only part of his game that he's struggling, is mental. Has nothing to do with his skills," said Price, who had a long talk with Vesely before a recent shoot-around. "I was just trying to tell him to find something — a safe haven, almost — and say, 'I'm going to play for that.' I told him play for his girl. I know that's one person I see him all the time with."
A safe haven! A.J.!
3. Ty Lawson
4. Kawhi Leonard
The Part Where We All Go "Hmmmm" About the Thunder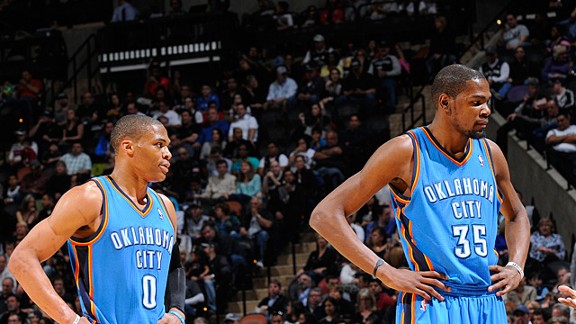 This stat is from Elias:
Westbrook (18.8) is attempting more field goals per game than Durant (17.9). Only once in NBA history has a teammate attempted more field goals per game than a scoring a [sic] champion (Durant currently leads league in scoring). Neil Johnston of the Philadelphia Warriors won the 1954-55 scoring title, but his teammate Paul Arizin attempted two more shots per game than him that season.
Reading that, and seeing Kevin Durant's deleted I'm-not-crying tweet from last night, and listening to Russell Westbrook give terse answers after the Spurs loss, and noticing that Kevin Martin is not good at defense at all, and Ronnie Brewer got a DNP-CD … it all brought back that familiar feeling from last season. Remember that? Remember when worrying about the Thunder became a national hobby? That was annoying, right? Let's not do that again. Playing their fourth game in five nights, OKC lost in a place where most teams lose (San Antonio), coming off a streak in which they beat the Clippers, Lakers, Knicks, and Celtics. As ESPN's David Thorpe pointed out on Twitter, over the last two seasons the Thunder are 1-7 in regular season games against the Spurs, and 4-2 in post-season games. I think the Thunder will be fine.
Filed Under: Carmelo Anthony, Chris Ryan, Denver Nuggets, Kevin Durant, NBA, New York Knicks, Oklahoma City Thunder, San Antonio Spurs