NBA Shootaround: On Golden State
Issac Baldizon/NBAE via Getty Images
So much amazing is happening, and the Shootaround crew is here to help you keep track of it all. You'll find takes on moments you might've missed from the previous night, along with ones you will remember forever.
This Is Happening
One of the best things about sports is the way it can turn the crusty, cold analysts among us into childlike believers in magic and chemistry and destiny once in a while. Not that all of those things are hokum; chemistry, roster fit, and the willingness to sacrifice for the greater good are enormously important things in building an elite NBA team. But over the long haul, numbers and stat-based trends usually win out, and the teams that look the best on paper typically beat other teams four times in seven games.
And yet when the Warriors celebrated like teenagers after Draymond Green's last-second layup, and then again after LeBron's game-ending miss, the thought darted through my head: "Something special might be happening in Golden State." No, Zach! Those thoughts are for teenage you, and for the builders of false narratives about mythical heroes and clutch winners. You must banish those thoughts before approaching the keyboard!


But they wouldn't go away. The Warriors weren't just thrilled; they were thrilled for each other. Hey, there's a player chest-bumping with GM Bob Myers, who has been with the Warriors for much of this road trip! There's another player hugging Mark Jackson, putting together a legit Coach of the Year candidacy! Between answers in his postgame interview with the local sideline reporter, David Lee looked off in the distance, thinking about something else (probably the game), smiled, and pumped his left fist a couple of times. Lee is on a tremendous roll, and though he's never even going to be an average defender, he's working hard and fighting for post position. The guy who once openly talked about his need to get 20 and 10 every night — to get his numbers — is rejoicing in team success.
And then there's Jarrett Jack, having another solid season and providing a combination of size and ball-handling that allows Golden State to do lots of interesting things — move Stephen Curry, having an All-Star run right now, off the ball, and play all three of Jack, Curry and Klay Thompson when matchups allow. At least a couple of teams were sniffing around Jack trades when the Warriors swooped into a three-team deal and snagged him for Dorell Wright, almost totally out of Philly's rotation now. A great little move, and Jack made a fantastic semi-improvisational read on the winning play last night.
Look, the Warriors are only plus-21 in total scoring margin after 22 games, meaning they look more like a 12-10 team than the 15-7 team they actually are in real life. They're surviving playing Lee and Carl Landry together as a small front-court, mostly because those lineups are scoring off the charts. They're a ridiculous 11-2 in games that have been within five points either way in the last five minutes, and they're killing it on both ends in that small sample of crunch-time minutes. They've only played an average schedule, in terms of opponent win percentage. They probably aren't this good.
STOP BEING SO NEGATIVE, ZACH! The Warriors have played four more road games than home games, they're missing two crucial players (Andrew Bogut and Brandon Rush), their guards started off ice cold, and Bogut will return at some point. For now, I'm just going to enjoy this on behalf of Warriors fans who've suffered through so much misery.
— Zach Lowe
FESTUS!
(All GIFS by HeyBelinda)
Passing Me By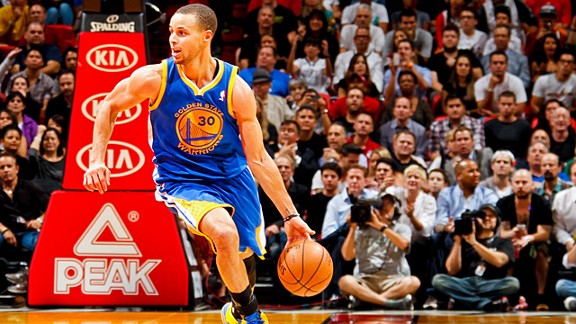 Because Steph Curry is one of the NBA's best shooters, it's often overlooked that the Warriors' leading man is, in fact, one of the league's most skilled passers. Though Jarrett Jack's buzzer-beating assist to Draymond Green got all the attention (and rightfully so), against the Heat, Curry had two of the most impressive passes, not only of the night, but of the season.
The first occurred halfway through the second quarter. As the Warriors break out in transition, Curry takes an outlet from Jack near the left sideline, near half court. In the blink of an eye, Curry snaps a pass to Klay Thompson near the right sideline, hitting a tiny target in the cluster of retreating Heat defenders:
That dime was impressive not only because of Curry's court vision, but as the freeze frame shows, the accuracy of it was amazing, as Thompson barely has to move the ball to get it to his release point.
But that transition pass, while truly awesome, was bland compared to the one Curry pulled off just a few minutes later.
After a defensive rebound, Curry pushes the ball up the right side of the floor and gets a double drag screen from teammates David Lee and Draymond Green. As is customary for Miami's defensive scheme, they attack Curry coming off the ball screen with an aggressive hedge. Shane Battier, the hedging defender, pushes Curry nearly to the opposite sideline, an ideal result for a defense in that situation.
But Curry counteracts this textbook execution by unleashing the most impressive pass I've seen all season. Nearing the left wing, Curry throws a left hand, grenade-style hook pass — without even having to pick up his dribble first — that floats through the air with a slight tail only to land perfectly in Klay Thompson's lap (sadly, he misses the shot). Words cannot describe just how hard it is for an NBA player to not only see Thompson in the opposite corner while being pressured like that, but to accurately throw that pass with his weak hand, so here's the video:
If forced to do color commentary on that play in real time, viewers would have just heard a series of exclamations and curse words spewed out in amazement.
Thank you for being awesome, Steph Curry.
— Brett Koremenos
Hero Ball of the Night: Mo Williams
Jrue Holiday: Working Hard, Hardly Working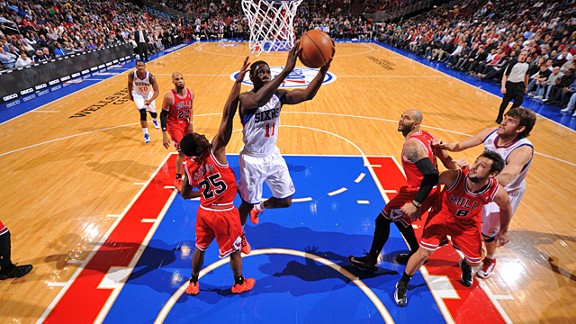 Someone needs to get credit for Philadelphia's pleasant mediocrity, and why not Jrue Holiday? The 22-year-old point guard, who was elevated to primary ball handler after the trade of Andre Iguodala, has been dumping gargantuan numbers on foes all season. Right now, he's averaging 18 points and nine assists a game. In the Sixers' loss to Chicago last night, he shoveled in 26 on nearly 50 percent shooting, with nine assists, five rebounds and two steals. Considering this toddler was born in the year Amerikkka's Most Wanted dropped and Demi Moore had phantasmagoric sex on an oozy pottery wheel, he's gotta be a franchise building block, right?
Ehhhh, maybe? Against the Bulls, Holiday scored 26 points on 28 shots. Those are the untidy numbers we associated with the Old Carmelo! While Holiday is a dangerous perimeter shooter with slithery polish off the bounce and enough post game to bully petite guards, some flaws threaten to derail his ascension into the god-body cipher divine of point guards. Mostly, he's terrible at getting to the free throw line and doesn't take enough three-pointers. While his scoring and assists (and turnovers) have soared because of his increased responsibility, he still can't get buckets if his mid-range jumper isn't clicking. Holiday is seventh in the entire league in field goals attempted, but has proportionally shot fewer free throws than any of the NBA's top 30 scorers. In efficiency-speak, he's similar to Brandon Jennings and Russell Westbrook, a pair rarely regaled for their prudence.
I hate to be the bearer of bad news to Philly fans awaiting Andrew Bynum's Bowling-4-Cartilage Benefit, but Holiday hasn't made the leap just yet. On the upside, he'll probably get named to the All Star team anyway.
— Ben Detrick
Iguodunka of the Night: Russell Westbrook
By the power vested in me by the state of Pennsylvania and the city of Philadelphia, I am invoking Iguodunka status for this Westbrook stuff. If it's against Andre Iguodala's team, it can totally be an Iguodunka of the Night.
— Chris Ryan
Runner Up for Iguodunka of the Night: JaVale McGee
This dunk is so JaVale.
— Ryan
Come Shop With Me
I'd been waiting the whole day for the Hornicans/Pelinets game to start, and not because I thought it'd be a good game. I watched because earlier today, my inbox lit up with a message from my friend Margie that read "duke basketball players doing normal things!" and this video:
There are some things in life that you just can't unsee. This was one of them. Never again will I be able to imagine a lane-driving Austin Rivers the same way. The fist pump after parking inside the lines? "You guys have like … ham? Like … sliced ham?" The almost-decision to splurge on Zebra Cakes? Seriously??? At least he did one thing right: He grabbed Frosted Flakes, breakfast of chompions — the only reason he almost had as many points as Russell Westbrook last night. Pro tip, though, Austin. When you head to the grocery store next August, try the wine and spirits aisle. You'll probably find your missing shots there.
— Patricia Lee
Taking Off On Schedule
By the way, this type of aerial bombardment is happening every night. Blake Griffin is making Blake Griffin somehow … boring. The regularity with which he takes an opponent's self esteem and sense of belonging in the world, and lights those things on fire by yamming on them is something you can set your watch to. The extraordinary has become quite ordinary, night …
After night …
And in much the same way we're starting to get used to this guy flying around like he's wearing an Iron Man costume, we're also getting more and more used to the Clippers being a functional, competent, efficient, savvy Western Conference powerhouse. The Clippers are winners of eight in a row, a solid 6-3 on the road, and feature a bench that could probably beat a handful of lower-tier NBA starting units. Just look what Jamal Crawford had to say about his Lob City experience thus far, specifically playing for Vinny Del Negro, Zen Master II: "Unbelievable. This is the most fun I've had since high school. He gives me a lot of freedom. He trusts me on the court. We have a great rapport, talk about everything. He knows how to communicate with his players. I love playing for him." We're so busy watching the Lakers self-immolate, maybe we're not paying enough attention to the guys across the hall.
— Ryan
Filed Under: Ben Detrick, Brett Koremenos, Chris Ryan, Golden State Warriors, Miami Heat, NBA, Patricia Lee, Robert Mays, Zach Lowe