NBA Finals Shootaround: This Must Be the Place
Issac Baldizon/NBAE via Getty Images
So much amazing is happening, and the Shootaround crew is here to help you keep track of it all. You'll find takes on moments you might've missed from the previous night, along with ones you will remember forever.
Hustle Hard
(All GIFs by @HeyBelinda)
Danny Chau: One hard-fought game that went down to the wire, two remarkable blowouts; two unreal 3-point barrages from Danny Green, three confounding performances from LeBron James, each with a different slant on his ever-changing narrative. The series has been all over the place, and while the Spurs obviously have the advantage at this point, back-to-back blowouts don't tell us too much about the course this series is about to take. Between these two great teams, the series will likely go to whichever is more consistently aggressive. At this point, that favors San Antonio because there hasn't been anything more consistent in this series than the hustle and effort from Tim Duncan and Kawhi Leonard.
Duncan and Leonard have averaged a combined 25 rebounds per game in the series, with nearly nine of those being offensive rebounds. The Spurs are plus-23 in the Finals in second-chance points. Their relentlessness on loose balls has been necessary considering their individual struggles from the field. Duncan is shooting 37 percent in the series, and Leonard, even after his 6-for-10 performance last night, is in the low 40s. The extra effort has led to extra possessions, which has led to extra passes, which led to whatever got into Green and Gary Neal last night. Their performances have led to a lot of "New Big Three" jokes, but it's just what the system allows. Bit players can show glimpses of momentary stardom because the stars are more than willing to assume role-player duties when needed.
Gary Neal and Danny Green Star In …
There Is No Heat Check
netw3rk: One of the greatest spectacles that basketball has to offer its devotees is a jump-shooter falling into a waking dream of ocean-size rims, photographic muscle-memory shooting form, and hands spitting hot fire.
For me, the two other emblematic basketball plays are the dunk and the no-look pass. The dunk is an expression of pure physical dominance — I can jump higher and faster than you. The no-look is about guile and deception, like a great heist movie with a million different variations. But those are singular plays; they happen, and even if the same player manages to make the same play, we don't perceive it as being connected to the previous instance. With a shooter getting hot, it's linear, no matter what happens in between shots, almost like a narrative. This event, which is successful, say, only 40 percent of the time, occurs, and our understanding of that percentage informs our perception of the next shot dropping, and our knowledge that the last two shots fell informs our perception of the next shot, and, holy cow, can he hit another one, HE CAN.
Watching one jump-shooter catch fire is incredible; watching two is absurd.
Gary Neal and Danny Green went a combined 13-of-19 from 3, and, at some point in the fourth quarter, became so heart-of-a-supernova hot that the term "heat check" no longer had any meaning. There's no need to check the thermometer when the house is burning down around you. Green dropped 6-of-7 3s in the second half, 4-of-4 in the fourth quarter. When he missed a 3 in the third quarter, the San Antonio crowd just pretended they didn't see it. Neal was 6-of-10 from 3, 4-for-6 in the first half. The Spurs set a Finals record for made 3s with 16, all but three of which came from Green and Neal, and they double-handedly transformed Tracy McGrady from human-defeat cigar into garbage-time hero while relegating Mike Miller's 5-for-5 from deep to the dustbin of Finals recollections.
Shoulder Lean
CourtVision: Gary & Danny Catch Fire
Kirk Goldsberry: On June 3, 1992, Michael Jordan had one of his most memorable NBA Finals performances. In Game 1 against the Portland Trail Blazers, he was so hot that he made this confused face to the announcer's table:
Jordan was clearly the best player in that series, but he was especially dominant that night, making a whopping 6-of-10 3-point shots, which remains the defining stat line from that historic night. To put last night's Spurs shooting fiesta into context, Gary Neal was 6-for-10 from beyond the arc, and Danny Green was even more impressive, going 7-for-9.
Neal shot 36 percent from beyond the arc this season, and he made more than six 3s only once, a December game at Houston.
Danny Green, who has emerged as the Spurs' most lethal 3-point threat, made 43 percent of his 3s this season, which is incredible, but he's made 44 of 88 during this postseason run, which is even better.
Jump Around
Andrew Sharp: Before this week, the biggest moment of Danny Green's career technically was winning a national championship with UNC in 2009, but really, to Carolina fans, it was the night he destroyed Greg Paulus's soul in Cameron. Specifically, this photo will live forever in the hearts of millions. He was also famous for his "Jump Around" dance routines before every game at Carolina, which he eventually brought to Cleveland, where he got LeBron in on the fun. It was all pretty great.
Because Green was pretty great. Everybody loved him, and just getting to the NBA and being able to choreograph dance routines with LeBron made him a massive success.
But this was never supposed to happen. LeBron was supposed to be Batman, and Green was supposed to be, I don't know, some random dude on the Gotham police force who Batman liked dancing with. Instead … Green is 13 of 15 from 3 over the past two games, outscoring LeBron for the series, harassing him on defense, and doing pretty much everything. And on a night when we all got blackout drunk on the Spurs role players, Green was the best player on the floor. WHAT WORLD IS THIS?
The Spurs Will End the 2-3-2 NBA Finals Format
Carles: One of the imaginary Spurs narratives is the need to have a "championship-defining moment" that retroactively serves as a metaphor, overshadowing their "boring, forgettable" stretch of dominance. I think their real opportunity for a definitive team legacy could be the termination of the 2-3-2 Finals format after winning the series in five games. It would just be typical Spurs to become the ultimate Finals road team that takes advantage of the middle three games at home to close out a series. The 2004 Pistons were actually the first team to sweep the middle three games at home to close out a series, but we already forgot about that. Because of the lack of LeBron, the argument will be, "How can a team that earned home-court advantage end up hosting fewer games in the Finals? That's just not fair." The 2-3-2 format was obviously created with different logistical constraints in mind, but the opportunity for the NBA to have an extra game or two because of alternating home courts will be too much to pass up. Of course, after the Spurs ruin it, the 2-3-2 will be remembered fondly as being from the days when the higher seed "earned championships on the road, except for the Spurs, who abused the format."
Way of Wade
Chris Ryan: You may notice a decided lack of Miamalysis in this Shootaround. Well, it's hard to do better than the above, isn't it?
Borussia Miami Heat Go Gambling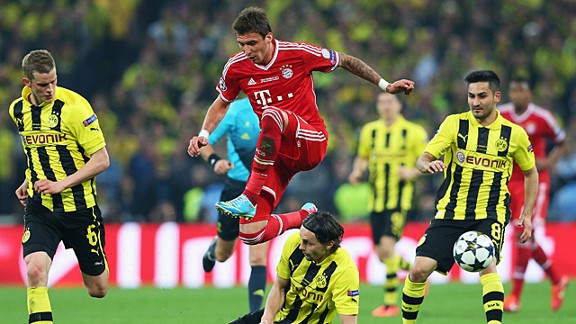 Brett Koremenos: This year, soccer fans watched one of the most entertaining teams in recent memory, Germany's Borussia Dortmund. BVB played football a lot like the Miami Heat play basketball — with an aggressive, risky attacking style. No matter who the opponent is, they play their way. It's Dortmund's devastating pressing, in particular, that is often the thing that pops into my mind when I watch the Heat play defense.
The club's Champions League final against Bayern Munich is a perfect symbol for the risks and rewards to be gained from playing such an intense scheme. In the first half, Dortmund's pressing was flawless, suffocating the well-oiled Bayern Munich machine and creating an avalanche of chances. Sounds a lot like how Miami's defense ravaged the Pacers in Game 7 of the Eastern Conference finals, right? Or how they embarrassed the Spurs in Game 2 of this series. When executed with energy and focus, such a system can overwhelm opponents to the point of helplessness.
But the second half of that Champions League final showed exactly what happens when an aggressive scheme goes wrong. Dortmund tired, unable to keep up their frenetic pressure, and eventually watched as Arjen Robben (who has to be Manu Ginobili in this analogy, right?) ended their hopes of a European championship with his cheeky goal in the 89th minute. It is the same problem that faces the Heat when they are unable (or, maybe more aptly put, unwilling) to put forth max intensity and focus into their aggressive, trapping, rotating whirlwind of a defensive scheme. A disciplined side like the Spurs can pick them apart with precision passing and accurate shooting.
Helpful Spurs Guy
Ryan: Here are some other things Helpful Spurs Guy did with his day, before the game:
• Explained, in the office break room, in minute detail, how to assemble a Teton seven-burner grill even though nobody mentioned grilling.
• Held court on the various routes one can drive from Southpark Meadows to downtown San Antonio while avoiding traffic. To his barista.
• Asked the IT guy a bunch of condescending questions about his Prius.
• Saw a customer and a clerk having a conversation in a hardware store, and invited himself into the the debate just to give the customer "another point of view." Tried to make an "it's all ball bearings!" joke. Nobody had seen Fletch.
• Voted in the singing competition The Voice, even though it happened on Monday (he didn't realize he was watching on DVR).
• Decided to go from a straight-up leather belt clip for his flip phone to a faux-mohair one. (Goes better with Dockers.)
• Sat down at your computer, uninvited, to call up a YouTube video of his most recent trout-fishing expedition, even though you said you were "OK."
• Tried to help up Tim Duncan, even though he didn't really fall anywhere near him.
Great Moments in Trolling History
Sharp: 1. Sports are awesome.
2. How do Spurs fans win over America? By trolling the shit out of Heat fans and that stupid awful chant that should've died three years ago.
3. That chant should only be used sarcastically.
4. GO SPURS GO.
(video via SB Nation)
A Word of Caution
Shane Ryan: The Spurs look so good, in fact, that they have the ability to fool us into thinking they're invincible. They did it last year, and they're doing it this year. Game 3 was probably the stylistic apex of the franchise's latest successful incarnation. It's going to send many writers into rapture. It should. That's fair. So let me spoil the fun and insert a word of warning: Basketball is the sport where perfection is most prone to collapse.
We see this phenomenon in other sports. How can anyone stop the Oregon no-huddle offense? Or the Brady-Moss Patriots? Who can defeat Roger Federer As Religious Experience? Or, to get historical, who could beat Cruyff and the Brilliant Oranje in the '74 World Cup? They seem to exist on a different level. But the hard truth is that the different level is a mirage. Some dogged opponent (SEC defense, Tireless Rafa, THE GERMANS!) always brings them low and forces them to compete on terrestrial terms. And sometimes they lose.
These falls to earth happen all the time, but mostly in basketball. Maybe it's the most purely "team" sport, where a dynamic energy is created between the players — positive or negative — that doesn't exist in compartmentalized games like football or baseball. Maybe it's easier for the opposition to adjust; you can double-team LeBron, but you can't double-team an ace pitcher. Maybe that's how perfection is deflated. The most recent example came in the 2013 NCAA tournament, when Syracuse's stifling zone defense ripped the soul out of Indiana's semidivine offense.
Things are too familiar for surprises at this point. And yes, the Spurs can win the title, though I think they won't. Just remember, while you watch the premature coronation between now and Game 4, that it will never be this perfect again.
Tim Duncan's Traffic Jam Soundtrack
Tim Duncan, Tony Parker were late to arena because of…traffic? – cbsprt.co/ArenaTraffic (via @eyeonbasketball) #NBAFinals

— CBSSports.com (@CBSSports) June 12, 2013
Chris Ryan: Grantland exclusive …
Oh My God
Amos Barshad: Manu Ginobili pump-faked, dove into the lane, and, quite possibly midair, remembered how to dunk. Two hands, son! Later in the game, for good measure, Manu skied in with one. Tim Duncan crammed one, too, and it wasn't some "I'VE RUN THE ANALYTICS AND THIS IS THE MOST DIRECT ROUTE BETWEEN HAND AND RIM" bullshit, either; he went up ferociously, with much spit and vigor. I figured things couldn't really be going better for the Spurs at that point.
As wiser men than I have pointed out, San Antonio's "boring" stigma is rooted, primarily and understandably, in its snoozy Finals wins. (I mean, they went seven with Detroit, but America spent most of that series with one hand clamped over the other, so as to most effectively stifle any "claw your own eyes out" urges.) Which means beating the Heat has serious deus ex machina potential. A win would be a franchise-narrative retcon on a scale quite possibly unparalleled in the NBA annals; we'd have no choice but to remember them as nothing less than plucky, do-it-right slayers of those white-linen-pants-wearing Goliaths from Miami. And if they could do it with the kind of pyrotechnics never associated with Duncan's teams, well, all the better.
So, yeah, things were going good. And then they just got way, way better.
The facts are that Gary Neal and Danny Green — two generally affable-seeming, more-than-mildly-anonymous role players — had the good sense to have the games of their lives in the same game. That they did it as recipients of a bountiful, overflowing cornucopia of extra passes — the absolute verification of the San Antonio system! — makes it that much sweeter.
Neal's halftime buzzer-beater wasn't your standard mad scramble up the court: It was a tic-tac two-pass routine, auguring greatness to come. And while Danny couldn't help but bust out a few toothy grins, Gary, bless his heart — quite possibly fearing a severe knuckle-rapping at the hands of one Gregg Popovich — stayed all "What, no, I've totally buried a bunch of 3s in an NBA Finals game before," even in the fourth, when things were getting really nutty. (It was so endearing that I'd like to now volunteer, at no cost, to babysit his children if he has any.) And on the bench, Tony Parker looked over at Manu, smiled, and just mouthed the words "Oh my God."
They, too, know better than to engage in overly forward displays of emotion; I mean, Pop will perform the lobotomies himself if he has to. But, no, seriously: "Oh my God."
Text Messages to Pop From a Spurs Fan
Shea Serrano: I sent text messages to Gregg Popovich last night during the game.
---
Me: solid first quarter
Pop: well
Me: you maybe wanna get together after the game and compare notes?
Pop: that depends
Me: on?
Pop: on if a million jumbo airplanes crash land into everywhere on earth and kill everyone except for me and you
Me: dude
Pop: or I guess if some sort of outbreak happens that kills everyone like in contagion
Pop: THAT MOVIE WAS SO CLUTCH
---
Me: not a bad first half, pop
Pop: thx
Me: what's going down at halftime? y'all gon' talk about wade? He had a pretty tough first quarter
Pop: Wade?
Me: yeah
Pop: dang. I hadn't even noticed. Thanks for pointing that out.
Me: :)
Pop: can I tell you a story
Me: sure!
[No response.]
Me: yeah, go for it, of course
[No response.]
Me: the story?
[No response.]
Me: hello?
[No response.]
Me: … dick
---
Me: DANNY!
[No response.]
---
Me: is tony cool?
Pop: he still has legs, so he'll be fine
Me: oh. Is that what your trainer said, "he still has legs"?
Pop: i stormed the beaches at Normandy. both my legs were blown off. an arm too. I HAD TO SEW THEM BACK ON USING MY OWN HAIR AS THREAD. ALL THIS WHILE SHOOTING SOVIETS AND KONY SOLDIERS DEAD. EACH TIME I SHOT ONE I'D SING THE PLEDGE OF ALLEGIANCE AND THEN DO THE TEACH ME HOW TO DOUGIE DANCE OVER THE BODY. tony's french hamstring will be fine
Me: you're the worst
---
Me: hey, why do gary neal's eyebrows look so slippery? Are they slippery in real life?
[No response.]
---
Me: Hey, dude.
Pop: Sup, lil mama
Me: sup? lil mama? Feeling good about this fourth quarter, huh?
Pop: I mean, are you even watching this? This is unbelievable.
Me: it's pretty incredible
Pop: you know when I found danny green he was working as a janitor in a roller skating rink?
Me: that's not true
Pop: fact
Me: I guess he saved up all of the 3s that he didn't use in the Oklahoma series from last year?
Pop: knock knock
Me: Nope. peace
Elevation
Robert Mays: In Game 3, Kawhi Leonard was again fantastic, tallying 12 more rebounds to bring his series total to 36. That's 12 a game. He's a small forward. Danny Green continued his ridiculous shooting performance and is now 16-of-23 from 3 for the series. And although Gary Neal's 24 points are an aberration, what we're seeing from Leonard, and even Green, feels less so.
Before Game 1, a friend asked me who, along with LeBron James and Kevin Durant, made up the best five small forwards in the NBA. Paul George's playoffs warranted him immediate inclusion, and although neither of us cares too much for Carmelo Anthony, I threw him in as well. For the final spot, there was some conversation (both of us feel like Andre Iguodala's defense is massively underrated, and our lips are stained with Jimmy Butler Kool-Aid), but in the end, we landed on Leonard. If defense counts for half of basketball (and it does), then an elite defender who is a better-than-average shooter, rebounds his position better than almost anyone, and can create off the dribble probably has to be that high.
We didn't have the same conversation about the league's shooting guards, but I guess I can try that one on my own. Kobe, Wade, Harden, and Ginobili are at the top, but after that, who is it? The constantly injured Eric Gordon? Joe Johnson? Now, before I say we should start thinking about where Danny Green lands, I understand it's important to concede how Green fits. There's little chance Green would be the same player he is for San Antonio anywhere else (although, I'd argue he could be something close to it). His talents are perfectly suited for what the Spurs do offensively, and he isn't asked to do a whole lot more than what he's very, very good at (in the past two seasons, Green has finished seventh and ninth in 3-point field goal percentage). Here's a better way to ask that question: What players would be better for San Antonio at the same position? Considering Green's shooting and his vast improvement as a defender, I'd say the list is very short — very short.
San Antonio will win or lose this series because of its Big 3, but the reason this team is better than it was last year is that even though those guys are a year older, Leonard and Green are a year better. And although both have been allowed to develop as role players in San Antonio, they've used that route to become two of the best players in basketball at their positions. The reason these Spurs are great is that Leonard and Green already are, too.
Filed Under: Amos Barshad, Andrew Sharp, Brett Koremenos, Chris Ryan, Danny Chau, LeBron James, Miami Heat, NBA, NBA Finals, NBA Playoffs, Robert Mays, San Antonio Spurs, Shane Ryan, Tony Parker