March Madness Men of the Day
Kevin C. Cox/Getty Images
It's time for the last Man of the Hour, and there's no doubt who deserves the honor. He's the man who represents the last hope of a real upset (no, Wichita State over Pittsburgh doesn't count) in the early games. He is:

Jake Cohen
At halftime at Rupp Arena, Cohen had led Davidson to a slim 25-23 advantage over Marquette. Cohen is a 6-foot-10 senior, averaging 14.8 points per game and sporting a pair of ears that would put Ross Perot to shame. (You didn't expect a classic Perot reference, did you? I bet you're more surprised than John Bobbitt right now, am I right? I'll sneak up on you quicker than Amy Fisher! NOT!) As I write this, he's 3-8 from the field and 2-4 from 3. And if there's going to be a hero in this game, it'll be Cohen, who became the first Davidson player since Stephen Curry to win back-to-back Southern Conference Player of the Year honors.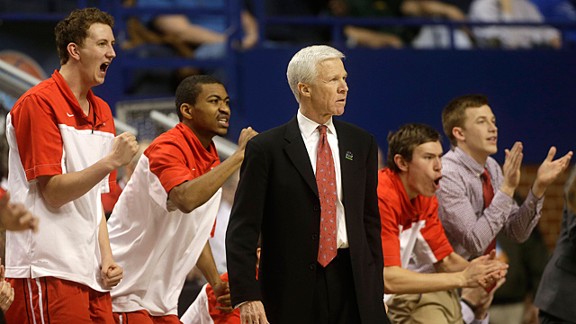 The Co-Man of the Hour is Wildcats coach Bob McKillop. If you ask someone to name the best mid-major coaches in America, you'll typically get answers like Mark Few, Brad Stevens, and Shaka Smart. But McKillop has been a steady force in North Carolina in the shadow of the monolothic programs surrounding him, and in 24 years at the school he's become the Southern Conference's all-time wins leader. I also like that he looks like a dignified senator; it lends him some gravitas. And it presents a nice style contrast with Marquette coach Buzz Williams, who likes to mock vanquished teams by dancing on their home floor.
But McKillop has only won three NCAA tournament games in his career, and they all came during the famous Curry run in 2008. Now's his chance to add to the résumé and set up a date with Butler in the Round of 32. It should be a great ending at Rupp, and my money's on Cohen to pull off some heroics. Now, buckle up for this video of Cohen throwing down one of the mightiest slams you'll ever see. I can't believe the whole backboard didn't shatter in a storm of glass:
See you Friday.
Man of the Hour (4 p.m.): Matthew Dellavedova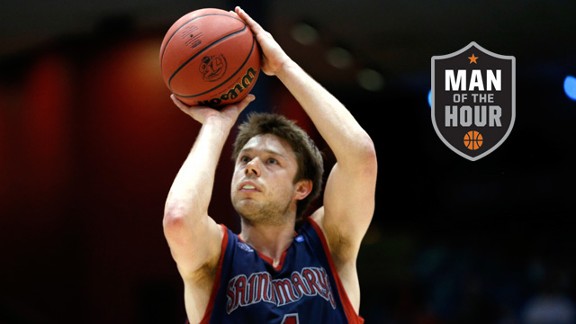 Man of the Hour has taken sort of a melancholic turn here as we approach 4 p.m. Last hour, I told you to watch mega-human Sim Bhullar before he was gone from the tournament, and now I direct your attention to a mid-major legend who may be playing his final game: Matthew Dellavedova
The senior Saint Mary's point guard is best known for being from Australia, and also for his intimidating mouth guard that makes him look sort of feral. But he's also a very good, very efficient point guard, as Luke Winn documented last month. Dellavedova is one of those college players who seems like he's been around for about 10 years — Kenny Boynton and Peyton Siva are the two others this year — and probably reached the peak of his fame as a freshman, when Saint Mary's beat Richmond and Villanova to reach the Sweet 16. But he's been toiling away ever since, improving in most statistical categories every year and appearing now and again on ESPN when the Gaels play Gonzaga (and usually lose; he's 4-8 against the Zags for his career). Dellavedova is the career scoring and assists leader at Saint Mary's, and he made the All-WCC team this year after winning conference player of the year in 2011-12.
On Tuesday, he finally won another NCAA tournament game at the First Four in Dayton. And today, his team was down 32-22 to Memphis at the half, fairly outmatched, and probably destined to lose. But I have a feeling there's some magic left in that mouth guard, and I encourage you all to tune in for what might be the end of a great career.
Man of the Hour (3 p.m.): Sim Bhullar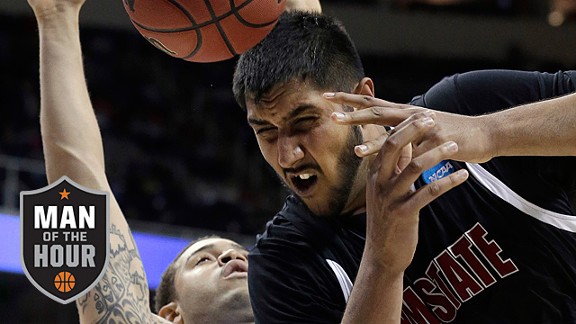 It looked like the jinx was on in a big way after I made Brad Stevens the last Man of the Hour, but Butler swung the momentum, stopped being ice cold from the floor, and held on for the win. Michigan State routed Valparaiso, which means that, amazingly, I haven't lost an Elite Eight team in the first set of games for what feels like the first time in years. Always nice when you can hold on to your happiness for more than two hours on Opening Thursday.
Now, as the next set of games begin, I'd like to direct your attention to the next Man of the Hour:Sim Bhullar.
Bhullar is a freshman at New Mexico State, and the main thing you'll notice about him is that he's 7-foot-5 and 340 pounds. You may have noticed that the majority of really, really insanely tall college basketball players tend to find homes in the smaller conferences. The last one who comes to mind is UNC-Asheville's Kenny George, who stood 7-foot-7. That's because along with that size comes an unfortunate tendency to be really, really slow. So while the height might prove effective in smaller leagues, the big schools aren't interested in slowing down their whole team to accommodate size. And when these lumbering bigs make the NCAA tournament, they tend not to be very effective.
Unfortunately, from what I've seen so far, Bhullar fits the mold. He's worked to get in shape, but he's still a step behind everyone else on the floor, and is struggling to get up and down. New Mexico State is playing Saint Louis, a very, very good team that has a chance to shock Louisville if both teams make the Sweet 16, and the Billikens probably won't be fazed by the giant in their midst (at the moment, it's 29-16).
But it's still pretty crazy and fun to see someone that large playing basketball. So I wanted to alert you. The game is on TNT, and this will likely be your last chance to see Bhullar until next year.
Man of the Hour (2 p.m.): Brad Stevens
Bucknell over Butler was one of the most popular upset picks of the first round, and it was largely based on Bucknell's 6-foot-11 center Mike Muscala. And yeah, Muscala is good; he won the Patriot League MVP, its defensive player of the year award, and is projected to go in the second round of this summer's NBA draft. So it made some sense.
But then again, COME ON. He's going up against the Man of the Hour: Brad Stevens.
Did you see how Stevens's team handled Cody Zeller? Do you really think Bucknell has seen a defense like Butler's all year? Or that Stevens wouldn't know exactly how to stop him? College basketball is a guard's game, and a big man can't win a game by himself. Stevens isn't doing anything revolutionary. Erik Fromm and Kameron Woods — and especially Andrew Smith — are bodying up, and the guards are darting in for quick doubles, but Bucknell's guards have only attempted two 3s. That's a testament to Butler's ability to recover, and the excellence of defenders like Roosevelt Jones. But it's also about Stevens's game plan. You can't give this guy a week against a Patriot League team and expect an upset.
The strategy has worked. At halftime, Butler led 21-14. Muscala is 1-9 with two points. And if Stevens's crew weren't 0-9 from three, this would already be a blowout. Expect things to get ugly in the second half as Rotnei Clarke finds his form.
That being said, Bucknell's defense is one of the best in the country, at least by the numbers. If Butler stays cold, maybe Andrew Smith can calm his nerves and start making shots. But on the first possession of the second half, which just happened, he let a simple entry pass go through his hands and out of bounds. The Dogs are in his head. Rotnei Clarke also just hit a long 2. My money's on Stevens.
For fun, here's his interview from right after the title-game loss in 2010. Class act.
Man of the Hour (1 p.m.): The Sonic Guys
It's still very early in the two opening games, and though I considered giving the MotH to Michigan State coach Tom Izzo just because I love watching him pace that sideline, I had a better idea. We're going to be seeing a ton of the same commercials over the next three weeks — especially since CBS cuts away for every 30-second timeout — and most of them are terrible. But there's one exception.
T.J. Jagodowski and Peter Grosz
These are the guys from the Sonic Drive-In commercials; the ones that sit in a car and banter for 30 seconds in each spot. I was an improv nerd back when I lived in New York, and two of my favorite shows were "T.J. & Dave" and "4 Square." Jagodowski was the "T.J." part of the former group, and Grosz was in the latter. (4 Square also performs as 2 Square with Grosz and 30 Rock's John Lutz.) And let me tell you, these dudes were brilliant. So funny, so smart, so fast. Ninety-five percent of all improv comedy is excruciatingly awful, but when it's really good, it's the kind of thing that blows your mind. Seeing these guys onstage always made me excited, and it's definitely the thing I miss most about living in a city. The Sonic commercials don't do them justice, but they still stand above the rest.
So in the midst of all the god-awful, annoying commercials that will air throughout March Madness, let's take a moment to credit Sonic for keeping it super simple and coming up with a formula that works. Just hire two geniuses, let them work, and let the camera roll.
Here's one of my favorites:
Back with real basketball men of the hour at two …
Man of the Hour (Noon): You, the Bracketeer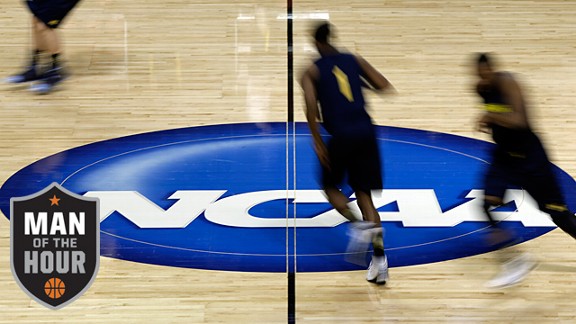 Happy Opening Thursday.
I mean that, guys — happy giddy Christmas morning glorious ecstasy Madness Opening Thursday. We're just minutes from game time on this, the greatest of mornings, and all I want to do is jump around my house and man-hug every human I encounter. This is the only day of the year when I would literally man-hug Kim Jong-un if he walked through my door. Then I'd pause and let the situational fear start to sink in, but first instincts? Man. Hug. (He'd probably have come because he loves Michael Jordan, and I'd have to explain that Jordan doesn't play anymore. Which might be a tough pill for him to swallow, making things a bit awkward. Honestly, I hope he doesn't show up.)
So, today we're going to be crowning a Man of the Hour every hour, on the hour. Since no games have started yet, the man of the hour right now is: you, the bracketeer.
Why you? Because you still have hope, and hope is beautiful.
Let me tell you a story about my bracketing history. I've won a couple pools in my time — most notably when I picked UConn over Duke in 2004, making me a traitor who had sold his loyalty for $300 — and I had a near-epic moment in 2011 when only VCU's late victory over Georgetown kept me from a perfect 16-for-16 day. That's always been a dream of mine, and I came tantalizingly close that year.
But there's a dark side to my story. It's become an annual tradition that I lose an Elite Eight team on Thursday. And not just Thursday — I lose them in the first session on Thursday. Somewhere among the first four games of the day, my whole bracket goes to pieces. And I get angry. And the happiness wears off until I've completely accepted that I'm done for the year and return to a mental state where I can enjoy the games.
You can check out rationale for my picks in each region at these links — Midwest, West, South, East — or you can take a gander at my bracket with your own two eyes (notice the grease stains):
[Click to Enlarge]
After I finished filling it out, you can imagine that I was pretty eager to see the first games. My hope was that they'd all be 1 vs. 16 or something, so the picks could be safe and I could reverse the mojo. Here's what I found:
(3) Michigan State vs. (14) Valparaiso
(6) Butler vs. (11) Bucknell
(8) Wichita State vs. (9) Pittsburgh
(4) Saint Louis vs. (13) New Mexico State
Sure enough, two of the riskiest picks in my bracket are Butler making it to the Elite Eight, and Pittsburgh beating Gonzaga to reach the Sweet 16. Michigan State is also an Elite Eight team. It is now a virtual guarantee that Bucknell, Wichita State, and Valpo will win.
But I don't know that. Anything could happen. How great would it be if I nail every game to start? Could I go 16-for-16 on Thursday? Is this the year of miracles?
It's all possible. I have hope. And so do you. We don't quite realize that we're on the precipice of a cliff, about to go flailing into bracket hell. So on opening Thursday, I say cheers. Cheers to us, the Cursed Bracketeers.
Filed Under: College Basketball, March Madness, NCAA, NCAA tournament, Shane Ryan