Jim Crews and the Rise of the Saint Louis Billikens
Cal Sport Media via AP Images
Saint Louis interim coach Jim Crews met Rick Majerus 35 years ago, but he can't remember exactly where. It was on the recruiting trail, he thinks, or maybe at a camp, or maybe just at a restaurant. Crews was an Indiana assistant then, having graduated from IU in 1976 as part of the last undefeated national championship team. Majerus was an assistant with Marquette, a team he'd take over in 1983 before moving on to the Milwaukee Bucks, and Ball State, and Utah, and finally SLU. Crews moved from Indiana to Evansville, and from there to Army, where he was fired among allegations that he had physically and verbally abused a player in 2009. The two men stayed in touch, Crews told me, and often talked about coaching together. But it was still a surprise when the phone call came just days before the start of the 2011-12 season. Al Jensen, Majerus's assistant, had left for the D-League, and the Billikens needed another coach.
"My wife and I had to make a decision within 24 hours," Crews said. "Which is not my DNA."
But he said yes. He moved, and he served as Majerus's assistant as SLU made the NCAA tournament and lost by four points to Michigan State in the round of 32. Last summer, on August 24, the school announced that Majerus was taking a leave of absence because of an ongoing heart condition. Crews was named interim coach, and during the next few months, Majerus's prognosis worsened. On December 1, with the season under way, Majerus died at age 64. (Dana O'Neil's piece on how his passing has affected the team is well worth a read.) The Billikens had just come off a loss to Washington. They were 3-3.

"We're all temporary," Crews told me. "Rick's friendship with me was temporary. He unfortunately passed away. His coaching was tremendous, but he's not coaching anymore. But the lessons …"
Here, he trailed off. It's not unusual for Crews to speak in very practical terms about Majerus's death. The words might seem a bit cold, but this is a question he's had to answer for more than a year, all while trying to focus on leading a very good team. Crews speaks kindly of Majerus, and the strength of what he built at SLU, but his reasons for downplaying the emotional impact of Majerus's death are, like Crews himself, pragmatic.
"We think of him often," he said, "but do we use him as a really beat-the-drum rally cry to win a game or win the championship? No, we don't do that. And I'm not saying I'm right or wrong. I don't know if I'm right or wrong. But I just thought that would be a disservice to his life. Because if we didn't have the success in terms of on-the-floor wins, does that diminish our love or respect for him? And it absolutely wouldn't, so I'm not putting that on anybody."
What Crews will talk about is the Saint Louis system. He's quick to downplay his own contributions, repeating over and over that he's simply had to step back and allow his players — the top eight in the rotation are juniors and seniors — to execute the system the way they've been trained. He even claims that the players know it better than he does, and that from time to time, he has to ask them questions.
And that's the Majerus imprint. He taught his players not only how, but why. According to Crews, this is Majerus's permanent legacy with this team, and the reason the system could keep working after he was gone. The players know the steps of the dance, but they also know the motive behind the steps. It's ingrained.
After the 3-3 start, the Billikens went 21-3 the rest of the season. They clinched the Atlantic 10 regular-season championship last weekend, and are currently ranked no. 16 in the AP poll. Along with Gonzaga, they stand as the mid-major team most likely to go very deep in the tournament. The last time college basketball saw a wide-open year like this, Butler and VCU found themselves playing in the Final Four. Those teams, with their excellent young coaches, are still very good. But SLU beat them both this season, along with almost everyone else the A-10 could muster. And when they all meet up again in Brooklyn this weekend for the conference championship, it's the Billikens who will be favored to cut down the nets.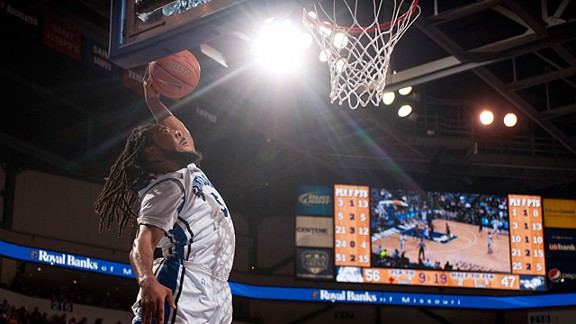 It was no coincidence that Crews didn't mention a single player's name until we were 13 minutes into our conversation, and it's no coincidence that I haven't mentioned one until now. They're a collective, one that Crews calls "quietly incredible."
"It's kind of a unique group the last few years in terms of emotion and leadership," he said. "Most teams that I've been around have had one or two guys at the forefront, leading, and we really haven't had that. It's just been a group leadership, with different guys at different times and different situations."
At look at the team stats shows that they have five players clustered at the top of the scoring list, from Dwayne Evans's 12.9 points per game to Jordair Jett's 9.8. When a team is described as having a "balanced offense," it's often a euphemism hiding a dearth of offensive talent. In SLU's case, the balance hasn't hindered its success. In fact, it's created a situation where a bad game from one player won't sink the team. Crews pointed to Cody Ellis's 0-for-15 performance in a recent overtime loss against Xavier (the team's only loss in its last 13 games). The Billikens nearly won the road game, despite a truly miserable display from one of their best players.
The offense has been above-average — 55th in the nation in points per 100 possessions — by using on-the-ball screens to run pick-and-rolls and free up shooters like Ellis and Mike McCall Jr. to hit 3s. When point guard Kwamain Mitchell returned from a foot injury in late December, the team's backcourt went from good to very good; Mitchell was third-team All A-10 last year, and his ability to distribute and score filled an important void for SLU. If there's a weakness, it's rebounding; center Rob Loe is 6-foot-11 and Ellis is 6-8, but neither are particularly physical on the boards. Dwayne Evans, at 6-5, is the team's best rebounder, but the lack of effective height tells on the offensive glass, where they produce a low percentage of second chances. But strong shooting and a low turnover rate ensure that it hasn't handicapped them.
Defense is the real strength of the Billikens. In those 13 games since mid-January, they've allowed more than 65 points just twice, and one of those games went to overtime. They have the 18th-best adjusted defensive efficiency in the country, and with guards like Jett (A-10 all-defense last year) and McCall dogging the perimeter, they force turnovers at an especially high rate. Defense, too, is where Evans's rebounding ability becomes critical; despite the struggles on the offensive end, SLU is one of the best teams in the country on the defensive boards.
The Billikens' slow pace of play also figures into their strategy, and is a big reason why they will be a very difficult March opponent. They can beat other slow teams, like Butler, because they're a team of upperclassmen who are well-schooled in a system and aren't afraid to take their chances on an every-bucket-counts style of game. But with strong ball handlers and tough man-to-man defense, they're also ready for teams like VCU that want to play fast, pressure the ball, and force mistakes. When I asked Crews what kind of team Saint Louis might be vulnerable to, he laughed and said that even if he knew, he wouldn't tell me. But I truly don't think he had a good answer. And I think that if SLU loses in the tournament, it's going to be a very close game.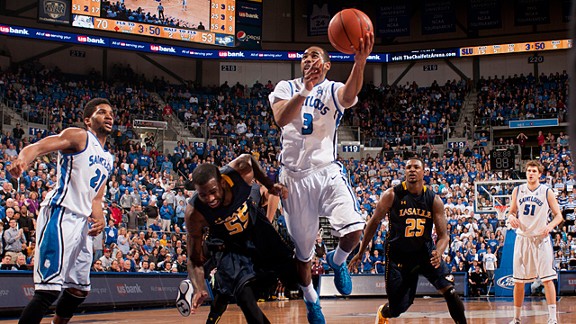 "They always say I'm old school," said the 59-year-old Crews. "But they said that when I was young. I was 15, and they said I was old school."
It's a quality that suited him to Indiana and Bobby Knight, who he credits with teaching him how to manage his time and balance coaching with everything else. ("Time did not filter away for him," he said of Knight.) In different ways, Majerus's zest for life taught him the same lesson. It's why Crews was able to take over a team and realize that instead of teaching 13 players a new system, he could simply let the 13 players teach him.
He didn't get together with his team to watch VCU play Temple last Sunday. A VCU loss would give SLU an outright A-10 title after beating La Salle a day earlier, but he wasn't interested. He allowed himself a brief moment of satisfaction in his office when someone told him that Temple won, and that was all.
Crews doesn't know if he'll be back next year, or if the interim tag means one-and-done, and he doesn't like to talk about it. He's also noncommittal about whether this is the best team he'd ever coached, and whether he's begun to think about how far it can go.
"You try to make the right decisions wherever you are," he said. "But sometimes life decisions don't work out the way you wanted or everyone else wanted. And you know, the bottom line is every team except the national champion comes crashing down. That's just how it is. It comes crashing down."
So he hedges his bets. It would have been easy to believe that the ignominious exit at Army was the end of Crews's coaching career, and in the fall of 2011, he was living as though that were the case. But a surprise phone call from an old friend led him to Saint Louis, and to another chance. Crews has never coached a team to the Sweet 16, and Saint Louis hasn't been there in more than 50 years. Now, the old-school coach and the old-school team could be a perfect match.
Filed Under: College Basketball, Shane Ryan