NBA Shootaround: Frustrated Incorporated
Aaron Ontiveroz/The Denver Post via Getty Images
So much amazing is happening, and the Shootaround crew is here to help you keep track of it all. You'll find takes on moments you might've missed from the previous night, along with ones you will remember forever.
The Tournament of Knicks-Nuggets Story Lines
netw3rk: Without narratives our brains would be lost in a chaotic swirl of disparate and unconnected events. Narratives are the stories we tell ourselves. It's the way we imbue our lives with meaning. Without narratives we would all go through our lives like some debauched French existentialist philosopher with Memento disease. Are sports narratives reductive and dumb sometimes? Heck yeah; most times even. But the alternative would mean confronting the reality that you are watching dudes run back and forth, meaninglessly bouncing a ball, as time flows inexorably toward the eventual destruction of Earth when it is swallowed by our aging sun. That's no fun at all. So without any further ado, here are 16 mainstream narratives pertaining to the Knicks-Nuggets game in Denver presented in March Madness bracket form.

J.R. Smith vs. New York is a Finals Contender
Winner: J.R. Smith. "You trying to get the pipe?"
Ty Lawson vs. Raymond Felton
Winner: Ty Lawson. Lawson Is the engine powering Denver's explosive offense — 21.9 points on 51.4 percent shooting, 7.2 assists, 56.6 percent eFG, 60.9 percent TS since the All-Star break. Raymond Felton has the proportionally tiny arms of a Tyrannosaurus rex.
Denver's Fast Break vs. Melo Is an MVP Candidate
Winner: Denver's fast break. Denver plays the second-fastest pace in the league and has the most shot attempts from less than 5 feet. Last night looked like the irresistible force vs. the very old object.
Melo's Knee vs. Tyson Chandler's Knee
Winner: Tyson Chandler's knee. Chandler is simply New York's most indispensable player.
ROUND TWO:
Denver Got the Better of the Melo Trade vs. Melo Made NY Relevant
Winner: Denver got the better of the Melo trade. Because it did.
Does Denver Need a Superstar? vs. JaVale McGee
Winner: Does Denver need a superstar? The closer we get to the playoffs, the more the question will be asked.
J.R. Smith vs. Ty Lawson
Winner: J.R. Smith. He's bound to tweet or do something crazy sometime soon. Especially if New York continues to slide.
Denver's Fast Break vs. Tyson Chandler's Knee
Winner: Tyson Chandler's knee. I had to take a walk around the block after typing that.
FINAL FOUR:
Denver Got the Better of the Melo Trade vs. Does Denver Need a Superstar?
Winner: Does Denver need a superstar? Get used to it.
J.R. Smith vs. Tyson Chandler's Knee
Winner: Tyson Chandler's knee. [Drinks a whole bottle of Robitussin.] [Walks out to the street.] [Punches a stranger in the face.]
FINAL:
Does Denver Need a Superstar? vs. Tyson Chandler's Knee
Winner: Does Denver need a superstar? The easiest narrative will be the first thing you hear after every Nuggets playoff loss.
Now if you'll excuse me, I'm going to listen to Bauhaus while self-cutting and hoping the sun goes red giant before I wake up.
Mike Woodson's Reaction to All This
(All GIFs by HeyBelinda, unless otherwise noted)
Here's a Less Depressing Bracket
vs.
vs.
vs.
Colonel Doug Collins's Tank Division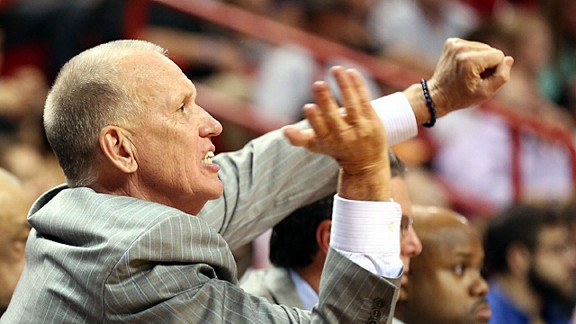 Ben Detrick: To Miami, whose torrid win streak has now reached 20 games, last night's victory was the third Philadelphia-size speed bump in the last three weeks. Nothing new there. But for the Sixers, it also marked the last time this season when anyone with even a vestigial fragment of affection for the franchise should root for them to win a game. The crowd at the Wells Fargo Center was riotous, Doug Collins was a twisting bundle of nerves, and Jrue Holiday had a slithering fourth-quarter drive that culminated with a one-handed dunk on LeBron James. Of course, the Sixers lost, but that's a positive thing.
At this point, any victory by the Sixers is inexcusable. They're not in the playoff chase, nor are they a young team fermenting chemistry that will bubble over to next year. No, Philadelphia is a franchise in ruin, an empire whose grand ambitions amounted to a pile of fire-blackened timbers. And for a bungling organization that was strip-mined for assets in the deal for Andrew Bynum, the lottery offers the lone salvation in a lost season. They have the 10th-worst record in the NBA, but are only two games in the win column out of a bottom-five position. So when Collins insists on playing Holiday for 40 minutes a night and gives rookie Arnett Moultrie a grand total of five, it's treasonous.
Still, for a few fleeting moments during the fourth quarter of last night's game, the great white bird of optimism spread its wings in Philadelphia. Holiday pitching in a pull-up jumper; Turner lumbering into the paint for a low-altitude layup, Dorell Wright draining a corner 3 after a brilliantly executed play. This was the excitement Sixers fans were promised. But then the Heat prevailed, and a nauseating season unofficially ended in Philadelphia.
Here's What LeBron Thinks of Your Great White Bird of Optimism
It's Not Me, It's You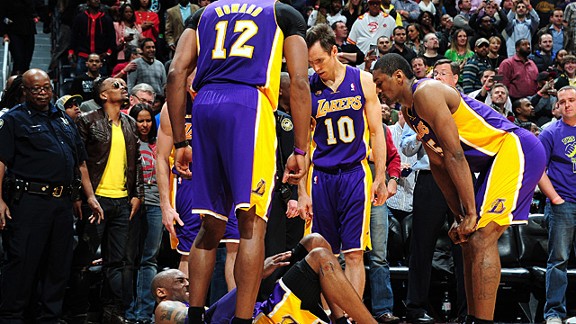 Patricia Lee: It was a dark, dark night in the NBA. Well, for Lakers and Knicks fans anyway. Both Kobe Bryant and Tyson Chandler suffered odd left leg injuries. I watched a video replaying Kobe's injury at least seven times, partly because I was still confused as to what happened, and partly because I thought that if I watched it enough times, somehow that horrible chain of events would remain in the YouTube world and not a part of real life. Delusional, I know. The night had started out so well, too! Oklahoma City crushing Utah meant good-news bears for the Lakers' playoff chances, and despite a not-so-close purple-and-gold game at first, things started looking up in the third quarter. Then, well, you know, Kobe got "Jalen Rosed" by Dahntay Jones. Then Kobe fired shots. And Jones responded. (FWIW, he said he didn't mean to injure the Black Mamba.)
There are two main camps surrounding this — the first says it was clean and appreciate Jones's defense, and the second says that it was intentional (especially given Jones's history). Me? Well, I'm just trying not to think about it. The news about Kobe being out indefinitely is painful enough, and I just don't think I'm in a rational enough state to properly analyze what happened.
Sean Fennessey says to look at the bright side (maybe Dwight will step up!), but I'm not really sure there's a silver lining to this story. So instead, I propose a toast … to a (meh, on-the-brink of greatness) season-that-was. Lakers 2012-13, I'm breaking up with you.
(Wait, that's how this superstition/reverse-jinx/renounce-your-team thing works, right?)
Five Things Jay Caspian Kang Hopes Kobe Bryant Doesn't Start Tweeting About Now That He's Injured
5. Vanessa Bryant
4. Bacon
3. Writer feuds
2. His kids/Beyoncé
1. Girls
Five Things Jay Caspian Kang Hopes Kobe Bryant Does Start Tweeting About Now That He's Injured
5. Cars
4. Dwight
3. The new pope
2. Website redesigns
1. Taylor Swift
Sometimes There's a Man …
Daryl Morey's Supersoldier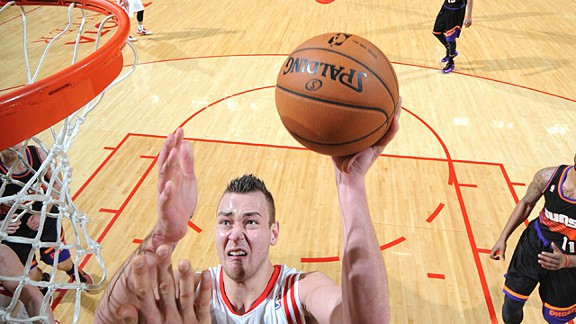 Danny Chau: We'll look back on this Houston Rockets season and see it as the year when James Harden became a superstar, when Chandler Parsons became the biggest bargain in the NBA, and when we all learned how to pronounce Omer Asik's name. These guys are all solid representatives of Daryl Morey's Rockets, a team that finds loopholes in the system and blows them up to farcical levels. If you had to choose someone who represented the entire team, you wouldn't go wrong with any of the aforementioned. But there's a dark horse, a player on the team who perfectly embodies the Rockets' ethos. That player is Donatas Motiejunas.
He is, in essence, a Morey supersoldier prototype: a lithe 7-footer who loves to shoot the corner 3 but can also use his quickness in the post with spins and a few hard dribbles at the rim. Last night, Motiejunas had a game-high 19 points and was a +35 in a 30-point win against the Suns. He took four 3-pointers in the game, which is his average for March. Of his 12 shots, 10 of them came from around the rim or from the 3-point line. That's 83 percent. Seems high, but compared to the rest of Motiejunas's season, it's a fairly low figure.
On the season, 90.1 percent of Motiejunas's 111 shots have come from around the rim or from 3. For reference, 81.2 percent of the team's total shots come from these areas. In Motiejunas's seven games since becoming a starter at the end of February, the number rises to 90.2 percent. All of this is absolutely ridiculous. It doesn't take an analytical genius to figure out why these areas are the most efficient in basketball, but in any case, he is Daryl Morey's vision pushed to the logical extreme.
(Side note: I had the pleasure of interviewing him last July at the Las Vegas summer league. In a bit of last-minute research, I learned that dude has an eagle tattooed on his chest. I asked him about it. He quickly shot me down: "C'mon, man. Let's not talk about that.")
Given the Alley-oops We've Seen This Week, This Is Almost Quaint
Let's Talk Tired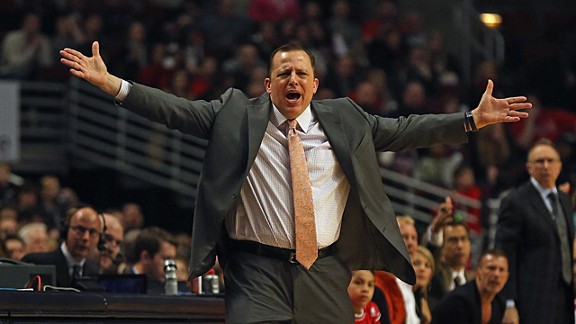 Brett Koremenos: The Chicago Bulls' offense has gone off the rails. Scoring just 79 points against Kings was perhaps the signal that the end is near for this team. Since their game against the Celtics on February 13, the Bulls have posted an offensive (that works in two ways here) efficiency rating of 94.1 — a mark that would be, by far, the worst in the NBA over the course of a full season. It's easy to point to the absence of Derrick Rose and other assorted injuries as the primary culprit, but there is a bigger issue at play: fatigue.
Tom Thibodeau's obsessive nature, chasing victory night after night, has his Chicago team on the verge of a collapse (its -5.1 scoring margin over the above mentioned stretch is Sacramento-level bad). As Grantland's Alley-oop Overlord and resident Bulls fan, Robert Mays, pointed out to me last night, guys are just worn out. And how you can you blame Joakim Noah, Luol Deng, and all the rest of the walking dead for being exhausted when they've been driven into the ground with an endless string of 40-plus-minute nights?
I have long been a believer that coaches play their guys too much over the course of the regular season. Given the marathon-like schedule, it behooves coaches to think long-term when managing their core players' minutes even if it costs the team a few wins in the present. The problem with my opinion now is that it's just an opinion.
The NBA is still years away from figuring out the real effect of fatigue on performance and injury risk. Until protocol for properly evaluating and managing fatigue can be implemented (which is a whole other battle), we won't know how much is too much when it comes to playing time. For now the best we can do is just use the information at hand to deduce things like the Bulls are bad on offense (and just bad in general) because guys have played too much. But we won't know if that's the right assumption until we can figure out a way to measure the proof.
A Sort of Homecoming for Melo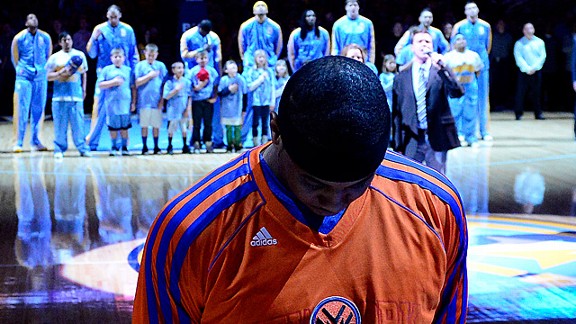 Sean Fennessey: In March 2005, I sat in a weight room inside Denver's Pepsi Center with Carmelo Anthony. Through a window, we watched a 19-year-old Wake Forest point guard named Chris Paul dump passes into the post to a wooly Aussie named Andrew Bogut during a pre-draft workout. But Melo could hardly be bothered as he fiddled with a BlackBerry. "He's nice," he said of Bogut, not even raising his head to watch. "He's the one." That was the extent of his draft commentary. No surprise, the Nuggets were not lottery-bound that year. That was high time for Melo. Not yet 21 years old, he'd led the Nuggets to their first winning season in a decade in his rookie year. Denver hadn't had a star like him since Elway retired five years earlier. When we talked, Melo didn't seem terribly interested in Denver. He had a few empty aphorisms about playing hard for the city, but he seemed far more interested in talking about Baltimore and Brooklyn, his pair of hometowns. Denver worshipped him, and he accepted their love without complication. But he was never going to last.
Last night, when Melo returned to the Pepsi Center for the first time since he was traded to the Knicks in 2011, he was booed. Maybe not mercilessly, but enough to indicate that the home crowd hadn't forgiven him for forcing his way out. Booing him is pointless, though. Melo is a superstar player, but he was the exact wrong superstar for Denver. They'd already lived through Alex English and Fat Lever, brilliant volume scorers whose teams never quite got over the hump. This year's Nuggets, in a typically tough Western Conference, are 22 games over .500, winners of 10 straight, and absolutely terrifying at home. They essentially ignore any shot inside the 3-point line but beyond the paint. And they are young. Though they lack "a star who can take over late in games" they are the living embodiment of upside. The Knicks, conversely, are old and broken. Melo turns 29 in May, and while he's having a typically voluminous season, his team consists of several weathered old fishermen stricken by gout. I rooted for the Knicks for 30 years before giving up on the James Dolan regime this summer. Too much legacy-riddled wrongheadedness to bear. I turned to the Nuggets, a League Pass favorite that would house a handful of shunted Knicks from the Melo trade. They seemed fun: Ty Lawson and Kenneth Faried causing emotional trauma via alley-oop; my beloved Danilo Gallinari awkwardly stumbling to the basket before gracefully laying it in; Andre Iguodala poking wing players in the chest; the JaVale McGee Factor. They have been more than fun; they are a spiritual joy. During games, Masai Ujiri, the name of Denver's thoughtful young general manager, has become a quiet incantation for me, like namaste or Drop the bass. The Nuggets annihilated the Knicks last night and both Melo and the Knicks' second most important player, Tyson Chandler, left with knee injuries. The game was very fun to watch and then very dull. When Melo sulked and shuffled off in the third quarter, I felt nothing. Just another unenthused evening of play for Carmelo Anthony at the Pepsi Center.
Filed Under: Brett Koremenos, Carmelo Anthony, Chicago Bulls, Chris Ryan, Danny Chau, Denver Nuggets, Javale Mcgee, LeBron James, Miami Heat, NBA, New York Knicks, Patricia Lee, Philadelphia 76ers, Sean Fennessey