How Will This Season's Bayern Munich Pep Squad Compare to Barcelona?
Christof Stache/AFP/Getty Images
I don't really know why I'm bothering to show up for soccer season this year. Bayern Munich's complete dominance is, after all, a fait accompli. Last season's Champions League winners only went out and added their biggest rival's best player, Mario Goetze from Borussia Dortmund, and possibly the best coach in the world, the architect of the all-conquering 2008-12 Barcelona, Pep Guardiola. Bayern's possession-based style is a perfect match for Guardiola. Last season in Europe's five biggest leagues, Bayern was the only team besides Barcelona to average more than 60 percent possession. We're all playing for second, right? Well, maybe.
Nobody is going to dispute Bayern's talent level. It's absurd. Even their second team, which could feature the likes of Arjen Robben, Toni Kroos, Luiz Gustavo, and Xherdan Shaqiri, would probably be good enough to compete for a Champions League spot in most European leagues. But that doesn't mean they're primed and ready for Pep. Assuming Bayern's approach last year was similar to Barcelona's just because they both had a lot of the ball misses exactly what it is that makes Guardiola and the Barcelona program he built so unique, and also ignores exactly why Bayern were a treble-winning juggernaut.
This is the point in the program when I mention that while Pep left Barcelona before last season, Tito Vilanova, who took over, is as steeped in Barcelona's Barcelonaness as a coach can get, after being Pep's assistant for his entire Barcelona run.

For Barcelona, possession was the building block for everything they do. So many words have been spilled about their tiki-taka style under Guardiola that it seems almost silly to rehash. The basic idea was that you use short passes to keep the ball and carve up the defense like a Thanksgiving turkey until eventually they all spontaneously fall down and let you (and by you I mean Lionel Messi) walk the ball into the back of the net.
With Bayern, possession isn't the starting point, it's the finish line; it's the result of their domination of other teams, not the cause.
Bayern won last season because they outshot the opposition, pure and simple. They shot the ball, won it back, and shot again, over and over and over. Guardiola preaches keeping the ball until you can't help but score, but he's inheriting a team that excels at pounding away, battering ram style.
When you stop to break down the numbers it's truly astounding how little Barcelona actually shot. They averaged 13.9 shots per game last season, only sixth most in La Liga, and less than one shot more than the league average. That would be unremarkable if they didn't keep the ball for a truly mind-blowing 69 percent of the game.
Combine a barely above average number of shots with bananas-high possession and you get a team that plays really, really slowly. When some soccer snobs claim to be "just so over" tiki-taka, and describe it with words like metronome, machine-like, and joyless, this glacially patient pace is generally what they're responding to.
Barca shot only once every 4:28 that they were in possession of the ball. That's the slowest shooting rate of any team in the five biggest leagues in Europe. Bayern, on the other hand, led the Bundesliga in shooting, averaging 17.1 shots per game along with 63.7 percent possession. The German champions averaged 5 percent less time with the ball, but still managed more than three shots more per game, shooting more than a minute faster than Barcelona — once every 3:21 they had possession. That's all courtesy of the numbers at WhoScored.com.
Of course, while volume of shots is important, it only tells some of the story. As you might expect from a team that tries to walk the ball into the net, Barcelona was much more accurate than Bayern. Messi & Co. scored on 22 percent of their shots, which means I have to add "only" when I write that Bayern Munich scored on 17 percent of theirs.
Only 17 percent. That's insane. Bayern's 17 percent clip was the second highest in either league, and Barcelona just completely blew it out of the water.
The differences aren't only reflected in how they shoot and score goals though. Barcelona was almost perfectly balanced in attack, 33 percent on the left wing, 33 percent on the right, and 34 percent in the middle. Bayern, which features two of Europe's best known wingers in Robben and Franck Ribery, focused more on the wings, with only 28 percent of their attack coming down the middle of the field, 35 percent on the left, and 38 percent on the right. The German club crossed more than Barca (26 times as opposed to 15) and was also better in the air, winning 60 percent of their aerial battles as opposed to 48 percent for the smaller Barcelona side. Conversely, Barca made more short passes per game than Bayern (691 to 532). They have Xavi and Andres Iniesta, so you don't have to feign surprise at that disparity.
This is all a nerdy numbers way of saying that Bayern Munich didn't rely on possession to create goal-scoring opportunities. If they had it, great. If not, well, they were still perfectly capable of dismantling the best teams, even teams like Barcelona.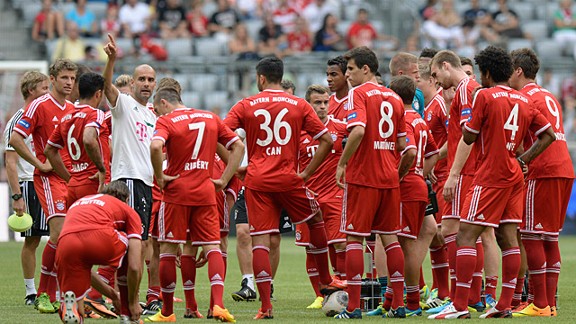 A perfect example of the stylistic differences between the two was their Champions League semifinal clash. Bayern obliterated Barcelona, 7-0 on aggregate, despite having only 35 percent possession in the first leg at home and 40 percent at Camp Nou. Bayern scored four goals on 15 shots in the first match, while Barcelona was shut out, taking only four shots.
By the second match, Barcelona, down four and without an injured Messi, were forced to shoot more as they attempted to come back, and actually won the shot battle 15-8. They still lost the second leg, 3-0.
Of the seven Bayern goals scored during the semifinal, two were from headers (while a third was scored after a corner kick was headed back across the face of goal), two from blazing fast counterattacks down the left wing, and one from a long crossfield pass from the left side to the right side. That's six goals scored from the result of actions that don't frequently occur under Guardiola's strategy.
Guardiola might be great at Bayern, in fact he probably will be, but there's no doubt the Bayern Munich team that takes the field this season will be drastically different than the one last year, maybe not in personnel, but certainly in approach. It's not a matter of picking up where they left off. Players will have new tactics to learn, new roles to play, perhaps even a shift in positions. There will be a period of adjustment and steps backward to be endured during the learning process. Despite the accident of having similar possession statistics, the Bayern of last year is nothing like the teams Guardiola built. Of course the scary thing is that by the time Pep is done working his magic, this team could be even better.
Mike L. Goodman (@TheM_L_G) is a freelance writer and soccer stathead based in Riga, Latvia.
Filed Under: Barcelona, Bayern Munich, Soccer