Text Messages to Dwight Howard From a Houston Resident
Bill Baptist/NBAE via Getty Images
Dwight Howard has been a Houston Rocket for two weeks. I sent him some text messages.
Me: yo!
Dwight: hello
Me: are you watching the ESPYs? the guy from Mad Men just made a joke about you, ha! that's dope.
Dwight: i'm not. what'd he say?
Me: that you finally helped the lakers win when you left to houston
Dwight: that's not very nice
Me: well
Dwight: I hope he wins an ESPY for being a big fat jerk. tell him i said that.
Me: tell him?
Dwight: yeah. if you scream loud enough, he'll hear you.
Me: what? you want i shou– oh. ha. i get it. nah, man. i'm not there. like, i'm not at the actual show. i'm watching on tv.
Dwight: I know.
Me: … that's not how TVs work

---
Me: hey now
[No response.]
Me: yo
[No response.]
Me: YO!
Dwight: hey. my bad. i'm over fussing with my transporter. it's acting up.
Me: transporter? that Jason Statham movie?
Dwight: what? no. my Matter Transporter
Me: dude, wtf is a Matter Transporter?
Dwight: you don't have a MT?
Me: nah, no, no I don't have a Matter Transporter. what is it?
Dwight: Um, OK, so basically the easiest way to explain is it's like that thing from Star Trek where they beam from place to place.
Me: YOU HAVE ONE OF THOSE??? THOSE SHITS ARE REAL? OMG
Dwight: yeah. i have like four of 'em. you don't?
Me: dude, my car doesn't even have a/c
Dwight: sucks. i'm off cars. i only travel by MT. way faster.
Me: crazy. that's so dope. i should've been rich.
Me: wait.
Me: but you said "it's acting up." what does that mean?
Dwight: Oh, right. So my buddy was coming across and for some reason it only sent his arms and legs. i don't know where his torso or head is. i hope they get here soon
Me: WTF
Dwight: yeah. it sucks. there's lots of blood. what gets blood out of rugs?
Me: i mean, i'm not even sure what's going on right now
Dwight: Do you know anyone that needs an arm? i don't. i have both of mine.
Me: i gotta go, bro
Dwight: OK. let me know.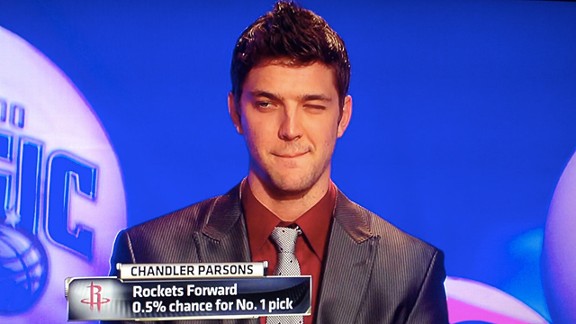 Me: hey now
Dwight: hey-o
Me: i saw that story about Chandler Parsons
Dwight: what's that now?
Me: the one about him recruiting you
Dwight: oh, right. yeah, that's the homie. Chandler. The Chandman.
Me: the what?
Dwight: The Chandman. It's like The Sandman, but I just plugged his name in instead
Me: oh i got it
Dwight: i'm always giving everyone nicknames. i'm really good at it. my friends call me Mr. Nickname.
Me: for real?
Dwight: … no. :( they mostly just call me Dwight. Or sometimes Dwite. have you ever seen that show Naked and Afraid? that's what i'm watching right now. it's wild.
Me: how tf did we … dude, i asked you about Chandler Parsons
Dwight: right right right. yep. he had a big role.
Me: cool. great. how's that? can you explain a little?
Dwight: he's the homie. Parsons. Parsons of Interest.
Me: jesus christ
---
Dwight: shea
Me: yeah, man
Dwight: need some help
Me: sure. what's up?
Dwight: so i'm over here at Yao Ming's restaurant
Me: right. well, it's not really his restaurant, but still. nice place.
Dwight: well, see that's the thing.
Me: ?
Dwight: i kept hearing about how nice it was
Me: uh-huh
Dwight: but it's not. it's pretty regular.
Me: Well, i guess you've probably spent a lot of time in fancy restaurants, so that make sense.
Dwight: right. probably. they gave me a crown though, so that's neat. king of houston, haha
Me: dwight
Dwight: yeah?
Me: a crown?
Dwight: yeah.
Me: dwight
Dwight: yeah?
Me: dwight, you're in a burger king
Dwight: … crap
Filed Under: Dwight Howard