Hostage Situations: Meet the NFL Players Who Deserve to Be Set Free
Adam Bettcher/Getty Images
We're halfway through another NFL season, and this week the trade deadline came and went without any big news, because this is pro football. The only trade that happened involved some guy named Isaac Sopoaga. NFL teams never shake things up at the trade deadline. Bill Barnwell already covered the trades that should've happened, but now it's time to think bigger. Let's talk about the guys who deserve a new life, for their sake, our sake, and the game's sake. The great players on bad teams who deserve better.
One of the most enjoyable football seasons I've ever seen was watching Randy Moss on the 2007 Patriots. There were obviously a lot of things you could hate about the Patriots that year — mostly, that they were completely unstoppable — but Moss was impossible to hate. He'd fallen off the face of the earth in Oakland and Minnesota the few seasons before that, and after a while, it was like it didn't even matter that he was the most freakish athlete we'd ever seen in the NFL.
Then he went to New England, and we got to see him in football heaven for three months. He caught everything in sight, he helped Tom Brady have the greatest season in NFL history, and every week you could see how much fun he was having. Nothing will ever top the spectacle of Moss taking over the NFL that first year in Minnesota, but seeing him set free in New England was almost as great.
This should happen more often, but because of salary caps and the nature of football, it doesn't. While Hall of Fame talents are good enough to change the fortunes of entire franchises in basketball, it's different in football. If you're really great, you won't necessarily change the direction of a team (unless you're a quarterback), but you'll likely be just great enough so that your mediocre team will sign you to a huge long-term contract and keep you there forever.
We got to see someone like Jerry Rice spend his entire prime playing with Hall of Fame quarterbacks on great 49ers teams, but more often these days, the greatest players in the NFL are stuck in bad situations. There are a lot more Barry Sanders careers than Jerry Rice careers.
So with that in mind, here are the players who deserve to prosper somewhere else. We're doing this for two reasons: first, to raise awareness of stars you might not see in the playoffs, and second, because it never hurts to dream …
Darnell Dockett, Tyrann Mathieu, Patrick Peterson. Did you see that Mathieu won defensive rookie of the month this week? It was the latest reminder that he has been pretty phenomenal this year. He's pretty phenomenal in general. He makes plays, he has a fascinating backstory, and he's someone everyone can root for.
The problem: To watch Tyrann Mathieu games you have to watch Cardinals games. That's a bridge too far for most of us. You know how Thursday Night Football is sloppy and inconsistent and somehow depressing even when it's a close game? Well, the Arizona Cardinals are the Thursday Night Football of football teams.
I can't bear to watch Mathieu spend the next eight years in Arizona. Same with Patrick Peterson, one of the best corners in the NFL, and Darnell Dockett, pet tiger owner, trash-talking defensive tackle, and perennial MVP of athlete Twitter (in that order). Together, these three help give the Cardinals a quietly awesome defense, but it doesn't matter. The Cardinals have been good on defense for a while now; they're 4-4 this season, and not bad. But they're still not catching the 49ers and Seahawks for the next three years, and as consistently good as the defense has been, the offense is always just bad enough to keep the whole team mediocre. So, send Mathieu and Peterson to someone like the Saints, send Dockett to the Seahawks where he and Richard Sherman can fight over the microphone every week, and let's all enjoy them on teams that matter. Please.
Do it while they're still awesome. Before it's too late.
(The easy option for Cardinals emancipation is Larry Fitzgerald, but he's not the choice for two reasons. First, he's gotten PAID since he's been in Arizona, so it's hard to feel too bad for him. Second, and more importantly, because of the way his contract is structured there's a decent chance he'll go elsewhere this offseason. Keep your fingers crossed.)
Robert Quinn and Chris Long. Most NFL fans don't know who Quinn is, and that's a problem. Another problem: Everything we said about the Cardinals is true about the Rams, too.
But Quinn and Long are pretty great as defensive ends. They nicknamed themselves Black Lighting and White Thunder earlier this year, and together they are "Thunderstorm." That anecdote alone makes it impossible to root against them. (Bonus: Black Lightning/White Thunder gives us an excuse to remember Willie Mays Hayes in Major League II).
On the field, Long has been underrated and overlooked for a few years now, and Quinn is on a whole other level. He's an absolute monster, he has 10 sacks this year, and he's still only 23 years old. And while Quinn showed off three separate sack dances on Monday night, there was also Long doing his Ric Flair celebration.
Bottom line: We need more Thunderstorm in our life, but we don't necessarily need more St. Louis Rams in their life. Set them free.
Justin Blackmon. Blackmon has had a rough start to his NFL career. There have been arrests, concerns about his drinking, and he plays for the Jaguars. But we're including him here because of two games from the past couple years: against the Texans last year (seven catches, 236 yards) and against the Broncos a few weeks ago (14 catches, 190 yards).
Everything else has been a little bit underwhelming, but the talent is there. So, just take a second and imagine how great he could be playing for a team like the Packers. Or the Lions, learning from Megatron and getting single coverage. Or the Panthers with Cam Newton. Anywhere! I'm not saying Blackmon's a hidden superstar now, and he may never be if he stays in Jacksonville.
But that's exactly why we need to send him somewhere else.
Dez Bryant and Sean Lee. Probably the most frustrating part of being a Cowboys fan is watching teams that have real talent find new and exciting ways to piss it away every single year. This is because of bad coaches, bad management, and also the reality that no team with Tony Romo can ever truly prosper. Anyway, it's too late to save DeMarcus Ware and Jason Witten, so we're choosing Bryant and Lee instead. Bryant is the second-best receiver in football, and Lee spends every Sunday hurling his body all over the field and always finding the ball. Kinda like a wedge-buster on special teams, except the wedge he's busting is your whole offense. They both deserve better than 8-8 teams for the next five years.
Every Player on the Bucs. "How bad is it there? It's worse than you can imagine," a 2012 Bucs player told Michael Silver last week. "It's like being in Cuba."
LIKE CUBA!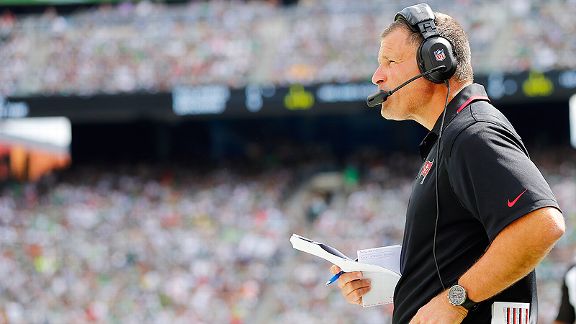 Bucs players are the only people on this list who might resemble actual hostages.
Shad Khan. While we're existing in this dream state, I just wanted to say that I wish Khan owned a higher-profile team like the Cowboys or Redskins so the entire country could enjoy him every week. Imagine if every time you saw Dan Snyder or Jerry Jones, you saw Khan instead. We'd all be so much happier.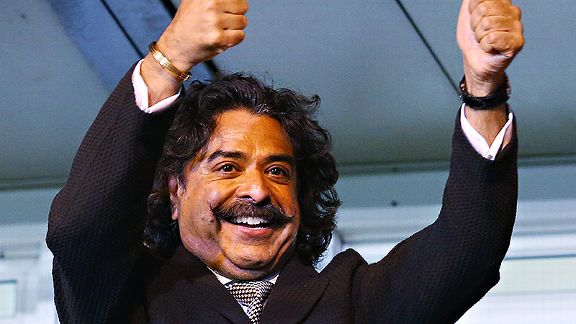 Just looking at him makes me a happier person. He's like billionaire Rob Ryan.
Chip Kelly. Another bonus entry here. Please send Kelly back to college. Dare the NCAA to punish him. It's not that his offense can't work in the NFL, but it'll never destroy worlds the way it did at Oregon. I want him to succeed in Philly, but no matter what, he's never averaging 70 points per game in the NFC East. So screw it. He can make just as much money at USC, and he can help turn the Pac-12 into the most exciting league on earth. There could be TWO Oregons, and they could play each other every year. How can anyone oppose this?
RG3. It's best for everyone at this point. Free RG3.
He probably doesn't realize he's being held hostage, and that makes it even worse. He won't realize until it's too late. This isn't a hot take; it's just too miserable watching him get turned into the enemy. The backlash was inevitable back in August, and now it's happening.
Redskins fans and D.C. media turned him into Jesus last year, and now that he's struggling to (a) recover from a knee injury, and (b) turn a horrible team into a contender, everyone in D.C. wants to be the BOLD TRUTH TELLER who says RG3 is the problem. Look at the Washington Post this week. One writer wonders whether RG3 will ever be elite. Another writer: "Where is that fresh kid with the unbeatable combination of modesty and limitlessness? In his place is a player who's coming off as an unteachable know-it-all."
Jesus Christ.
RG3 has been bad this year — bad with occasional flashes of decency, technically — but he's also playing behind a crappy offensive line and throwing to Leonard Hankerson every week. He was good enough to transcend the Redskins Sadness Machine all by himself last year, but now he's playing hurt, and he's been rendered mortal. His injury made him less mobile, and after the Redskins spent last year running an offense designed to maximize his athleticism and simplify reads, the transition to pocket passer has been rough. This makes sense. It's not because RG3 thinks he's bigger than the game; it just takes time to learn how to play quarterback and read NFL defenses from the pocket. It's also harder to do all this on one and a half legs.
All this may sound like analysis from Captain Obvious, but that's where D.C. is right now.
"Griffin is to a certain extent the victim of inflated expectations," Sally Jenkins writes. "But that's his own fault …" This is really what some people in Washington think.
If the Redskins keep losing, it's just going to get worse. And the Redskins are definitely going to keep losing the next few years — they're the Redskins. It's what they do. So people will try to turn him into a locker room cancer or some spoiled know-it-all. People will start blaming him for the Redskins name, wondering why he hasn't spoken up. Fans will call him a diva. The takes will get hotter and hotter. Please, let's find a way to end this while there's still time and RG3 has some cartilage left in his knees.
LeSean McCoy. On a lighter note! Shady's great in Philly, but imagine how much more fun he would be if he could play with a real quarterback for 16 games. So … San Francisco? Wouldn't McCoy and Colin Kaepernick running the read-option every week be the most unfair shit in NFL history? It's so evil it has to happen. We need this in the NFL playoffs:
He has only a few more years left of his running back prime, so we have to make this happen as soon as possible. Speaking of which …
Adrian Peterson. Seriously. For Peterson, and for everyone who has to watch him play out the end of his career over the next few years. Do the right thing, Vikings.
This is getting ridiculous.
Filed Under: Adrian Peterson, Andrew Sharp, NFL, Robert Griffin III, Washington Redskins