College Basketball Team Previews: The Royal Blues — Kentucky, Kansas, UCLA, Duke, and North Carolina
Streeter Lecka/Getty Images
All this week, we'll be running college basketball team previews for the 20 (or so) Most Interesting Teams. Today we present the Royal Blues, and then we'll work our way up to the Big Guns.
Is it strange to anyone else that the five most legendary teams in college basketball all wear blue? When you look at the four winningest programs in history, it's blue all the way — Kentucky, Kansas, North Carolina, Duke. Turn to national titles, and UCLA emerges as the fifth major power. (Yes, Indiana, you would be the sixth. And yes, you're red, but you can't be mad; you're the best team in the country this season, and the national title favorite.) This year, the Royal Blues are ranked from third to 13th, and since the NCAA landscape resembles 2009-10, when the absence of truly dominant teams opened up the race, they all have at least a hint of a title shot. We begin with last year's champs.

Kentucky: New Ammo, Same Gun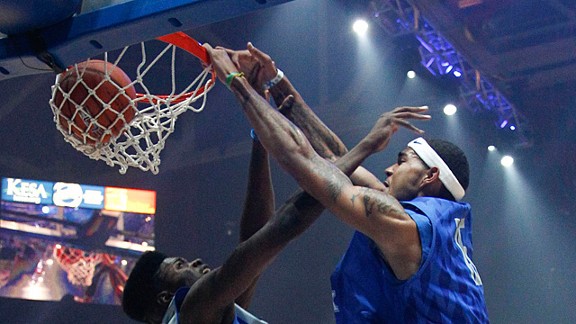 The Gist: It would be a big blow for most teams to lose all five starters and the best sixth man in the country, but for John Calipari, it's all part of the plan. His recruiting prowess has become so exceptional that he's able to reach down like some kind of basketball Zeus and pluck a crop of exceptional high school stars every year. They're the kind of players who almost always opt for the NBA after one year, and until 2012, many Kentucky haters comforted themselves with the tenuous theory that the strategy could produce talented teams, but never a national champion. That comfort blanket burned emphatically last April, and now Calipari is back with the no. 3 team in the country, featuring four new freshman phenoms, a sophomore sharpshooter, and a transfer point guard.
Strengths: Experience. Just kidding. But seriously, N.C. State transfer Ryan Harrow is something of an anomaly in Calipari's system. After a rough freshman season in Raleigh two years ago, Harrow campaigned for coach Sidney Lowe to keep his job in what turned out to be a political miscalculation. When Lowe was replaced by Mark Gottfried, and fellow point guard Lorenzo Brown started to look like extremely tough competition, Harrow could see which way the wind was blowing. He left town and spent last season as a redshirt with Calipari and Kentucky, competing against Marquis Teague in practice and preparing to lead Kentucky for the foreseeable future.
Joining Harrow will be three freshmen who make up this year's second-best recruiting class. The jewel of the group is 6-foot-10 center Nerlens Noel, who was only recently declared eligible by the NCAA after some questions about his recruitment. Despite the fact that Noel was the top prospect in his high school class, some Kentucky fans are taking pains to remind us that he won't be the next Anthony Davis. Still, he'll block a ton of shots, score some easy baskets, and disrupt opposing offenses with his size. Calipari has two incredibly athletic, intelligent freshmen in shooting guard Archie Goodwin (the no. 15 recruit, per ESPN) and power forward Alex Poythress (no. 13). Kyle Wiltjer, the 6-foot-10 sophomore who shot 43 percent from 3 last year, will likely start at "small" forward. Calipari's bench will be stronger than expected due to the addition of guard Julius Mays, another former N.C. Stater, who is using his year of grad school eligibility after averaging 14.1 points per game at Wright State two years ago. Rounding out the rotation is freshman Willie Cauley-Stein, a 7-footer and a standout wide receiver in high school, as well as a top-40 recruit in his class.
Weaknesses: There aren't many here. With talent to spare, it's possible that Calipari can approach last year's exalted level, when his team ran the second-most efficient offense in the country. The defense won't be quite as tough without Anthony Davis patrolling the middle, but don't expect much of a drop-off, especially in the weak SEC.
Relevant Les Misérables Quote: If you missed yesterday's post, we're giving each team a quote from the greatest musical of all time in honor of the film version coming out in December. This one's for Calipari:
"Welcome, Monsieur / Sit yourself down / And meet the best / Innkeeper in town. As for the rest / All of 'em crooks / Rooking their guests / And cooking the books. Seldom do you see / Honest men like me / A gent of good intent / Who's content to be … Master of the house!" (YouTube)
I'm not saying Calipari is full-on Thénardier, but even the biggest Kentucky homer can't deny that delightful hint of seedy charm underlying the accolades.
Confident, Insightful Projection: Florida and Missouri will be Kentucky's only competition in the SEC, and I don't see either coming through the conference unscathed. Beyond that, so much depends on the success of the style that Calipari chooses, team chemistry, and avoiding injuries. But the one thing you can't ignore is that Cal keeps getting better at Kentucky. He made the Elite Eight during the John Wall year, Final Four after that, and then won the national championship. Do you really want to bet against this guy making it to Atlanta?