College Basketball Team Previews: Ohio State
John Sleezer/Kansas City Star/MCT via Getty Images
Last week, we looked at the Dangerous Outsiders, the Royal Blues, and the Title Snipers. See the box below for those links. This week, we turn to four legitimate championship contenders, starting with the Wolfpack of NC State yesterday and continuing with the Ohio State Buckeyes today.
Ohio State: The Sneaky Contenders
The Gist: One of the great stories in American politics is how Abraham Lincoln secured the Republican nomination for president in 1860. It's worth reading Doris Kearns Goodwin's excellent Team of Rivals for the full story, but the broad outline is that although Lincoln was a visible public figure by that time, he wasn't expected to win. (Unlike today, where the conventions are a three-day coronation, the 1800s versions involved uncertain outcomes, electioneering, and backdoor deals that often shifted crucial votes; sort of like a modern-day caucus on steroids.) William Seward was the front-runner, and the vote-leader in the first two rounds of ballots. But he fell just short of the necessary majority both times (too radical), and Lincoln's supporters slowly but surely whittled away votes from the less popular candidates. Seward's supporters held firm, but they wrongly expected their numbers to increase without much sweat. Finally, on the third round of voting, the relentless Lincolnites swayed enough minority candidates, and suddenly their man was the head of the ticket. The reaction around the country, and even at the convention, was mild to major surprise. "Wait, Lincoln won?"

It couldn't have happened if one candidate had extraordinary support. Lincoln's original coalition wasn't big enough. The discord in the party allowed for the subtle maneuvering behind the scenes. To make the metaphorical leap to college basketball (you knew it was coming, right?), we sometimes see a Lincoln finish in years without a true powerhouse. Duke in 2010? Total Lincoln finish. "Wait, Duke won? Not Kansas, not Kentucky?" The Blue Devils were a good team, top 10 to start the season, but champions? That was a surprise. And if you're looking for the Lincoln of a wide-open 2012-13, look no further than Ohio State, a team that boasts three returning starters with Final Four experience, some untested new blood, and the best coach in the game without a title.
Strengths: I am not a Buckeye fan, and along with a lot of other non-Buckeye fans, I spent most of last season angry at Aaron Craft. Looking back, that's probably — OK, definitely — a testament to his greatness. I felt that as the point guard who would become the Big 10's defensive player of the year, Craft often got the benefit of defensive "star calls." In other words, his reputation as a stifling defender preceded him, and refs would let him mug opposing guards when any other player would be whistled for a foul. That's Aaron Craft, so it must be OK, I imagined them thinking in their filthy zebra suits.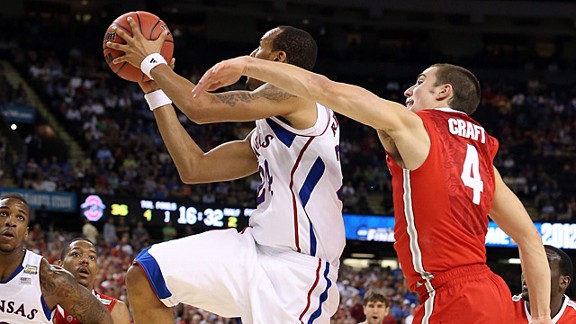 There may have been a kernel of truth to my rage, but there's no denying the fact that he's a quick, devastating presence in the backcourt, with hands that operate at ninja speed. The chances of him repeating as the conference's top defender are about 105 percent, and if he stays four years, he could become known as one of the greatest perimeter defenders in Big 10 history. Just like last season, his duels with Michigan's Trey Burke will be required viewing (after a relative draw in game one, Craft held Burke to 5 points on 1-11 shooting in their second meeting). He showed flashes of offensive brilliance at times in his sophomore campaign, including a 17-point, 10-assist game against Gonzaga in the third round of the tournament, and he'll have to step up that part of his game as a junior.