Champions League Pass & Move: The Sweet 16
ANNE-CHRISTINE POUJOULAT/AFP/Getty Images
A look back at the week's Champions League action.
There's Something About Dortmund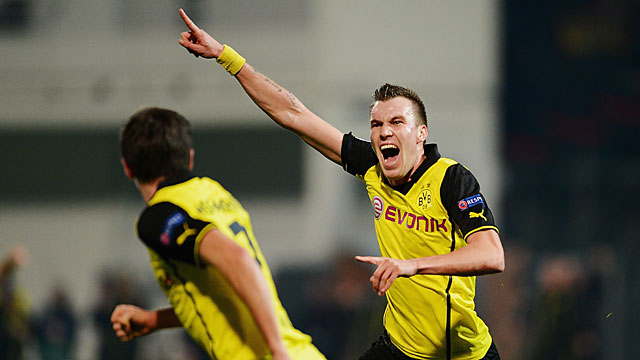 Mike L. Goodman: As a team, Borussia Dortmund are everybody's darlings. They're the little guys that made it big. They play an exciting, high-energy, swashbuckling, attacking style that everybody loves to watch. They have a coach in Jurgen Klopp who manages to be awesome and the best all the time, even when he's just gotten kicked out of a game for being a huge dick. Everybody agrees they do it the "right way," whatever the right way is.
All of that is true, but without some truly extraordinary luck against Malaga in the quarterfinals of last year's tournament, would anybody care? Or without those two goals in injury time that moved them through to play Real Madrid, would they be just another good team that you've mildly heard about that plays in Germany? Small moments make legacies.
So of course Dortmund did it again this year. It took until the 87th minute to get the goal they needed to advance to the knockout stages. But, having done that, they also ended up winning the group through absolutely no fault of their own, thanks to Napoli's 2-0 defeat of Arsenal. That means their round of 16 opponent gets chosen from a pool of Galatasaray, Olympiacos, Manchester City, Zenit St. Petersburg, and AC Milan. Except for Manchester City, Dortmund will be heavily favored to move through against any one of those opponents.
On the other hand, we have poor Arsenal. Arsenal, who haven't won a trophy in eight and a half years and counting, were on pace to win the group before that goal. Now they'll be paired with somebody out of the murderers' row of PSG, Bayern Munich, Barcelona, Real Madrid, and Atletico Madrid. Instead of a story line about the continued revitalization of Arsenal this year, they're faced with the prospect of a fourth consecutive round of 16 exit from the Champions League.
Then there's Napoli, perhaps the hardest done of them all. Napoli are the first team in the current format of the Champions League to gain 12 points in the group stage and not advance. They defeated both Arsenal and Dortmund at home, and did everything you could possibly ask them to do in an hour and a half nobody will remember. But hey, at least Napoli manager Rafa Benitez gets to defend the Europa League title he won last year with Chelsea. So there's that.
Manchester City: Can't Win for Winning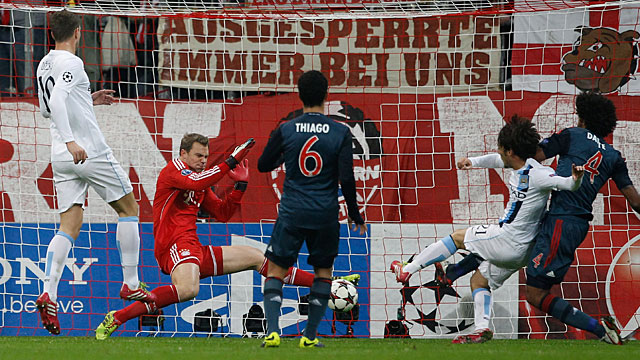 Spike Friedman: Despite what the Premier League table shows, Manchester City has been the class of England. Pretty much every metric aside from their standing in the table (currently fourth) shows their dominance; both the relatively crude goal differential numbers as well as their shot dominance numbers indicate they are a truly great team in a league otherwise ruled by parity. City only trails the league leaders because of a series of individual defensive errors suffered on the road.
So while City and Bayern Munich were both guaranteed advancement into the round of 16 heading into the final match of the group stage, how they performed would serve as a litmus test for City. Additionally, a big City win could hand them the group and an easier slate of potential opponents in the knockout stages. But initially it appeared as if they would fail to meet the challenge. City ran out something of a B-plus lineup against Bayern's top assortment of healthy players, and there appeared to be a gulf in class. Bayern quickly got a first goal through Thomas Muller doing his Thomas Muller thing. Shortly thereafter, Mario Gotze took a set-piece rebound and turned it into a goal. Bayern was up 2-0 in less than 20 minutes, and the rout appeared to be on. Once again, City would succumb to a poor defensive effort on the road.
Then David Silva grabbed a goal before halftime as Bayern's back line suddenly looked vulnerable. After the break, Dante would concede a penalty cashed in by Aleksandar Kolarov, and James Milner would find an improbable winner as Philipp Lahm suddenly looked like any fullback in the world other than Philipp Lahm. The scoreline would finish at 3-2. A moral victory for Manchester City! They won at Bayern! No one wins at Bayern! What downside could there possibly be?
There is no shame in winning narrowly at Bayern, except City manager Manuel Pelligrini left star striker Sergio Aguero on the bench, even when a single goal in the final 20 minutes could have won City their group. A non-move that seemed questionable at the time has since been explained: Pelligrini did not know the scoreline needed for his team to grab the group win. Apparently he believed his team would need to win by a three-goal margin, and he was holding Aguero unless the team got to 4-2. Now, much like Arsenal, City will likely face a title contender in the next round rather than a relative also-ran.
The Year of the Big Four
Goodman: Most of the biggest games from the last round of group-stage matches pitched mediocre teams from the major European leagues (England, Spain, Germany, Italy) against smaller teams from around Europe. And while Juventus was unable to get the win they needed against Galatasaray in Turkey, both AC Milan and Schalke prevailed at home against Ajax and FC Basel, respectively. The results mean that of the 15 teams from Europe's biggest leagues, 12 will be in the round of 16. That stands out even more when you consider that only 13 of those 15 teams could possibly advance, since two groups contained three teams from those leagues (Manchester United, Bayer Leverkusen, and Real Sociedad were together, and obviously Dortmund, Arsenal, and Napoli). In effect, Galatasaray defeating Juventus was the only instance of a team from a smaller league going through at the expense of a larger one. Throw in PSG as another big-time team, and 13 of the 16 slots in the knockout stages are filled with teams from big leagues. The little guy this year is represented only by Zenit St. Petersburg, Olympiacos, and Galatasaray.
While the most talented teams may have moved through, the tournament is certainly worse off for not having more "mid-majors." Obviously, teams like Shakhtar Donetsk, Celtic, or Porto (all of which advanced to the round of 16 last year but failed to move out of the group stages this season) aren't serious contenders to win the Champions League, but they are certainly strong competitive teams and ones that most of us are unlikely to see on a regular basis outside of the competition. And what makes it particularly galling is that three of the big clubs that advanced are in distinctively mediocre form. Manchester United and AC Milan are traditional powerhouses yet each sit ninth in their respective domestic leagues while Schalke are sixth in the Bundesliga.
It's not that the bigger clubs don't deserve their success; they do. But it gives the feel of an NCAA tournament in which the Sweet 16 is populated by the seventh-place finisher in the Big East and a bottom-feeding school from the Big 10, instead of the Virginia Commonwealths and Butlers of the world. Part of the appeal of tournaments is giving the best teams from littler stages a chance to test themselves against the strongest in the world. It's too bad there's going to be very little of that in the knockout stages of the Champions League this year.
The Turkish Elements
Friedman: The scenes out of Istanbul on Tuesday as Galatasaray hosted Juventus in a de facto one-match playoff for advancement into the round of 16 were stunning. The Turk Telekom Arena was besieged by Mother Nature as a mixture of hail and snow forced the match to be suspended after only 32 minutes had transpired.
When play resumed Wednesday the field was a mess; continued precipitation meant that the ground had become equal parts ice and mud. The surface was barely playable, and both sides would need to adjust to deal with the conditions. The question was, who benefited most? Juventus only needed a draw to advance, so both teams' inability to create any sort of meaningful build-up play favored the Italians. However, Galatasaray's strike force of Didier Drogba, Burak Yilmaz, and Wesley Sneijder were perhaps most capable of snatching a goal with "Route One"–style tactics.
Most of the match played out in Juventus's favor. Through the first 80 minutes, Gala, despite a host of chances, were only able to put a single shot on target: a Drogba strike well-saved by Gianluigi Buffon. Despite creating 11 chances, only one came in the box, as players didn't trust their control enough to take an extra touch or make an extra pass. And unless you are Oscar, you are probably not beating Buffon from outside the box.
But it was route one that would provide the winner for Galatasaray in the 85th minute. A long ball knocked down by Drogba to Sneijder, that Sneijder then put far post around a helpless Buffon would prove the difference. Galatasaray was through despite the elements, and Juventus doomed to toil in the Europa League.
Sneijder's finish was clinical, and Gala's tactics in the second half of the two-day fixture gave the team a chance of snatching a goal, but Juventus has no one but themselves to blame for needing a result in the final match of the group stage. You cannot drop points at Copenhagen and at home to Gala without effectively leaving your tournament life up to chance. That they would crash out in a match where playing football was all but impossible will haunt the Bianconeri. It will also haunt Serie A, which only got a single team through to the knockout stages and will likely wind up with a further damaged UEFA coefficient.
Atletico Madrid Are Really, Really Good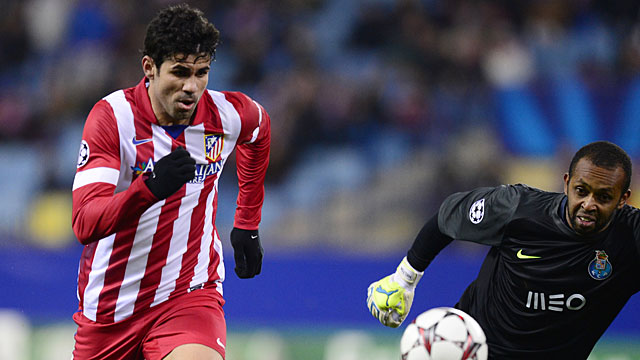 Goodman: Ateltico Madrid are kind of easy to forget about. They don't have the glitz and glamour of crosstown rival Real Madrid or the style and panache of Barcelona. And because their group featured FC Porto, Zenit St. Petersburg, and Austria Vienna, nobody really cared that they blew the doors off it, acquiring 16 points in the process. But here's the thing: Atletico may be the best team in Spain this year. With a record of 13-1-1, they only trail Barcelona on goal difference in La Liga, and they sit three points ahead of Real Madrid.
Atletico play a fairly simple style, but they play it extremely well. They let their opposition have the ball, and then they counterattack ruthlessly. According to Whoscored.com, they average 47.4 percent possession. A figure that low would be unheard of in the upper echelons of the Premier League, Serie A, or the Bundesliga (except for Bayer Leverkusen, who play a similar style). Despite having so little possession, they are still fifth in the league in shots taken with 218. In other words, when they take the ball from you, they play fast. The team is built around two young stars in 21-year-old midfield playmaker Koke and the breakout of the year, striker Diego Costa. The two of them, complemented by a host of other strong role players, including veteran striker David Villa and winger Arda Turan, orchestrate an attack that whips down the wings and through opposing defenses at lightning pace.
This Atletico team seems engineered for Champions League success. When many of Europe's elite sides clash, it becomes a battle for possession of the ball, with both teams looking to control and dictate play. The team that does the better job often wins. However, Atletico don't need that. Much like when Bayern Munich ceded the ball to Barcelona in the semifinals of last year's Champions League — content to use their pace and physicality to ruthlessly counterattack — Atletico is constructed specifically to exploit teams that want the ball.
Don't be surprised by Atletico making a very deep run in this year's Champions League, leaving supposedly "better" teams in their wake, with players shaking their heads and wondering what happened.
Filed Under: Champions League, Manchester City, Soccer