Bad Quarterback League, Week 3: It's All About Eli
Scott Cunningham/Getty Images
It's not entirely Eli Manning's fault, but do you see what's happening so far this year? He's thrown eight interceptions through three games, his team is 0-3, they just got blown out by 38 points, and after the game Sunday one of his wide receivers said, "You've got to control what you can control. I can't throw it to myself."
"Not a smart thing to say," Tom Coughlin grumbled at the next day's press conference.
Meanwhile, Hall of Fame linebacker and announcer Carl Banks popped up to chime in with his own takes. "They don't like themselves," he said about the offensive line. "That's what it really comes down to. They don't like each other. They're not willing to fight for each other. When you have a premier quarterback in this league, and you don't have enough self-respect — not for him, but for yourself — to protect him to do your job, I think it speaks volumes. I think these guys really do need to all stand in [front of] the mirror, and it's gut-check time."
Banks added: "I don't think I've seen a collective group just line up and get punched in the face and stand up and do it again and again and again."
Again and again and again and again and again. That's the Giants through three weeks.
This is the only recap you need from Sunday's Panthers game.
1.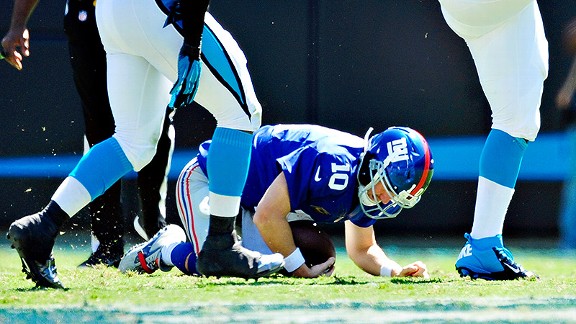 2.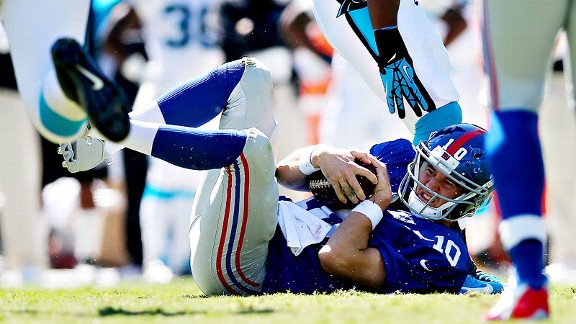 3.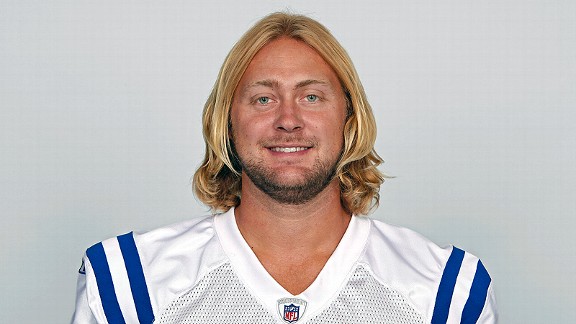 It started with Eli getting destroyed by the Panthers front seven; it ended with Curtis Painter jogging off the sideline to save the day and somehow take the nightmare to an even darker place. Add it all up and you have a quarterback benching (+35 points), 135 yards passing (+12), two interceptions (+10), no touchdowns (+10), and not a single pass over 25 yards (+10), for a nice, round 77 points. That's the highest score we've seen so far this year.
And Eli's currently leading everyone for the season with 129 points.
The Giants are so awful right now that either they're going to win the Super Bowl or they're going 5-11, Eli's throwing 30 picks, and Tom Coughlin will pop five different blood vessels in his face. Either way, the first three weeks have been outstanding. Eli is King of Bad QBs so far.
Eli Manning is Blaine Gabbert right now. Let that sink in.
As for the rest of this week's standouts …
Everyone Who Was Good Is Now Terrible
Look at the rest of this week's top five.
Where is Christian Ponder? Where are the Browns? Where are the Jaguars?
Is Ryan Tannehill good now? What is going on here?
• Matt Schaub had a pick-six that put him second overall with 51 points.
• Michael Vick forgot how to play the game on Thursday Night Football last week (44 points).
• Ben Roethlisberger had 46 points (2 INTs, 1 pick-six, AND two fumbles) and would've scored much higher if not for the 400 yards he threw for after the Bears were up 20 points.
• And the top five is rounded out by Colin Kaepernick, who wasn't quite as miserable as last week, but still put up a respectable 31 points in that loss to the Colts.
All the best bad quarterbacks this year are actual stars. There's something in the air. The plants are striking back and ruining all the good quarterbacks. WHERE IS MARK WAHLBERG?
Never forget The Happening is the absolute greatest. A few other notes:
1. Things are not going well for Christian Ponder in Minnesota. His quarterback coach, Craig Johnson, said: "The bottom line is — and he knows this — if you do not win the game, you're getting the blame. That's just the way it is. Suck it up. You're no different than quarterbacks in every other part of the country. When you lose, you're getting the blame. That's part of the deal."
2. We still haven't gotten a spectacular flameout from Jay Cutler or Tony Romo. The longer we wait, the sweeter it'll be when we finally get there.
3. Really, though: Is Ryan Tannehill good now?
4. WHERE IS JACOBY?
5. Don't let your daughters grow up to date Curtis Painter.
STATS: Thanks again to Danny Savitzky for organizing all the numbers. If the stats you're seeing are old, make sure to click over to Week 3. I made this mistake Monday and spent all afternoon wondering why Danny hadn't updated the stats. Don't be as stupid as me.
Filed Under: Bqbl, Eli Manning, Michael Vick, New York Giants