Bad Quarterback League, Week 2: Remember When the Seahawks Ruined Colin Kaepernick's Life?
Jonathan Ferrey/Getty Images
We spend a lot of time celebrating bad quarterbacks in this space, but how often do we celebrate the defenses that make them look so horrible? Because I'm pretty sure that's what happened Sunday night in Seattle.
It wasn't Colin Kaepernick's fault.
I mean, this interception was definitely his fault, yeah. But it's hard to pin the blame on him for the misery, in general. Right now there are still lots of good defensive players in the NFL, but once you start looking for good defenses, things get more complicated. This is why you have so many teams scoring 30 and 40 points a game. Against a good offense, or even just a good quarterback, 90 percent of teams are helpless.
All of which makes what happened Sunday night AMAZING.
The Seahawks turned Kaepernick into Kordell Stewart on national TV. There was the time he threw into double coverage inside the 10-yard line (deflection, pick). The time he stayed in the pocket and got stripped from behind for a fumble (that gave the Seahawks the ball inside the San Francisco 10). Or when the Niners were down 19-3 and he threw a perfect deep ball to Richard Sherman.
Or the safety, which came on a holding call in the end zone, but also came on a play when Kaepernick was running for his life until he threw a three-yard dump-off that was two yards behind Frank Gore. You get the idea.
This is what we're talking about when we talk about the Seahawks defense:
He ran this crossing route and started to drift, and on the other side of that drift lived a young man. A 6 foot 5 230 pound young man.

— Hamza Abdullah (@HamzaAbdullah21) September 17, 2013
This young man hates visitors. He has a sign on his yard that says…"Trespassers will be Hugged & THUGGED"

— Hamza Abdullah (@HamzaAbdullah21) September 17, 2013
This young man hit this Tight End SO HARD, I swear I saw that TE's soul leave Qwest Field right on that 35 yard line.

— Hamza Abdullah (@HamzaAbdullah21) September 17, 2013
He hit him so hard the entire stadium went mute. They didn't want to cheer someone being killed on the field.

— Hamza Abdullah (@HamzaAbdullah21) September 17, 2013
First of all, football players are awesome. Second: That's a former NFL safety describing Seahawks safety Kam Chancellor. The whole Seattle defense is like that, just waiting to end lives.
All of which leaves us with two important points. First, Colin Kaepernick put up the highest Bad QB score we've seen so far this year. Look at this, it's incredible:
• +15 (3 INT)
• +5 (fumble lost)
• +16 (4 TO)
• +12 (127 yards passing)
• +5 (46% passing)
• +10 (No TDs)
• +10 (No passes over 25 yards)
• -8 (87 rushing yards)
All told, it rounds out to a solid 65 points for the guy who was completely unstoppable just a week before. Which brings us to the second point: Seattle is pure evil this year. If they did this Colin Kaepernick, what happens when they play actual bad quarterbacks? Does Sam Bradford just burst into flames?
Seattle's defense could end up winning Bad QB MVP this year.
(PS: Found those Kam Chancellor tweets via Twitter World Champion @DragonFlyJonez. Follow him.)
(OK, moving on.)
Eli Strikes Back
Always a BQBL dark horse. When things go bad for Eli, they go really bad.
Some of this wasn't his fault.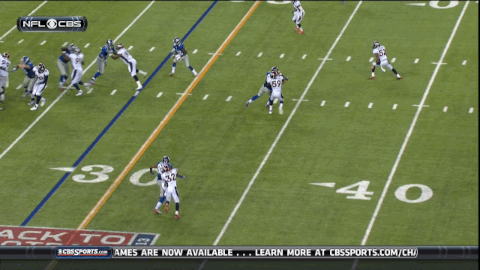 Some of it was.

Either way, do you realize he's the first quarterback since 2005 to start the year throwing seven interceptions in the first two games of the season? It's glorious.
Eli is great, but we can all agree he's had a lot of good luck in life (starting with being born into football royalty, ending with the Tyree catch and/or that Hail Mary in Green Bay). But then, look at that first interception. Maybe this is the year all Eli's good luck turns horrible? Maybe the Giants go 6-10 and Eli throws 25 interceptions again? Let's do it!
PONDER'S REVENGE
Christian Ponder actually played pretty well this weekend, but he scored high in the BQBL thanks to a pick-six (+25) and a vote of confidence from Leslie Frazier last week.
"Christian, he made some mistakes, but he's not the only reason we didn't have success on Sunday," Frazier said. "Our team did not play well, and that affects the quarterback as well. It wasn't just Christian, it just so happens that he plays the position that's under the most scrutiny."
I was at a restaurant in L.A. last night, and the bartender was wearing an Adrian Peterson Vikings jersey. We started talking and she said, "It's really a shame. Peterson puts in all this hard work, and then Ponder just throws it away."
And: "The team has been so close, but we always have the shittiest quarterbacks."
Later: "I was back home in Minneapolis and saw that [Ponder's] jersey was marked down from $100 to $40. At least I know I'm not the only one who feels this way."
Anyway, she's not wrong about any of that, and she's definitely not the only who feels that way, but I think I'm rooting for Ponder now. Fuck all the haters. Related:
CHRISTIAN PONDER TRUCKS LANCE BRIGGS.
Other notes:
1. Ben Roethlisberger still sucks. So do the Steelers.
2. Geno Smith put up an impressive 42 Bad QB points against the Patriots on Thursday, but it doesn't feel right to call him a Bad QB, because he's actually been surprisingly impressive so far. This makes no sense, but still. Geno Smith is somehow both terrible and impressive so far this year.
3. If you have scoring questions, hit up Danny Savitzky on Twitter.
4. BRING BACK JACOBY.
STATS: Major thanks to Danny Savitzky for tracking all of Week 2's action for us. If you'd like to check out the Bad QB stats for all 32 quarterbacks, head over to the very awesome Fantasizr, where you can sign up to play in your own league.
To see how it's all scored, click here.
Filed Under: Bqbl, Eli Manning