Bigger, Faster, Stronger, Louder: How the Seahawks Became the Coolest Team in the NFL
Jonathan Ferrey/Getty Images
An hour and a half before the Seahawks and 49ers were set to kick off, the air above Occidental Avenue smelled like weed and hot dogs. The jersey-clad had filled the bars outside CenturyLink Field for hours, but now the migration inside had begun. A drum line outfitted in the Seahawks' neon-green and blue hammered away outside the northwest corner of the stadium as opposing fans posed together in front of the Sunday Night Football bus. A group of twentysomethings swayed toward their gate. Above the noise, I could hear one of the women, outfitted in a North Face pullover and black suede wedges, shout to her friends. "I fucking love football," she said. "I love everything about it." She was wearing a white Earl Thomas jersey.
That sentiment, or something close to it, was standard on Sunday in Seattle, where the Seahawks were set to play the most anticipated regular-season game in franchise history. A local fan group, led by former Seahawk Joe Tafoya, had even invited a representative from Guinness World Records to measure the noise at CenturyLink Field. More has been at stake at The Clink — namely during the six playoff games hosted here, including the 2005 NFC Championship — but Sunday was different. Even during the high-water mark of the Mike Holmgren era, the Seahawks were never this. Last year, the team came within a field goal of the NFC Championship Game. This month, a commercial for Madden 25 starring quarterback Russell Wilson has been in constant rotation. Both ESPN The Magazine and Sports Illustrated chose Seahawks for the covers of their NFL preview issues. In just a few short years, Wilson and head coach Pete Carroll have managed to create a bigger cult of personality than Holmgren and Matt Hasselbeck could in a decade.

Ever since the Patriots won their first Super Bowl in 2001, even the NFL's best have never been particularly cool. When New England rejected the individual pregame introductions before that win, it rejected a decade of personality-driven identity in the NFL. The league's premier franchises were led by a pair of quarterback robots and a couple of coaches who seemed locked in a competition for who could be most benign. In football, every champion was the San Antonio Spurs.
Consciously or not, the Seahawks have spent much of the past three seasons deviating from that model. Everything about the team — from their coach, to their quarterback, to where they play, to what they wear — somehow seems different. In a league where teams often seem interchangeable, the Seahawks have made people take notice. And in doing so, they've become the coolest team in the NFL.
---
Pyramid Ale House sits about a block from CenturyLink, and on the local brewery's fenced-in back patio, a small group of men holding cameras gathered in front of Joe Tafoya. Tafoya spent seven seasons in the NFL, including a stint with the Seahawks during the team's run to the Super Bowl in 2005. Now, six years removed from his football career, the 35-year-old former defensive end has turned to a career in marketing. In July, Tafoya began working with Volume 12, a local Seahawks fan group. That's where he got the idea to make a run at the Guinness World Record for crowd noise at CenturyLink.
Flanking Tafoya were Bill Stewart, a sound engineer from SSA Acoustics in Seattle tasked with recording the noise level down on the field, and Phil Robertson, the official for Guinness. Robertson mentioned that the current record was set during a soccer game in Istanbul, Turkey, and before he could finish, a man to his left yelled, "We'll kill that fuckin' record!" The event was meant to be a proper press conference, but aside from a couple of scattered questions and clicking cameras, it was mostly just another opportunity for the "Sea! Hawks!" chants to begin.
Tafoya spent two seasons with Seattle — the best in franchise history. Still, he says the time for something like this has never been better. Sure, Tafoya wasn't in the business of ginning up publicity eight years ago. But he knows there's something different about these Seahawks.
---
The first thing I noticed about the attire in and around the stadium was that it was all the same. Nearly everyone was sporting a Seahawks jersey, and about 90 percent of those jerseys were no more than two years old. That was apparent from the names on the back — a lot of "Wilsons" and "Shermans" — but also from the design. Last season was Nike's first back in control of the league's uniforms, and just about every jersey around features a swoosh. When it was announced that Nike would be taking over for Reebok, some thought there might be a wave of design changes. But among the 32 teams, only Seattle started from scratch. The cynical viewed the change as an effective way to sell millions in new apparel, but each of the 31 other owners had the same chance and passed.
Minutes before kickoff, a father and son in matching no. 12 "Kelly" jerseys stood in the concessions line. No Kelly — or any famous Seahawk — has ever worn no. 12 for Seattle, but Kerry Kelly and his son Eron were just two of the thousands wearing it on Sunday. The jersey number seemed as popular as any, and although some choose to personalize it, as the Kellys had, most of the nameplates just read "Fan."
Four numbers have been retired in Seattle Seahawks history, and one of them is no. 12, which hangs with the others on the upper deck of the stadium's east side. Seattle's 12th Man has become just as much a part of Seahawks lore as any of its players, and as stars have come and gone, the constant in Seattle has been the crowd. In the hour before kickoff, a recording of wide receiver Doug Baldwin thanking the crowd for being the loudest in the NFL appears on the JumboTron several times.
Jerseys were the standard on Sunday, but over the course of the day, I saw at least five women in green tutus, four men dressed like the Riddler, and one elderly woman with her hair dyed neon green. The neon is limited mostly to accents, on jerseys and elsewhere, but there's still more dotted throughout CenturyLink than you're likely to find anywhere barring a downtown rave.
---
The first sheets of rain started to fall around 4 p.m., but Tim and Jennifer Praino, both in no. 12 jerseys, are safe in their seats about 20 rows off the field. Tim is a high school principal in Richland, about 200 miles to the southeast, and although he has been coming to games for a couple of years, these tickets, given to him by friends, are an upgrade.
CenturyLink Field is an open-air stadium, but the overhang from the upper deck covers nearly every seat along the sideline. It's this design that gets at least some of the credit for the noise level on game day. The domelike feel of the sideline is offset by the stadium's wide-open north end. All that separates street level from a clean view of the field is a few dozen stairs and bleacher seating for a few thousand — known as the Hawk's Nest — that stretches the length of the end zone and gets narrower as it extends upward.
Security guard John Young has been stationed just below the Hawk's Nest, in section 140, for most of his 14 years working at the stadium. He has missed one game in that stretch, when his 9-to-5 duties as a building inspector for the city of Clyde Hill spilled over into a Sunday. It was the 2005 NFC Championship that first inspired Young to start wearing earplugs ("That was the game where my ears actually started to hurt"), but Sunday, he went a step further. Hanging from the railing are a pair of orange Stihl headphones. Stihl, for the less handy, makes chain saws that roar at about 120 decibels. "It gets louder every year," Young said.
As Shaun Alexander was introduced to raise the 12th Man flag on the south side of the stadium, Young reached for the headphones. It was the first and last mention of Alexander that I'd seen. I'd go all day Sunday without seeing a single jersey of the 2005 NFL MVP.
The Seahawks won the toss and elected to defer, an announcement I could barely make out. The crowd had been at it since the player introductions, and as it got closer to kickoff, the volume gradually built.
I've experienced loud. More than once (probably too many times), tinnitus has followed me home from a concert. But until Sunday, I'd never felt the pain that Young described when talking about the NFC Championship Game. Everyone standing behind me in Section 140 was wearing earplugs, and as both teams lined up for the first play from scrimmage, I could see why. This was already untenable. A pain pulsed in my ears, more an ache than a sting, and I found myself rooting for a three-and-out, if for no other reason than it would mean a break. When Colin Kaepernick's third-down pass fell incomplete, I ducked back into the main concourse, opening and closing my jaw as I walked.
From his Twitter account, Tafoya announced that the first reading — taken on the other end of the field — was 131.9, about the same volume as a jet engine and 10 or so decibels above the normal human pain threshold.
---
In some places, an hour-long rain delay would have been enough to wear down the crowd, but in the main concourse Sunday, it was a chance to refuel. With all the people eating hot dogs and sitting on the floor, it looked like a middle school lock-in, minus the sleeping bags, plus the beer. When the game resumed, the crowd actually grew louder. During a goal-line stop in the third quarter, Stewart got a measurement of 136.6 decibels, officially the loudest recorded volume ever at a sporting event.
The stand was just one of the many high points for a Seattle defense that was dominant Sunday night. A week after throwing for more than 400 yards against Green Bay, Kaepernick was held to 127 against the Seahawks, who were a late field goal away from shutting out one of the best teams in football.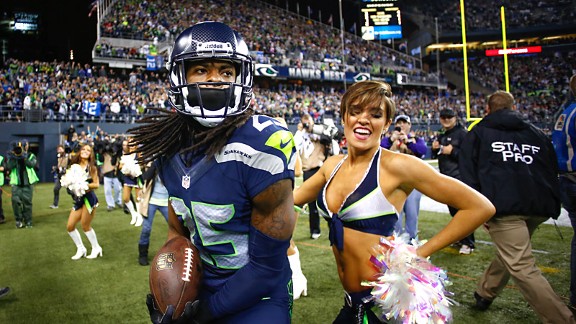 Seattle's recent success has played a role in its new identity, but more than any other team, it's the personalities that have pushed the team into a new stratosphere. In the press room following the win, Wilson and cornerback Richard Sherman, who at 6-foot-3 towers over his quarterback, shared a hug as Wilson left the podium. The stories of Wilson's charisma are legion by now, but it took me about 10 seconds to understand them. Saying the right things is part of it, but his air is about more than propriety. He smiles just enough, jokes just enough, and, dressed in a black suit with a white shirt and black tie, he seemed one pair of black frames short of being Clark Kent.
Sherman, on the other hand, was dressed like a cartoon villain. Wearing all black, save for the few white stripes in his bow tie, his 10 minutes at the podium were the equivalent of Snidely Whiplash curling his mustache. On each side of the microphone sat a football — one for the Sunday Night Football player of the game and one that he intercepted from Kaepernick in the fourth quarter. "A lot of things were said this week," Sherman began, "that we didn't appreciate." Sherman spent most of the night shadowing 49ers receiver Anquan Boldin, whose 200-yard performance in Week 1 may have been the best of his career. Sunday night, he went until the fourth quarter before his first catch. "Sunday Night Football, everybody's watching — watch this," Sherman said.
Wilson and Sherman are a perfect pair for this team; an alpha and omega, a hero and a foil. Their good-and-evil game works well enough that it would be reasonable to wonder how much of it is an act. But they do share one thing — any team could have had them. Sherman was a fifth-round pick out of Stanford in the vaunted 2011 draft, and Wilson, well … you know.
Before Wilson and Sherman addressed the media, the man ultimately responsible for bringing them to Seattle stood at the podium. Sunday, as anyone who watched the NBC broadcast probably heard, was Pete Carroll's 62nd birthday. Any mention of Carroll's age is typically followed with incredulity. Watching him pace the sidelines and whoop it up with players one-third his age, it doesn't seem possible that Carroll is the second-oldest coach in the NFL. Up close, though, it's not as hard to believe.
Carroll has been gray since we've known him, but the lines on his face are those of a man who has spent 40 years as a coach. From 10 feet away, it's easier to remember that he left New England almost 15 years ago. For both Carroll and Patriots fans, those three seasons were forgettable, but it was his time in New England that shaped the coach Carroll has been in his past two stops. In light of what Lane Kiffin has made of the USC football program, it's now even more remarkable what Carroll managed during his eight seasons there. It wasn't just that the Trojans won. It was that Matt Leinart and Reggie Bush were rock stars, and USC's practices (which are now closed) were rock concerts, attended by actual celebrities. Carroll left his fear of criticism in New England, and his teams were better for it. "I've already been dead," Carroll told J.R. Moehringer back in 2007. "You can't kill a dead man."
That feeling has carried over to what Carroll has done in Seattle. Carroll, who was hired in 2010, has been given an uncommon freedom with the Seahawks. He was even a part of the hiring process for general manager John Schneider, who consults with Carroll about the entire roster. Carroll's influence is everywhere, from new-age training methods, to unconventional personnel choices, to the scene in Seattle's locker room during the delay.
"We coached throughout [the delay], other than when the music was blaring," Carroll said. Carroll started his postgame comments by lauding the performance of the crowd, praise he fittingly concluded like a 62-year-old going on 16. "What a frickin' night."
Filed Under: NFL, Robert Mays, Russell Wilson, Seattle Seahawks, Pete Carroll