Runaway Hits: The Diametrically Opposed Pleasures of 'Frozen' and 'Paranormal Activity: The Marked Ones'

Frozen, directed by Jennifer Lee and Chris Buck
Of the dozen or so animated movies that have opened in the last year, Disney's Frozen is the biggest smash. After a month, it's still near the top of box-office reports. [Editor's note: Disney owns Grantland.] Setting aside news of this week's polar vortex, it's not hard to understand why. It has two princesses (one of whom becomes a literal ice queen), a jolly snowman, and songs, two of which have wit; "Let It Go" already appears to have become some kind of self-acceptance anthem. You hear this song and feel the piano bars being erected in its name.
The movie keeps the Scandinavian climes and injects feminism into the original 1845 Hans Christian Andersen story (basically, the damsel was a boy), turning it into a tale of two complicated and estranged sisters, whose voices belong to Kristen Bell and Idina Menzel. Jennifer Lee wrote and codirected the adaptation, and it's fun watching her flirt with all the princess-movie clichés about sweetness and nastiness and instant romance only to tweak or upend them. There's also a story you want to follow and see through. Frozen reminds you how many animated films rely more on inside jokes. It's modern without being hip, earnest with being sappy. The voice acting is remarkable, especially Bell's. It's as if the animators are following the talky musicality of her line readings. And some of the images are great: a gray, roiling sea swallows a ship; some inventively undone hair; and a real appreciation of the idea that no two snowflakes look the same.
The media's been speculating that the movie's a hit, in part, because it has been marketed to boys. That's what made Tangled, also by Disney, a hit in 2010. This might be true. The sister Menzel plays has wintry superpowers — she's exiled from her kingdom after she freezes it. And the main male characters — voiced by Jonathan Groff and Santino Fontana — aren't drawn as hunky or hot but as nimble slabs of big chins and noses. But I'm not sure boys care that much. They just want a fun movie. I got a little bored before the climax, but they didn't. Even so, Lee makes sure the politics and metaphors, such as they are, aren't hard for a boy to miss. This is rescue fantasy, but the sisters are doing it for themselves.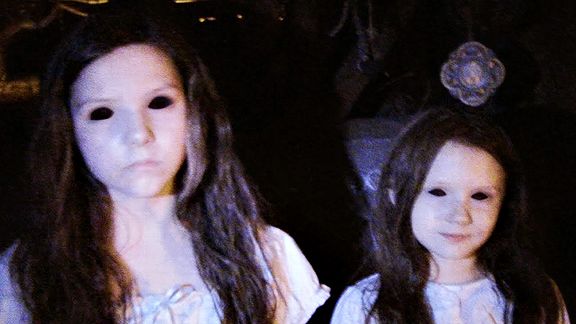 Paranormal Activity: The Marked Ones, directed by Christopher Landon
It used to be fun to watch a horror movie with a mostly black and Latino audience. You could sit there and both mock the stupidity of the characters and still jump whenever jumping was called for. These movies weren't set in your neighborhood, and for the most part, these young nitwits weren't your friends. You were free to say to the screen, "Let Freddy" — or Jason or one of those ghost-face Scream killers — "come to my house and see what happens." Well, the fifth installment of the Paranormal Activity series (The Marked Ones) has come to the hood, and what happens is more or less the same as what's happened previously.
The movie's set in a Southern California housing complex whose residents are mostly blue-collar Chicanos. It would seem that 18-year-old Jesse (Andrew Jacobs) has been marked for the same demonic takeover that has infected new homeowners, horny teens, and fraying marriages before him. The same found-footage conceit comes courtesy of the camcorder Jesse and his best friend, Hector (Jorge Diaz), manage to hold perfectly even when, say, Hector is running for his life.
But there's no getting past the nonsense formality of taking that camera everywhere. In installment four, as a laptop camera, it made a little sense. Here it makes everyone seem like a fool. These movies fail every test of their own internal logic. They hide behind the found-footage device. Still, it's smart and not too cynical to take whatever supernatural darkness these movies are building toward to places where a not-insignificant portion of the audience lives. Young Latinos go to horror movies, too. The Marked Ones actually goes out of its way to achieve authenticity. When Hector and his friend Marisol (Gabrielle Walsh) turn to gangbangers for help and they arrive to the scene with their cache of automatic weapons, a scary movie has turned, irreversibly, into Scary Movie 6.
Filed Under: Movies, Disney, Reviews, frozen, paranormal activity: the marked ones