Is That What You're Wearing? Django-era Quentin Tarantino
Pascal Le Segretain/WireImage
Of the characteristics that would appear on a list of Things We Like in a Great Director, "looking nice" would rank very low. But sometimes the threshold is violated in a way that's compelling enough that you have to stop and ask how someone of such excellent vision could travel the world looking very much the opposite of visually excellent. Yet for about the last month, this is where we've been with Quentin Tarantino, who's been everywhere but the Children's Television Workshop talking, in his coked-up-sounding way, about filmmaking and American slavery and his movies. The occasion is Django Unchained, which is a hit in all the ways a director hopes his movie is a hit — with movie critics, moviegoers, and the people who nominate movies for awards.
To promote the film, however, Tarantino has been dressing down. Way down. Like pusher-in-the-alley down. Late last month, he spent his entire hour on The Charlie Rose Show in a black dress shirt with gray stripes. The button-down covered a gray T-shirt. He also wore a Jackie Brown baseball cap over his increasingly copper hair. The conversation was so good that you didn't notice what he was wearing … but still.
In Europe, it grew stranger. For the Rome premiere, Tarantino wore black pants and a black leather blazer over a white dress shirt that might've once been tucked in. He wore it all over a black T-shirt. To his right were Jamie Foxx doing dapper-casual and Kerry Washington wearing the sort of clingy, three-quarter-length, high-action dress (peephole top; black and white; patterned chartreuse that ruffled at the back of the knee and snaked up to the waist) that only a woman who looks like Kerry Washington could survive wearing.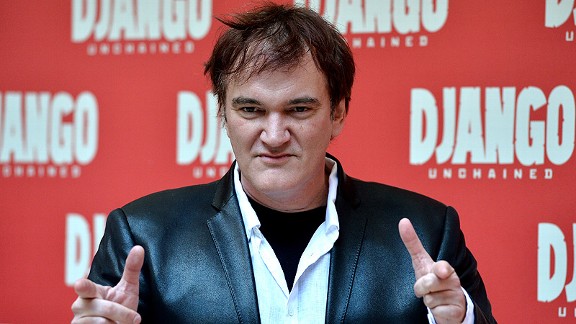 What Tarantino wore to the Rome photo call was distressing, since it was so far from the man we thought him to be. Tarantino has become a star director, a filmmaker like Alfred Hitchcock, Woody Allen, Martin Scorsese, David Lynch, or Spike Lee — a director with a trademark style. He once comported himself with a degree of smoothness. For Inglourious Basterds, he sat at Rose's table in a black blazer and matching dress shirt. For Jackie Brown, it was another black jacket but worn over a béchamel-white mock turtleneck. For Pulp Fiction, it was an emerald tie and a suit the color of the deep parts of the Mediterranean Sea.
Each of these appearances featured a man who seemed to want anyone watching him to know that he had it, that he was cool, that he liked the way he looked in béchamel. He was going for Rat Pack — all of them. He was going French New Wave. He was going for Son of a Bitch. Not anymore. At that Rome premiere, it was upsetting, like watching Mark Cuban become Steven Seagal.
You'd think the release of Tarantino's most blaxploitationist extravaganza would have licensed him to get reacquainted with more flatteringly ostentatious clothes. Then it occurs to you that Tarantino will turn 50 this year, and that he might not have anything he feels he needs to prove — that dressing like Sammy Davis Jr. was just something his younger, trimmer self simply needed to do. To say I'm black on both sides, dammit.
Of course, there might be another explanation. On Craig Ferguson's show December 20, Tarantino wore jeans and a leather jacket over a black LRG sweatshirt, printed with the stoner-skater company's full name in chronic-leaf green: Lifted Research Group. Maybe he's found racial enlightenment. Or maybe he's just been really high.
Filed Under: Django Unchained, Fashion, Quentin Tarantino