Inspired by Bryan Curtis, who was in turn inspired by Ambrose Bierce, this handy field guide is here to serve you, the discerning college football consumer, as you navigate the many and varied regional dialects of the sporting Internet.
Adversity on the Field (n.) — A mysterious, incorporeal entity, visible only to football coaches, its greatest nemesis.
AIRBHG (n.) — Angry Iowa Running Back Hating God, a malevolent deity discovered by the intrepid theologists of Black Heart Gold Pants. Its mission statement is self-explanatory. Its reach is growing. There is also a shirt.
BAC (n.) — acronym for Bull Artery Content, a measurement of the amount of sugar-free Red Bull freewheeling through the blood vessels of an Air Raid coaching tree member at a given point in time.
Bear (n.) — either a reference to the famed Maryland, Kentucky, Texas A&M, and Alabama football coach, or a warning that one of Baylor's two live ursine mascots is fixin' to intrude on your personal space.
Big Game Bob (exp.) — derogatory nickname bestowed upon Oklahoma's Bob Stoops, based on his penchant for fielding the second-best team in a series of prestigious postseason college football contests. To date, Stoops is 3-5 in BCS games.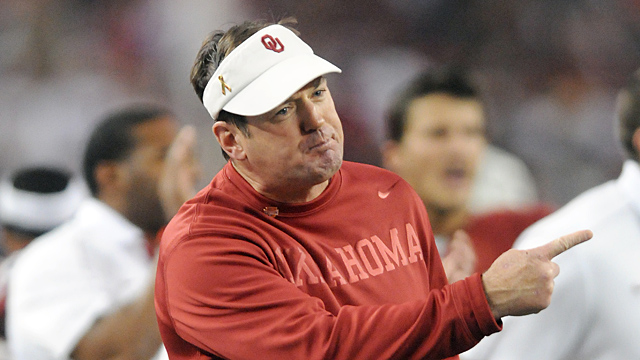 Blessed (n.) — the state of being an Auburn fan.
Brozarks (n.) — the geographic center of the new, Arkansas-based sphere of Bret Bielema influence.
Buckeye (n.) — common name for the Aesculus glabra tree.
Classless (adj.) — term used by fans of losing football team to describe any actions by winning team, coach, fans, or cotton-candy vendors that convey happiness at the outcome of a game.
Clemsoning (v.) — apocryphal team-specific collapse phenomenon; highly susceptible to the observer effect of college football; it doesn't exist until the likelihood of its very existence is so low, you've decided it doesn't. (See also: "Sparty, No!", a variation specific to East Lansing, Michigan.)
Connecticut Huskies (n.) — ERR. 404 FILE NOT FOUND
Domers (n.) — slang term for adherents of Notre Dame, so named for the university's Golden Dome, also honored by the increasingly glittery helmets put forth by Adidas in gaudy defiance of God's will.
Fat Guy Touchdown (n.) — affectionate term for a scoring play achieved by player who weighs more than 300 pounds and was not the originally intended ballcarrier at the time of the snap. One of the most stirring sights in America's beautiful game.
Feelingsball (n.) — The nanny-state Utopian stasis desired by NCAA rule-makers who continue to strip celebration privileges from young athletes; a catch-all term for the permeation of participation-ribbon culture into college football.
FOIA (n.) — primary weapon of choice for a certain subset of Arkansas fandom, giving rise to the popular cheer, "WOO PIG FOIA!"
Football Jesus (n.) — a separate, auxiliary Jesus maintained by America's Christian God to handle all pre-, in-, and post-game prayer requests, as the big guy is kept somewhat busy with sick children, lost pets, failing crops, and what have you.
Fulmer Cup (n.) — an annual offseason competition held for the purposes of determining just which FBS football team signs the players most prone to criminal acts. Named for former longtime Tennessee coach Phillip Fulmer.
Granddaddy Of Them All (n.) — nickname for the Rose Bowl, so named because the game had sexual intercourse with multiple other postseason college football contests two generations ago.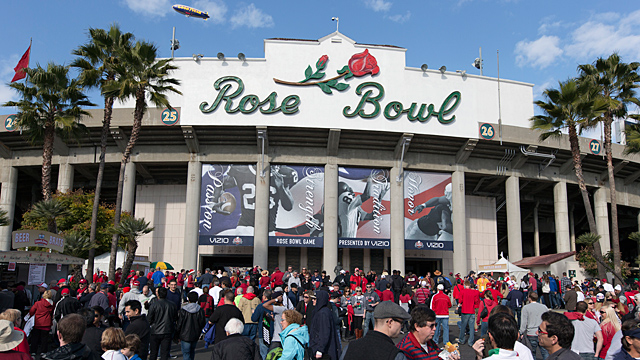 Handjob Hill (n.) — rocky outcropping overlooking the Sun Bowl where, apparently, romance is not dead.
Happy Jump Sad Jump (n.) — an act of premature celebration followed immediately by an act of mourning; the two must expend equal energy. Named for the most common example of the phenomenon, the fan who leaps into the air with joy upon seeing a winning field-goal attempt sail true, only to make a second leap clutching his or her own body in despair when the ball hits the goalpost and falls wide at the last possible second.
Hat, The (n.) — nickname for LSU football coach Les Miles; also a large white hat worn by same. Under the hat lies an infinite series of identical, smaller white hats.
HBC, The (n.) — short for Head Ball Coach, or Ol' Ball Coach, nickname for South Carolina football coach Steve Spurrier. Spurrier is notable for joining Bear Bryant as one of only two SEC coaches to have the most wins in program history at two different FBS schools, and throwing things. (See also: OBC, The)
Heisman (n.) — a hit 2011 single by Tyga.
Hoos (n.) — slang term popular at the University of Virginia. (Usage: "Hoos that losing 42-17 to Duke?")
JFF (n.) — popular form of address for Johnny Football. The middle letter stands for "Felicitous."
Kirk Ferentz (n.) — a dark wizard who has absconded with millions of dollars of the Hawkeye State's money per year for well over a decade now. As of this writing, his chicanery has gone unpunished.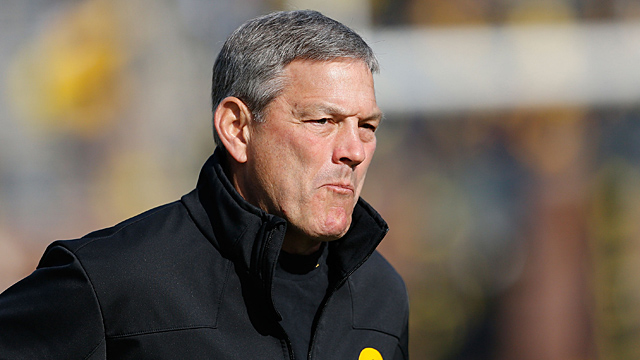 Loobs (n.) — hasty misspelling of the University of New Mexico's mascot.
MACtion (n.) — of or relating to weeknight games featuring teams from the Mid-American Conference and indiscriminate scoring. Derived from the more obscure WACtion (2006); manifested in 2008 via Every Day Should Be Saturday; embraced by the conference itself in 2013.
Michigan Man (n.) — scientific term for a particular strain of humanity, quantifiable by (n+1) where (n) = everybody else.
Multiple (adj.) — a vague descriptor used, especially in the offseason, to discuss an offense without actually identifying any of its components.
PAAAOWL (n.) — the proper phonetic form of address used by callers when interacting with Alabama radio demigod Paul Finebaum. Typically preceded by "now" and followed by "I don't know if Nick Saban's the man for this job," on gamedays in which Alabama's defense allows an opponent to score more than three points.
Physical Football Team (n.) — the opposite of an astral football team.
Robbie Caldwell, Pulling A (n.) — to completely and joyously derail a press conference with a detour into one's C.V. history that includes the phrase "turkey insemination." To date, this has only been accomplished once, by former Vanderbilt interim head and current Clemson offensive line coach Robbie Caldwell, at 2010 SEC media days.
Roll Tide (exp.) — the "aloha" of the college football-consuming population of the continental United States. Its uses are as infinite as stars in the heavens, or the Alabama Crimson Tide's national title count: greeting, farewell, curse, apology, cheer, pagan incantation.
Seen A Deer (exp.) — exclamation of joyful surprise, usually pertaining to some witnessed natural wonder. Coined by Oregon's De'Anthony Thomas.
SEEN A DEER http://t.co/6J7N8imM

— DE'ANTHONY THOMAS (@EATBLACKMOMBA6) December 7, 2012
Shacket (n.) — The combination shirt-jacket worn by Gene Chizik during Auburn's national title run.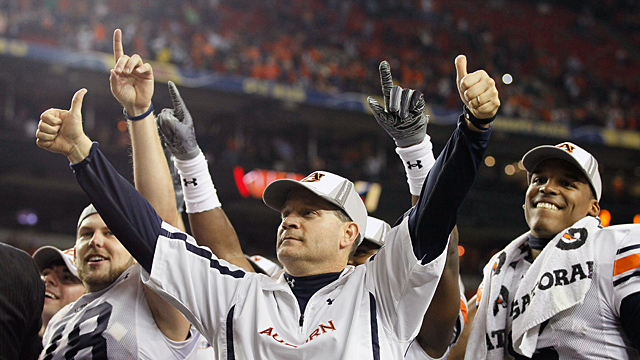 Shreveport (n.) — a perfectly serviceable collection of drive-thru daiquiri stands occasionally marred by a bowl game.
Surrender Cobra, The (n.) — pose frequently adopted by fans witnessing unfortunate sports happenings, characterized by clasping hands on top of head as though one is under arrest and a slow, tense exhale of breath.
[GIF via totalprosports.com]
Suspension (n.) — period of time in which athlete facing criminal charges, academic struggles, or run-ins with team regulations is hidden from media availability in the hopes reporters will forget about him.
Tess Effect (n.) — phenomenon frequently observed in games called by Joe Tessitore, characterized by unusual flurries of on-field action and extended duration of games in real time. Known to be exacerbated by presence of Rod Gilmore.
Texas F-Bomb Girl (n.) — Longhorns fan who rose to Internet glory after an understandable moment of frustration during the Red River shootout went national.
[GIF via Barking Carnival]
The (art.) — definite article to be used only when describing an Ohio State University.
Under the Cherry Moon (slang) — the state of being under the spell of Ron Cherry, the ACC's most influential and unpredictable referee. (See also: Givin' Him The Business [interj.])
Violation Of Team Rules (n.) — common reason given for player suspension. The phrase can cover any and all manner of athletic department sins, from "missing curfew" up to and including "running a counterfeit $100 bill ring out of a riverboat casino."
Zips (n.) — mascot of the Akron football team, which has won three games in three years, but has a kangaroo for a mascot and we wanted a "Z" entry for closure.