Why Tebow Should Work With the New York Jets
For all of the questions that surround Tim Tebow, we know one thing for sure: Drama follows him. And yet, heading into this offseason — one where he was coming off a playoff victory and was the presumptive, though not the conclusive, starting quarterback for the Denver Broncos — I naively thought we'd have a few months of reprieve from Tebowmania. I was very wrong. Instead, Tebow had his starting job in Denver usurped by a free agent quarterback — some guy named Peyton Manning — and, after a furious day of trade negotiations, Tim Tebow is, suddenly, a New York Jet. The same Jets that went 3-5 over the second half of last season (including a loss to Tebow's Broncos) and reportedly ended the year at each other's throats. So, what else is new?
While much of the Tebow-Goes-to-New York show will center on whether he will succumb to the Big Apple's lustier temptations (New York Daily News to Tebow: "Hookers & poker & bars, oh my!"), what truly fascinates — and vexes me — is whether Jets head coach Rex Ryan's newest experiment will work. And my answer is that it should.
Jets general manager Mike Tannenbaum and Rex Ryan laid out the rationale behind the trade: Tebow will be the backup quarterback to Mark Sanchez, who recently just received a contract extension, and will be used situationally in his own package of plays. To me, this makes perfect sense for all sides.
First, this is exactly the role Tebow should have had in the NFL from day one. Former Broncos head coach Josh McDaniels famously traded up to draft Tebow in the first round, an exceedingly high spot for a player who is, and remains, a work in progress. Although it was preposterous when so-called scouts and experts claimed that Tebow should have been converted into a tight end or halfback (he will succeed or fail as a quarterback, the position he has played his entire life), it also was apparent that he needed to make significant progress in a variety of areas to be an effective NFL quarterback. Despite the tenor of the debates, in the NFL player evaluation is less about black-and-whites than it is about shades of gray and the interplay of two factors: roles and value. With the Broncos, Tebow was a player who had both unique skills and some obvious faults, and Denver saw an opportunity to upgrade.
But with this trade the Jets are getting a relatively fair-priced backup quarterback, with playoff experience, who they can work with and hopefully develop at his own pace. While Tebow will not be confused with Tom Brady anytime soon, I don't think he's as far off as many of his doubters say, though he will only get there — if he ever does — through his effort and the passage of time. For now, the Jets simply hope and expect him to be a serviceable and not overly expensive backup for a few seasons and that is it; Tebow is a clear upgrade over the aged Mark Brunell, who was jettisoned after last season, and Greg McElroy, a seventh-round draft choice out of Alabama, as well as free agent signee Drew Stanton. If Peyton Manning teaches us anything, it is that every team must have a plan if their starting quarterback goes down. But Tebow also gives the Jets an option: There remains a chance that Tebow, over time, fills in some of the holes in his game and develops into what some still think he can be: great, as a quarterback.
That is the long-term rationale for the trade. It will take us a couple years to know whether that pans out, though if Mark Sanchez gets injured or struggles mightily, we'll know that much sooner. I am also unconvinced that having a competent and competitive backup will have a deleterious effect on Sanchez's performance, that he'll be looking over his shoulder at Tebow and his supporters and that his play will suffer solely for that reason. Winning will silence all criticism, and Sanchez, even more than Tebow, was a top-end draft choice selected to become a great quarterback and is paid a great deal of money to become one. If Tebow's presence is anything but a motivator for Sanchez in the hyper-competitive world of the NFL, then Jets fans are better off without him. But I simply do not think that will be a factor.
In the short term, however, the question is what role Tebow will play in the Jets offense, even while Mark Sanchez remains the starting quarterback. The buzzword from Tannenbaum was that infamous and overused bit of jargon, the "Wildcat." Originally, the term Wildcat was the name given to a very specific series of plays the Dolphins — whose head coach at the time, Tony Sparano, is now the Jets' offensive coordinator — used to first defeat the New England Patriots back in 2008 and to go on to win 11 games. The series featured running back Ronnie Brown at "quarterback," in the sense that he received the snap from the center, and had several very specific elements that made it work: The quarterback split wide, forcing a pass defender to cover him even though he's not much of a threat to catch a pass or block; the offense used a second running back in a "jet" or "speed sweep" motion to threaten the defense horizontally; and the offense used an "unbalanced line," meaning they had more blockers to one side of the center than the other and used their power scheme behind that.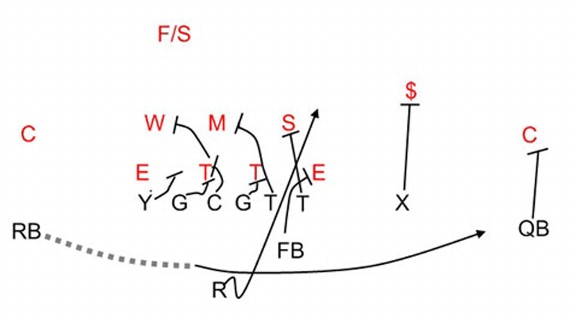 This combination of elements, upon initial arrival to the NFL, was sufficiently confusing and different that the Dolphins were able to run the basic series of Wildcat plays — power, speed sweep, and counter — over and over again, to solid success, at least for that year. Of course there was nothing new about these plays or concepts: The plays themselves were ones the Dolphins already had in their playbook, just with additional window dressing; and the history of these concepts had roots that stretched back to football's origins in the single wing. As Giants head coach Tom Coughlin observed back in 2009, "The single wing's been around a long time," and "[The Wildcat] is just revitalizing something that was very successful at one time." And the concepts were not new in a far more modern sense: The mastermind behind the Dolphins' Wildcat was its quarterback coach back then, David Lee, who had held the same title at the University of Arkansas with Gus Malzahn, who was later Cam Newton's offensive coordinator at Auburn. Malzahn had been using the Wildcat since his days as a high school football coach in Arkansas, and they used it there with Darren McFadden as the point man.
Teams largely adjusted to the Wildcat, but the lesson to be drawn from that moment in the NFL is extremely unclear. Much of the problem is with semantics. The Wildcat began as a very specific series of plays — power, counter, and jet sweep from an unbalanced line — but later became a catchall term for anytime someone who ran a sub-5.0 40-yard dash lined up at quarterback. And while there were some very innovative counters to the Dolphins' brand of the Wildcat, specifically with certain cornerback or "Cowboy" blitzes into the jet sweep with no deep safety back, many NFL teams ran such incompetent variations on the Wildcat that the idea of countering something so doomed to failure is laughable.
The upshot of this is that everyone — the fans, the media, Rex Ryan, Tony Sparano, and the Jets in general — have to get beyond the notion of using Tim Tebow in some kind of hyper-specialized Wildcat look. But isn't Tebow a Wildcat quarterback? Isn't his job to just run around and be mobile? And don't we know that such tactics are mere "gimmicks" that do not work in the NFL?
The answer to all of the above is no. The most important thing to remember about football strategy is that there is no such thing as Platonic ideal football; there is no right or wrong way to do things, and the game is governed by a few simple things: the size and speed of the players, the geometry of their arrangement on a football field, and, above all else, pragmatism — what is good is simply what works. And what works is what is simple.
Last season, after Tebow became the starting quarterback in Denver, head coach John Fox and offensive coordinator Mike McCoy, to their credit, tried to integrate ideas into their offense that played to Tebow's strengths: Some old-school options, a shovel-pass option concept, some very basic zone reads off of their existing running game and … that was about it. They ran out of steam. McCoy admitted that he was watching college games on weekends to get ideas and was simply trying to make things up as the season went on. This is not so much a criticism as further evidence of the weak match between Tebow and his former coaches. And, despite how ugly it looked at times, the Tebow-led Broncos did lead the NFL in rushing and were sixth overall in yards per attempt. With this knowledge, the Jets staff should have a better opportunity to prepare for this season.
So if merely bringing back the 2008-era Wildcat with Tebow would be both foolish and predictable, what would work? The answer is both exceedingly complex and exceedingly simple. The complexity comes in all the various adjustments to slight defensive counters, and is better left for another day. But the simple answer is this: The Jets should run the exact offense they had planned to run — down to the same tried-and-true NFL-style blocking schemes — but add adjustments so that Tebow is either a true running threat or actually has an option or two. And of course it will only work if Tebow is allowed to throw the ball once in a while; otherwise it truly is the second coming of the Wildcat … without 2008 results.
In other words, the way to use Tebow situationally is the same way that Cam Newton was used last year, is how Mike Shanahan should use Robert Griffin III, and is how the best spread offense coaches in college football, like Chip Kelly of Oregon and Urban Meyer of Ohio State, do it: You run a pro-style offense in both scheme and theory, but the quarterback provides enough of a threat to even out the numbers.
With 11 players to each side, every play — but particularly run plays — often comes down to how the offense does or does not account for one or two particular defenders. In the modern NFL, if all of an offense's players block their counterparts on a running play, the defense will have two defenders unaccounted for: The counterpart for the running back carrying the ball and the counterpart for the quarterback, who most likely has handed the ball off. Good quarterbacks like Peyton Manning seek to control their counterpart by faking a play-action pass, so that a deep safety must stand in the middle of the field.
But the ballcarrier still has a counterpart. NFL offenses work extremely hard to dictate who that guy will be — with motion, different blocking schemes, and even using wide receivers to block interior defenders — but at some point the math is the math. Until the quarterback is a threat, the math will always work against the offense. But spread coaches, without subjecting their quarterbacks to undue brutality, have learned to change the calculus.
A quick example will illustrate. Against Stanford this past season, Chip Kelly's Oregon Ducks lined up in a three-receiver set, and actually put a tight end to the three-receiver side, making him ineligible to receive a pass but putting the strength of the formation in that direction. The purpose of all this was simply to clean up the numbers for the offense. The defense first had to worry about the three receivers to the right. If they did not, then a simple screen pass would result in easy yards for the offense.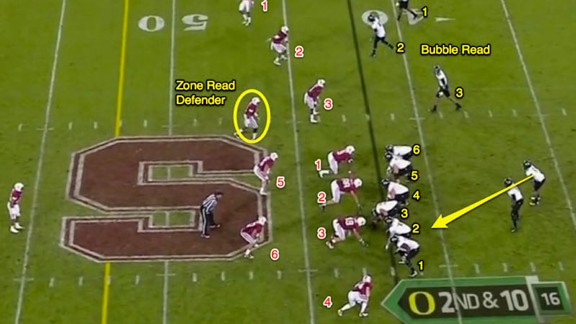 Notice, too, that the quarterback's counterpart is sitting where the offense hopes he'll be, which is deep down the middle in order to defend against a deep pass. But the ballcarrier's counterpart must still be accounted for, and this is the defender being read in the diagram (interestingly, Chip Kelly reads a linebacker, not a defensive end, on the play, another example of his staying ahead of the curve). The result of these accoutrements to a basic play is that now the basic run play up the middle — which so often in the NFL involves plunging a runner into many additional defenders — is perfectly set up with six blockers against six defenders. And the result of that is just as it is drawn up: a 58-yard touchdown run.
The point is not that this stuff is magic nor that it is Tebow's job to come in and run for 1,000 yards. Instead it is really the opposite: It is little more than basic arithmetic, and his job is merely to be a threat — a threat to run, a threat to read a defender on a run play, and, yes, a threat to pass — such that the other players around him can succeed. Despite his many struggles in Denver, a few relatively basic statistics indicate some measure of what Rex Ryan & Co. saw in Tebow. First, despite the fact that opposing teams knew Tebow's Broncos were not going to throw the ball much, they averaged nearly a full yard per running play more than the so-called "ground-and-pound" Jets did, an obvious measure of the additional threat Tebow posed even when not running. And when Tebow did throw the ball, and when those throws were completed (and without taking into account his sub-50 percent completion percentage), he did average 13.7 yards per completion, good enough to tie him for third in the league with Eli Manning.
As evidenced by how he was treated by the Broncos and the limited options available to him on the market, it's probably clear that Tebow is not quite ready to lead an NFL team. Fortunately, with the Jets, he shouldn't have to. Although his athleticism and ability to read defenses on run plays is a powerful weapon, he clearly must develop as a passer. I am not as concerned with Tebow's loping throwing motion as some are, but there's no doubt he must get significantly better at reading defenses and going from one receiver to the next in his passing progressions. As the Jets' backup quarterback, he'll have the opportunity to do that.
And as a situational player, Tebow should be able to bring elements of the spread and read-based offenses he ran so well in college to New York. These concepts are no gimmick, so long as they go beyond the basic Wildcat. Tebow's success on the ground last season was not a gimmick, and it certainly was not a gimmick when Cam Newton would sprint by hapless defenders with the same read concepts that Tebow was using. Whether or not Tebow can develop into the kind of player it appears that Cam Newton is and that the Washington Redskins hope Robert Griffin III can be — an athletic quarterback who still is first and foremost a passing threat — remains to be seen. But I'm looking forward to watching.
Of course, when it comes to Tebow, rationality on all sides goes out the window.
Filed Under: Denver Broncos, New York Jets, NFL, Tim Tebow