Premier League Pass & Move: Uh-Oh, It's Magic
David Price/Arsenal FC via Getty Images
A look back at the weekend's Premier League action.
Just Like He Drew It Up
Chris Ryan: I was going to say something here about how Arsenal are everything that Liverpool aspire to be. Slick, young, full of flair, incredible in possession with one-touch passing that always seems to land on the instep of an Adidas Predator boot made of cotton candy. But I don't think that's exactly right. In today's game, with many managers attempting to run their team's on-field performance the way David Fincher directs Rooney Mara, there is something almost beautiful about how … unmanaged Arsenal are.
I'm sure there is an incredible amount of preparation that goes into these matches, but when the whistle blows, Arsene Wenger puts his best players on the field, asks them to play within a system that suits their talents, and then he lets his jazz quintet of slick passing midfielders improvise. You can try to run them off the field, and you can try to press the ball, and sometimes it will work (see Borussia Dortmund). But more often than not this season, teams simply don't have the answers for the questions Arsenal are asking.
I can't blame these teams. Who could have really predicted that a midfield of like-players such as Tomas Rosicky, Santi Cazorla, Mikel Arteta, Mesut Ozil, and Aaron Ramsey would somehow function in a league in which each team seems to have Destroy Guy, Workhorse Guy, Creative Guy, and two Winger Guys in its midfield? Who could have predicted that Ramsey would turn into Johan Christing Cruyff? Who could have predicted you could play a Premier League match with your only width coming from Bacary Sagna? Or that Olivier Giroud would turn into the model striker for this "system"? For years, the Premier League has been pretty easy to call. It would be between one of the three big-spending teams. Arsenal might not make it out of the calendar year on top of the table. But at least they're unpredictable.
What Are Keepers For?
Mike L. Goodman: Several teams this weekend seemed confused about exactly what a goalkeeper is and why you need one. Stoke, for instance, decided that Asmir Begovic was in fact a potent attacking force, passing the ball back to him off the opening kickoff, and letting him do this.
Easiest assist ever for Erik Pieters.
Meanwhile, Swansea think keepers are overrated entirely. A 91st-minute red card for Michel Vorm after Swansea had already used all their substitutes meant defender Angel Rangel was forced between the pipes. That led to this.
It also led to entirely too many "Rangel gets his angles right" jokes on Twitter.
Regularly Scheduled Programming
Ryan O'Hanlon: Manchester United and Manchester City both won soccer games really easily this weekend. My hands can barely believe it. Long live Arsenal's English Premier League.
For all the wrong-right-or-other talk about the EPL being the best league in the world, most of the games are boring as hell. In a 20-team league in which each team plays 38 games, that's just how it shakes out. The good teams can only play each other every so often (and even then, the tactics tend toward cautious), bad teams play each other all the time, and good teams play bad teams every single weekend.
At the beginning of each round of games, there's some hope that one of the big squads will falter against a bottom-table team, or at least struggle long enough to provide enough tension to make United-against-uninspiring–Midlands club worth watching at 7:30 in the morning. Most of the games I watch — I being a person with only one favorite team and a general desire to watch the best players in the league play — are these good-versus-not-very-good matches. In most of those games, Manchester City win 7-0 with goals from Noel Gallagher and Ricky Hatton or Manchester United layup-line their way through Fulham for three goals in the first 25 minutes.
This season, though, that's almost never been the case. Only on the first weekend did the two Manchester sides win their games by multiple goals, but that was on the first weekend — when any soccer is fun soccer — so it didn't really matter. And since then, when the best teams won easily, the best teams were Liverpool and Arsenal, so it was like watching a school of salmon finally learn how to walk. It's sort of fitting, then, that on the weekend Liverpool and Arsenal played each other, the last two EPL champions finally got their shit together in concert.
Are Liverpool and Arsenal still the two best teams? The numbers might suggest otherwise — but just take a look at the table and you'll see that the world is still kind of upside down. I don't want more Manchester walk-throughs, because I don't necessarily get that much enjoyment from watching a teenager pour salt on a slug. But those two Manchester victories were a quick reminder that even when reality's inverted, gravity still exists.
Concussion Madness
Goodman: It's time to come to grips with the magnitude of the concussion problem in the Premier League. On Sunday, Spurs keeper Hugo Lloris got kneed in the head. As you might expect, the video contains somebody getting kneed in the head. So, you know, you've been warned.
Lloris is the latest player to receive a blow to the head, communicate concussion-like symptoms to a doctor, and be allowed to remain in the game. Here's what Spurs manager Andre Villas-Boas said after the game about the decision to let Lloris continue.
That is the situation right now — he doesn't remember the impact.

But he was quite focused and determined to continue, so when you see this kind of assertiveness it means he is able to carry on, and that is why it was my call to delay the substitution.
This, of course, is the definition of why leagues need concussion policies. You can't blame Lloris for wanting to continue, and while AVB made an awful decision, he isn't a medical professional, and asking him to weigh the seriousness of the medical evidence presented to him against the tactical and strategic elements he's considering isn't fair. A manager and a player are both thinking about the immediacy of the game, wondering if the injury will prevent them from continuing to play. That's the absolute worst thing to consider after a head injury. Players need to be removed to protect their long-term mental health even if — especially if — they can physically continue. These decisions need to be taken out of teams' hands, much like they now are in the NFL.
There's an easy solution. Soccer needs independent doctors at every game who can mandate that players with serious head injuries be removed. Teams should then be permitted to substitute that player off the field without using one of their three official substitutions. Simple. There is literally not a single reason not to institute that policy. At this point, in large part thanks to former players in the NFL, medical science can conclusively point to the long-term dangers that concussions cause. That the soccer world chooses to ignore them is beyond negligent. It's horrible. And it needs to stop. Now.
Inconvenient Shopping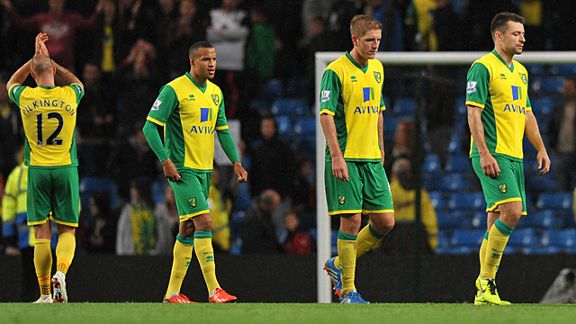 Brett Koremenos: Before the season began, Norwich and Southampton were two sides with some serious dark-horse potential. Both clubs spent aggressively this summer — almost €69 million combined — in an effort to move from mid-table obscurity toward the top of the table and European qualification. Just more than a quarter of the way through the campaign, that goal seems attainable for just one of the clubs.
Southampton is in the mix for a Champions League spot, while Norwich sits firmly in the relegation zone after a brutal stretch of fixtures. Over their past five matches, the Canaries have captured just a single point while accruing an embarrassing minus-16 goal differential. Saturday's 7-0 meltdown at Etihad Stadium was about as listless of a performance turned in from a Premier League side all season.
The City match encapsulated everything that frustrates supporters of a Chris Hughton–led side. The Manchester club dominated possession (68-32) while attempting a whopping 27 shots. Norwich, per usual, sat deep in two banks of four, inviting all sorts of attacking pressure while bumbling away possession in the rare moments they actually did see the ball. It's an approach that has Norwich giving up 16.1 shots per game, third-most in the Premier League, according to Whoscored.com. Worse yet is that the club has allowed 53 percent of those shots from inside the 18-yard box, tied for second-worst in the league. Allowing opponents to shoot often, from high-quality areas of the pitch, typically leads to a team playing on cold, lonely Tuesday nights in the Championship next fall. It also stands in stark contrast to a Southampton side whose suffocating pressing is limiting opponents to just 9.6 shots per game.
The reason for the disparity between the two clubs can be linked directly back to how they spent their money. Though the acquisition of striker and Johnny Depp clone Pablo Osvaldo garnered most of the attention, the bulk of Southampton's transfer fees went toward strengthening the spine of their defense in the form of center back Dejan Lovren and defensive midfielder Victor Wanyama. Hughton and Norwich, however, went the opposite route, with their biggest expenditures being an attacking left back (Martin Olsson), a one-dimensional wide midfielder (Nathan Redmond), and two strikers (Ricky van Wolfswinkel and Gary Hooper). Though the high-profile acquisition of van Wolfswinkel had visions of goals dancing in Hughton's head, that money might have been better spent upgrading a pedestrian back four or obtaining a creative attacking midfielder capable of actually provide quality service. It's a spending spree that will likely cost Hughton his job, and, perhaps more importantly, the Canaries a spot in the Premier League.
Surprise of the Week
Goodman: Chelsea had their first truly bad result of the season this weekend, losing on the road to an average-at-best Newcastle squad. The loss, while not a particularly big deal in the grand scheme of things, nicely illustrated the persistent weaknesses Jose Mourinho must contend with on this team.
Mourinho teams, in general, do two things exceptionally well. They defend, and when they are winning, they counterattack. At the moment, though, Chelsea can look like a fairly mediocre team when facing an opponent unwilling to attack them. Part of the problem stems from the midfield pairing of Ramires and Frank Lampard. Neither player is naturally suited to transitioning the team from defense to attack. Ramires excels at driving runs with the ball when given room, and Lampard at driving runs without the ball into space. Neither player is particularly adept at delivering entry passes into the final third of the field. Look at what they did while the game was tied.
That doesn't matter all that much when Chelsea is winning, but when they are trying to break down a parked defense it can certainly make their attack seem ponderous.
To his credit, Mourinho is quick to make changes when he needs to recover a goal, on Saturday sacrificing Lampard for Andre Schurrle and throwing players forward. It was a calculated move to overwhelm Newcastle and find a goal. The problem is that, in this instance, it didn't work. Between Newcastle's opener and their second, which put the game away, Chelsea had a grand total of one pass that led to a shot, and created surprisingly little in the final third.
Chelsea remain a very strong team, and one of the favorites to walk away with the Premier League title, but in a year when six teams are within a point of second behind Arsenal (and Manchester United isn't one of them) a quarter of the way into the season, everybody has weaknesses. For Mourinho's teams, those weaknesses were evident this weekend.
Annus Horribilis
Graham Parker: Sunderland last won a cup in 1973,
(which was just too soon for me)
Between the end of the '60s dream and the Sex Pistols' first LP.
With apologies to Philip Larkin (Hull's preeminent poet).
I had seriously just begun to stick my head above the parapet after the Paolo Di Canio reign at Sunderland — which, in all honesty, I now regard as a blessing, since it allowed me to use political principle to temporarily excuse myself from the fortunes of Sunderland.
Di Canio is gone, trailing sulphur, spilled glasses of Coke, and vaguely defined and rigorously enforced work ethics behind him. (Sadly, he never really stuck around long enough for Il Duce–style photos of him to emerge, posing bare-chested to gather the crops, while braving a Whitburn summer.)
Gus Poyet is in. Poyet will at some point be gone, too, before whatever project it is that he has embarked the club on is over. He will leave behind an accruing sediment of player acquisitions dating back to the Roy Keane era. Future archaeologists will be able to sift back through them and carbon-date incidents 10 minutes before tsunamis, or currency fluctuations, when Kieran Richardson failed to track back. That will be the sum purpose of this random collection of individuals washing in and out of the River Wear estuary with each tide.
But yes, into my fourth decade of following this most ignoble of lost causes, I'd recently dared to elevate my hopes from "Let. Me. Speak. Slowly. To. Explain. How. Much. I. Hate. You. Right. Now. Sunderland" to "Surely they've bottomed out." Last weekend's victory over Newcastle even had the kind of Fabio Borini winning goal that in other teams would have the quality of metaphor about it — "Witness our unstoppable trajectory! Observe the righteous arrow of justice arcing toward glory!" Seasoned Sunderland watchers could have told you that instead it was the thin morsel of gruel that will have to sustain us through the winter, and that the gods were not done with the karmic repayment plan for the Di Canio era. That repayment plan ends in March 2016, at which point Sunderland will revert from being especially cursed (their "Black Cats" nickname comes from them killing one with a broken mirror underneath a ladder, by the way) to just being reassuringly, comfortingly awful between promotion seasons.
Yet if there's one thing we always fail to learn, it's that Sunderland are consistently inventive in the manner of their disappointments. I actually had one of the more enjoyable days of my footballing life 10 years ago, watching in the crowd as Sunderland give up three own goals against Charlton en route to a then-record-low points total of 19. The fatalistic humor of a crowd relieved of the burden of hope was up there with Brass Eye for dark comedy. And on Saturday, there we were again, as Sunderland took on their former manager Steve Bruce (bruises from the Stadium of Light revolving door having almost healed on his ample buttocks) and invented new ways to implode.
In one underwhelming first half of football, Sunderland conceded an own goal, and then had two players sent off within a couple of minutes of each other — in both cases for cynical fouls on former teammates. I can only presume that Lee Cattermole and Andrea Dossena were outraged that Ahmed Elmohamady and David Meyler had found a way out of Sunderland, even if it was to Hull (a city whose 30-year improvement plan is a piece of paper bearing the words "global warming").
Removing Borini and Jozy Altidore (by the way, sorry, America …) to replace them with sandbags, Sunderland duly produced one of those pointless halves of rearguard heroics to keep the score at 1-0, and earned a gold star for effort in the second 45 — a gold star they can wear above their badge when playing in the Championship next season. As for Hull, god help them for not piling up a cricket score in "a quite unlosable game." They'll probably surprise a few more teams till Christmas and then start the steady slide downhill. But they'll always have Sunderland to cushion their fall.
Filed Under: Brett Koremenos, Chris Ryan, English Premier League, Premier League