Can Carmelo Anthony Really Play Power Forward? And Should He?
Ned Dishman/NBAE/Getty Images
Two important things happened over the weekend in Knicks world, where Important And Often Very Dramatic Things are always happening: Ronnie Brewer was cleared to practice again, and the Knicks announced that Amar'e Stoudemire will miss between two and three weeks after doctors found a popliteal cyst behind his left knee — the same knee for which Stoudemire underwent microfracture surgery a half-decade go.
The two connected events naturally lead to one conclusion: Carmelo Anthony should play power forward, and Stoudemire's injury gives New York cover to make that very tricky political move. The Knicks were wildly successful when Anthony slid to big forward late in the season, when Stoudemire had to sit for a few weeks with a herniated disc in his back. Anthony tortured slower big men by taking the ball to the perimeter, especially on the wing, and blowing by them. The Knicks last season were one of 10 NBA teams that installed high-tech tracking cameras, and STATS LLC, the company behind those cameras, gave me exclusive first access over the summer to several reports on the data they dug up — including one on what happened each time a recorded player drove the ball from an area 20 or more feet from the hoop into within 10 feet of the rim.

The data showed that Melo was the league's most effective driver, with the Knicks scoring an astronomical number of points per possession on trips when Melo recorded a qualifying drive. Lots of those came against overmatched power forwards, and though the sample size is very small, it might suggest that slotting Anthony at the four would encourage him to drive and discourage him from settling for 20-footers over wing defenders quick enough to stay in front of him. (It bears repeating: The sample size is tiny.)
There is also the notion that playing down low against bigger guys could minimize the impact of Melo's subpar defense. Melo is a smart player who tries hard in high-profile one-on-one matchups, but his bad habits and so-so effort consistently hurt his team. At small forward, Melo has to chase players around screens, and he's prone to calling for switches as players crisscross around the court. In the right doses, such switching is fine, and both Mike D'Antoni and Mike Woodson installed it as part of New York's scheme last season. But Melo often goes too far, calling for switches that produce untenable mismatches and sometimes catch teammates by surprise. All of that has a trickle-down effect that can produce an open look two or three passes down the line; other defenders have to sag into the post to help a smaller guard deal with a bulky small forward (once Anthony's man), and the switching can leave players confused about who should be rotating to whom on the weak side. Confusion about split-second decisions is bad.
Melo also goes through bouts of shaky and often blatantly lazy help defense on the perimeter. Wings on the weak side must be ready to crash into the paint on a pick-and-roll and dart back out to either their original man or another shooter elsewhere, depending on a team's precise rotation scheme and what happens on a particular possession. This is a weak spot in Melo's game. You can often catch him taking that first (correct) step into the paint, only to linger there, flat-footed and facing the rim, blind to what is going on behind him. As a result, he's often late when teams kick the ball back out to shooters, leaving New York vulnerable to both open shots and blow-bys. The Knicks ranked just 28th in points allowed per possession on spot-up chances, a rare weak spot in an otherwise very good defense.
So the solution is simple, right? Make Anthony a power forward and bring Stoudemire off the bench as either the center on small-ball lineups or a no. 1 option power forward on backup units, with either Kurt Thomas or Marcus Camby beside him for protection. The setup has the potential to unclog New York's broken offense, which scored a putrid 98.5 points per 100 possession when Stoudemire, Anthony, and Tyson Chandler shared the court together, per NBA.com's stats database. Pairing Stoudemire with a true center would still create some potential spacing issues, but they would be a bit less severe without Anthony hanging out at the elbow.
The numbers on the surface bear it out. Considering only lineups that logged at least 15 minutes last season, the Knicks scored 110.6 points per 100 possessions and allowed 104.6 with Melo at power forward — a net plus-six, a margin typical of one of the league's five or six best teams. (Choosing which lineups to include here was actually a bit tricky, mostly because of Steve Novak, a player without an easy position. I included all lineups in which Melo played with a center, usually Chandler, and three wings, but I also included two lineups in which Melo, Novak, and Chandler played together. I did not include lineups in which Melo played alongside the Jared Jeffries/Chandler and Josh Harrellson/Chandler combos, since Harrellson and Jeffries are basically big men at this point and typically guard big men. Novak guards the least threatening player on the floor — sometimes a power forward, sometimes a wing. Given that he plays like a wing on offense, spacing the floor on the perimeter, I designated the Novak/Chandler/Melo lineups as "small.")
Remove two qualifying lineups featuring Novak and Chandler, thus isolating lineups in which Melo played with three traditional guards, and you get a stingier result: 108.3 points per 100 possessions/102.3 allowed.
It would seem obvious the Knicks have to start the season this way, especially since a front line like Melo/Chandler/Thomas would present even dicier spacing issues than the Melo/Stoudemire/Chandler trio did last season. The Knicks aren't dumb. They've considered this internally, discussed it publicly and understand playing Anthony at power forward is something that should probably be a part of their core rotation.
But it isn't that easy. For one, Anthony is the latest in a long line of small forwards (including LeBron James) to declare — repeatedly, including in a one-on-one interview with me last fall — that he would prefer not to play power forward. Anthony might be protecting Stoudemire, since publicly embracing the power forward role amounts to shoving another star to the bench. But I think Anthony's sincere, since he usually mentions the increased physical punishment he'd take at power forward.
And he would take more punishment as the league adjusted to this setup. Opponents shot just 11-of-37 last season against Anthony in the post, according to Synergy Sports, suggesting he can hold up fine down there. But there is much more to power forward defense than one-on-one post play, and video of those 37 shot attempts reveals warning signs. Melo's a strong dude, but power forwards can really bully him in the post. They tend to start their post-ups with one foot already in the paint, or at least at the edge of it, and work their way down low for a short shot — like this Taj Gibson jump hook: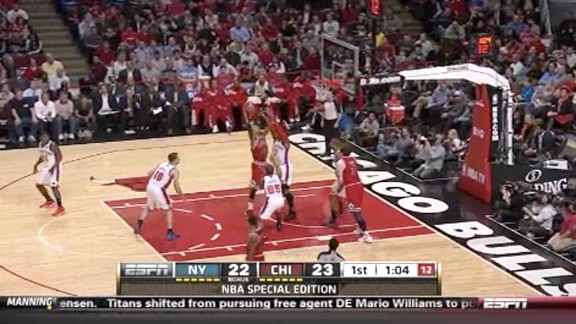 Bulkier wings, such as Gerald Wallace, a potential opening night opponent, also worked their way to good looks against Melo. Such possessions typically ended with Melo standing straight up, vulnerable to spin moves, with one or two New York help defenders swiping at the ball. Melo himself is a swiper; he seems to know he's overmatched in terms of height and weight, and he compensates by taking last-minute rakes at the ball as opponents bring it up for a shot. He got away with it last season, but if it remains his standard operating post-up procedure, he'll be prone to foul trouble.
On the other hand, opponents made only 29 percent of these shots, and attempts from the three-to-nine-foot range tend to be among the lowest percentage shots available, per Hoopdata. Perhaps there is something to be said for entrapping teams into taking these shots, especially if other swarming defenders can force a high number of turnovers — something New York was quite good at least season. On the other hand, teams would probably get better at strategically attacking Melo, anticipating help, and hitting open shooters.
There's also the fact that playing power forward brings its own share of help duties, jobs at which Melo wasn't especially good last season. Remember: Even that 102.8 points allowed per possession figure by the non-Novak small lineups was a couple of points worse than New York's overall mark, and the inclusive 104.6 number was right at the league average. The three "small" Melo units that logged the most time all rebounded a lower percentage of misses than the Knicks managed overall, per NBA.com's stats database.
Playing power forward requires Melo to hedge on pick-and-rolls and be ready to help along the back line when his man isn't directly involved in the pick-and-roll. It's a different skill set, but it's still help defense, and Melo has seldom been early or urgent with his help defense.
Still: The uptick in scoring that New York experienced last season with Melo at the four alone stands as justification for incorporating it more this season. With Brewer, Jason Kidd, J.R. Smith, Novak, Raymond Felton, and Pablo Prigioni all worthy of rotation minutes, Woodson can experiment with all different sorts of small lineups even before Iman Shumpert returns from knee surgery. Playing Stoudemire as a center on bench units would seem a non-starter for defensive purposes at this point in his career, but Woodson might be able to stick various Stoudemire-centric units in against opposing benches.
And there doesn't have to be — and won't be — a black-and-white answer here. Anthony should play at both positions, with and without Stoudemire, and every New York player must be willing to work appropriately in flowing sets featuring multiple options designed to unlock an offense that failed horribly last season. Anthony at power forward has to be part of the answer, but it's not the only answer. Anthony has puffed out his chest during camp about the sacrifices he's willing to make, talking mostly about how he'd be happy to see his points per game average drop if it helps New York win.
We've heard that before. Stoudemire's injury gives us a chance right away to see how much Anthony is really willing to sacrifice.
Filed Under: Amare Stoudemire, Carmelo Anthony, NBA, New York Knicks, Zach Lowe