We Went There: The High Drama of the U.S. Figure Skating Championships
Jared Wickerham/Getty Images
There was no line for the men's room, but the one for the ladies' snaked way around the TD Garden corridor. It looked more like intermission at a Broadway musical than a Bruins game. The 2014 U.S. Figure Skating Championships, though, contained elements of both: the costumes and the color commentary, the choreography and the competition.
There were moments of artistry that reduced me to tears, and ones of such brute athleticism that my thigh muscles throbbed in sympathy. There were show tunes, and there was Rene Rancourt singing "The Star-Spangled Banner" (albeit without his famous fist pumps). There was a skater who finished his routine and, as he waited in the kiss-n-cry section, blew off some steam by doing yo-yo tricks for the camera. There were scripts, but that didn't mean they were always stuck to — which gave the whole thing the unpredictability and intrigue of a playoff game.
For the skaters competing in singles, pairs, and ice dance, the Championships represented one last chance to make a case for their selection to the U.S. Olympic team that will travel to Russia next month. A few athletes were dramatically successful at this, essentially skating their way directly onto the world's biggest stage. The crowd favorite was Jason Brown, a ponytailed 19-year-old whose infectious charisma earned him an unexpected trip to Sochi as one of two men's skaters.

Wearing a bright green, mega-sequined top and bedazzled pants, Brown performed his long program to a Riverdance song and earned a standing ovation before he'd even completed his final spins. He smiled and he stomped and he nailed his jump combinations, looking a little like Tim Lincecum with his long slicked hair and a lot like Johnny Weir with his instinctive command of the pure joy of performance. My face actually hurt from smiling for four minutes and 30 seconds straight. When Brown found out his score — ultimately good for second place — he convulsed. Then he embraced the coach he's had since age 5 with unbridled delight.
"I'm kind of shaking right now," Brown said afterward. "I can't believe what happened."
Brown was competing in the senior nationals for only the second time; last year, he finished eighth. But he wasn't the biggest newcomer of the weekend: that would be Polina Edmunds, a 15-year-old from San Jose who only recently moved up from juniors and was taking part in her very first competition at the senior level.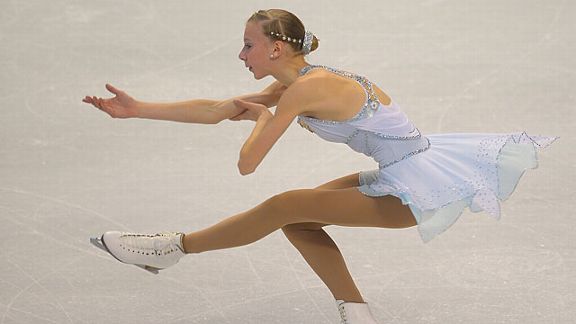 In the ladies' short program Thursday night, she made sure no one would overlook her debut, hitting her ambitious jump combinations in a costume so yellow she resembled a flying banana. In a good way, of course. Many comparisons were made between her and Tara Lipinski, who was 15 when she won the gold in Nagano. (At that point, Edmunds wasn't even born.) After Edmunds was finished Thursday, legendary figure skating coach Frank Carroll — as far as I can tell he's kind of the Bela Karolyi of the sport — pointed to her and remarked to a few gathered members of the media that she's the future. If that's the case, the future is now.
Not everyone rose to the occasion like Edmunds and Brown. The most horrified gasps of the four-day competition came Saturday night during the ladies' free skate, when Ashley Wagner, the spirited 22-year-old who's had "NBC darling" scrawled all over her for months and has been one of the USA's strongest performers this season, fell on her ass. Later in her program she fell again, and when the night was through she was not a top-three finisher, though she did win a pewter medal for fourth place. (In figure skating, that's a real thing.)
"I'm sorry," she said over and over, her bright blue eyes giant platters of disbelief. "I'm so sorry." In 2010, she had narrowly missed a chance to go to Vancouver. Could it be happening again?
In some sports, like swimming, the standings at nationals in an Olympic year determine the U.S. team. You could be Michael Phelps and still get left at home if you had a bad night. In the more subjective figure skating, though, the rules are deliberately more vague, giving the sport's organizing body some leeway.
That said, except in injury-related cases, the women's Olympic team has always matched up with the medal podium at the U.S. Championships. In 1994, an exception was made for Nancy Kerrigan after she missed nationals following an assault, and in 2006, Michelle Kwan was given a spot. (She ultimately had to withdraw when she reaggravated a pulled groin during a practice in Torino.) Following Saturday's free skate, the top three women were Gracie Gold — a Tracy Flick of an athlete with a name made for newspaper headlines and who described herself as "the perfect perfectionist" without irony — Edmunds, and Mirai Nagasu.
"Great," joked a longtime figure skating writer sitting next to me. "Two teenagers and a basket case."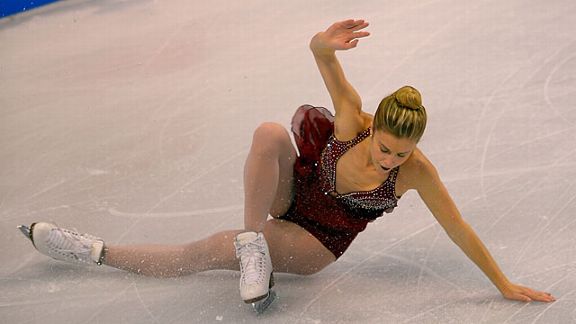 Nagasu, the "basket case" in that equation, charmed the skating world in 2008 when, as a 14-year-old, she became the second-youngest national champion. She finished fourth in Vancouver in 2010 (Canada's Joannie Rochette edged her out for the bronze medal with an emotional performance two days after the sudden death of her mother), but had largely disappeared from the figure skating circuit since then, earning her a reputation as something of a lone wolf. She arrived at nationals sans coach, having reportedly spent several weeks in Japan getting whipped into shape — neither of which endeared her to the U.S. figure skating federation.
But she was also undeniably the most compelling woman in the field during her programs this weekend, skating with a dancer's grace that others couldn't match. On Saturday, she was the only one of the first four finishers to hit all her jumps cleanly, and her third-place result seemed like an Olympic-ready tale: the once-struggling rogue making the self-styled comeback.
The press conference with the top three women Saturday night, on the eve of the official Olympic team selection announcement, took on an awkward, elephant-in-the-room vibe. Gold, composed and fierce in her free skate, would be making the team, that much was certain. (She had even pumped her little fists mid-routine after landing a jump, knowing that she'd just punched her ticket.) But Edmunds and Nagasu's candidacies weren't as clear. The former had never so much as stepped on the ice in a senior-level international competition, while the latter … well, see above. Both of them spent as much time publicly pleading their cases for inclusion as they did fielding happier questions about their winning performances. Nagasu declared she would not be sleeping that night.
The team was announced Sunday morning, and it was Nagasu who got the snub in favor of Wagner. It wasn't a surprising decision, but a rough one regardless, and one that will provide fodder for conspiracy theorists for quite some time. She reportedly inquired about the process for filing an appeal, but ultimately arrived as planned to perform in Sunday night's exhibition and drew a supportive and devastating ovation from an empathetic crowd.
Wagner admitted that the pressure of the competition had gotten inside her head — not necessarily what you want to hear from someone before they're off to Sochi. But as she explained it, the Olympics would be more like "icing on the cake" compared with this weekend's fraught event.
"Nationals is a different beast," she said. "This is a total mental competition … When I show up in Sochi, it's going to be the Ashley Wagner you guys have been watching the last couple of years."
Wagner may have been able to leapfrog her way onto the Olympic team, but the same favor wasn't extended to pairs figure skaters Caydee Denney and John Coughlin, who were expected to make the team but came in third and ultimately missed the cut. The United States has struggled in pairs for quite some time and qualified for only two Sochi berths, which went to favorites Marissa Castelli and Simon Shnapir, who performed a James Bond–themed routine, and Felicia Zhang and Nathan Bartholomay. In men's singles, Max Aaron, a compact former hockey player from Arizona, got bumped by Jason Brown's breakout performance.
It's possible that Aaron was, literally, a second away from making the team. That's because Jeremy Abbott nearly disqualified himself before he'd even begun his free skate. Athletes must be in position at the center of the ice before their music begins, and Abbott lost track of the countdown clock. It was only when the crowd collectively and urgently chanted "FIVE! FOUR! THREE! TWO! ONE!" that he scrambled and arrived just in time. After an almost flawless performance (one that surprised many observers who had believed him to be toast coming into nationals) he finished first, bursting into tears on the ice. Thus is the razor's edge — or, should I say, skate's blade — of these competitions.
"I have to thank the audience, because without them I would have been disqualified," said Abbott, who at 28 has had a career plagued by various mental and physical struggles and who plans to retire after this season. "That was really cutting it close."
There were no such controversial moments surrounding ice dancing. The sport is unfairly something of a Winter Olympics punch line; for viewers accustomed to the arms race of "regular" figure skating's jumps and spins, it's hard to get excited for two people waltzing on skates. But listen to me when I command: You really should get excited. The ice dance duo of Meryl Davis and Charlie White is among the USA's strongest gold-medal hopes in Sochi — not just in the realm of figure skating, but in the whole Winter Olympics.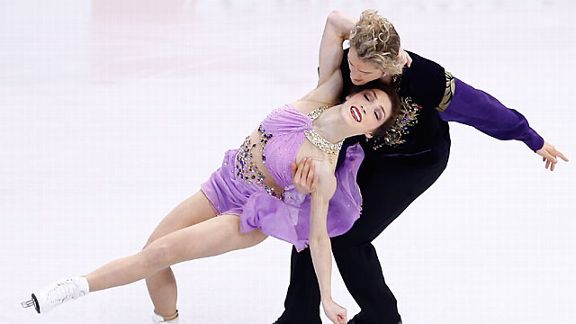 Davis and White have been a pair since 1997, when he was 8 and she was 9. They won the silver medal in Vancouver and have made it clear that anything less than an improvement on that result will disappoint. (The pair trains in the same facility as Canada's Tessa Virtue and Scott Moir, who won gold.) He is a former hockey player with a giant mop of blond curls and the strength and stamina to pull off exhausting elements even late in the program, while she is a swan of a woman with facial features so big and wide that you can see her expressions all the way from the top row.
When they performed the story of Scheherazade in the long program Saturday, they were such a cut above the rest of the competition that it sometimes felt like they had carved out a new discipline all their own. If you took the finest ballet company in all of Russia and had them dance atop a moving walkway, you'd start to approach what it's like to watch Davis and White on ice. In the words of ESPN.com's Bonnie Ford, they "make the spectacular customary." Figure skating scoring is convoluted, but their long program earned the equivalent of a perfect 10.
Joining them in Sochi will be Madison Chock and Evan Bates, as well as the brother-sister pair of Alex and Maia Shibutani — a.k.a. "the Shib sibs" — who delighted the crowd with a free skate set not to the usual polka tunes or orchestral arrangements but rather to a medley of Michael Jackson songs. I asked Alex afterward which was his favorite.
"'Thriller,' I think," he said. "I mean, you know, it's iconic. He changed the game with that song, and we're trying to change the game with our program. Practicing it every day is a blast. Everyone at our rink — we turn it on and everyone's movin' around, trying to copy our choreography."
I came into the weekend knowing next to nothing about figure skating, and left with a working grasp of words like "twizzle" (basically, this means twirl; who knew that Snoop had such influence on the sport?) and "flutzing." (This is when you are supposed to do a lutz but you only pull off a lower-scoring flip instead.) I also came away with a deep admiration for the sport's blend of beauty and balls, for the way its potential and kinetic energies build and wane.
There's such high drama in every takeoff and, particularly in an Olympic year, such high stakes riding upon every landing. It's an onstage work of art with the hold-your-breath precariousness of a playoff game. Either way, we're only at the first intermission. I can't wait to see the rest.
Filed Under: Katie Baker, Olympic Games, We Went there