We Went There: The Battle for New York
Nathaniel S. Butler
Going into last night's mondo-hyped inter-borough showdown, the Brooklyn Nets boasted an 8-4 record — an admirable start for any team, but especially impressive for one that finished 22-44 last season. Nevertheless, the New York Knicks have captivated the imagination of the city, and in the process spawned a fledgling (but absurd) public campaign propelling Carmelo Anthony as the NBA's Most Valuable Player.
And so, with slightly over a minute remaining in the first half of Monday's game at the Barclays Center, Anthony was greeted at the foul line by an echoing "MVP" chant. Nets loyalists countered with enough baritone boos to partially drown out the visitors, but the message was sent. Even in Brooklyn's new arena, this is the Knicks' town.

While duotone Nets gear is omnipresent in concentric rings emanating from Fulton Mall, the team has struggled to capture the imagination of the masses. To be fair, their recent relocation means most fans are in the flirtation period rather than a monogamous relationship. But the rubber-edged nature of the team doesn't help.
The Nets are safety scissors in basketball form. Brook Lopez has been a plodding juggernaut, averaging 20 points a game on flat-footed jumpers. The team's leading rebounder is Kris Humphries, a square-jawed lug who described himself as a "progressive and polished hipster." Joe Johnson is a body bag of plain yogurt. Their style of play is not conducive to riotous excitement, either: The Nets dawdle along at the slowest pace in the NBA, winning by taking judicious care of the rock and muscling for offensive rebounds.
Deron Williams is the Nets' marquee player, but his tenure with the franchise has been less impressive than one might expect from someone regarded as one of the NBA's elite point guards. Since being jettisoned out of Utah, he's exhibited erratic shooting, frequent turnovers, and half-assed defense. Until now, it was easy to attribute his mediocre performance to the malaise that infects a lousy team playing in front of empty seats in Newark. But even as the Nets have improved on the court and risen to national prominence, there doesn't seem to be a lever Williams can simply pull to regain his old form. Maybe this is just who he is.
Still, Brooklyn relies heavily on Williams's knack for getting the ball to guys like Jerry Stackhouse and Keith Bogans in places where they can commit helpful acts. The burden of distribution is shared by no one: Last night, he had seven assists in the first half and the rest of the starting lineup combined for one.
Even in a showdown billed as the "Battle for New York" or the "Clash of the Boroughs" or "A Bunch of Professional Athletes Who Live in Westchester Playing for Franchises Across the Bridge From Each Other," most Nets fans aren't emotionally invested enough to curse at every miss. When someone in the Barclays Center stands shouts passionate words, a fair assumption is that they're one of Mirza Teletovic's local relatives from Little Sarajevo.
To compensate for the lack of crowd noise, the public address system blares a ceaseless mix of hip-hop instrumentals and vocal snippets. It's technically the best music in any sports arena — where else can you hear Bonecrusher's "Never Scared" and Biggie's "N—-s Bleed?" — but there's a zombifying oversaturation effect. When Humphries yoked up Tyson Chandler for a jump ball in the third quarter, cheers for the energetic defensive effort were instantly smothered by a 30-second megamix of Kris Kross and Busta Rhymes. Later, during the taut fourth quarter, a growing chant of "D-Fence" was drowned out by Biggie's "The What." Let the people find their voice, man.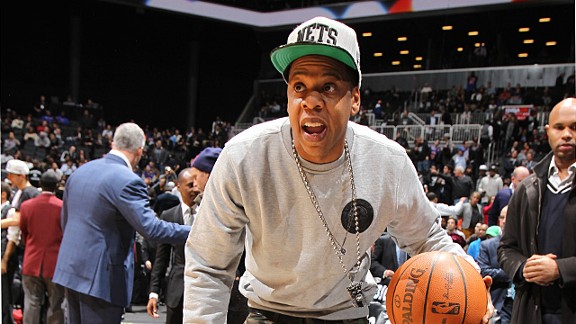 Together, the frenetic playlist and oxygen-consuming presence of Jay-Z make it appear as if the Nets are presenting themselves as the OFFICIAL HIP-HOP BASKETBALL TEAM. It feels very '90s, and not in the dope vintage Coogi sweater way (on the upside, the girl in a bikini top who was giving out free temporary Nets tattoos looked a lot like Foxy Brown). Speaking of bygone eras and ill-conceived rap shit, the halftime entertainment was a dispiriting performance from Slick Rick, whose panted vocals rarely matched the accompanying beats. After wallowing through "Hey Young World," "Mona Lisa," and "Children's Story," one of the flyest rappers of all time skulked off to a smattering of boos from bored kids.
Despite the Knicks' collection of engaging personalities — Rasheed Wallace can huck up errant 3s all night and still receive "Sheeeeeeed!" bellows of adoration — it was Brooklyn's stodgy teamwork that carried the day. Just as in their game against the Dallas Mavericks last week, New York abandoned their excellent offense when it mattered most, instead opting to wager everything on an isolation play for Anthony. Again, he settled for a contested fade-away jumper. Again, they lost. There's a lesson here that probably won't be learned.
As the clock in overtime dwindled, Deron Williams marched to the foul line and heard his own "MVP" chants from the Brooklyn crowd. And why not? Fans of first-place teams are entitled to their delusions. Forget about the Gobot mascot and an orgiastic hip-hop playlist — the Nets have now beaten the Knicks and, in the process, begun building a real identity.
Filed Under: Ben Detrick, Brooklyn Nets, Carmelo Anthony, NBA, New York Knicks, We Went there