We Went There: The America's Cup Finale
Justin Sullivan/Getty Images
All around the America's Cup Pavilion the message was written loud and clear: It was time to wrap things up. The Ben & Jerry's vendors had been made scarce; the merchandise tent was locked and empty. "GOAT MILK ONLY" was scrawled on a big white discarded plastic barrel, and it was hard not to imagine all the customers who'd requested a ladle from it over the past few days and weeks, their faces blending into one lactose-free-please composite.
All that was left of the bar that had served everything except water (for that, you had to go to a different station to fill up a reusable container toted from home or purchased at significant markup on-site) was a rectangle of raw, peeled-back soil. The bones of a Nespresso lounge still remained, but not for long: Construction workers were well into the dismantling process, and trucks idled everywhere to take whatever they could away.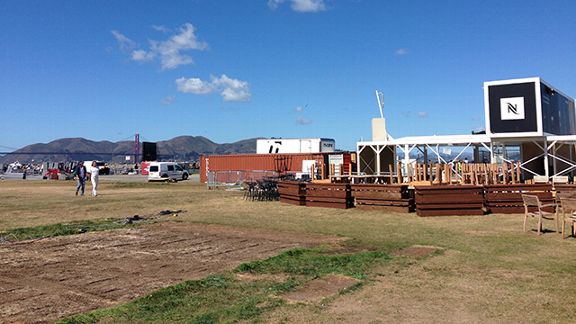 Chairs and tables were stacked on top of one another, the air was bright and breezy, and the whole effect was one of being at a restaurant well past closing time, finishing your drink or your dessert while the silverware gets polished and the staff gets fed and the whole pretense of the place falls down around you. Aren't those always the best dinners, though?
In the case of the America's Cup, what began as a quick roast had turned, rather unexpectedly, into a decadent, going-on-19-course marathon. It had spanned near-capsizes, numerous lead changes, liquor license renewals, too little wind, too much wind, too-sideways wind, a whale and an even bigger tycoon, colorful press conferences, hourly delays, daily innovations, and hotel room evictions.
And now, there would be one final pairing: Cup defender Oracle Team USA and challenger Emirates Team New Zealand would sail to break an 8-8 series tie. Four days after the America's Cup had originally been scheduled to end, and a good week since everyone had just assumed it was going to, there would finally be a conclusion.
---
Just one week earlier, on September 18, Emirates won their eighth race over Oracle for an 8-1 lead in the first-to-nine competition. They deserved it.
The New Zealand syndicate had been sailing with efficient confidence over the early days of the regatta, while Oracle was plagued by plodding boat handling and occasional disarray. After a particularly disastrous Race 5, TV commentator and former America's Cup skipper Brad Butterworth remarked that "the inmates [were] running the asylum." (Later, American tactician John Kostecki, one of just two actual Yanks on the U.S. boat, was demoted in favor of British Olympian medalist Sir Ben Ainslie. Oracle lost another two races even after that.) I wrote that Larry Ellison, for all his unlimited resources and commitment, didn't appear to have built the faster boat.
But in the same way things sometimes go down on the water, the separation paid off and Oracle began to close the gap between them. I had also written that helmsman Jimmy Spithill, a 34-year-old mercenary from Australia, had nothing to lose when he turned an "Are you under pressure?" question around.
"I think the question is, imagine if these guys lost from here," he said. "What an upset that would be. They have almost got it in the bag."
---
On Wednesday, with the winner-take-all race looming, the whispered worries around the marina were that it might end up being too windy to sail. "Too windy to sail" sounds like one of those "Why do you park on driveways and drive on parkways?" cutesy phrases, but the possibility was definitely there: In the wake of a training accident in May that killed Andrew Simpson, a British crew member on the Swedish-owned Artemis boat, official and objective wind limits had been imposed. (Considering the AC72 boats can reach speeds of up to three times the wind, you can understand why.)
Already the wind limits had forced the postponement of several races, some of which were called while already in progress. But the most unbelievable abandonment was a result not of too much wind, but not enough. A confounding 40-minute maximum time limit, employed with TV scheduling in mind but clearly set artificially low, kicked in right as New Zealand rounded the final mark hundreds of meters ahead of Oracle with an 8-2 series lead. Dean Barker and Emirates had sailed a smart race in fluky conditions, and they were about to win the America's Cup for their efforts. And then, as they drifted toward the finish line, their 40 minutes was up and the race was converted from a foregone conclusion into a forfeit.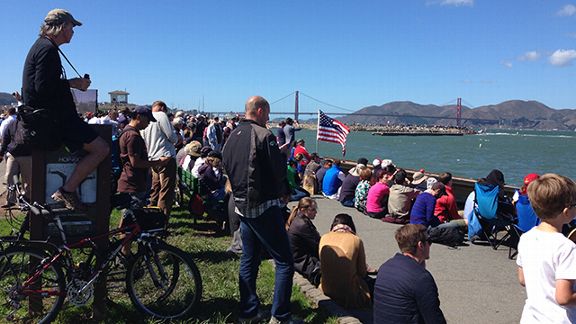 All these delays stretched the competition past its scheduled end and led to new logistical challenges. Venue liquor licenses expired and hotel reservations lapsed. (Fittingly, Oracle's annual conference brought in a wave of visitors that wiped out the city's hotel inventory, leaving competitors and organizers alike scrambling for lodging.) But for Oracle, it also gave them a chance to spend what Spithill described as "long nights" making adjustments to their boat. Their top speeds began to climb. Their maneuvers became graceful. They won one race after another, and the America's Cup kept not ending. They were down 8-3, then 8-6 a few days later, and then after a particularly big day it was 8-8 and up for grabs.
"It's free," said an Australian-accented guy who looked like a lifeguard out of central casting and was wearing an America's Cup polo and standing by the half-disassembled bleacher seats that I had paid way too much money to sit in a few weeks ago. "But I can't let you up there, the seats are full."
Various people pleaded their cases: Their boyfriend was saving them a seat, they could see him waving, turn around, look up there, see? Or they were already up there before, they just came out to get cell service. I was told there were no seats for media but I could go to an area designated for photographers out on a nearby jetty. I went and stood by the large TV screens on the edge of the Marina Green seawall instead and could see everything just fine. The two teams got off to pretty even starts, but near the first mark Oracle went a little too aggressively for it and the whole front of the boat pitchpoled into the water like an upside-down fork. The boat lurched and groaned to a stop. Next to them, New Zealand rounded smoothly.
---
It's hard not to be devastated for Barker, who now has the ignominious distinction of being the guy behind the wheel of the Kiwi boat that gave up an 8-1 lead to Oracle Team USA and lost the 34th America's Cup by a 9-8 final score. He's by all accounts a wonderful bloke, as they say, and throughout the race he was consistently polite, sporting, talented, levelheaded, low-error, earnest, and humble. A few people have compared Oracle's comeback to the Boston Red Sox in 2004, but one major difference is that Dean Barker isn't the New York Yankees.
And as just about everyone has been quick to point out, there's plenty not to like about the concept of this Oracle syndicate. (The use of the word "syndicate" in yachting, by the way, always makes me think of Milo Minderbinder; he'd fit right into this world.)
There's the billionaire Larry Ellison, hopping aboard the winning boat in victory and getting sprayed with champagne by his hired skipper. There's the ongoing cloud of the two-race penalty that Oracle was given for using an illegal weight in an exhibition racing series sailed on different boats last summer. There's the City of San Francisco waiting to clean this all up already and move on. There are the fans in Oracle jackets walking around and saying to one another things like "Do you think we'll make the three o'clock? Or do you want me to drive while you update the PowerPoint?" There are no real good guys in this situation.
Still, it's hard not to root for a team to do something like win eight consecutive races and somehow get faster every time. It's hard not to be wowed by the way small tweaks and improvements are what yield measurable changes in ultimate performance. It's hard not to enjoy a day on the water in San Francisco in September, watching two pseudo-spacecrafts trade leads.
Here's the celebration scene at Marina Green:
After the wild first mark rounding, Oracle remained on New Zealand's heels until the leeward mark, where they split to opposite sides of the course. By the time the two boats came back together, the U.S. team had the lead. A week ago, the conventional wisdom was that in order for Oracle to win a race they had to make absolutely zero mistakes and hope Emirates made at least one. By yesterday, that had reversed. Emirates sailed a fine race throughout, but Oracle had just become faster. New Zealand team boss Grant Dalton said after the race that he was "gutted," but said that it had become increasingly apparent that Oracle was gaining the upper hand. "I probably slept better in the last two days than I slept a week ago because I sensed it was coming," he said.
---
After the race ended, I decided to walk the two or so miles along the coastline of San Francisco to Pier 27, where the awards ceremony would be. I fell in with a large group of sunburned others also making the same pilgrimage. It was a route I never would have taken on my own, winding through beautiful Fort Mason but also past the super-touristy wharf areas that I normally try to avoid. But it was a lively walk, the kind that shows you a city only distantly related to the one you live in. I was reminded of times I'd made similar trips back in New York — getting funneled into far corners of Central Park during the marathon, or unwittingly wandering Queens after the U.S. Open let out.
Everything was in less of a state of being torn down than Marina Green had been, but the fact remained: For all the development and the "America's Cup Pavilion" nomenclature and the special exhibits and the ticketed bleacher seats and the marked-up food and beverages, the most thrilling day of the America's Cup — Race 19 — took place as the whole operation enveloping it was being taken down.
It's unclear whether the America's Cup will be back in San Francisco; there are half-jokes that Ellison will move it to his newly acquired Hawaiian island of Lanai. I hope that it stays and I think that it will. The first go-round had its awful mistakes and misguided projections and it certainly had its smug browbeatings, but there's plenty that can be learned from. If there's one thing the Bay Area prides itself on, it's aggressive iteration. In that way, perhaps the amorphous America's Cup will ultimately make itself the right fit.