We Went There: Five Questions From the FIBA Asia Championship, Philippines vs. Qatar
FIBA Asia/Nuki Sabio
1. Why bother going there?
Fair question. The FIBA Asia Championship is a major regional qualifying tournament, held every two years, that determines who gets to represent Asia in competitions like the Olympics and the Basketball World Cup. (FIBA decided to change the name from World Championship, starting in 2014.) The top three teams in FIBA Asia will receive berths in next year's World Cup, to be held in Spain.
What will happen to proud qualifiers once they arrive on the world stage? They will get pounded. The 2011 FIBA Asia champion, China, went 0-5 in last year's Olympics, with a combined margin of defeat of 126 points. The three Asian teams in the 2010 World Championships had a combined record of 2-13. From an American fan's perspective, the FIBA Asia tournament may seem like a heated race to earn recognition as the world's basketball doormat(s). It's a battle to determine who gets to have their legs twisted in knots trying to stay in front of Kyrie Irving, who gets to body up against Marc Gasol's sweaty chest, or who gets to smell Hedo Turkoglu's pizza breath.
To the Asian teams, of course, a top-three finish in this tournament means much more. It's a validation of their countries' athletic programs, an achievement of intense national pride, and — this is a big one — a chance to have Kevin Durant drain 3s over their outstretched fingertips.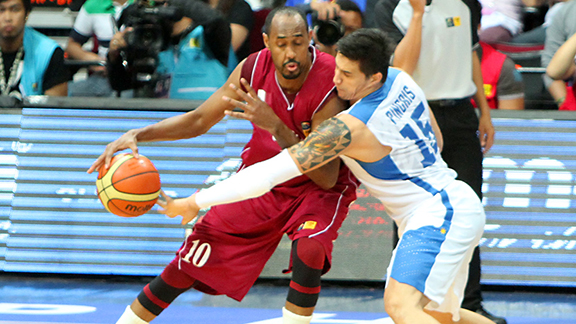 It's especially important for the Philippines, which is hosting the tournament in the country's new, NBA-approved venue in Metro Manila, the Mall of Asia Arena. On one level, it's another expression of basketball relevance in a basketball-obsessed country that yearns to be relevant (with other recent examples being LeBron James's July visit to Manila and the NBA's first-ever league-sanctioned preseason game in the Philippines, scheduled for October). From a competitive point of view, this is probably the Philippines' best chance to qualify for a world competition since 1985, the last time the country won the Asian championship. The national team, SMART Gilas Pilipinas (gilas is often defined in English as "elegance," although in sports terms "great ability" is a better translation), consists of many of the country's top professional players, along with a naturalized 6-foot-11 center of American vintage, and they have home-court advantage. Plus, with Australia set to join FIBA's Asia region in 2017, the competition for qualifying spots will soon become stiffer than ever. Along with all the euphoria that accompanies supporting the national team on home soil, there's a sense around Manila that this opportunity could be now-or-never for the Philippine team.
2. Wait, Jarvis Hayes is Qatari? And Qatar is in Asia?
At least in terms of international hoops, yes and yes. Let's start with the latter: FIBA has deemed it wise to include Middle Eastern nations in its definition of Asia, and countries like Jordan, Lebanon, and to a lesser extent Qatar have become perennial contenders in the region. Iran, led by former Memphis Grizzly Hamed Haddadi, won two of the last three Asian championships and is a pretty solid favorite to repeat this year. FIBA's regional classifications don't always follow the rules of common sense, however, since Turkey is considered part of Europe, as is Russia, while former Soviet territories like Kazakhstan are in Asia.
Anyway: Qatar is in Asia. FIBA doesn't care for your narrow-minded definitions.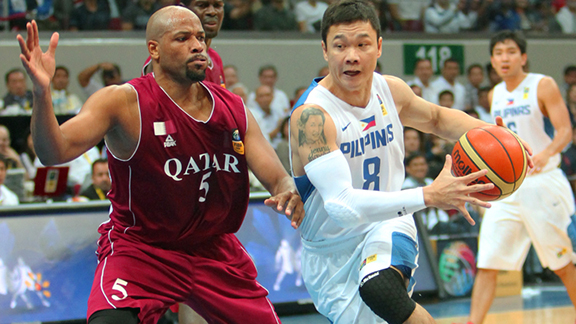 But Jarvis Hayes? Tenth pick in the 2003 NBA draft Jarvis Hayes? One pick behind Mike Sweetney (Go New York Go New York Go!) Jarvis Hayes? Jarvis Hayes from Atlanta Jarvis Hayes? He's from Qatar now?
That's right. His twin brother, Jonas, however, remains a full-blooded American. Again, this is routine for international basketball, where each national team is allowed to field naturalized citizens of foreign descent on its roster. For American pros, it's a way to earn some extra cash, as long as they don't mind giving up their chance to play for Team USA. The Philippines' center, Marcus Douthit, is a former Providence Friars star from New York; Kazakhstan has a point guard from Pennsylvania named Jerry Johnson; and Japan has former UCLA big man J.R. Henderson, who is playing under the name J.R. Sakuragi. (And yes, the character Sakuragi, a rebounding specialist from the anime series Slam Dunk, was a factor in Henderson's decision to choose that surname.) This is a swell development, and I hope more naturalized imports will play under local pseudonyms. Wouldn't it be more fun to cheer for Marcus Douthit if he were playing as Dingdong dela Douthit? Or for Jarvis Hayes if he went by Jarv al-Saeed?
As for Jarv al-Saeed, against the Philippines on Tuesday night he was pretty much the same player you hazily remember from the Washington Wizards. He hung out on the perimeter, hit a couple 3s, showed the difference in class between NBA talent and international talent on a few effortless turnarounds in the post, and missed a lot of shots. His shot 7-of-17 from the field, which, coincidentally or not, is three-tenths of a point away from his career NBA field goal percentage of 41.5. It was not enough to lead Qatar past a spirited Philippine team, which won 80-70.
3. Where are the drag queens?
One of the wildest quirks of Philippine basketball is the troupe of cross-dressing die-hard fans who sit directly behind the baskets to cheer for their favorite players and harass opposing teams. They banshee-screech obscenities, unfurl homemade banners embroidered with the players' names and numbers, and, when the time is right, perform celebratory stripteases. I've been following Philippine basketball for almost eight years, and I've seen these fans voguing and shrieking at games of all levels, from minor league jousts in sweltering tropical bandboxes to Game 7 of the Philippine Basketball Association (PBA) Finals.
So it was disappointing to arrive at the FIBA Asia championships and see that the drag queen fans were nowhere to be found. Sure, they're an unusual addition to the normal pro hoops milieu — but that's a good thing, one of the many reasons why basketball culture in the Philippines is as fun and rich and diverse as anywhere else in the world. Besides, if the Philippines finds itself deadlocked late in a knockout game with Korea or Kazakhstan, couldn't a timely and intentional transgender nipple slip be just what the country needs to help distract an opposing player's free throws?
4. Is there such a thing as an irrational confidence coach?
There was definitely an irrational confidence player: Qatar's spectacularly named sixth man, Daoud Mosa Daoud. (I'm a sucker for any first/last name repetition — Duany Duany, where you at?) Daoud had the same hairstyle as Doug E. Doug in Cool Runnings and he somehow managed to draw a bench technical on his team before even checking into the game. Once on the court, he commenced gunning, and actually led a first-quarter comeback for Qatar because no Philippine defender seemed able to keep up with his first step.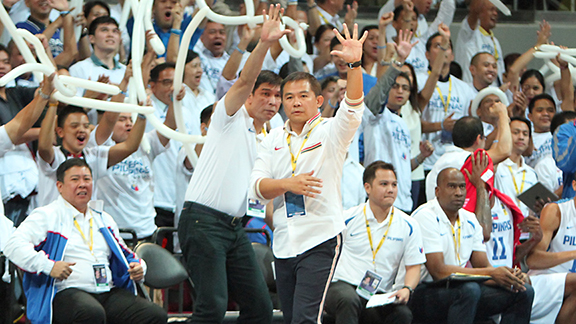 But nothing screamed irrational confidence quite like Philippine coach Chot Reyes's outfit, a vaguely nautical number consisting of blue slacks with a gold-and-white racing stripe on one leg, color-coordinated with a tailored Nike dress shirt that contained the red, white, blue, and gold of the Philippine flag. Reyes's confidence as a coach is pretty rational — he's a five-time PBA Coach of the Year with a championship-studded résumé. Sometimes, however, it's easy to forget all those achievements due to the blur of gesticulating, haute couture flare dancing up and down the sidelines.
5. Did the Philippines find its own JaVale?
Once upon a time, there were rumors that JaVale McGee might be willing to become a naturalized Filipino and join the national team. That never happened, but the country may have stumbled into a local answer to the Nuggets big man in Japeth Aguilar. Like McGee, Aguilar possesses a combination of size, speed, and agility that hardly any player in his league can match. Also like McGee, Aguilar frequently plays basketball like he's never played basketball before. In recent years, the 6-foot-9 Aguilar has been singled out for lackadaisical defense, falling in love with his unreliable perimeter game, and having only slightly better court awareness than a coconut tree.
Through the first six games of FIBA Asia, however, all that seems to be changing. He found a role for himself as the Philippines' ultimate energy player off the bench, and he has been harnessing his athletic gifts to block shots, grab offensive rebounds, and dunk every time he catches the ball within 5 feet of the basket. His block of a Qatari guard's layup attempt had middle-aged society matrons standing in the crowd, doing the Dikembe Mutumbo finger-wag, and his and-1 dunk in the second quarter might be the highlight of the tournament so far. If any Philippine fans were still glum over not landing JaVale for a couple weeks this summer, they probably feel better now, or at least more hopeful, because they could have this new-and-improved Japeth for years to come.