The Trenchie Awards Special Edition: Wild-Card Weekend's Best Matchups
Because I'm a Bears fan, and because my friends and I made a blood pact to never again discuss what transpired in the NFL on Sunday afternoon, I decided that this week's Trenchie Awards would go a bit differently. There's really no sense in discussing what happened in the past. We can only move forward, and in front of us is a set of lineman matchups that has me (and anyone else with pictures of J.J. Watt in his or her locker) looking forward to this year's wild-card weekend even more than I normally would.
J.J. Watt vs. Geno Atkins
OK, so they're not actually playing against each other, but in a game that's otherwise uninspiring, we get a chance to watch the two best defensive players in football do their thing.
As Sam Monson of Pro Football Focus wrote this week, if it weren't for the historic year Watt has put together, Atkins's 2012 would be the season worthy of all this adulation. According to PFF's numbers, Atkins graded out almost two times better than any other defensive tackle the site has ever charted. Cameron Wake and Von Miller were the only two players, at any position, to record more total pressures. Unlike Watt, whose position varies based on Houston's front and situation, there's no mistaking what Atkins is. He's a 3-technique, 4-3 tackle who happens to be one of the four most disruptive pass rushers in the league.

What to watch for tomorrow is how differently the league's two best interior pass rushers find success. Most of Watt's strategy deals with using his long arms to separate himself from offensive linemen. By creating space, he's able to diagnose plays quickly, and with his hands already latched onto blockers, he has no problem shedding them when it's time to make the tackle. Even when he does choose to engage with extending, his go-to, inside-hand swim move is a product of how well he uses his length.
In pass-rush situations, Atkins is more comfortable playing in close quarters. As one of the strongest players in the league (he did 34 reps on the bench press at the NFL Combine, good for third among defensive tackles), the bull rush is one of Atkins's most effective choices, and he has no problem firing off and getting into a blocker's chest. The effectiveness of Atkins's hand play isn't nearly as obvious as Watt's, but it's still a major factor in how he gets to the quarterback.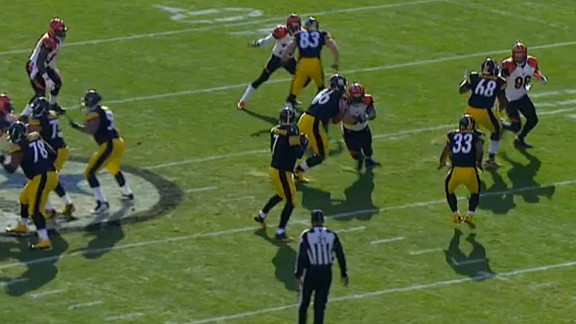 Here you can see Atkins's white-gloved hand underneath the outside arm of David DeCastro. This small bit of leverage came after a quick move to the outside, and it's just enough for Atkins to gain enough of an edge to get to the quarterback. Even without the length that Watt enjoys, Atkins still manages to use his hands to his advantage.
Matt Kalil vs. Clay Matthews
Kalil was my favorite player in a draft dominated by talk of Andrew Luck and Robert Griffin, and what he and the Vikings have done this year is just one more brick in the argument for drafting an offensive tackle early. During his last year at USC, Kalil showed off a blend of quickness in the passing game and dominance in the running game that made him a clear top-five pick, and he's mostly lived up to it so far in Minnesota.
All that anyone needed to understand Matthews's importance to Green Bay's defense was to see its drop-off when he missed time earlier this year. Matthews is the Packers' best defender against both the run and the pass, and in terms of defensive players most valuable to their team, he's on a very short list.
Matthews managed to pick up a sack against Kalil last Sunday, but that play was mostly a product of Christian Ponder bailing early from the pocket. Where Matthews is able to beat most left tackles to the edge with his speed, Kalil is able to counter with feet quicker than those of his fellow left tackles. The most noticeable part of Kalil's pass blocking is how easy it comes to him. Rarely does he seem hurried or overextended. Where Matthews may be able to gain an advantage is with the power rush that the slightly undersize Kalil is less equipped to deal with.
I'll be watching for the individual battles between these two, but how both of their coordinators put each in a position to succeed will also play a huge role. Dom Capers does a good job of moving Matthews around the formation to provide him with favorable matchups against interior linemen, and last week, Vikings offensive coordinator Bill Musgrave gave Kalil plenty of help with Matthews on the left side.
(Quick aside: Another matchup that warrants attention in this one is Vikings center John Sullivan and Packers nose tackle B.J. Raji. There was no bigger Pro Bowl snub this season than Sullivan, and while Adrian Peterson has been superhuman, Sullivan's emergence as the league's best center has gone a long way in helping define Minnesota's running game. Sullivan is strong, mobile, and relentless, and if the Vikings have any chance in Lambeau, they'll need to run the ball well to either side of their center.)
Chris Clemons vs. Trent Williams
The best individual battle of the weekend's best game comes by way of two very different paths. Trent Williams came to Washington as a top-five pick who has been a major part of the Redskins' resurgence. Chris Clemons was an undrafted free agent playing on his fourth team. Still, how the Pro Bowlers fair against each other tomorrow night will go a long way to see which of the NFC's two hottest teams keep playing.
An old football adage about dominant defensive ends is that if you can't block them, read 'em, and it's the strategy Mike Shanahan's team used to great effect against DeMarcus Ware last weekend. A good portion of the Redskins' running game involves an unblocked (or seemingly unblocked) edge defender, and it would make sense if that defender turned out to be Clemons.
Where Williams will need to worry about Clemons is more in the passing game. Washington was able to run all over a Dallas defense with a depleted interior, but with Brandon Mebane, Red Bryant, and should-be Defensive Rookie of the Year Bobby Wagner roaming the middle for Seattle, the yards won't come so easily. Williams is the rare offensive tackle (much like Houston's Duane Brown) who has the feet to deal with speed and the power to deal with the straight bull rush. Providing a hobbled RG3 with time will be paramount for a Redskins team that will need to make plays in the passing game, and luckily, they have one of the league's best left tackles to give it to them.
Filed Under: Adrian Peterson, J.J. Watt, NFL Playoffs, Robert Griffin III