The Trenchie Awards: J.J. Watt, Bruce Irvin, and the Best Line Play From Week 3 in the NFL
In celebration of the NFL's release of the all-22 and end-zone film for the 2012 season, each week we'll be bringing you the best in offensive- and defensive-line play. For the winners of last week's Trenchie's, click here.
The Bob Lilly Award for Run Stuffing
J.J. Watt, Houston Texans
This could get boring. Watt takes this one home for the second straight week, and even though I tried Karl Malone–ing him, there's really no denying what he did on Sunday. On the four plays where the second-year defensive end made solo tackles in the run game, Denver gained a total of negative three yards. As he did last week, Watt showed off his ability to both maintain outside leverage and play down the line of scrimmage when the ball went away from him. The two plays that stood out, though — both two-yard losses for the Broncos — simply saw Watt beating up on whoever was tasked with blocking him.

Both plays (as well as one of Watt's 2.5 sacks) were the result of a simple but devastating move that the right side of Denver's offensive line had no answer for.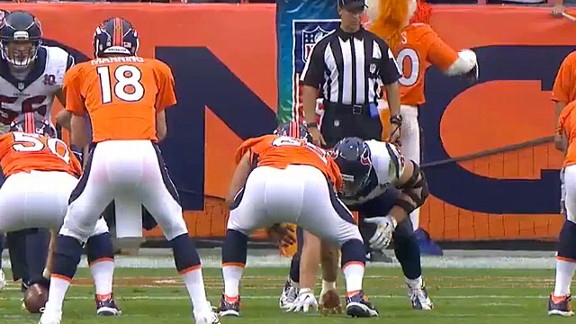 The second of those plays came late in the fourth quarter with the Broncos facing second-and-goal from the 4-yard line. Watt moved all over the right side of the Texans' changing front on Sunday, but here (above), he's lined up on the outside shoulder of right guard Manny Ramirez (65).
The ball is snapped, and with one quick step to the inside, Watt has already won. Ramirez is off-balance just enough that Watt's next move can end it.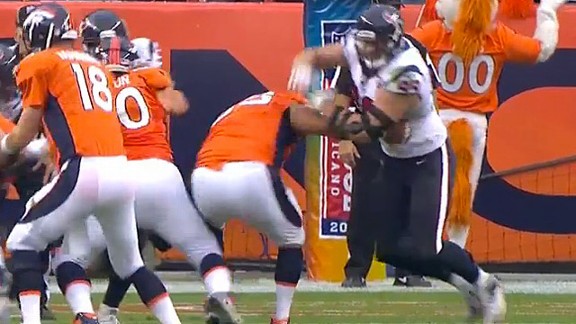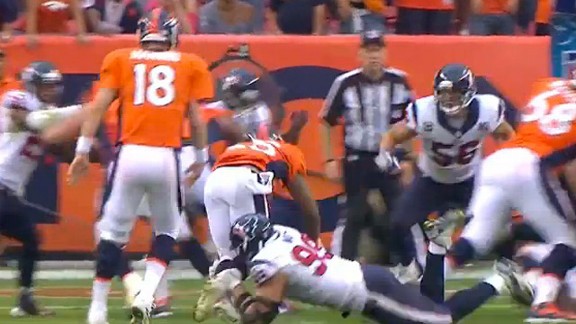 With his left hand, Watt pulls Ramirez's right shoulder both down and inside, and almost simultaneously, the right arm swims over his now-lowered opponent and propels Watt into the backfield, where he drags Lance Ball to the ground. The entire move takes about a second, but it's enough to show off much of what makes Watt the player he is. It starts with the ability to create that subtle shift in Ramirez's weight without much movement of his own. These small battles really are won in phone booths, and less horizontal movement from a defender means more movement toward whoever has the ball. Mostly, though, it's about the hands. Not only does Watt get his hands on Ramirez before the reverse can happen, but the quickness with which he turns the shoulder and swims over the top is hard to grasp.
Through three games, it's probably not a stretch to say that Watt has been the best defensive player in the league. The Wisconsin product has 5.5 sacks and 12 solo tackles, seven of which have gone for losses. He's been the best player on the league's best defense, and he's a big reason for Houston's 3-0 start.
Honorable Mention: Roy Miller, Tampa Bay Buccaneers
There's really no way to overstate how much the Tampa Bay Buccaneers must have hated their coach last year. After fielding what was one of the worst run defenses in recent memory in 2011, the Bucs have shut down Carolina's collection of backs and DeMarco Murray in the course of three weeks.
Gerald McCoy has gotten whatever accolades a 1-2 team can get for its run defense, and some of that is warranted. The no. 3 overall pick in 2010 has been more active and more disruptive so far this year, but the player along Tampa's defensive line who's stood out to me has been fourth-year defensive tackle Roy Miller. Greg Schiano has placed Miller, playing the one-technique opposite McCoy, at the center of his team's run defense and tasked him with teeing off on the middle of the opponent's offensive line on almost every play.
Not only has Miller held up against double teams at the point of attack, he's maintaining that gap integrity down the line of scrimmage. By continuing to occupy opposing lineman as the play moves away from him, Miller has allowed Tampa's linebackers to either scrape over the top or dive back under the action to make plays. It's a combination of strength and effort that has been a key in the Bucs' ability to slow down opposing runners through its first three games.
(A quick aside: Miller was a member of the 2008 Texas Longhorns, a team that, upon further review, might have had the greatest defensive front of all time, and whose absence in that season's national championship game becomes more unforgivable every day. Alongside Miller, Texas's front seven included Sergio Kindle (Ravens), Lamarr Houston (Raiders), Henry Melton (Bears), Sam Acho (Cardinals), and Brian Orakpo. Yes. Really.)
The Deacon Jones Award for Pass Rushing
The population of Seattle Bruce Irvin, Seattle Seahawks
The Seahawks' defense spent the entire first half of last week's game having a party at the quarterback. Chris Clemons was the big winner with four of Seattle's eight sacks, but to me, it was Irvin's performance that stood out the most. Despite worries about his inability to play on every down and the length of his production, the Seahawks made the pass-rushing terror the 15th pick in this spring's draft with the hope that he might be this year's Aldon Smith.
Like San Francisco did with Smith last year, Seattle used Irvin in passing situations against the Packers (note: For the Packers, most situations are passing situations), and it took about three plays for him to make an impact.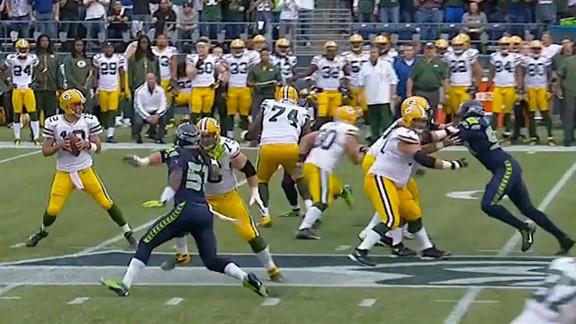 On its first drive, Green Bay lined up in the shotgun on third-and-10 at about midfield. Lined up as the left defensive end, Irvin comes off the ball at the snap, and after two steps, he engages Bryan Bulaga with his inside arm.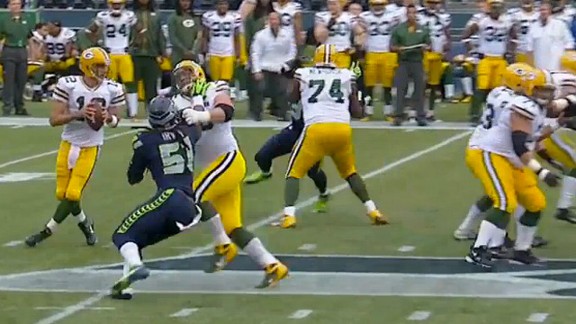 Part of the concern about Irvin coming out of West Virginia was that his lack of size — he's listed at 6-foot-3 and 245 pounds, but looks smaller — would be a problem against the mammoth tackles in the NFL. That doesn't seem to be much of an issue here. It takes one big punch from Irvin's inside hand to beat Bulaga. With his shoulders turned and that left foot off the ground, it's already over.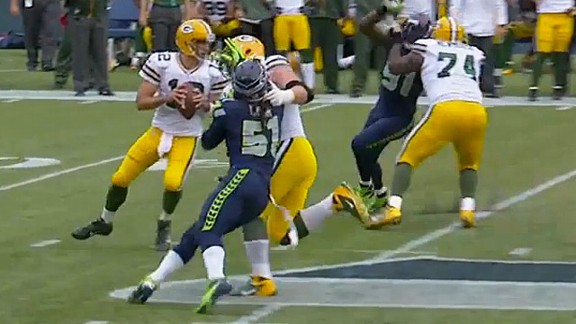 With Bulaga turned, Irvin moves back inside and pulls Rodgers down for his and Seattle's first sack of the game. Irvin wasn't done, later using the same move to get to Rodgers again, and then bull-rushing Bulaga for a holding penalty while Clemons picked up the sack. Very little about Irvin's game is refined, and that tendency toward the power rush seems to make up most of his arsenal at this point. Pass rushing is much like playing the post in basketball. Both are dependent on small, subtle movements, and both take time to develop. With a couple offseasons, Irvin will have a chance to add a face-up game to that baby hook he leans on too often. The good news for Seattle is that the instincts and the ability are clearly there at an NFL level.
Filed Under: J.J. Watt, NFL, Robert Mays