The Trenchie Awards: Aldon Smith's Decimation of the Miami Dolphins (A Story in 2 GIFs)
AP Photo/Jed Jacobsohn
In celebration of the NFL's release of the all-22 and end zone film for the 2012 season, each week we'll be bringing you the best in offensive- and defensive-line play. For the winners of last week's Trenchies, click here.
The Deacon Jones Award for Excellence in Pass Rushing
Cameron Wake, Miami Dolphins, and Aldon Smith, San Francisco 49ers
There were more important games this past Sunday, and there were better ones, but for the guy who writes this post every week, it doesn't get much better than Dolphins-49ers. Miami's defensive front seven is one of the best in football. The 49ers' offensive line is the best. And each defense can claim one of the best four pass rushers in the league, each with a style uniquely his own. It was those two guys who defined Sunday afternoon, and they did it in the way they always do.
The conversation about Defensive Player of the Year, and about the league's best pass rushers, has mostly been limited to three players: Aldon Smith, J.J. Watt, and Von Miller. Mostly, this is a product of sack totals, where those three, in that order, lead the league. Coming off a three-sack game against San Francisco, Cameron Wake is fourth on that list with 14.0 on the season, but understanding just how good he's been requires more than that total. According to Football Outsiders, only Clay Matthews had more quarterback hits than Wake in 2011, only Tamba Hali had more hurries, and no player drew more holding penalties.
This season, Wake is the league's most productive pass rusher when it matters most. According to Pro Football Focus, on third and fourth down, no player has more total or per-rush pressures than Wake, who barely edged out Von Miller for the top spot. In situations where he can pin those ears back, no one has been better, and that's because in a lot of ways, Wake is the classic pass rusher.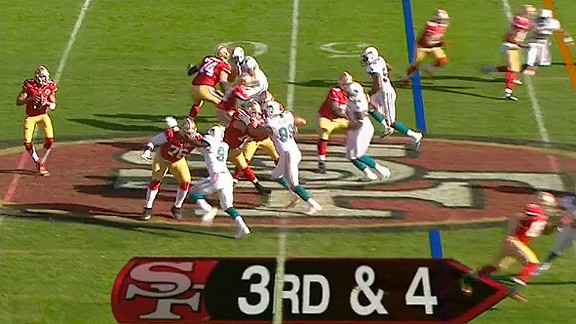 Here's Wake's first sack against San Francisco, which came in the first quarter on Sunday. He doesn't actually beat right tackle Anthony Davis — the sack comes after Colin Kaepernick steps out and Wake spills back inside — but it's a good example of how by-the-book Wake's technique often is. The most standard of pass-rush moves is the club-and-rip. With his outside hand, a rusher hits the shoulder of the offensive lineman in an attempt to turn him just a bit. This allows the defender to dip his inside shoulder and rip past, all while using that dip to create an angle back to the quarterback. In the photo above, it's easy to see how pronounced Wake's club move is. His left arm is fully extended as he prepares to swing it toward Davis's right shoulder. It doesn't end up doing the job here, but it wasn't long before it did.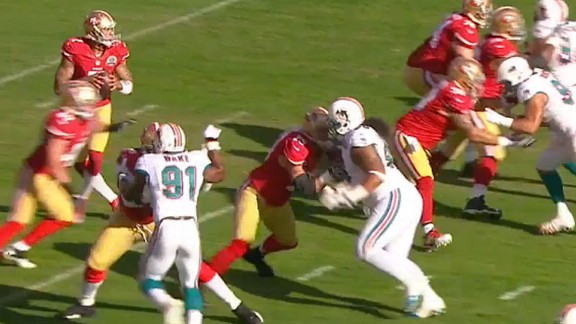 This is Wake's second sack, also coming in the first half. The photo almost looks like it could be a continuation of the one above, the moment when Wake's left hand connects with Davis's shoulder.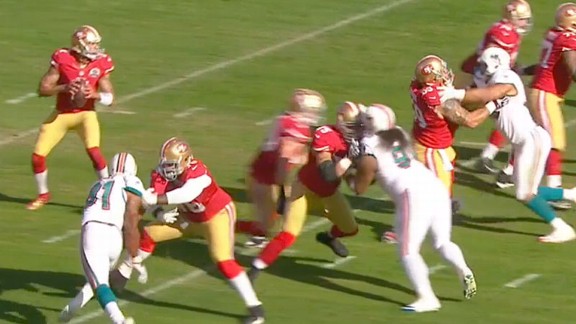 Only this time, it does cause Davis to turn, just enough for Wake to start his rip. You can see Wake's left hand still barely clutching fabric as he dips his right shoulder. His right arm is almost fully extended toward the ground, which he'll need to adequately get under Davis's pads. With Davis turned, this shouldn't be a problem.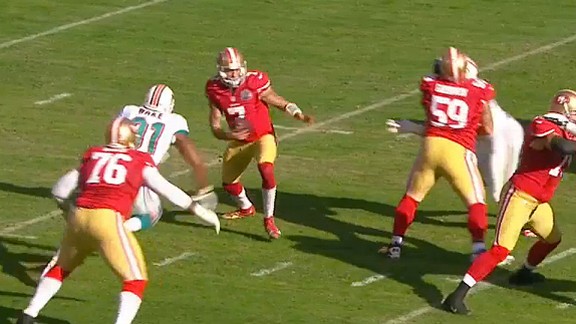 The move happens quickly, but obviously there's a lot going on. For any pass rusher, the club-and-rip is mostly a product of muscle memory. It's a move practiced so much that it happens without any thought. When Wake does it, that natural, instinctive feel is even more pronounced. Most of his pressures come as a result of the simplest, most-often-seen technique there is, but it just doesn't matter because he does it to perfection.
(All GIFs courtesy HeyBelinda)
While Wake owes much of his success to what can be taught at a coaching clinic, Aldon Smith has terrorized the league using methods that no one can just learn. Smith's 19.5 sacks are often a product of unbelievable athleticism combined with pass-rushing savvy. Wake's technical prowess is replaced with, "OH MY GOD WHAT JUST HAPPENED." That was essentially Dan Dierdorf's reaction to what you see above, a play that happened at the beginning of the second quarter on Sunday.
When offensive tackles have to account for speed, they're often susceptible to a straight bull rush. And what Smith does to Jonathan Martin here is just plain inhuman. With one hand, Smith drives Martin backward and onto his back before dragging down Ryan Tannehill. Dierdorf's reaction was a mixture of sadistic intrigue and horror. I can't blame him. That play is the most gruesome thing I've seen this week. I should note that four days ago, I saw a movie in which Werner Herzog asked a man to chew off his own thumb. At some point in the next two weeks, Jonathan Martin is going to wake up screaming in a cold sweat, and he won't know why. I will.
Because ruining Martin's life apparently wasn't enough, Smith decided to add Richie Incognito to his list of victims. One of the ways defensive game plans have contributed to this uptick in pass-rushing dominance is by isolating rushers on interior linemen, a method the Giants have used a lot in recent years. There are some instances when this is just a schematic advantage — like when Geno Atkins is beating up offensive guards. And there are some, like in this instance, when it's just plain mean.
In less than a second, Smith has used one step to beat Incognito to the outside, and I'm almost certain he did it without being touched. Combined with the rush on Martin, this is how Smith has been so dominant all year. At 6-foot-4 and 260 pounds, he can both run over an offensive tackle and make a move requiring this type of quickness. There's almost no lateral move in how he beats Incognito here, and Richie is left blocking air before he can even out his hands. It all makes for a pretty terrifying package.
The Bob Lilly Award for Run Stuffing
Vince Wilfork, New England Patriots
Earlier this week, I wrote about the difficulty in defining the legacies for space-eating nose tackles. Without a lot of stats, the Hall of Fame candidacies for players like Vince Wilfork may be difficult to argue for, but with performances like Wilfork's on Monday Night Football, their importance is undeniable.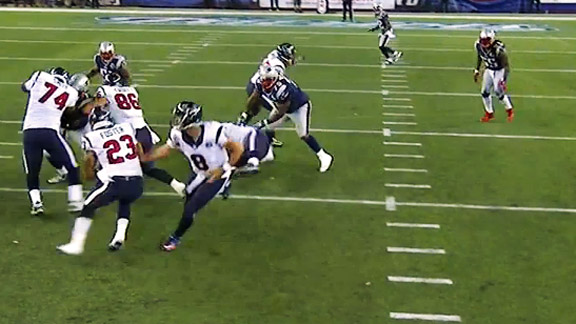 Here, Wilfork is lined up as a 1-technique tackle on what will eventually be the play's back side. As the action goes to the offensive's left, right guard Ben Jones is assigned to cut Wilfork to clear a cutback lane. Avoiding a cut block requires a defensive lineman to simultaneously get backward and use his hands to push away the offensive player. It's a move that requires a lot of athleticism and an ability to quickly diagnose the play. It's also a move that men weighing 350-plus pounds shouldn't be able to make as easily as Wilfork does here.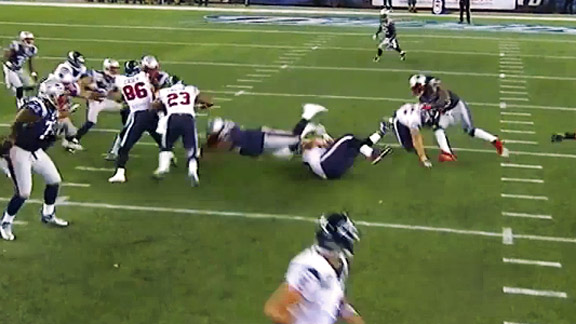 Having avoided Jones, Wilfork is free to play down the line of scrimmage and make the tackle on Arian Foster after just a two-yard gain. It's a simple play, but it's telling in terms of Wilfork's skill set as a run defender. Being big is one thing, and Wilfork does his share of clogging up the middle and occupying blockers, but for a man his size, he also has incredible lateral quickness. This isn't a play just anyone can make. In fact, I would say it's a play almost no one can.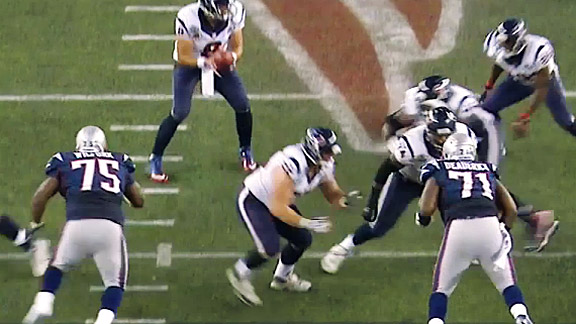 Still, there's something to be said about being the immovable object, and here it is. On this play from the first half, the Texans are attempting to trap the unblocked Wilfork. At the snap, center Chris Myers helps left guard Wade Smith on the backside defensive tackle as left tackle Duane Brown comes around to clear out the unsuspecting Wilfork. Because trap blocks are usually made with momentum and on defenders who don't always see them coming, they're usually a safe bet to create push if made cleanly. That's not exactly what happens here.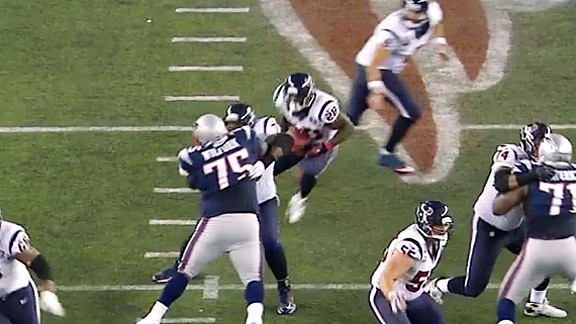 Brown releases without any trouble, but when he meets Wilfork in the hole, that's where both stay. Anchoring down and correctly taking on the block with his playside shoulder, Wilfork doesn't move an inch despite Brown's head of steam and can't be moved.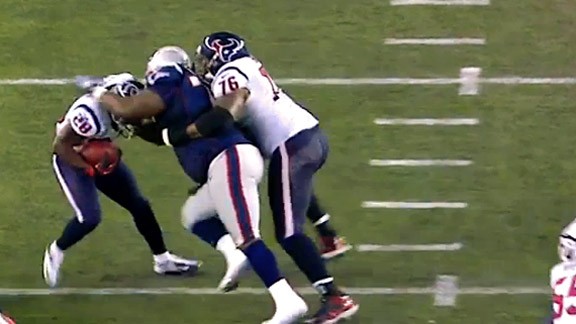 By keeping his outside arm free, he's also able to grab Justin Forsett on the way by and drag him down in the backfield. Again, while the mass certainly helps, this is a play that few men in football can make, and that was the theme for Wilfork throughout New England's big win on Monday night.
Filed Under: J.J. Watt, Robert Mays