The NHL Volatility Index
Jared Wickerham/Getty Images
The 2013-14 NHL season is almost here, and it won't lack for positive story lines. We have the farewell tour of Teemu Selanne, the inspiring return of Paul Ranger, Jarome Iginla continuing his quest for a Cup in Boston, and any number of long shots and underdogs who'll be making unexpected runs at jobs over the next two weeks.
And that's all well and good if you're the sort of person who enjoys happy stories. But what about the other 99 percent of us? What about the fans who want to see a good old-fashioned debacle? Luckily, the NHL seems like it should have plenty of those to offer up too.
As we head toward opening night, here are some of the story lines that are simmering now, but have the potential to boil over some point during the season.
Schneider vs. Brodeur
The story right now: The Devils were part of the offseason's most stunning trade, acquiring Cory Schneider from Vancouver in exchange for their first-round pick. Schneider is one of the best young goaltenders in the game and became available only because the Canucks couldn't move Roberto Luongo (more on him in a second), so it was a perfect move for a team in need of a starting goalie.
But the Devils don't need a starting goalie, at least in theory, because they still have Martin Brodeur. You may remember him — three Cups, all-time leader in wins and shutouts, arguably the best who's ever played the position. He hasn't been dominant or even especially good for years now, but he's entering what will probably be his final season. Having some kid show up and steal his job wasn't supposed to be part of the script.
The worst-case scenario: Brodeur wallows through a painfully bad "Chris Chelios as a Thrasher"–style final season. He's done, but won't admit it. Everyone knows that the Devils should just give Schneider the undisputed starter's job, but they can't bring themselves to do it because of Brodeur's legacy.
Odds of it happening: Slim. Brodeur's 20-year career has been remarkably free of hockey-related drama that didn't involve Sean Avery, and Schneider already has experience with diffusing a goaltending controversy. Plus, if things start getting bad then Lou Lamoriello could just come down and crack some skulls. But chances are everyone figures out a way to share the workload for one year before Schneider takes over full time in 2014-15.
But if it did: The whole thing could turn into the NHL's version of Rodgers vs. Favre.
Burke ousts Feaster
The story right now: The Flames are a mess, finally getting started on a rebuild after years of convincing themselves they could contend with a roster that was old and not very good. General manager Jay Feaster has kept his job, but earlier this month the Flames hired Brian Burke as president of hockey operations.
The worst-case scenario: The Flames struggle, and after a suitable waiting period to make it look like this wasn't the plan all along, Burke fires Feaster and appoints himself GM. The Flames immediately become Canada's most interesting team.
Odds of it happening: High. Everyone in Calgary has been trying to paint this as a case of two smart hockey men who can work together, but let's face it, Feaster was already on the hot seat and Burke doesn't exactly have a history of playing second fiddle. Unless the Flames somehow overachieve, this one almost feels inevitable.
But if it did: Burke has never had much patience for long rebuilds, which makes the idea of him heading into the 2014 offseason with a top draft pick in his pocket and tens of millions in cap room intriguing.
Roberto Luongo and John Tortorella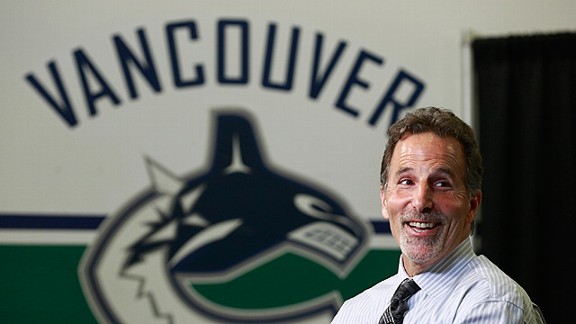 The story right now: OK, so this is actually a cheap way of combining two potentially volatile situations — Luongo's return to the starter's role after everyone assumed he'd be traded, and Tortorella's existence — that don't really have all that much to do with each other. Tortorella has had some rumored issues with star goaltenders in the past, but he's no Mike Keenan, and Luongo has always got along fine with coaches.
Still, with two volatile situations coexisting in an intense hockey market, you wonder if one or both could blow up at some point.
The worst-case scenario: Tortorella makes Luongo stop tweeting. No, really, this is a thing that could happen.
Oh, and I guess other things could happen that would actually impact the team's performance. If you care about that sort of thing.
Odds of it happening: You'd think Tortorella would be able to last at least one season in his new job before boiling over. Then again, maybe not.
Luongo may be the bigger question. He handled the yearlong trade drama about as well as he could have, and if he plays well then everything should be fine. But if he struggles early and the fans decide to turn on him, this one could get ugly.
But if it did: At least some of the Vancouver media has already started sharpening the knives for Luongo, and the press never seems to get along with Tortorella. So if one or both of these situations do start to smoke, don't be shocked if the media dumps gasoline over it.
Tyler Seguin tries to behave
The story right now: Seguin is young and has flashed superstar talent, but he wore out his welcome in Boston thanks partly to a reputation for partying. The Stars acquired him in a blockbuster seven-player deal in the hopes that a change of scenery would serve as a wake-up call.
The worst-case scenario: Seguin doesn't answer the wake-up call and gets himself into trouble, or at least puts himself in a situation that creates that impression. Or, failing that, he lets one of his friends touch his phone again.
Odds of it happening: Seguin is 21 and will probably make the same sort of mistakes that most 21-year-olds do, but he's likely learned some valuable lessons from his time in Boston. If he's smart, he'll make sure he doesn't let his reputation take another hit.
But if it did: The Stars would be disappointed if Seguin slipped up again, but there's not all that much they could do about it. He's too good to keep out of the lineup for long, and turning around and trading him again would feel like a panic move. Rookie GM Jim Nill has pushed his chips in the middle on the Seguin deal, and he may have no choice but to trust that new coach Lindy Ruff can keep his young star motivated.
Henrik Lundqvist starts eying the door
The story right now: Lundqvist may currently be the best goalie in the world. But he's entering the last year of his contract, and so far a long-rumored extension that would make him the highest-paid goalie in the league hasn't happened. Now, he's suggesting that he may break off talks if he hasn't signed by opening night.
The worst-case scenario: Lundqvist and the Rangers can't make a deal, talks break off once the season starts, and every Ranger player spends the season getting asked about their goalie's contract status. With the majority of the roster unsigned past this year, Lundqvist becomes the first domino that leads to everything falling apart.
Odds of it happening: It's hard to imagine the Rangers letting it get to that point. That huge list of pending free agents means the team has a ton of cap room available, and it's never been in its nature to pinch pennies when it comes to big-name stars. This one will get done.
But if it did: Lundqvist would become the top target at the trade deadline (in the unlikely event that the Rangers had fallen out of contention) or in free agency (much more likely). Star players anywhere near the prime almost never make it to UFA status, so again, file this one under the "major long shot" category for now.
Tim Thomas becomes Florida Man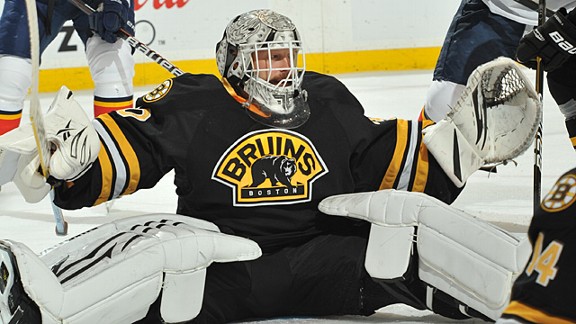 The story right now: Thomas has agreed to a tryout deal with the Panthers, continuing one of the strangest career arcs in NHL history. A former 217th overall pick who needed nine years just to crack an NHL lineup, he suddenly morphed into a superstar in his mid-30s before walking away last season for personal reasons. Now he's back at the age of 39, and nobody knows what to expect.
The worst-case scenario: It's certainly possible that he won't play well — he's old and rusty, and the Panthers should be awful — but that's not really what anyone's worried about. Thomas is an outspoken conservative with a recent history of courting controversy. He snubbed the president and weighed in on gay marriage, neither of which played well in a league that prefers its stars to never say anything interesting.
Odds of it happening: If his Facebook page is any indication, his views haven't softened. The bigger question will be whether he'll want to keep his personal views separate from his hockey career (and whether the media will let him).
But if it did: His Panthers deal has already led to a slew of "Florida man" jokes, so the anticipation for something wacky is building. But he'll get away with more in Miami than he would in a market like Boston, and it's unlikely that he'll do or say anything that would translate into more than a minor controversy.
Patrick Roy is Patrick Roy
The story right now: Patrick Roy is the new coach of the Avalanche. Yes, this guy. This guy. This guy.
The worst-case scenario: Wait, I wasn't done. This guy. This guy. This guy.
Odds of it happening: Iffy. Don't get me wrong, he'll clearly do something crazy at some point. It's just that there's at least a chance he spends his first year on his best behavior, and "at some point" turns out to be some time after this season. For example, one minute after the end of this season.
But if it did: Fetchez le popcorn.
Filed Under: Henrik Lundqvist, Hockey, New York Rangers, NHL