The Hardcourt Shuffle: College Basketball Gets Even More Confusing
G Fiume/Maryland Terrapins/Getty Images
The Big Ten Road Trip, with all its local comforts, is over, and now it's time to plunge back into the chaos of the national scene. A huge part of college basketball analysis is projecting what will happen in the postseason. It makes sense, because the sport is defined by a few crazy days in March, but I always get a fleeting sense of regret around this time of year. I wish conference tournaments meant more, and I especially wish regular-season conference championships meant more.
I love March Madness as much as anyone, but the truth is it's one of the worst postseasons in terms of crowning the actual best team. That's why it's great; you have to win on a given day, and the small sample size allows for the upsets and anomalies that give the tournament its character. In fact, of the six major American professional and college sports, I'd argue that college hoops is at the bottom of the postseason reliability spectrum. Here are my rankings, from most to least reliable:

1. NBA playoffs
2. NHL playoffs
3. BCS championship
4. MLB playoffs
5. March Madness
6. NFL playoffs
I'm comfortable with the blanket statement that sports with multi-game playoff series tend to be more reliable, while single-elimination systems are less so. Beyond that, I admit that my rankings are just guesses. The NFL seems to have the most random results, to the point that it feels like a coin flip. On the other hand, despite the flaws of the BCS system, I usually end up feeling like the best team won the college football title … to the extent that I rank them above the multi-game MLB playoffs, where you often see a clear delineation between teams designed for the postseason and those designed to win a lot of games in the regular season. (Detroit–San Francisco last October was a great example.) College basketball falls somewhere between MLB and NFL; last year, the best team clearly won, while UConn was a surprise in 2011, and so on.
My point? We should value the regular season for what it says about our teams, regardless of how things play out in the variable postseason tournaments. I have this thought at least once per year, but what reminded me this season was the concept of the road game.
What do road games mean?
In terms of winning a regular-season conference championship, road games are incredibly important. Most decent teams defend their home court with regularity, but conference champions tend to steal a few big games on the road and grind out road wins against mediocre teams on their off nights. Those wins separate them from the pack. But what do road games mean in terms of March Madness?
You could argue that dealing with adversity on the road helps prepare a team to succeed when the tournament struggles arrive. But you could also argue that road games predict nothing, since teams don't have to play road games in March. (In fact, the higher seeds often have favorable home crowds for the first two rounds, as a result of the pod system.) With that in mind, let's take a look at two title hopefuls from the ACC, both of whom are undefeated at home, and see how road games define their separation.
Duke's ACC road results:
NC State: Lost by 8
Miami: Lost by 27
Wake Forest: Won by 5
Florida State: Won by 19
Boston College: Won by 1
Maryland: Lost by 2
Aside from Miami, the Blue Devils are measurably better than every team on that list. But of their six road games, only one (at FSU) produced what you'd call a "good" performance. The rest ranged from below average to truly terrible, and without a few late-game breaks, Duke could easily have suffered embarrassing losses to Wake and BC and run up a 1-5 road record.
Miami's ACC road results:
Georgia Tech: Won by 13
North Carolina: Won by 9
Boston College: Won by 1
Virginia Tech: Won by 9
NC State: Won by 1
Florida State: Won by 6
Clemson: Won by 2
None of these wins, with the possible exception of the UNC game, are very impressive on their own. Sunday's escape at Clemson was particularly brutal to watch, with Miami shooting just 34.6 percent from the field and 15.8 percent from 3. But … they won.
There's nothing in these results, at least to me, that says Miami will necessarily go further than Duke in the tournament. Both have had their struggles on the road, and my guess is that Duke will beat Miami in early March when the Hurricanes come to Cameron Indoor Stadium. The Blue Devils even have marginally better overall metrics, according to KenPom.
However! Miami has actually won its close road games, and in doing so, has all but wrapped up an ACC regular-season title. That should count for something. Winning on the road is difficult — just ask Kansas, which somehow got beat by TCU in the year's most embarrassing upset — and when a team runs through that gauntlet and wins, it deserves recognition.
But in a sport where everyone's eyes are fixed on March, that recognition doesn't always come.
Speaking of Road Wins …
They just keep getting harder to come by in the Big Ten, where Wisconsin just recovered from a road collapse at Minnesota to demolish Ohio State in Madison.
(Quick aside, re: Madison: I spent a night there on my way between East Lansing and Minneapolis, and while I don't want to spend much time gushing … oh my God, that college town. It's incredible. All the hype was real. Aside from Austin, Texas, and Athens, Georgia, I think I've been to all the "cool" college towns, and Madison just blows them all off the map.)
The wins keep Wisconsin on the periphery of the Big Ten regular-season championship discussion, two games behind Indiana and Michigan State. Based on those numbers, you'd be inclined to give the Hoosiers and Spartans a huge edge coming down the stretch. But the Big Ten is a strange animal this year, and to really analyze the regular season, you have to look at what's to come. Which is why I'll continue to update this handy rubric showing the matchups of the "Big 6":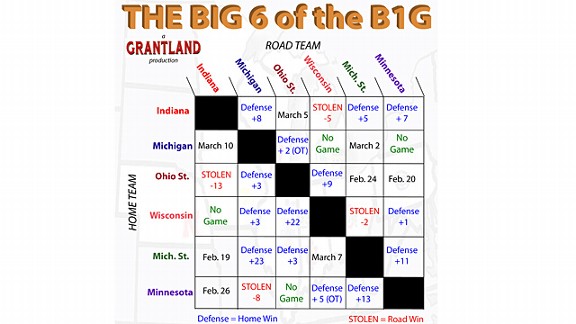 [Click here for a larger view.]
What do we see? As expected, Indiana and Michigan State have performed the best of any team thus far. The Spartans are the only team undefeated at home against Big 6 competition (3-0) and managed to steal a huge win at Wisconsin, while Indiana stole its only road game thus far (
at Ohio State
) and has managed to go 3-1 at home. But look at the remaining schedules of both; Michigan State has four games left against the Big 6, including two on the road, while Indiana also has four remaining, with
three
on the road. Compare them to Michigan, a team just two games behind, and you'll see that the Wolverines have just two games left, both at home. Wisconsin, meanwhile, has just one road game left at Michigan State, and otherwise plays Nebraska, Northwestern, Purdue, and Penn State.
Things are about to get very difficult for Michigan State and Indiana, while it gets easier for Michigan and especially Wisconsin. Expect the Big Ten race to tighten up, and know that the Spartans and Hoosiers will need every bit of their two-game lead.
(That being said, if Indiana steals a road win at Michigan State on Tuesday, things start to look reallllly good.)
The Award for Greatest Unsupported Trash Talking Goes to …
Quinn Cook, Duke University.
After that 3, Cook got his swagger machine in full gear and shouted, "This is my city!" to anybody who'd listen. Unfortunately, Cook's actual city is Washington, D.C., and the geography gods punished him and his Duke teammates with a two-point loss.
Marcus Smart Will Block Your Ambitions, Steal Your Soul
Before the tournament starts, I'd like it known that I've been on the Marcus Smart train since the very early days of the season. Two weeks ago, against Kansas, he secured an overtime win in Lawrence by stealing the ball from Elijah Johnson. Saturday, in another overtime game, Oklahoma attempted a game-tying 3-pointer against the Cowboys:
Freshman of the Year. There's just no debate.
The Allen Crabbe Incident
If you didn't see it, Cal coach Mike Montgomery shoved guard Allen Crabbe (a Pac-12 Player of the Year candidate) in the chest during a timeout. It was an attempt to fire him up in the midst of a poor performance; the Bears trailed USC by double digits. Check out the video:
Things like this can get needlessly complicated, so please, let me contribute to the media storm with seven thoughts.
1. Montgomery made a mistake. It's true that he needed to fire up his team, which looked lackadaisical, and Crabbe had just jogged up the court without any enthusiasm or effort. Shoving Crabbe wasn't the right move, but not for the reasons most people are mentioning.
2. It's not wrong just because of the physical contact. We don't know the relationship between Montgomery and Crabbe, and to say that the mere act of initiating that kind of contact is, on its face, wrong, is a little too broad. Anyone who's ever played a sport has had a coach that screamed at them. I've had coaches grab me to throw me into the game, to the bench, or somewhere else. There are times when this shit happens. There were also times when it got way out of hand. That's why it's important to try to decipher when we're seeing a moment of passion that isn't harmful beyond a temporary ego hit, and when things get egregious. Sometimes, a player legitimately needs someone in his face, and I apologize if this makes me sound like a grunt, but I don't like the idea of these things being policed by standards that are out of touch with the intensity of high-level (and hell, even low-level) athletics. ENOUGH WITH THIS NANNY CULTURE, AM I RIGHT?? (When you start to sound like an extremist, you might as well embrace it.)
3. I don't think this is on a level with the Sean Woods incident earlier this season, which I thought verged on bullying and abuse.
4. It was, however, wrong, because as Crabbe's reaction showed, a two-handed shove is perceived as an act of intimidation, and it's natural for a player to get pissed off when it happens, because it's embarrassing to be shoved by an old man … regardless of whether intimidation was the intent. Also, Montgomery should know what it means to have all this caught on camera, and how potentially embarrassing it could be for himself and his player. If you're not considering perception as a coach at the D-I level, then you're not doing your job.
5. Crabbe and Montgomery both reacted perfectly in the aftermath. I don't blame Crabbe one bit for walking to the locker room. But I liked that he came back, and I loved that Montgomery put him back in the game right away. And as Jeff Eisenberg pointed out in his story, both coach and player said it was meant to be motivation.
6. Also, it worked. Or something worked, anyway. Cal closed on a huge run, Crabbe finished with 23 and 10 (plus six steals), and the Bears won by eight. This is what I mean when I say we don't understand the dynamic between Montgomery and Crabbe; it's very possible that an extreme act of emotion was exactly what was needed in the moment (even if shoving a player was a mistake), and the knee-jerk reaction of "this must be bullying" misses the point.
7. I hope Montgomery doesn't get suspended.
Top 10 Games This Week
10. No. 24 Colorado State at UNLV, Wednesday, CBS Sports Network
9. La Salle at Temple, Thursday, CBS Sports Network
8. Cal at no. 23 Oregon, Thursday, ESPNU
7. Minnesota at no. 13 Ohio State, Wednesday, Big Ten Network
6. St. Louis at no. 11 Butler, Friday, ESPNU
5. No. 21 Notre Dame at no. 16 Pittsburgh, Monday, ESPN
4. Virginia at no. 3 Miami, Tuesday, ESPNU
3. VCU at St. Louis, Tuesday, CBS Sports Network (A-10 implications)
2. No. 14 Kansas at no. 17 Oklahoma State, Wednesday, ESPN2
1. No. 1 Indiana at no. 8 Michigan State, Tuesday, ESPN
Enjoy the week.
Filed Under: College Basketball, Duke, Indiana, Miami, Michigan State, Ohio State, Oklahoma State, Shane Ryan, Wisconsin