The Andrew Luck Takeover Starts Now
Andy Lyons/Getty Images
Well football returned last night, and in case you missed it, Peyton Manning went and set the entire Ravens defense on fire. Seven touchdowns and 462 yards. GOOD GOD.
Manning is so evil. He will never die. Watching him was a reminder: As chaotic and unpredictable as the NFL has become, great quarterbacks remain pretty much parity-proof. Think about it.
The NFL is chaos. Good teams become bad overnight, bad teams become good, superstars come out of nowhere at the same time other superstars fade into oblivion, and it's all part of the NFL life cycle that resets every 12 months. But when you pick the playoff teams every year, it's generally a good bet to just pencil in whichever teams have Drew Brees, Tom Brady, Aaron Rodgers, and Peyton Manning. Right?
And the best quarterbacks are immune to ALL OF IT. Watching Manning last night, it sorta felt like he could sit back there and pick apart defenses for as long as he wants to keep playing. He and his stupid audibles could just keep torturing opposing teams until 2025 when football is outlawed.
Somehow, in a league full of freak athletes like Calvin Johnson and Adrian Peterson, and defensive nightmares like J.J. Watt and DeMarcus Ware, the most invincible football players look like this:
Football often looks like the most complex sport on earth, but these guys simplify things. In the NFL, if you have one of the elite and/or borderline inhuman quarterbacks, you will have a good team. Kind of like how you could put LeBron on any team in the NBA and it probably wins 50 games. Having a great quarterback turns bad receivers into quasi-stars. Any receiver who's actually good becomes completely unstoppable, offenses become terrifying, and it more or less guarantees a playoff spot.
Which brings us to Andrew Luck.
We've had weeks of NFL previews all over the Internet and nobody needs a whole lot more information. So, on the Friday before Week 1, I'd just like to take this opportunity to say that we don't need to overthink this. Luck is going to go scorched-earth on the NFL this year. That's my only serious prediction for 2013.
Bill Barnwell says the Colts are a candidate to regress this year, but NOPE.
Not happening. Whatever Luck and did last year was just a bonus. Surrounded by a shell of a football team, he was good enough to make the Colts competitive, capitalize on an easy schedule and some good fortune, and win a few close games at the end. This is how a bad Colts team made a playoff run that still seems pretty baffling. But now? The Colts have real offensive linemen, their ridiculously young roster is a year older, and … if the Colts were lucky last year, what happens when Luck gets really good?
He was the sloppiest of any of the four young superstar quarterbacks last year and still found a way to be just as impressive over the course of the entire season. That should be terrifying for the rest of the NFL.
Think about it like this: Colin Kaepernick had 29 touchdowns (rushing and passing) and seven interceptions if you prorated his stats over an entire season. RG3 had 27 touchdowns and five picks. Russell Wilson had 30 touchdowns and 10 picks. They were incredible. So incredible that it's hard to imagine any of them topping what happened last year. But Luck? He threw 18 interceptions and completed 54 percent of his passes.
There's a LOT of room to grow. Things are only going to get more diabolical.
The same way Manning has been making defenses helpless and driving everyone insane for 15 years, Luck will start his own reign of terror this year. We'll like him at first, then we'll grow to hate him because he's just that dominant and boring, then we'll come full circle as he hits his twilight because that's what we do with any great player. It all starts this year — when Luck defies regression all by himself, and turns T.Y. Hilton into a superstar and the Colts go from last year's lucky team to a legitimately good team. For the next 10 years.
I'm excited for Luck to lay waste to everyone. I'm excited for the Hilton and Coby Fleener takeover that sets the streets on fire. I'm just telling you: It's happening whether we like it or not. In a league full of freak athletes and defensive monsters and coaches designing 800 blitzes, the guys who render everyone else irrelevant are the scariest of all.
It just feels like Luck is one of those guys starting this year.
This goofy bastard is going to be an absolute nightmare.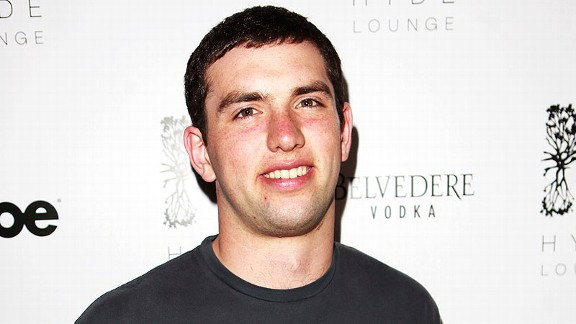 Don't say you weren't warned.
Filed Under: Andrew Luck, Andrew Sharp, Indianapolis Colts, NFL, Peyton Manning