Team USA Takes to the Ice (Sorta)
Bruce Bennett/Getty Images
Patrick Kane is only 24 years old, but he's basically approaching middle age. The puckish puckhandler for the Chicago Blackhawks already has two Stanley Cups and a Conn Smythe to his name, giving him a level of experience that very few NHL players share, but it's not about that. Nor is it about making veiled commentary on his improving "maturity level" or the fact that his summer of celebration, in comparison to his 2010 post-Cup tour de belligerence, was downright benign.
Nope, this is just simple math.
USA Hockey invited 48 players to attend the two-day men's national team orientation camp held earlier this week at the Washington Capitals' practice facility in Northern Virginia. And only about half of them, including guys like David Backes and Ryan Callahan, were older than Kane. The rest ranged from a mere one day younger (Max Pacioretty was born on November 20, 1988, and Kane on November 19) to stop-reading-this-if-you've-got-a-major-birthday-approaching babies like Seth Jones, Jacob Trouba, or Alex Galchenyuk, still teenagers all.
"I feel like more of a veteran here and I'm 24," Kane said Monday. "It's crazy how things happen … you look up and down the roster, and you see '90 birthdays, and '92 birthdays. You felt young at '88, but now you start to feel old."
Well, when you put it that way, yes. (Perhaps Kane was being gentle to us grizzled reporters; he didn't even mention the three guys born in 1994.)
"You see some of these young kids who haven't balanced a checkbook yet in their life," said Backes, "and they're at this camp, learning from guys who have been there."
Zero of these guys — even the ones who have "been there" — were alive when the U.S. last won hockey gold in 1980. Still, all are part of an American hockey cohort that has the potential to go down as the greatest — at least according to Bill Guerin, a former NHL and Team USA star who told the players as much during a meeting on Sunday night.
"My generation grew up watching the Tkachuks, the Guerins, the Modanos, the Leetches — those were our idols," Dustin Brown told NHL.com's Shawn Rourke. "For one of those guys to sit there and say that, it's pretty humbling … Always, in our eyes, they'll be that group."
Zach Parise, who scored the game-tying goal with 24 seconds remaining in the 2010 gold-medal game to force overtime, echoed Brown's words almost exactly.
"I always reflect back to my first Olympic camp in 2006, where we had guys like Guerin, Drury, Modano, and Tkachuk," Parise said. "For me, that was surreal, so I know how these [younger] guys feel being in the locker room with the older players."
---
In the locker room, yes, but not yet on the ice. The players assembled outside Washington, D.C., spent lots of time in meetings and media scrums and at team dinners and autograph sessions and Nationals games (no word on whether doppelgängers Derek Stepan and Jordan Zimmermann were introduced, though Stepan indicated Monday that he'd love to meet the Washington pitcher), but they never skated as a team.
With the cost of insuring all the players' NHL contracts to cover potential injury during camp too prohibitive for USA Hockey, the agenda instead focused on chalk talks and Sochi 2014 logistics and — most importantly — photo shoots in the most unflattering light imaginable.
(Team Canada, which held its camp simultaneously up in Calgary, similarly stayed on dry land. But coach Mike Babcock, after consulting with Michigan State basketball coach Tom Izzo, opted for basketball-style ball hockey walk-throughs. Asked in jest whether the U.S. was now behind Canada in terms of preparation because of their lack of ball hockey play, both Blake Wheeler and head coach Dan Bylsma had the same response.
"I'd argue that we're ahead," Wheeler said.
"I think that means we're still marginally ahead," said Bylsma, smiling.
On Monday, Kettler Capitals Iceplex was bustling with youth hockey players eager to practice in the vicinity of NHL players. On Tuesday, combat veterans joined current and former members of the USA's sled hockey team for an unbelievably inspiring and well-attended game benefitting the Wounded Warrior Project.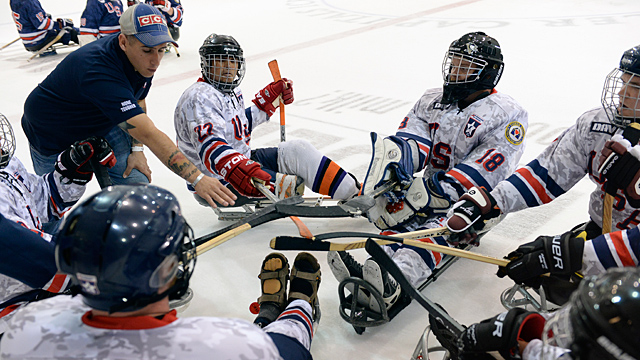 This week, the 48 players looked rested and all Minnesota-lakeside-cottage-tanned. They were chipper, too: Even the typically reticent Phil Kessel held court with reporters for something like 40 minutes, chatting about topics that included but were not limited to: his contract talks (or lack thereof); his teammates and their golf skills; the annoying construction in Toronto; the van in which his parents shuttled him, his brother Blake, and his sister Amanda (who will almost certainly be in Sochi with the women's team) to all their games; how much he enjoys patios; and how he's been making friends outside hockey. I know, I know — we could barely believe it either.
But the next time the team gets together, it will be 23 players lighter and eight time zones away. Players will be beset by the physical and mental wear and tear that comes with a few months of NHL play. They'll get one practice in — two, max! — before the round robin begins.
"For me, it feels uncomfortable," said Bylsma. "It's not what coaches do … We won't see these guys again for another six months. That's not comfortable for a coach to deal with."
Since the NHL began sending players to the Olympic Games, the U.S. has had success in North American cities — silver in Vancouver in 2010 and in Salt Lake City in 2002 — but not abroad. In Nagano in 1998, the highly anticipated team finished sixth (several players subsequently trashed their Olympic Village dorms in a drunken rage). In Turin in 2006, they finished eighth.
The tournament will take place on international-sized ice, which is bigger than in NHL arenas and can tend to reward skating and speed over, say, a crushing check. But a number of players have experience on the larger ice surface, and as Brian Burke, the general manager of Team USA in 2010 and the director of player personnel this time around, pointed out, there are probably plenty of European NHL players who haven't returned to international ice in years.
On the other hand, the USA under-20 national team won gold in Ufa, Russia, at the World Junior Championships in January (Jones, Trouba, Galchenyuk, and goaltender John Gibson were all part of the squad). And its World Championship team earned the bronze medal in Sweden, its first medal at the tournament — which takes place during the NHL playoffs and thus often features a hodgepodge of NHL and non-NHL talent — since 2004. Those tournaments may not be directly comparable to these Olympics, sure, but Jeremy Roenick hurling chairs out the window in Nagano in 1998 really isn't either.
---
In the Olympic hockey tournament, it is in some ways more desirable to earn the bronze medal than the silver. Bronze means you won your last game; bronze means you got a medal to take home with you instead of finishing just shy of the podium. Bronze is found money.
Silver, though … silver's the worst. Silver means you lost the game and lost the gold. Silver is dropping your paycheck into a puddle on your way to the ATM.
In 2010, when the United States fell in overtime to Canada, it didn't matter that few had expected them to be such a strong contender. It didn't matter that they'd come back from a 2-0 deficit in the gold-medal game or that, as Kane said Monday, the contest was "probably the greatest game I've ever been a part of." What mattered was that the U.S. came thisclose, then had to stand and watch as each and every Canadian player had a gold medal slung around his neck while a hometown crowd cheered and hugged and bawled in the stands.
"We're NHL guys, and we're like, uh, let's play 'em again tomorrow," recalled Burke. "We'll play 'em again tomorrow and see who's the better team. We beat them in the first round, they beat us here — let's play 'em again.
"Well, there's no again," he said. "There's no tomorrow."
Still, the fact that the Americans were one bounce in overtime away from winning gold was surprising; going into the games, expectations had been set low, mostly by Burke himself. "We are going to be a dramatic underdog in Vancouver," he said then. "There is not going to be a single cent bet on this team in Las Vegas."
Not so this time around. Along with the usual suspects of Russia, Canada, and Sweden, the U.S. is considered a top contender. (Although don't sleep on Finland or Slovakia!) This is due in part to the Great American Goalie Glut: All of the six netminders attending camp — Ryan Miller, Jonathan Quick, Jimmy Howard, Craig Anderson, Cory Schneider, Gibson — have a real case to be made for their inclusion on the eventual three-goalie roster.
Bylsma and U.S. GM David Poile said that more so than any other position, goalies will be evaluated on how they play in the opening months of the NHL season, though their preexisting "body of work" and involvement with USA Hockey over the years will also be taken into account. (This gives Miller, who has struggled behind an abysmal Buffalo team of late, a bit of a boost.) Gibson is only 20, but he's considered to be America's top goalie prospect, and could very well slide in even though he could be spending this season in the AHL.
"Goalie is a whole different world," said Kane. "You could take six goalies over and play one each game and be comfortable with whoever was in the net. I think it's a tough decision for the coaches. I'm happy I don't have to make those decisions."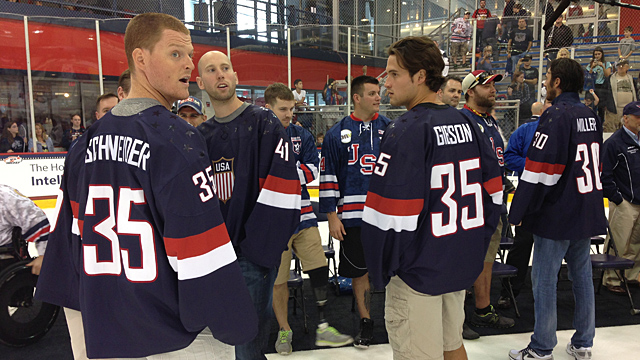 It isn't the only tough call that the USA brain trust — which, in addition to Poile, Bylsma, and Burke also includes assistant GM Ray Shero as well as advisory group members like Stan Bowman, Dean Lombardi, and Dale Tallon — will have to make. The spread of USA Hockey to states outside the "Three M's" (Minnesota, Massachusetts, and Michigan) and the increased professionalization of the U.S. National Team Development Program has made the American hockey talent pool deeper and wider than ever. Canada has long had the luxurious problem of an embarrassment of riches, and while the U.S. on paper doesn't come close, there are nevertheless some questions that are already apparent.
How to consider a player like Jack Johnson, who has long been one of USA Hockey's most loyal players and ambassadors but whose recent on-ice stats leave something to be desired? What about Ryan Kesler, undoubtedly a premier player but also one who has been highly susceptible to injury, which could be a complete killer in a short tournament like the Olympics? If guys like Jason Pominville or Brandon Dubinsky, both of whom were on the 2010 team but weren't even invited to camp this time around, get off to big NHL seasons, what then? (Poile admitted that Pominville, in hindsight, probably ought to have been invited to camp, and added that they had several players on their consideration board who weren't asked to come to D.C. this week.) It's almost a given that there will be players who slump or get injured. How important will "body of work" really be? Should youngsters like Galchenyuk or Jones or Gibson be brought along for the valuable experience and with an eye set on 2018? Does Patrick Kane want to play center or wing? ("Defense," he quipped.)
I asked Backes if in the 2009-10 season he'd seen any differences in NHL games thanks to players of all nationalities trying to stand out and make their respective teams.
"I don't think so," he said. "If you're looking for incentive to play hard and you're in the NHL, you've got some serious wires not connected."
But several guys admitted that it's hard not to think about.
"I think it crosses your mind," said Bobby Ryan. "I think it probably crosses your mind more when you're watching box scores and see that Kaner had another four points or whatever. That's what I thought about in 2009."
Team officials say they aren't looking for the best 25 players, they're looking for the best team. The implication is that, when the rosters come out, there will be a few surprises from the outside looking in.
"These are gonna be the toughest decisions that I am ever gonna have to make," Poile said. "And honestly, I hope it's tough. I don't want any easy decisions. I want some guys to be disappointed. With all due respect, we've never really had that many hard decisions to make in USA Hockey, because we've never had the depth and quality we presently have."
Then he said something decidedly un-Poile-like, revealing a very different mentality from 2010.
"So … bring it on."
Filed Under: Hockey, Katie Baker, NHL, Olympics