Sportstorialist: 2013 NBA Draft Style
Mike Stobe/Getty Images
Carping about the clothes at the NBA draft is a lot like complaining that onesies make your baby look fat. It's too soon! These guys have the rest of their careers to figure it all out. With the draft, what you're hoping for, at the very least, is that some of these players have been talked into putting on an interesting garment. At most, you're hoping for an indication that maybe just one guy knows what he's doing, that he's on to something.
It turns out that they're officially on to us. They all know we're looking. They might even know now what we want — excitement, cool, spectacle, a little glamour — and they're not taking any chances. The clothes are becoming conversation-stoppers.
They're leaving us no choice but to talk about the draft itself — and, uh, you've seen the draft. Do you really want to talk about that? Last night David Stern made appearance after appearance inside Barclays Center, home of the Nets, to sustained boos. (Go Brooklyn!) After a couple of rounds, it turns into an SNL sketch that's overstayed its welcome. Stern has announced the names for 30 years and last night was his last run. So the jeering only seemed to make him wistful. Next June, how will he know he's still alive?
As for the names Stern called out, the consensus was that the consensus had been wrong. The teams were playing it safe. So were the players. This was another year of gray suits and purple shirts and ties. It was another year of beside-the-point pocket squares and watches that virtually require security clearance to get the time. When you stood these guys next to each other, they were a staff painting of the law firm at which it looked like they all worked. You didn't know whether to shake their hands or press the button for the elevator.
Not all the gray was created equal. Take Nerlens Noel. There were so many questions about him last night. Can he score as well as he blocks? How's that knee doing? Is he as tough as the football players in his family? Will he be able to put on more weight? Who dressed him? He wore a gray three-piece with a subtle nap. He paired it with a necktie as blue as Mel Gibson's eyes (Kentucky's colors) and a matching half-length tie bar. But he wasn't committed to that tie. It never even reached the collar of his grid-paper shirt.
Noel was the player at the draft who could be the next Russell Westbrook. He has the potential for style that you can't really imitate or buy. His hair's been cut into a big, black cube. He's got spaces between his front teeth and a bold face (those lips, that nose, those large, sleepy eyes). He looks like he has skateboard wishes and graffiti dreams. But I'm projecting. Last night he just looked worried that his name wouldn't ever get called. These weren't clothes that indicate what Noel will do as much as they were clothes that suggest what maybe he should do less.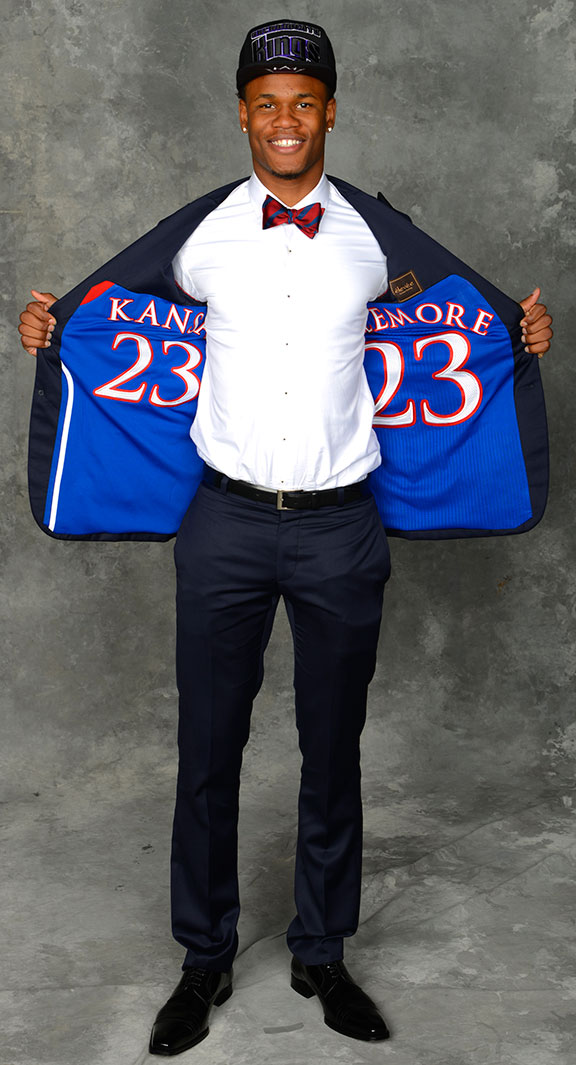 At some point during ESPN's broadcast, the anchor, Rece Davis, predicted more bow ties in future drafts. Hopefully, ones better deployed than this year's. Ben McLemore and his muscular cheeks had to sit in suspense (like Noel, he was expected to go early and went later; seventh), and his bow tie had red and white stripes — for Kansas, where he played. He wore a deep-blue suit and a sharp white shirt with tuxedo buttons. Apparently, there are questions about McLemore, too. Is he too nice? Too humble? Can he be more aggressive? With his suiting? Sure.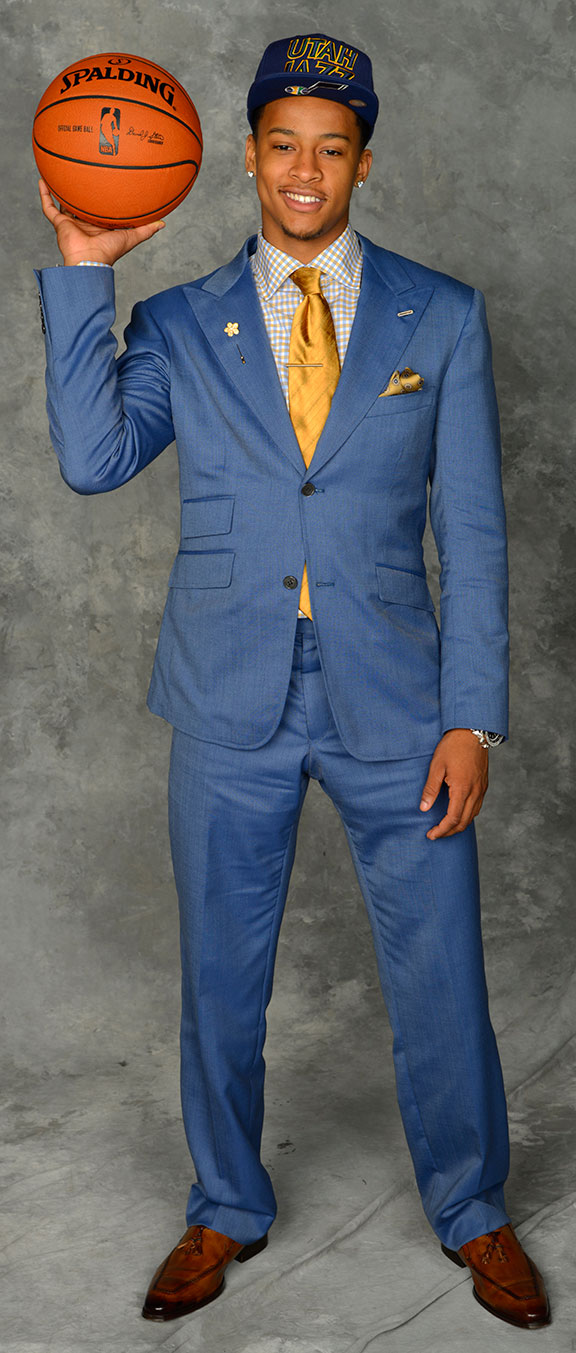 Trey Burke seemed to have it mostly figured out. He gave us a cobalt suit and honey tie with a matching pocket square. There was some oddness with the fit. And why so much action on the lapels? But at least he knows what season it is. Meanwhile, Cody Zeller has a voice as deep as the Mariana Trench and, last night, wore a jacket with blue that equaled that depth. The fit of Zeller's suit and shirt was perfection.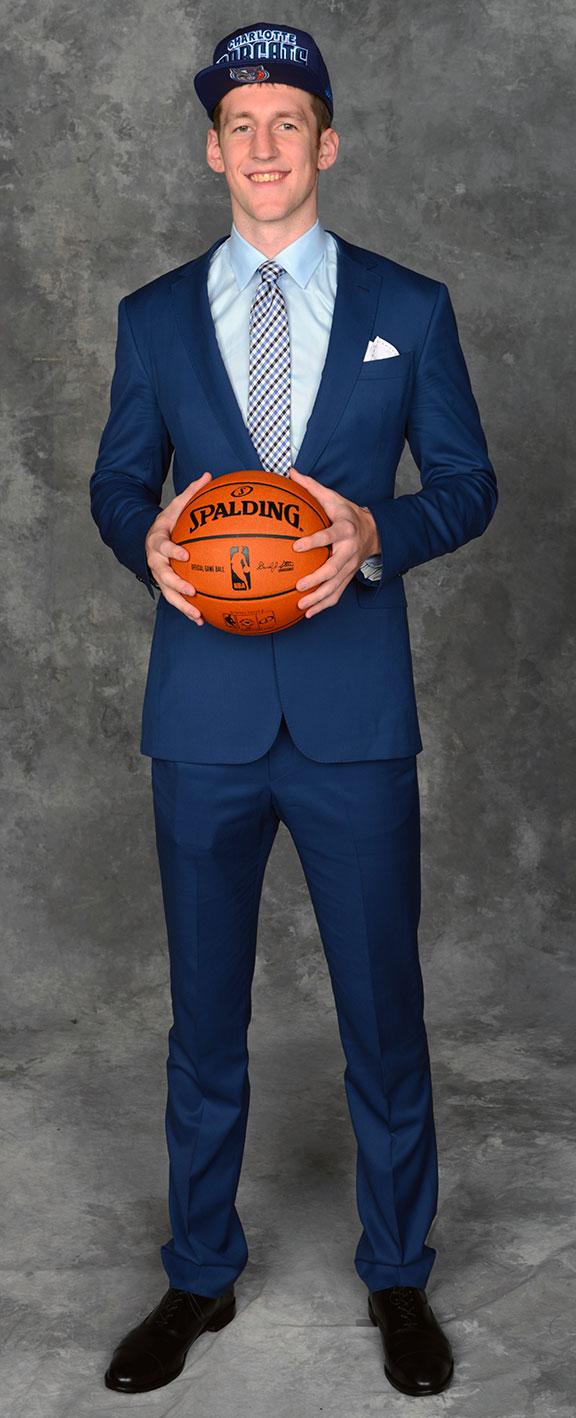 Otherwise, all that gray gave you the blues. Otto Porter Jr. has a little Lionel Richie in his inclining face and looked clean in slate. Shabazz Muhammad, a self-professed shopoholic, was missing when Stern called his name (he went 14th) but, at about the 20th selection, he came from backstage to shake Stern's hand and show off his three-piece windowpane suit. Even that little moment of comedy was tinged with anticlimax. Kentavious Caldwell-Pope, or "KCP," had a heavy-looking linen-looking suit that the light caught well. Victor Oladipo sings, he listens to all the ladies in his life (a mother and three sisters), and he's entertainingly charismatic. The Glen plaid, purple shirt, and black tie said something else. It said: "Ladies and gentlemen of the jury." Alex Len, from Ukraine, is the biggest of the so-called bigs, and tonight the most basic of the basics: a dark gray suit and red tie. But the plunge from shoulder to button on the jacket was amazingly steep.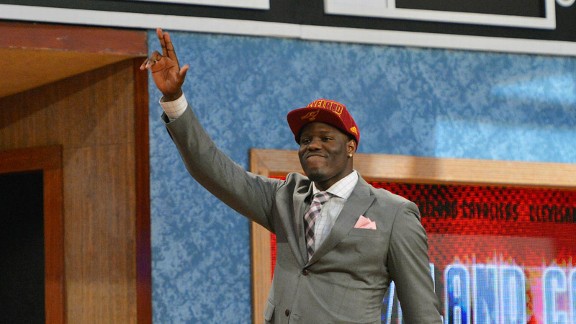 Anthony Bennett was the surprise first pick, and he has what it takes to "go beast," according to the analysts on the NBA channel. He's all man, they said. The new Larry Johnson. His stylist, or whoever dressed him, disagreed. Perhaps wisely. He was all gray, with a pink-and-gray plaid tie.
ESPN had the nerve to remind us what men from Johnson's era used to wear to the draft when it showed a clip of Jalen Rose in loose red pinstripes. You miss that kind of insanity. It's gotten hopeless now. Everyone seems so self-conscious. These guys won't let you see anything more than the linings of their jacket, which, of course, is where all the flash has gone. Len's had the colors of the Ukrainian flag. McLemore's featured a Kansas jersey. Noel's featured Kentucky. This is the opposite of where we should be. No one is suggesting taking cues from Craig Sager, who conducted pre-draft interviews in a checked jacket that appeared to be all lining. But 11 percent of that would've gone a long way with the class of '13. They're keeping inside what they ought to be letting out.
Filed Under: David Stern, Jalen Rose, Kansas, Kentucky, NBA Draft, Sportstorialist