The Night the NBA Draft Got Drunk
David Dow/Getty Images
Thursday night in Brooklyn was the first time I'd ever been to an NBA draft, and it was the year the entire draft experience sort of one-upped itself. We got more comedy, more Stern, more trades, more surprises. Everything. It was the year things got so crazy that by the end of the night a lot of people had forgotten the Cavs gave us the most shocking no. 1 pick in two decades.
When it was over, I went through a back hallway of Barclays Center — walking down the hall near Jay-Z's Illuminati Lair, passing by Hakeem Olajuwon in a tuxedo, hearing ushers talking about Kevin Garnett on the Nets — and found another writer to talk to. We asked each other: "What … just … happened?"

Like, all night. Whether it was the Bobcats taking Cody Zeller over Nerlens Noel, the T-Wolves getting a draft night right for once, Shabazz Muhammad popping up out of nowhere to greet David Stern, or the 10,000 trades that eventually confused even the Trade Czar himself … it all made no sense. It still makes no sense. What was supposed to be the worst draft in a decade turned into the most entertaining draft we've seen in years.
In that spirit, let's remember the 2013 draft on an ascending curve of crazy. Like a scale of 1-10. Beginning with what actually made sense and proceeding from there.
1. Victor Oladipo to the Magic, Otto Porter to the Wizards, and Trey Burke (via trade) to the Jazz. These were the night's three moves that made 100 percent sense. They'll be solid pros in the worst-case scenario, and they landed in perfect situations (especially if the Magic can steal Eric Bledsoe to pair with Oladipo). We should also mention C.J. McCollum going to Portland, which will likely be a perfect fit. He'll be great next to Damian Lillard, can contribute right away, and fans in Portland will adore him. This is where the 2013 draft stops making sense.
2. As everyone was milling around the green room at about 6 p.m. Thursday, I saw Steven Adams proudly showing off the inside of his blazer, where he was repping his native New Zealand. This was awesome, obviously. Like Will Smith's Fresh Prince blazer, but for a good cause. Draft-night patriotism, to be exact.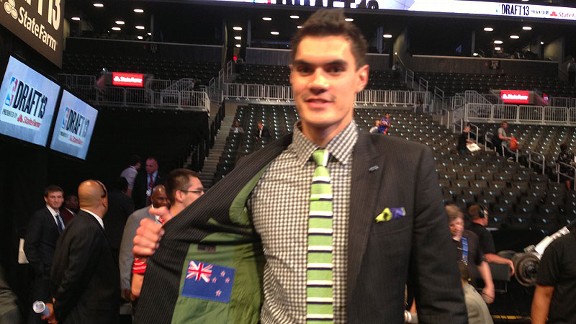 "Always gotta keep New Zealand with me," Adams said.
BUT THEN THEY WERE ALL DOING IT.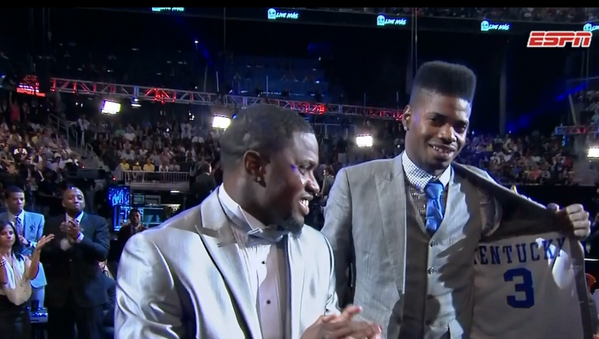 Every year at the draft brings a new fashion trend. One year it's frameless glasses, the next it's skinny ties and checkered shirts. This year it was tricked-out jersey-blazers, and let me tell you, in the battle of draft fashion trends, THIS YEAR WINS.
3. I told myself I wasn't going to check Twitter during the draft. I was in the arena, on the floor, and knew that checking my phone the whole time would just defeat the purpose of being there. But it was impossible. First, because none of the trades are announced in the stadium until hours later, so without Twitter I'd have spent the entire night wondering why Flip Saunders wanted to pair Burke with Ricky Rubio. Second, and just as important, the NBA draft is possibly the best night of the year on Twitter.
Think about it.
You get:
• Inhuman reporters breaking news every 10 seconds, beating television reporting and Stern at the podium.
• Screenshots and GIFs of all the most ridiculous moments.
• Outrageous rumors. (Remember when Oklahoma City was trading for Oladipo?)
• Instant reaction from scouts, experts, etc.
• And then a never-ending avalanche of shit-talking and jokes from everyone else.
I hated myself for sticking on my phone like that, but even sitting 15 feet from Stern and trying to avoid spoilers, NBA draft Twitter is too good to resist. (Yes, there's probably some think piece lurking in there about changing media and the power of the Internet, but let's not make this section more insufferable than it already is.)
4. But really: How did the Sixers pull that off? We knew Sam Hinkie was an evil genius, and that's the only reason this isn't higher on our "WTF" scale. Not only did Hinkie land two freak-of-nature athletes with all kinds of potential — Noel and Michael Carter-Williams — but he got rid of good-but-never-great Jrue Holiday and pretty much guaranteed Andrew Bynum isn't coming back and got New Orleans to send Philly a first-round pick in 2014's outrageously loaded draft. The pick is top-five protected, but still.
The Sixers went from a mediocre team stuck in no-man's-land to a team in perfect position to rebuild. They'll be awful next year, but that's the point. Next June they'll possibly have two lottery picks, and then come into 2015 with what should be a ridiculous collection of young talent. Remember when everyone was positive the Sixers were going to get stuck with Zeller or Adams? This outcome is 10,000 times better.
5. One of the most entertaining aspects of the in-person draft experience is watching the draftees who show up to watch from the stands. There was a whole pack of them in the stands overlooking the green room. Everyone from Shane Larkin (with dad Barry) to Gorgui Dieng to five or six different international stars.
Then they get drafted, the cameras find them, and the whole hug routine happens right next to regular fans. It's great.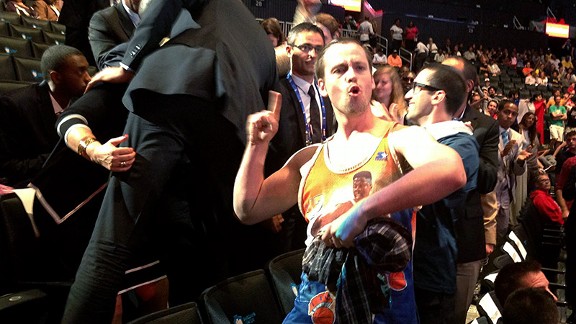 Having said all that, shout-out to this fan sitting near Rudy Gobert. I don't know whether he made it onto TV, but he deserved it.
(Additionally, while we're paying respect to random dudes somehow connected to the NBA draft, shout-out to Makhtar N'Diaye, who I ran into in the lobby of the NBA hotel at 5 a.m.)
And another shout-out to the guy waiting outside the NBA hotel at 5 a.m., who immediately asked me if I wanted any call girls to bring up to my room. "Or weed," he added. "Or coke."
Sorry, where were we?
6. YO.
We knew this draft had a lot of talented foreign prospects, but nobody was prepared for the avalanche selected last night. There were an NBA-record 12 international players grabbed in the first round, and a few years after it seemed as though the NBA's international craze had peaked, maybe we're back to where we started?
Or maybe this was simply a bad draft, leading teams to grab Europeans they could stash overseas for a few years rather than shelling out guaranteed contracts. It was probably a little bit of both.
However it happened and whatever it means, we need to mention Giannis Adetokunbo here, because he should probably be everyone's favorite player for the next few years. For one thing, he looks like he's 13 years old. For another, he's built like Kevin Durant and has apparently only scratched the surface of his talent, so, hey, who knows what happens from here?
But mostly, it was his answer after a reporter asked about his family's struggles in Greece, and what getting drafted means to them: "This moment I'm very happy. And I think in the past, make me sad. We struggled a lot in the past to have a better life, and now that I get drafted in the NBA, for sure we're going to have a better life. And I think now my mother and my father at home, they will be very happy to see me drafted, because four years in sadness and poverty is very difficult. Maybe after four years, maybe today it's the happiest day of their life to see me drafted, to see all that work and effort that they gave then, he work out. He worked out, a good thing."
Seriously, that kid is just the greatest. Go Bucks.
7. Amazing Happens.
I have no idea what Lucas Nogueira had sewn onto the inside of his suit jacket there, but I bet it was totally awesome.
8. When have we seen a projected no. 1 pick fall as far as Noel? When have we seen an actual no. 1 pick rise as high as Anthony Bennett? I still can't believe it happened that way. And that set the tone for the entire night.
With Noel, he was projected to the Cavs, the Magic, or the Bobcats at the absolute lowest. But you know what? Going sixth makes more sense for him. He's got talent and he plays hard, but he's a lonnnnnng way away on offense, and that's before you factor in the injury history. It's not to say he can't be great for the Sixers — it was a smart gamble — just that he makes a lot more sense as a fun gamble for Philly at no. 6 than a franchise cornerstone at no. 1. On the other end of the spectrum … Anthony Bennett.
SERIOUSLY?
We should have known the Cavs would pull something like this. They did it with Tristan Thompson two years ago and again with Dion Waiters last year. They also did it earlier this offseason when they rehired Mike Brown for some reason. I'm not saying this can't work, and there are mitigating circumstances (bad drafts in 2011 and 2013), but with a bona fide superstar to build around (Kyrie Irving), the Cavs and GM Chris Grant have used three top-five picks on guys who may never make an All-Star team. Maybe Bennett will live up to whatever hype convinced the Cavs to do this, but he's undersized, currently 18 pounds overweight, and will probably be a liability on D for his entire career.
As Brill once told Robert Clayton Dean … Chris Grant, you're either incredibly smart, or incredibly stupid.
9. The only draft grade that matters today is the A-plus for Stern. It's like he spent 30 years reading all our jokes about him at the NBA draft, and then decided this was the night he was going to live up to all the talk.
"We've had to explain to our international audience that the boo is an American sign of respect." -David Stern being David Stern. #NBADraft

— CBSSports.com (@CBSSports) June 28, 2013
Stern's always been in on the joke, but Thursday he went ALL-IN on the joke. He actively courted the booing, savored it with a thousand smirks, and then asked for more. I think this is how Stern gets sentimental? I don't know. It made the first round twice as fun. At one point I swear he left the stage with a live mic, cackling about a Spurs pick for the entire stadium to hear. For a second I thought it was me hallucinating, but I swear it happened.
At the end of the first round, there was the standing ovation, an emotional passing of the torch to Adam Silver, the Olajuwon cameo … It was so perfect, that part of me wished Stern could retire now. Or host the draft next year before he finally leaves for good.
Say what you want about Stern for the past decade or so, but when he's gone, we'll miss him every June from here on out. God bless the Godfather.
And finally …
10. After watching all this unfold for a solid three hours, finding out about a new trade every 15 minutes, listening to Barclays Center blast music to try to keep fans invested, watching the stadium slowly empty … our brains had become numb. Then KG approved the Celtics-Nets trade that had been rumored all day, and … holy shit! The strangest NBA draft in forever just wasn't quite finished.
The trade itself is phenomenally depressing. The Celtics are taking on Gerald Wallace for the next three years and stockpiling late first-round picks for some reason, while the Nets continue to make exciting blockbuster moves that will ultimately make their team unwatchable. We don't need to delve any deeper — others will handle that just fine today — but if nothing else, I really, really hope Paul Pierce retires rather than plays for Brooklyn next year. It's best for everyone.
As for Thursday night, that deal was it. Too much. After all the trades and rumors and David Stern fever dreams, the Nets and Celtics officially broke everyone's brain.
At Nets general manager Billy King's press conference after the trade, he couldn't talk about any of the acquisitions. Instead he just grinned and told everyone how his team had improved after adding Mason Plumlee that night, while beat writers chuckled along with him.
Reread that paragraph — it sounds like something out of a very strange dream about the NBA.
As I looked down in the back of the press room, I checked Twitter one more time and saw that Rasheed Wallace was being considered for an assistant coach position with the Pistons next year.
God, the NBA was so drunk last night. Wasn't it awesome?
Filed Under: Andrew Sharp, David Stern, NBA, NBA Draft