NHL Grab Bag: DANCE, BLACKHAWKS, DANCE!
Pool/Getty Images
Welcome to a weekly blog post of thoughts and observations from the past few days and/or decades of NHL hockey.
The Three Stars of Comedy
Recognizing the three moments or personalities from around the league that produced the most comedic fodder for fans this week.
The Third Star: Andrew Ference shaving his playoff beard with an eraser
[protected-iframe id="b5270a39d22bc1c7ff74ab51c5a8bbda-60203239-57834720″ info="https://vine.co/v/hzJX1UKP7nq/embed/simple" width="600″ height="600″ frameborder="0″]
Wait, is this actually funny, or just weird? I'm not sure. Still, it needs to be here, because I can't stop watching it.

The Second Star: GIFs of the Blackhawks dancing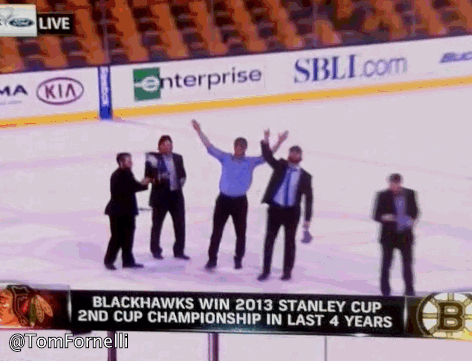 This clip of a moonwalking Jonathan Toews on Monday is pretty great. This clip of a gyrating Joel Quenneville (and fist-pumping Patrick Kane) from three years ago is even better.
The First Star: The Flyers
That's it. Just … the Flyers.
This Week's One Star of Pathos
The Only Star: Sad Zdeno Chara is sad
And he's riding a children's carnival ride. Presumably while softly singing Tiffany's "Could've Been" to himself.
What Is the Hockey World Pretending to Be Outraged About Now?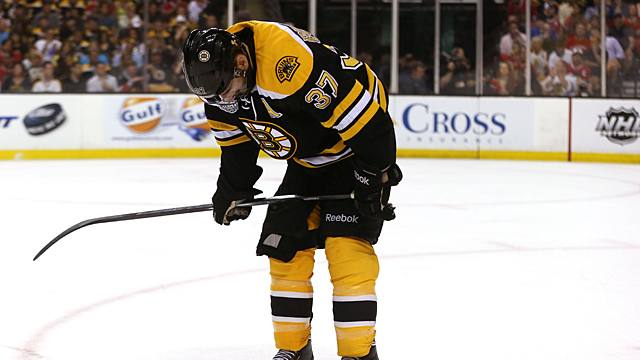 Nothing makes hockey folks happier than being outraged about something relatively unimportant. Each week we'll pick one topic fans are complaining about and try to figure out if it's justified.
The Issue: The Bruins put Patrice Bergeron in the lineup for Game 6 even though he was injured. Like, really, really injured.
The Outrage: The Bruins should never have let him play!
Is It Justified?: Um … yeah. Yeah, it probably is.
Look, I embrace the whole "hockey player as indestructible postseason warrior" trope as much as the next guy, and like any good hockey fan I like to point and laugh at players in other sports who get lauded for playing through some oh-so-dramatic injury that wouldn't even be worth a mention in the NHL playoffs.
But there needs to be a line somewhere, and "guy with a hole in his lung" seems like a pretty reasonable place to draw it. The Bruins say Bergeron's lung injury didn't come during Game 6, and they may be right. But that hardly helps their case — if Bergeron was so damaged that a mysterious "something else" could puncture his lung, what would have happened if a Blackhawk had caught him with his head down on Monday night?
Nicholas Cotsonika does a good job of making the case against letting Bergeron play here, and I think he's right. And I'm not sure the rest of us should be so eager to pile on the "legend" and "warrior" bandwagon this time.
Obscure Former Player of the Week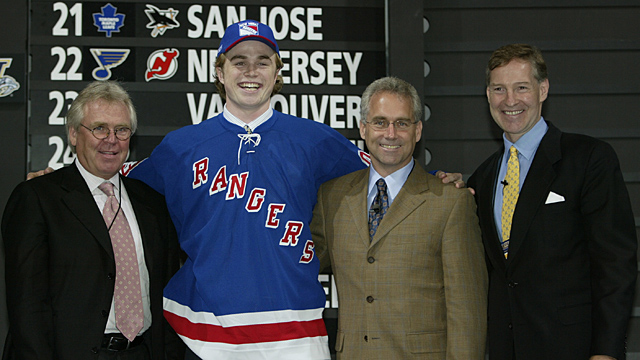 NHL history is filled with legendary players whose stories are passed down from generation to generation. This is not one of those players.
In honor of this weekend's NHL draft, this week's obscure player is Hugh Jessiman.
This year marks the 10th anniversary of quite possibly the most stacked entry draft in NHL history. How stacked? Put it this way: Zach Parise, Ryan Kesler, Mike Richards, Corey Perry, and Ryan Getzlaf were all taken in the last half of the first round. The first half was too loaded with guys like Eric Staal, Ryan Suter, Jeff Carter, Dustin Brown, and Brent Seabrook. Prospects like Shea Weber, Patrice Bergeron, and Jimmy Howard had to wait until the second round.
And then there was Hugh Jessiman.
Jessiman went to the Rangers with the 12th overall pick (just ahead of Brown and Seabrook). He was a massive winger, whose 6-foot-6 frame earned him the nickname "Huge Specimen." Unfortunately, he wasn't all that good, and he never played an NHL game for the Rangers. New York eventually dealt him to the Predators for future considerations (i.e. nothing). From there he moved on to Chicago and then Florida, where he eventually made his NHL debut in 2011, at the age of 26. He played two games, recorded no points, and was sent back down. That was the end of his NHL career.
He spent another year in the minors last season as part of the Senators organization, before signing a deal with a KHL team in Croatia. In all, Jessiman's North American pro career stands at an even 500 games — 498 in the AHL, and just two in the NHL.
None of which would be all that remarkable, since the draft is always unpredictable and it's fairly common for even first-round picks to fail to crack the NHL. But Jessiman wasn't just any first-round pick — he was a first-rounder from the legendary 2003 draft. And that means he'll always be one of the great "what if?" stories in New York Rangers history.
Great Hockey Debates
In which we employ the Socratic method in an attempt to settle the issues that have long plagued hockey fans.
This Week's Debate: The draft is on Sunday. If you are an NHL GM or front-office member, should you just go ahead and make your first-round pick?
In Favor: Yes. Please. Just make your pick.
Opposed: Hold on, we have a few things we'd like to say first.
In Favor: No! Look, I promise you, nobody cares about what you're about to say. Please just shut up and make your pick.
Opposed: I'll just wait here while 19 of us file onto the stage.
In Favor: Oh god.
Opposed: First, on behalf of our entire organization …
In Favor: Just pick.
Opposed: We'd like to offer our sincere congratulations to the Chicago Blackhawks for their Stanley Cup victory.
In Favor: Stop talking.
Opposed: We would also like to thank the New Jersey Devils for their hospitality in hosting this year's draft.
In Favor: We all hate you so much right now.
Opposed: Next, we would like to send a shout-out to the three dozen fans attending our annual draft party back at Uncle Zeke's Sports Bar and Bait Shop.
In Favor: SHUT UP! JUST PICK!
Opposed: And on a personal note, I'd like to wish a happy birthday to the niece of our assistant to the associate director of amateur scouting, Pacific Northwest region.
In Favor: [Punching self repeatedly in the ears.]
Opposed: She's 4 and a half today.
In Favor: GAH! Why does every team insist on doing this every single year? We don't care about any of this. All we want you to do is make your pick, hand over a jersey, and get the hell off the stage. And that's especially true this year, since the entire draft is being squeezed into one day because of the lockout. Please, we are begging you, move it along!
Opposed: I will now give the microphone to some lowly scout who has never spoken publicly in his entire life, as he stutters his way through our selection over the course of the next eight minutes.
In Favor: That's it, I'm turning this off. I hate you. I hate all of you. And I hate that the league lets you do this every year, rather than telling you to knock it off and just make your damn pick. I hate everything. I'm done. The draft is ruined. There is nothing that could redeem it.
Gary Bettman: We have a trade to announce.
In Favor: I love the draft!
The Final Verdict: Please just shut up and make the pick.
Trivial NHL-Related Annoyance of the Week
In which I complain about things that probably only matter to me.
Hey hockey world, can we please stop arguing about whether the Stanley Cup is the hardest trophy in all of sports to win?
This time of year, it's become some sort of rule that everyone has to say this. Broadcasters. Players. Fans. Even Gary Bettman has started working it into his rambling Cup presentation speeches.
What does it mean? Nobody knows. It's not literally more difficult to win a championship in the NHL than any other league. After all, any given team has a 1-in-30 chance in the NHL, just like you do in MLB or the NBA. Those are better odds than you get in the NFL.
Or maybe it means it's the hardest to win in terms of physical punishment. Again, an NFL player may give you an argument there. But in any case, we spend the entire NHL postseason being constantly reminded about how much physical punishment the players are taking. Do we really need to rephrase that into some sort of "our sport is better than yours" put-down?
"The hardest trophy to win" has become just another mindless cliché that means whatever we happen to want it to mean, which is to say it means nothing. Let's drop it.
The Week's Most Depressing CapGeek Page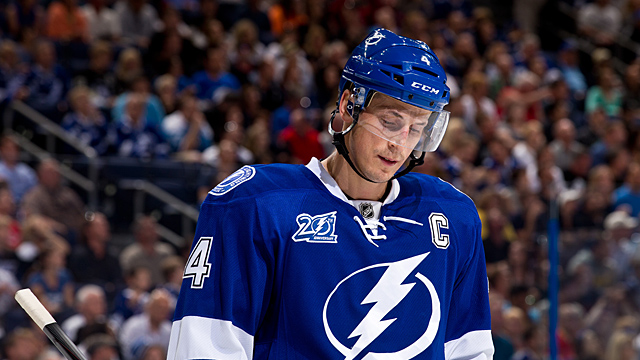 In which we select one page on CapGeek.com and stare at it while a single tear rolls down our cheek.
This week's most depressing CapGeek page is the site's unofficial list of the biggest buyouts in league history.
The page can basically be viewed as the high-score table for disastrous contracts. This week's Ilya Bryzgalov buyout shattered the record held by Alexei Yashin, which was once thought to be as unbreakable as Glenn Hall's 502 consecutive starts. But Bryzgalov could only hold the record for a few days, before losing the top spot to Vinny Lecavalier.
With the compliance buyout window now open, this page should add several names between now and the July 4 deadline. Could we get a Marian Hossa sighting? What about Roberto Luongo? Good god, is that Rick DiPietro's music?
I don't know. But I'll be hitting refresh on this page every few minutes all week to find out.
What Has Don Cherry Gone and Done Now?
Whether it's Coach's Corner, his regular media appearances, or a Twitter account that's presumably meant to be performance art, Don Cherry is everywhere. What's he been up to this week?
It's fair to say that Don Cherry had himself a strong playoff run. Via Awful Announcing, here's a look back at some of the highlights.
Awesome and/or Horrific Old YouTube Clip of the Week
In addition to being a great source of adorable pets and functionally illiterate commenters, YouTube is a gold mine for old hockey clips. Each week we find one and break it down in way too much detail.
In keeping with our quasi-draft-themed edition of the Grab Bag, let's dig into the archives for a classic NHL draft moment. It's June 17, 1989, and the Quebec Nordiques are about to make the first overall pick.
• Hey look, it's our old friend Pierre Gauthier, who would go on to become the GM in Anaheim, Ottawa, and (most recently) Montreal. Back in 1989, he was a scout for the Quebec Nordiques, who are drafting first overall because they're terrible.
• How terrible? Put it this way — the 1988-89 Nordiques earned the top pick by recording 61 points. That would be the best season they managed until 1993. This is the first of three straight years where they'd hold the top pick. They were bad.
• Anyway, Gauthier launches into a pre-selection speech, and there's really no way around it: This guy is smooth. How many times do you think he rehearsed this in front of the mirror? The over/under has to be in the dozens, right?
• Also, he looks like a French Bob Saget. Just thought I'd mention that.
• It's worth noting that this was only the second year of NHL draft picks being announced from the main stage. Until 1987, the teams just called out the picks while hunched over a microphone at their draft table. Just for the record, that system was way better.
• Oh look, apparently they're picking "a man with an exceptional future." That's smart. You definitely want to use the top pick on a guy who has a checkmark in the "exceptional future" box. A lot of teams overlook that.
• By the way, Gauthier currently works for the Blackhawks, so he won a Stanley Cup ring this week. That has nothing to do with this clip, I just wanted to mention it to annoy Habs fans.
• And there's the pick: It's Mats Sundin, who makes a strong first impression by staring directly into the camera and licking his lips creepily.
• Sundin tries to make his way down to the stage but is blocked by legendary Canadian broadcaster Paul Romanuk. We can't hear the first question because of an audio glitch, but I would assume it was something along the lines of "What's the deal with the white pants?"
• Sundin proceeds to answer three questions while using approximately seven words total. In hindsight, this was the most interesting interview of his career.
• We then learn that Sundin is 6-foot-31 divided by two, according to the graphics guy who doesn't know how spaces work.
• If Sundin seems like he's in kind of a hurry, cut him some slack. He has to return Joey McIntyre's haircut by midnight.
• Gauthier and Sundin shake hands on the stage in front of a backdrop of team logos, one of which is conspicuously positioned right in between them. Hmm … dabbling in a bit of ironic foreshadowing, are we, hockey gods?
• Sundin then moves out of the way to reveal the logo of the Vancouver Canucks, a team he never played for. Do you hear me? He never played for them!
• OK, that was all fine as an undercard, but next up is the highlight of the entire video: Mats Sundin trying to wear a hat. Yes, I know what you're thinking: How do you screw up wearing a hat? Stay tuned, we're about to find out.
• The answer: Just rest it on top of your head. He just leaves it perched up there. WHAT ARE YOU DOING MATS? DO YOU EVEN KNOW HOW HATS WORK?
• He eventually does jam it down slightly, resulting in a tiny ponytail popping out the back. This is the worst draft-day hat incident of all time in any sport. It's not even close. When you see kids getting drafted on Sunday and spending 15 minutes bending and shaping their hat before they put it on, this is why.
• This is the worst cap management in the history of hockey that doesn't involve the Philadelphia Flyers.
• Once Sundin and his top hat exit the stage, the rest of the clip is made up of interviews and analysis that ends up being pretty dull. The only highlight is a shot of Sundin shaking hands with various suits. Thankfully, the hat is gone. I wonder where it is now. I hope nobody puts it on eBay, because then I'd have to spend my kids' college fund to buy it.
Mats Sundin was inducted into the hockey Hall of Fame this year. The second overall pick in 1989, by the way, was Dave Chyzowski, who did not have an exceptional future. So, yeah, the Nords probably made the right call.
Filed Under: NHL, Boston Bruins, Chicago Blackhawks, Hockey, Stanley Cup, NHL Grab Bag