Special NBA Draft Lottery Shootaround
It's Lottery Day! Since this is a particularly special day on the NBA calendar, we thought we'd do a special Lottery Shootaround, looking at all the story lines going into tonight's Anthony Davis Sweepstakes. Also, for even more Lottery talk, be sure to check out Bill Simmons's podcast with Chad Ford.
The Conspiracy Scale
On today's B.S. Report, Chad Ford and I tried to figure out which 2012 NBA lottery winner would cause the biggest conspiracy ruckus. I spent the next few hours tinkering with our initial list, moving teams around and asking myself questions like "What team would definitely cause 'THAT WAS FIXED' to trend on Twitter?," "Which team is either opening a new stadium or trying to open a new stadium?," "Which team just got mysteriously sold to a local NFL owner who had repeatedly turned down chances to buy that NBA team for a solid year?" and "If David Stern was still alive, which team would get Anthony Davis?"
Here are the top five suspects, ranked on the Conspiracy Scale from "Definitely a little conspiracy buzz" to "This would cause an Internet riot."
Cleveland (35 out of 100 on the Conspiracy Scale)
It's almost too blatant — atoning for "The Decision" (and Dan Gilbert's whining after "The Decision") by giving Cleveland the no. 1 overall pick two years in a row? Even Vince McMahon wouldn't do this.

Sacramento (72 out of 100)
Chad argued that Davis would make it easier for the Maloofs to get more financing for a new arena in Sacramento. Possibly. But remember when the Sonics were itching to leave Seattle and miraculously won the second pick in the Oden/Durant lottery, allowing them to launch their Oklahoma City tenure one year later with a potential superstar? That's right … double conspiracy!!!!

Oh my god. What does it mean??? Oh my god. It's so bright. It's so bright and vivid. Ohhhhhh! Ohhhhhhhhhh!
Houston (72 out of 100 on the Conspiracy Scale)
A few months after the NBA ruined Houston's offseason plans by squashing its Pau Gasol trade, the league awarded Houston the 2013 All-Star Game. Sorry you didn't get one of the league's best big men … would you like to host some parties instead? Oh, gee, thanks. Wouldn't a can't-miss stud like Davis be a better peace offering?
New Orleans (83 out of 100)
We might as well start here: For two more months, THE LEAGUE OWNS THE FREAKING TEAM!!!!! Saints owner Tom Benson doesn't assume control until July. It's true. So why doesn't this rate 100 out of 100? Many connected people believe Benson bought the Hornets because of Bountygate — as a way to divert everyone's attention in New Orleans from one of the most damaging scandals in NFL history. How else can you explain Benson lowballing the NBA for the past year, then suddenly blinking and agreeing to Stern's price? You know, unless they promised him Anthony Davis as part of the deal.
(Wait a second … )
New Orleans (93 out of 100)
That's better.
Brooklyn (98 out of 100)
Door A: You already lost out on Dwight Howard. You might lose your no. 1 pick because your GM thought it would be a good idea to trade a top-three protected no. 1 pick for Gerald Wallace (who can opt out of his contract next month, by the way). You're probably losing Deron Williams unless you can miraculously find him a killer teammate. Which means that, in October, you're opening your fancy new building in Brooklyn with Jordan Farmar, Brook Lopez and MarShon Brooks.
Door B: You can win the lottery, keep your free agents, then open your fancy new building in Brooklyn with Davis, Williams, Wallace, Lopez and enough leftover cap space for Marquee Free Agent Scorer X.
Oh, and you're owned by a mysterious Russian oligarch.
(Come on … is there any doubt Brooklyn is winning this thing?)
— Bill Simmons
A Fate Worse Than Death (for Anthony Davis)
Each team in tonight's draft lottery might have its own, individual odds of winning the first pick and the right to select Anthony Davis, but regardless of whose Ping-Pong ball pops up first, the odds are very good that the talented Mr. Davis will find his way into another NBA-related franchise: Grantland's A Fate Worse Than Death series.
Is it possible that a can't-miss, transcendent talent like Davis could end up playing unwatchable basketball for some bottom-feeder team next season? Oh, you bet it is. John Wall may have been just as highly regarded when he left Kentucky to enter the NBA two years ago, and his Washington Wizards spent the first half of this season as the poster children of so-bad-it's-good NBA basketball. Their ignominy was surpassed, of course, by the 7-59 Charlotte Bobcats, who took their season-long tanking expedition so seriously that they formed a roster that arguably doesn't contain a single NBA rotation player (apologies to the world's last remaining Corey Maggette fan; his name is William Avery). That was a good way to give themselves a better chance at landing Davis than any other team, but if that 1-in-4 prayer comes through and basketball's most famous unibrow indeed heads to Charlotte next year, then they have to figure out how to build a team with one keeper and 14 pieces of driftwood. Is that too harsh? Am I giving up on Biyombo too soon? It depends on whether you think having played a lot of organized basketball is a useful prerequisite for playing professional basketball. And Bismack would be Davis's most promising teammate in Charlotte. But fear not, Bobcat fan(s), I believe in Anthony Davis's talent, and I could easily imagine him tripling the team's winning percentage. In an 82-game season, that comes out to 20 wins. I can already smell the smoke of victory cigars wafting over from MJ's office.
— Rafe Bartholomew
The Worst Possible Representatives for Each Lottery Team
1. Charlotte: Bismack Biyombo wearing a bacon-necked Michael Jordan "big head" T-shirt.
2. Washington: Marion Barry, wearing a bacon-necked Michael Jordan big head T-shirt.
3. Cleveland: Maverick Carter and Jim Gray.
4. New Orleans: David Simon.
5. Sacramento: Any of the Maloof brothers.
6. Brooklyn: Memphis Bleek.
7. Golden State: Jeremy Giambi.
8. Toronto: Vince Carter.
9. Detroit: Charlie Villanueva.
10. Minnesota: Brad Childress.
11. Portland: Greg Oden's knee specialist.
12. Milwaukee: Andrew Bogut's elbow specialist.
13. Phoenix: Steve Nash's real estate agent.
14. Houston: Chandler Parsons wearing Rudy Tomjanovich's old face mask.
— Chris Ryan
Two Iconic Bridges, Destined for Each Other
Call it destiny, call it intelligent design, or call it David Stern injecting Ping-Pong balls with helium, the 2012 NBA Draft Lottery will unite two of the greatest bridges in the history of mankind: the Brooklyn Bridge and Anthony Davis's unibrow. The twin-peaked, majestic contour of both are identical. Think about it, have you ever seen the Brooklyn Bridge and Anthony Davis's unibrow in the same room at the same time? When Jay-Z throws the ROC diamond in the sky, is it a coincidence that his fingers mimic the peaks of a unibrow? When Mikhail Prokhorov jet-ski flips over supermodel mermaids, is it a coincidence that his wake mimics the shape of a unibrow? It's not. It was meant to be. It's destiny. The Brooklyn Nets will win the first pick in the 2012 NBA draft and select Anthony Davis.
Just as the Brooklyn Bridge provides passage between the boroughs of Manhattan and Brooklyn, Anthony Davis's unibrow is destined to provide passage between the New Jersey– and Brooklyn-era Nets. Can't you see the billboard now? The Brooklyn Bridge superimposed over Davis's face, the shape of his brow tracing the shape of the bridge, and his determined gaze staring back at you under the copy, "Streets Is Watching"? What was that? His unibrow also looks exactly like the Golden Gate Bridge? Hmmmm, never considered that. I guess the Warriors aren't a bad fit, either.
— David Jacoby
The Golden State Jinx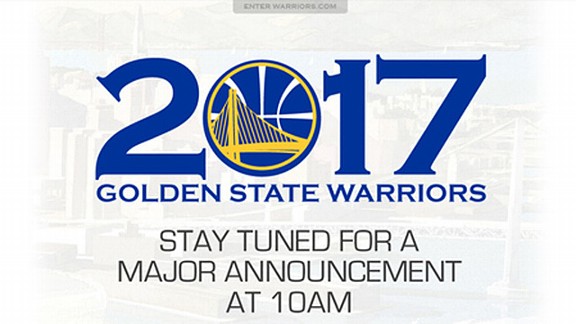 This was the banner that greeted Warriors fans on the team's website Tuesday. The major announcement was that the 2017 Warriors would be playing their games on the waterfront in San Francisco, confirming weeks of rumors that the team would move from their home in Oakland. The timing of the announcement — one week before the lottery — might have just been coincidence, but it also could have been a hedge against what now feels inevitable to all but the most ardent, crazed Warriors fans: The jinx gods, who rule all sports without pity, will rob the Warriors of their lottery pick this year.
Back in 2008, the Warriors traded a protected first-round pick to New Jersey for Marcus Williams. That pick was sent to Utah in the Deron Williams trade, which set up the following scenario: If the Warriors didn't finish among the worst seven teams in the league, their pick would most likely be sent to the Jazz. After the mid-season trade that sent Monta Ellis and Ekpe Udoh to the Bucks for an injured Andrew Bogut and what ended up being more of Richard Jefferson than anyone would ever want, the Warriors went into full-tank mode to get their pick back. An unexpected late-season win against Minnesota almost ruined the Warriors' chances, but the team got back into it in the last two games of the season. In a must-lose game on Fan Night at Oracle, the Warriors started five rookies against the Spurs' second unit. In the fourth quarter, Mark Jackson played four forwards and refused to foul or call timeouts at the end of the game. For all their herculean efforts to lose games, the Warriors got a coin-flip with Toronto for the seventh slot in the lottery. The Warriors won the flip and will keep their pick as long as the Raptors, Pistons, Hornets, Blazers, Bucks, Suns, or Rockets don't jump into the top 3.
If we lived in a world without jinxes, the Warriors would actually have a good chance at keeping their pick. But since trading Monta, the team has violated pretty much every jinx rule in the book. Here's the short list.
Trading Monta to Milwaukee: You can't trade the team's most popular player to one of the teams that could possibly jump you in the lottery.
Predicting the team would make the playoffs and then tanking more spectacularly than any other team in recent history: Explains itself.
The Revenge of Oakland: I understand why the team wants to move to San Francisco, with its hordes of tech-rich basketball nerds, but Oakland will have its revenge tonight in the lottery. More than any other jinx, the Oakland jinx is the strongest. You just shouldn't announce that you're moving cities with a banner that reads "2017 Warriors." You especially shouldn't do this the week before the lottery because the jinx gods will ensure that the "2017 Warriors" won't have a single player from the 2012 NBA Draft Lottery.
The Four Noble Truths: Everyone knows that the more you covet something, the more you will repel it away from your grasp. This is basic Neil Strauss/Bhagavad Gita shit. The Warriors, by so shamelessly pining for this pick, built up a bulkhead of bad karma. The karma was so bad, in fact, that the universe didn't even have the mercy to let the team lose the coin flip. Instead, the universe decided to wait until the last possible moment to dash all their hopes.
Acknowledging the Jinx: Up until Tuesday, when talks ended, the team's brass was furiously trying to make an arrangement with Utah that would ensure the Warriors keep the no. 7 pick. Seems like they might know that they jinxed themselves? Guys, if you're going to piss all over superstition and make a mockery of the fragile balance of the jinx universe, at least do it proudly. You can't acknowledge the jinx gods AND make no sacrifices to them.
— Jay Caspian Kang
The Worst Place for the Black Falcon to Nest
When I was asked to do a blurb about the three worst possible destinations for Harrison Barnes, a.k.a. "The Black Falcon," a.k.a. "The Most Overrated College Basketball Player in History," my initial thought was, "a room without mirrors, a humility convention, and the induction ceremony at the top-secret Two Coreys Club for failed child stars." But this is a lottery post, so I'm guessing he meant the three worst teams. Fair enough, because I have the perfect answer. But before that, I have to revisit the (somewhat biased) highlights of Barnes's two years at North Carolina.
1. Announced his college decision over Skype, ushering in an era of inflated self-importance and cringe-inducing announcements among high school recruits, already a self-important and cringe-inducing bunch. Somehow, Barnes's ceremony remains the most repellent. (Also, he burned Duke bad.)
2. Became the first ever freshman preseason All-American. Really digest that one. Consider everyone who has ever played college basketball, and consider that of that group, only Barnes earned this recognition. That's why I'm completely comfortable calling him the most overrated player in history.
3. Disappointed everyone, did not earn even third-team All-American status.
4. Was named a preseason All-American for his sophomore year. (Say what you will, whoever runs the hype machine is a major Barnes loyalist.)
5. Disappointed everyone, did not earn even third-team All-American status. Was, in fact, the fourth-best player on his own team.
6. Obsessed about his "brand," and even designed a Black Falcon logo. FOR HIMSELF, presumably. (Middle left.)
7. Left school with a 2-3 record against Duke. (I had to.)
You see the pattern? Barnes masters the hype machine, suckers everyone in, and then can't live up to it. So, what's the worst possible scenario for Barnes? Or the best, if you want to see him fail?
Easy. Of the 1,000 lottery Ping-Pong balls, one of Charlotte's 998 is plucked first. The 'Cats get the coveted pick, but instead of making the obvious choice with Anthony Davis, Michael Jordan comes out publicly and says that Harrison Barnes is the next … well, him. They nab Barnes, who remains in North Carolina among the hordes of Charlotte-based UNC fans he's already been burned twice. The hype escalates, and then Barnes does what Barnes does best — mediocrity in the face of promised greatness. Charlotte wins two games next year, both forfeits by Brooklyn when Prokhorov goes to jail for racketeering and the team can't pay the travel budget.
Second-worst? Cleveland, because those fans don't deserve to have someone harsh their Irving love, and they won't take kindly to a rookie putting on airs. Third-worst, Washington, because he'll be resentful of Obama's stature.
— Shane Ryan
Cleveland's Karma Is a Bitch
I woke up this morning with the conclusion that for as much as I would like to see Nick Gilbert become the most successful NBA draft lottery rep in history, winning back-to-back no. 1 picks, and for as much as I would like to see Kyrie Irving and Anthony Davis turn Cleveland into a rust-colored Lob City on the Cuyahoga, there is no possible way this is going to happen.
Why? You know why! The most expensive use of Comic Sans in modern American history. When, in the wake of LeBron James's decision, Cavs owner Dan Gilbert fired off his playfully fonted treatise declaring that Cleveland would win a NBA title before the "self-titled former 'King' wins one," he sealed the deal.
Because that's the thing. If Cleveland were to land the no. 1 overall pick and draft Anthony Davis, it would likely vault into the top half of the Eastern Conference overnight. The Cavs would be going into the 2012-13 season with two blue-chip players; two pieces that every single GM in the league prays to the heavens for: a point guard and a paint-protecting big. They could actually, conceivably be contenders.
Take it a step further: what if, this offseason, Dwyane Wade has a catastrophic knee-draining accident? Then the Heat are basically LeBron James dragging Mario Chalmers and a guy who wears peach-colored pants up the mountain. And who would be passing him on the way to the top? Dan Gilbert and his pair of loyal no. 1 picks!
Yeah … probably not. First of all, I don't think even a catastrophic knee-draining accident would keep Wade away. And second of all, I, like LeBron, believe in karma. Never use Comic Sans unless you're ready to go all the way.
— Chris Ryan
Hasheem Thabeet Andre Drummond
So we're doing this again, huh? In a draft with a clear no. 1 and an obvious no. 2, NBA GMs are going to get sucked into conversations about the upside of a young, raw UConn big guy? We remember where we last saw Hasheem Thabeet, right? And everyone saw that James Harden was the best player on the court Tuesday night for a team playing in the Conference Finals?
I only ask because to someone who's not suffering the symptoms of a major head injury, this makes no fucking sense. It does make sense that Andre Drummond would be an attractive prospect somewhere in the lottery. There's no overlooking his combination of size and athleticism. With the type of feet and length he has, the hope is that he can be more than a shot-blocker and have the type of pick-and-roll-stopping impact that Tyson Chandler brought to the Knicks. The question is when production is going to matter.
Even Thabeet was a force throughout the NCAA tournament. Drummond's team got bounced by Iowa State. He averaged 10 points per game for the season, and worse, grabbed a pedestrian six defensive rebounds per 40 minutes. He shot less than 30 percent from the free throw line. Maybe most frightening, he's 18 and has already been tagged with the dreaded big-man question of, Does he even like basketball?. One thing seems pretty certain — Michael Kidd-Gilchrist does. So we're running this one back? OK, cool. I just wanted to make sure.
— Robert Mays
Filed Under: Anthony Davis, Bill Simmons, Charlotte Bobcats, Chris Ryan, David Jacoby, David Stern, Golden State Warriors, Michael Jordan, NBA, Rafe Bartholomew, Robert Mays, Shane Ryan