Premier League Pass & Move: We Don't Know What We Don't Know
Stu Forster/Getty Images
A look at the weekend's Premier League action.
Brad Guzan: American Messi
Ryan O'Hanlon: Brad Guzan has more assists than any American in the English Premier League. Brad Guzan has more assists than Gareth Bale. Brad Guzan is the American Messi.
That Manchester City was undone this past weekend by a long punt from a prematurely bald goalkeeper seems weirdly fitting. It was a fluke! Or, at least, it wasn't a real play: The ball bypassed City's entire team, everything they spent all that money on. The other two goals were similarly not real, too. Villa's first equalizer came from a blown offside call, and the second came from a once-in-a-lifetime brick of a free kick off the foot of a guy who'd never scored a goal outside the Netherlands. How do you lose a game in which you could've scored five goals in the first half? Just like that.
Now, a team that beat the defending champions, 4-1, has also lost to Cardiff City and Aston Villa. Despite employing Yaya Toure, who at this point is basically that alien who plays marbles with the Milky Way at the end of the first Men in Black, City's now five points off the pace. Despite spending more than $165 million this summer on Champions League–level players and a manager, City's behind Southampton in the table. And despite everything you just read, it still only seems a matter of time until all that oil drips into a Rorschach test that pretty clearly resembles a systematically unstoppable football team.
On the red side of the city, things are imploding in a cloud of Belgian curls and memories of David Moyes's once-red hair. It makes sense because all the before-the-season questions (can Moyes coach a big club? Did they spend enough? Uh, Fellaini?) now get hastily answered in the negative. For City to sometimes look so scary and loaded, yet remain only three points clear of the team they embarrassed just a week ago, it's a little harder to understand. But everything will finally make sense once they start winning every game by three goals — because they have to, don't they?
Except, football almost never makes sense. Just ask Adam Bogdan. Tim Howard scores goals, and Guzan sets them up. Six games into the season, we don't know much more than that.
Hit Me With Your Best Shot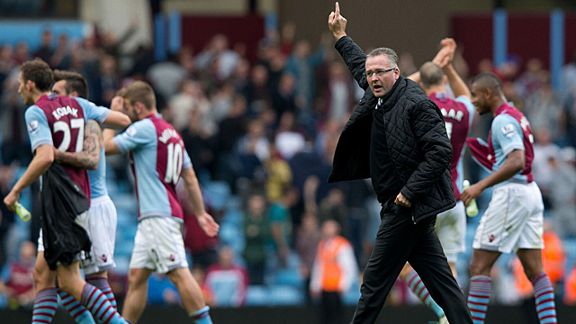 Chris Ryan: If this whole managing the defending Premier League champion thing doesn't work out, David Moyes can always fall back on being a boardwalk prognosticator. It turns out he was right to be nervous about Manchester United's schedule. Back in August, as the season was about to get under way, Moyes sounded the alarm, saying, "I find it hard to believe that's the way the balls came out of the bag, that's for sure." He was talking about what he called, "the hardest start for 20 years that Manchester United have had," adding, in his most practiced I'm-not-saying-I'm-just-saying Fergusonian concern troll voice, "I hope it's not because Manchester United won the league quite comfortably last year [that] the fixtures have been made much more difficult." I hope!
While most people probably thought to themselves, meet the new boss, same as the old boss, it turns out Moyes was right. This was going to be the hardest start to a Premier League campaign that United would have in decades, and they would struggle mightily. Now it's entirely possible Moyes took a look at his team, took a look at his chief exeuctive Ed Woodward fumbling to get his wallet out of his back pocket during the transfer window, and decided he better start tempering expectations right quick. He did it in August, and he's doing it now. After United's loss to West Brom, Moyes said he was "concerned." And just in case United fans were thinking they'd have the Champions League to look forward to, the manager rained on that parade as well: "To win the Champions League, you need five or six world-class players … Look at Bayern Munich, they have it. Look at Barcelona, who had it in the past, and Real Madrid, who have maybe got it now. That's the level you have to be at to win it. We've not got that yet but what we have got is experience."
Meanwhile, somewhere in the Midlands this weekend, another Scot raised his one finger aloft (no, not that one … this is a family website) and celebrated beating the other Manchester team. Paul Lambert's Aston Villa sits in ninth place, right in between United at 12th and City at sixth. You want to talk about strength of schedule? Aston Villa should get an extra point just for not completely disintegrating at the sight of their fixture list. In their first six matches, they've played Arsenal, Chelsea, Liverpool, and City, and they've managed to take six points from those games.
It's a sucker's game guessing what does and doesn't motivate a professional athlete, but after that hellish stretch, Villa are standing tall, and you'd have to think they have a tremendous amount of confidence entering a new month. They probably think that on their day, they can beat anyone. And they can! On the other hand, United's players go into October knowing one thing: They're better than Crystal Palace. It's all in how you look at it.
Manchester City's Keystone Kops
Mike L. Goodman: On one hand Manchester City has to consider themselves incredibly unlucky to lose to Aston Villa. By any objective (non-scoreline-related) measure they outperformed the Villains. On the other hand, there are times when you make your own bad luck. The third goal City conceded was one of those times. The best view is at the 5:08 mark.
Having conceded a second goal minutes earlier, City got caught attacking to try to retake the lead. All four of the center backs supporting defenders (both the right and left back, and the two central midfielders) get caught up field, and Villa keeper Brad Guzan is quick to spot that City's two defenders will be matched up one-on-one with his strikers, so he quickly boots the ball. It bears mentioning that this is really good recognition by Guzan as many keepers will instinctively hold the ball and eat clock having just pulled even against Manchester City.
What happens next is simply the yakety saxest of defending from Vincent Kompany and Matija Nastasic. With the ball in the air, Villa's actors execute a simple little cross with Libor Kozak dropping to receive the ball, and Andreas Weimann running past him for a flick-on. That simple movement catches both defenders off guard. Neither goes with Kozak to contest the ball, which would be somewhat acceptable if they were dropping deeper to assume a conservative defensive position well behind the two attackers. But they don't do that either, rather letting Weimann run by them. A charitable explanation would be they were trying to play him offside, although realistically it seems like they just both got caught ball-watching after realizing they left Kozak wide-open, especially if you pause the tape at 5:12. Regardless, since Kozak lets the ball run (perhaps unintentionally) there is no offside to be played, and Weimann is through on goal from more than 30 yards out. Of course, at that point it doesn't help that Joe Hart makes a fool of himself charging out to try to clear a ball he has absolutely no chance to get.
There's a certain irony to Aston Villa scoring off a two-on-two situation, given that most teams don't play with two pure strikers anymore. In fact, City is one of the last teams to regularly field a pair of forwards, which wasn't lost on Villa coach Paul Lambert. Lambert is one of the most willing tactical fiddlers around, and he changed Villa's lineup to play three central defenders, in no small part so he'd always have an extra man to help deal with City's strikers. He also went to a two-striker formation instead of his normal front three, in part because of the absences of Christian Benteke and Gabriel Agbonlahor, but he also did it to try to create the exact situation that Villa exploited.
So were City unlucky? Sure, but mostly in the sense that the gun they aimed and fired at their foot actually had bullets in it.
This Is Your Weekly Reminder That Aaron Ramsey Rules
Goodman: His fourth Premier League goal of the season is just another reminder that Aaron Ramsey is either turning into one of the elite players in England in front of our eyes, or enjoying one of the red-hottest stretches of play imaginable. Saying Ramsey has four goals rather understates it since he's also scored four in the Champions League, including the playoff home-and-home against Fenerbahce, and one for Wales.
And beyond the goals, Ramsey has been an integral part of everything Arsenal does. He's attempted and completed the fourth-most passes in the league, going 400-for-463, his 556 touches are second in the league, and he has by far the most tackles of any player with 29, ahead of three players with 20. Now, all those stats get a boost since Ramsey has played every minute possible for Arsenal this year, but his endurance is also amazing to see. Ramsey is both only 22 years old and already three and a half years removed from one of the most horrific leg injuries you'll ever see. That he's turned into Arsenal's iron man is a major factor in his emergence this season.
Arsenal's tactical setup has always called for one of the three midfielders to fill a rather thankless role between the deep-lying defensive midfielder and the attacking playmaker. It's a role that calls out for a jack-of-all-trades player who can excel either as the second defensive midfielder in a double pivot or as a supporting attacking midfielder filling the box with late runs. Or you could ignore all that, and be Ramsey, master of all.
Mourinho's Big Question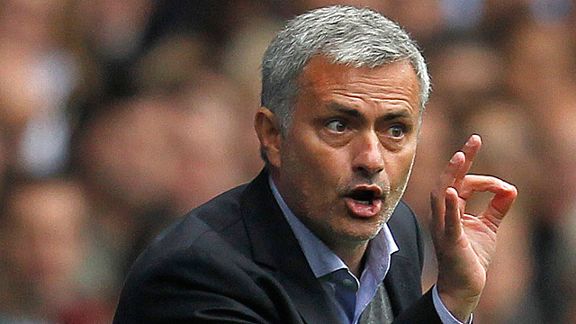 Goodman: For all the mystique surrounding Jose Mourinho, his basic coaching philosophy is not all that complicated. Against lesser teams he wants to facilitate a platform for his talent to ruthlessly pick apart an opponent and after obtaining a lead he wants to shut the game down. Against better teams, especially on the road, he wants to make his own half a fortress and then unleash quick but limited counterattacks. For all the tactical nuances, the overall approach really is as simple as that.
That was also the difference between the first half and the second half of Chelsea's trip to White Hart Lane (if we're being precise, the change actually happened almost immediately after Spurs scored). The halftime substitution of Juan Mata for John Obi Mikel was about as textbook an offense-for-defense substitution as a team can make, and it obviously worked since Chelsea were by far the better side in the second half until Fernando Torres got himself sent off.
They were, in fact, so much better that it raises the question of why they didn't play that way from the outset. It's not like Spurs backed off and let Chelsea grab hold of the game. Tottenham maintained their incredibly aggressive (bordering on suicidal) high defensive line and never deviated from their combative midfield press. All three of Tottenham's substitutions were like-for-like: winger for winger, attacking mid for attacking mid, and striker for striker. But despite that, Chelsea wrestled control of the game from them, and in many ways Spurs were lucky to hang on for a single point. When Chelsea decided to play, they simply played better.
We know from lots of past experience that Mourinho knows how to employ an attacking and a defending system simultaneously. But at Real Madrid there was never much question of which one he needed to deploy (does their shirt say Barcelona? No? Good, have at 'em). It's fair to say, though, that the jury is still out about Mourinho's ability to choose between the two styles. When his critics call him conservative, that's what they mean. It's not that Mourinho's teams won't or can't play an attacking style; it's that he only wants them to play that way when he's confident they can't be exploited for it. That was never an issue for him at Real Madrid. It's possible it will be at Chelsea.
It's fair to say that other than Manchester City nobody has close to the level of talent that Chelsea does. When Chelsea needed to score a goal against Spurs, Tottenham were more or less helpless to stop them. If that's the case, why didn't Mourinho set them up to attack from the beginning? Chelsea are better than almost any other team, and Mourinho needs to let them play that way.
Filed Under: Arsenal, Chelsea, Chris Ryan, Manchester City, Manchester United, Premier League