Pittsburgh and Its Ballpark: An Appreciation
Vincent Pugliese/ Getty Images
You should always walk to this ballpark. Even if you live in the suburbs, and you drive to the games at PNC Park in Pittsburgh, you should park downtown and walk to the ballpark. You should cross over one of the yellow iron bridges that span the Allegheny, one of the city's three famous rivers. Myself? I prefer the Rachel Carson Bridge, because it gives you a longer walk along the breezy riverbank on the first hot weekend of the year. And then you come up a little rise, and you get tossed into a festival of sound and joy — and, yes, beer, of several dozen different types and flavors — along Federal Street. On Friday night, I went to the ballpark without ever going to the ballgame, and that was a good thing, too. A band called Sound of Soul was rocking the street, closing out a set with "P-Funk (Wants to Get Funked Up)" — "Make my funk the P-Funk!," which is as it should be. People spun and danced as they came off the bridge, which is also as it should be. You should walk to this ballpark, always, because coming to this ballpark is altogether a way of being part of a greater community, of being fully in the world. That's how it feels to me, anyway.

Of all the new/old ballparks, PNC is the best. I always was a little wary of Camden Yards in Baltimore. Maybe it was because it was the first of the retro parks, and it was celebrated so wildly that it got turned into a cathedral almost overnight. But there is something merrily organic about the park in Pittsburgh, not least because it fits so generally into the old brick neighborhood around it. There's also something giddily irregular about its bends and angles, and it's designed so that the outfield bleachers are low, and the view is dominated by the long stretch of the Allegheny and the skyline rising off the other bank. It's a reminder of the fact that, long ago, people built cities because there were rivers there, and of why they did that, and of why the immigrants came to work there, of how hard they fought for their livelihoods and their dignity, and what they built along the rivers, and how they came to identify themselves as Americans so often by an allegiance to what went on in the ballparks.
Memory is not a straight line. It is a great, winding chain, and if you can't follow it in Pittsburgh — home to Andrew Carnegie and Homestead Steel Works, to Honus Wagner and Cool Papa Bell, to the Pirates and the Crawfords — through all its twists and turns, then you can't follow it anywhere. You embrace history as a blessing or you bear it as a burden. On Federal Street, on a bright Sunday afternoon on the first hot weekend of the year, they accept it as a blessing and, even better, as one they deserve.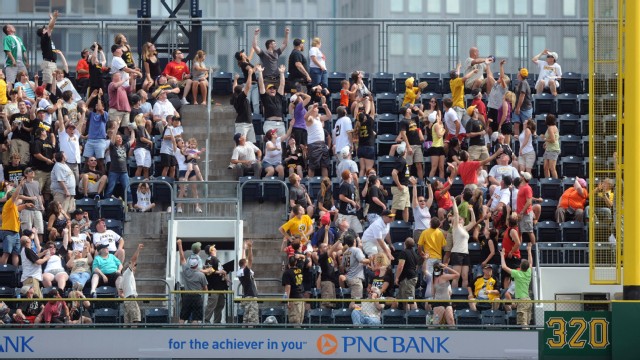 And, of course, the best thing about building a ballpark by a river is that, sooner or later, some dude hits a baseball into it. "It adds a little, I don't know, what's the word? Help me out here, man," said Garrett Jones, the Pirates first baseman who became only the second player in the history of the stadium to Go Allegheny on the fly. Jones sent a pitch from Cincinnati Red Jonathan Broxton sailing into the river, halfway between two boats and just a few degrees north of a pair of geese, in the eighth inning Sunday.
This tied up a very good baseball game, 4-4, completed a long Pittsburgh comeback from a baroque first inning in which Jeanmar Gomez couldn't get anyone out, and set up an eventual 5-4 win by the Pirates in the 11th. "It adds, I guess, a little more fun to it, hitting it into a river like that," Jones said. "It makes the highlight look cool on TV later, too."
The win pushed the Pirates to 13 games over .500 at 35-22, and the team remains one of the game's most pleasant surprises as we begin to turn into the midpoint of the season. There has been something unnatural in how long Pittsburgh has been so terrible. Thanks to a consistent (and considerable) recent history of upper management that would screw up a two-car funeral if you spotted it the hearse, the Pirates haven't finished a season above .500 since 1992, and discovered that the barrel might not even have a bottom to scrape in 2010, when they lost 105 games. This was shameful and embarrassing for a franchise that always had one of the most loyal — and likable — fan bases over its 127-year tenure in this history-freighted city. The Cardinals fans are a little too reverent. The Cubs fans have the opposite problem; they always have been a little too insouciant. The Red Sox fans waver wildly from insufferable victimhood to insufferable triumphalism, without ever losing their firm grip on that characteristic adjective, and there are simply too many different kinds of Yankees fan to make a judgment one way or the other.
But Pirates fans always seemed — from a distance, at least — happy and normal. Even their legends are not haunted ones. Tragic, certainly, in the case of Roberto Clemente, but Wagner was considered a gentleman in an age when baseball had very few of them, and Willie Stargell was as close to a happy warrior as you could expect from a man forced to wear a square baseball cap for a living. The fans — 29,407 of them Sunday — have deserved better than the flotsam they've had to watch in this lovely ballpark.
"It's everywhere you go," says Jones, a 31-year-old who kicked around the minors for a decade before coming up to Pittsburgh four years ago. "You feel it when you walk by those statues of those guys. You feel it on the street, when people come up to you, you see it on Twitter, there's an energy now that makes it fun to come to the ballpark."
It began badly for them Sunday. Gomez, who later would be said to have been having arm trouble, hit the first guy he faced, then gave up a triple, walked a guy, and gave up three straight singles and a sacrifice fly, thereby failing to pitch for the cycle, but nonetheless leaving the Pirates in a 4-0 hole. Their bullpen saved them, five Pirates pitchers allowing only five more Cincinnati hits the rest of the way. The Pirates chipped away — Pedro Alvarez's home run and an RBI single by Andrew McCutchen cut the lead in half and set up Jones to tie the game — until Travis Snider sent everyone home by singling in Russell Martin in the 11th inning. You could see the fans walking back over the great yellow iron bridges, and they were happy, and you could hear the low bellow of the horns on the river beyond. This is a park to which you walk, just to be fully part of the world it creates.
Filed Under: Baseball, Cincinnati Reds, MLB, Pittsburgh Pirates, We Went there