NBA Playoffs Shootaround: Uno Mas
Ron Hoskins/NBAE via Getty Images
So much amazing is happening, and the Shootaround crew is here to help you keep track of it all. You'll find takes on moments you might've missed from the previous night, along with ones you will remember forever.
Paul George Is the Pacers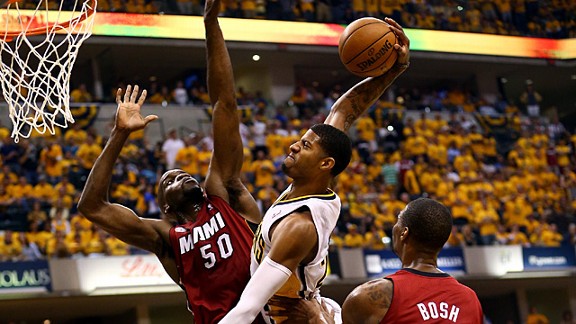 Andrew Sharp: If you think about it, how we've viewed Paul George is how we've viewed this Pacers team over the past two weeks. There was that initial "Holy shit!" burst at the beginning, then we all sobered up for a second and they felt like the cute-but-overmatched challengers again, and now … they are not overmatched. They are not cute. This is not a fluke.
Paul George is not cute.
The Pacers are young, great now, and only getting better. Just like George. I don't know whether Indiana can win Game 7 or whether George can give us another killer two-way game to close things out, but I'm not sure it matters. Both George and his team delivered over and over again and responded after setbacks, and any questions we had about Paul George or the Pacers have pretty much been answered. The hype is real, and regardless of how it ends, the past few weeks are proof that the next few years should be a lot of fun in Indiana. Whatever happens in Game 7 is just a bonus.

Harder, Better, Faster, Stronger
(All GIFs by @HeyBelinda)
Not Ready for Prime Time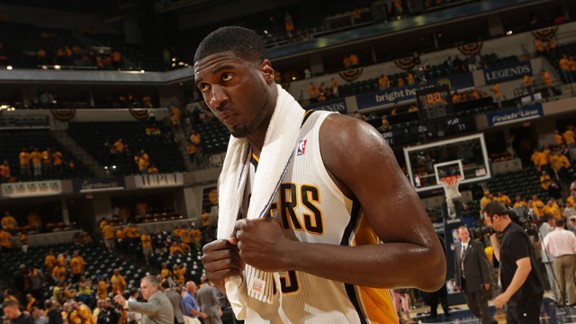 Hua Hsu: It's tedious when an athlete does something awful like punch a foe in the privates or break someone's leg, and then his defenders rush to point out that he or she just "isn't that type of player." Few of us are truly evil, yet we are all, under the influence of competition, capable of doing evil things. But is it possible to commit evil by accident?
I don't know anything about who Roy Hibbert is as a human being, beyond whatever I've gleaned from his straight-man (see what I did there?) cameos on Parks and Recreation and the pivotal role Pokémon has played during the most pressure-filled moments of his basketball career. Put another way: Hibbert never seemed a strong candidate to flex his LGBT-world ignorance in so public a fashion, particularly at a time when so much has happened in professional sports that we might broadly construe as progress. Then again, maybe Hibbert is exactly that type of dude: by all accounts a soft-spoken, well-mannered kid who got caught using seasons-ago slang at least five years too late. It was an ugly sentiment to put out there, but it was pretty tacky execution as well, the way he knowingly smiled as he said it. At least Gus Johnson was subtle when he breached Spike.
Which is merely to point out that while there's no excuse for what Hibbert said, there is a context. A few years back, Jay Smooth did a great job of explaining the enduring appeal of the phrase among rappers and assorted connoisseurs of wordplay and long O sounds. There's no denying that the sentiment animating "no homo" is a kind of fear, no matter how ironic or inside out or mock-exaggerated, that the words coming out of your mouth might sound gay. But that sense of mean-spiritedness is not the animating reason it survives as a figure of speech, at least according to its committed practitioners. (There are far less circuitously thinky ways of expressing homophobia.) It's like some perverse, postmodern version of "that's what she said," the verbal tic equivalent of meaning-scrambling italics. Someone throwing a parenthetical "See what I did there?" to make sure you caught a banal joke.
None of this makes it OK, and I'm sure to some of you this attempt to take context into consideration feels like the first step down the slippery slope toward some morally vacant, relativistic world where anything goes. Hibbert did something deeply idiotic and he deserves to never appear on an NBC sitcom again. We certainly do need to be vigilant against the most casual, seemingly playful forms of intolerance out there. But I keep wondering what else Hibbert was communicating from the podium. Did he just now discover golden-era Dipset? Coupled with his "motherfuckers" reference to the assembled reporters, is this Hibbert toughening up, putting some bass in his voice, getting his KG on? Where did the pressure to become that type of player come from? People — famous and otherwise — have more venues for spouting dumb, ignorant ideas than ever before in human history. It doesn't mean we are better or worse off as a civilization, just that we should understand what we are judging them for.
Zo Struggle Face Is Real
The One Thing You Know Is That You Can Never Really Know, You Know?
Robert Mays: As hard as it was watching LeBron James swallow up Derrick Rose — and with him, the Bulls' playoff chances — two years ago, the pain was softened by the consolation of knowing that for Chicago, this was just the start. Rose was a 22-year-old MVP and the Tom Thibodeau era was in its first year. This was going to be glorious. The next year, the Bulls would come back and give Miami a better run the second time around. We all know how that worked out.
After James lit the world on fire in Miami's Game 5 win, it seemed like the apologetic "Wait till next year" rumblings began for the Pacers. Paul George is only 23! A whole season of this Roy Hibbert! Danny Granger is back! By this time next year, the Heat will be one year older, and the Pacers will be one year better.
There is a good chance this ends up being true. Dwyane Wade does look old, and the Pacers have done an excellent job of building a young roster that should find a run of sustained success. And none of that should matter on Monday night.
Paths to NBA titles are not linear. Ask the Bulls. Ask the Thunder. Ask James. There's a chance that without Kevin McHale and Danny Ainge, LeBron would've had two more trips to the Finals during his time in Cleveland, but that's the thing about the NBA — the entire landscape of a conference can change in a day. The factors that lead to championships are numerous and varied enough that another year of experience is never all any team needs, and the windows to win a title open and close based on a dozen intertwined but random events.
The Pacers very well might start next season as the best team in the NBA, but they're one George knee or Hibbert ankle or crazy Pat Riley trade from that changing quickly. A continued place among the contenders is never guaranteed, and although the Pacers might be the favorites to win a title next year, they're good enough to win one this year. There's no sense in waiting, because who knows if they'll ever have a chance this good again.
Dwyane Wade Goes to the Doctor
Sharp: 1. Dwyane Wade enters the Miami locker room on Sunday afternoon.
2. The room is dark.
3. Pat Riley emerges fully nude, hair slicked back, holding a torch.
4. He invites Wade to take a seat in the center of the locker room.
5. From the back of the locker room, a cabal of Heat ambassadors emerges.
6. Alonzo Mourning, Rony Seikaly, Udonis Haslem, Rick Ross, and Filomena Tobias join hands with Riley in a circle around Wade.
7. They begin chanting in Aramaic, while Tobias breathes fire to light the room.
8. Six German doctors descend on Wade, poking and prodding, draining and injecting.
9. After 20 minutes, Riley motions toward the doctors with his torch. The doctors vanish into a pile of white dust.
10. Birdman the rapper enters from the showers, flocked by doves.
11. Birdman the basketball player enters from the opposite, flocked by vultures.
12. The vultures eat the doves. Haslem eats the vultures.
13. The Birdmen descend on Wade and begin rubbing their hands together.
14. The circle chants louder. Birdman the rapper dunks Wade's head into a cooler full of Moët.
15. Birdman the basketball player rubs his Mohawk on Wade's knee, horizontally, then vertically.
16. Wade removes his head from the cooler of Moët. He sees a crucifix seared into his injured knee.
17. The chants stop. Riley and The Circle of Heat disappear to the showers.
18. Ten minutes later, Riley returns alone.
19. They just sacrificed Seikaly. The ritual is almost complete.
20. Riley speaks. "This is for you, Dwyane." He hands Wade a human heart.
21. Wade eats Seikaly's heart.
22. Riley watches him, soaked in blood, still nude, and smiling like a proud parent.
23. "Your knee is fine now," he says. "Go be great."
24. Riley bursts into a plume of black smoke like Voldemort.
25. Wade stands, inhales the smoke, and walks out feeling refreshed.
It happened. You know it happened. BUT DID IT WORK?
The Other, Other Guys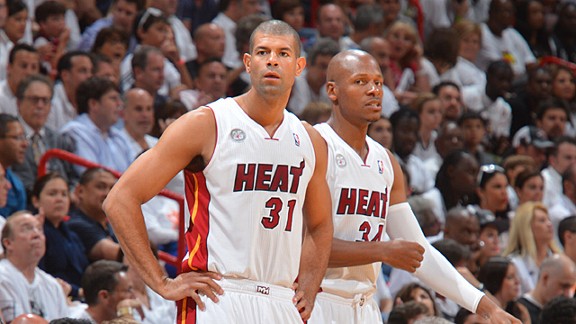 Brett Koremenos: Dwyane Wade and Chris Bosh are facing heavy criticism heading into Game 7 for their failure to live up to their status as the star duo flanking LeBron James. This is true, but it obscures the fact that the perceived struggles of Bosh and Wade look far worse because of the poor outside shooting from two vital members of the supporting cast, Ray Allen and Shane Battier. The two reserve wings both shot well better than 40 percent from 3-point territory during the regular season (Allen checked in at 41.9 percent, Battier at 43 percent) but have been unable to find their respective strokes against Indiana. Allen has converted only seven of 24 attempts from beyond the arc, while Battier's 2-of-15 mark through five games effectively banished him from Erik Spoelstra's rotation in Game 6.
During the regular season, lineups that paired Allen and the Heat's star trio were downright dominant, primarily on offense, because opposing help defenders faced the dilemma of either stopping James, Wade, and Bosh or leaving one of the best shooters in NBA history unattended. With the future Hall of Famer Allen shooting more like Tony Allen during these playoffs, Indiana has rarely been punished for helping off to stop James. Battier's prolonged cold streak has been even more problematic as the Pacers defenders assigned to him have blatantly ignored him to make life more difficult for Miami's star contributors.
Had both players shot as accurately as they did in the regular season — which would be roughly seven more makes between the two — the Heat would have 21 additional points in this series. In their three wins this series, Indiana has outscored Miami by only 25, so there's a good chance that improved shooting by the team's two integral backups would have already secured the Heat a Finals berth. Maybe it's Miller Time for Spoelstra.
Watch What Happens
Kirk Goldsberry: You can't slow down one of the best offenses in the NBA without disarming a lot of weapons. Throughout this series the Pacers have done a wonderful job taking away many of Miami's go-to scoring techniques. During the regular season, no player shot more right-corner 3s than Shane Battier; Indiana killed that. Also, few players were as potent from midrange as Chris Bosh, whose exquisite 18-foot jump shots not only generated lots of points, but also created key attacking corridors for his teammates; Indiana killed that too. The Pacers have so limited Dwyane Wade that it has caused countless media outlets to question LeBron James's entire career path.
The bottom line is that Indiana's defense has made Miami's offense look really bad, something nobody else could do all season. Although the dominant narratives have more to do with Wade's decline, and LeBron going it alone, more needs to be said about the incredible defensive showcase we are watching. Win or lose tonight, Indiana has demonstrated there is still a place for dominant defense in the NBA, and this series serves as Exhibit A.
For Miami to win tonight, it must increase its shooting efficiency inside the 3-point line. In Game 6, the Heat made 16 of their 54 2-point shot attempts, which is awful, but also indicates that Indiana is disrupting just about everything Miami is trying. Miami has to do a better job of getting and converting shots close to the basket. I expect to see the Heat's attack dogs out in full force, with James and Wade either getting layups and dunks, or trying to draw fouls all night. One thing to look for is LeBron using that left block more and showing off some of his Olajuwon moves, something he hasn't done enough of this series.
Regardless of tonight's outcome, Frank Vogel, Brian Shaw, and the rest of the Pacers brain trust have proven they are on to something. They have designed something sturdy and sustainable. They have built a very good team with little fanfare and even less dry ice. The legacy of this series remains up in the air, but nobody will walk away unimpressed by that organization in Indianapolis. I remember just a few weeks ago when many of us were saying that the Eastern Conference playoffs were just a formality; Indiana killed that too.
Meanwhile, Somewhere in San Antonio, a Bored Man Gives an Interview
Chris Ryan: This is truly prime Pop right here.
This is Not a Huge Jinx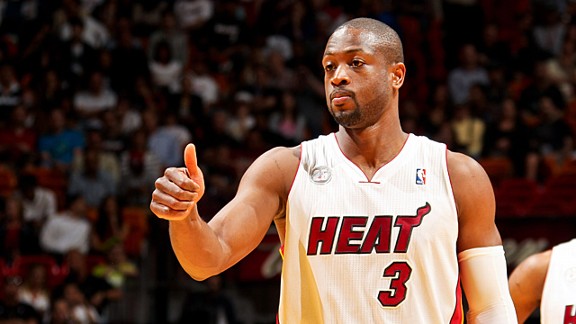 Shane Ryan: Hey, so who does everybody think is going to win the "Clash of the Titans" between the Heat and Spurs in the NBA finals? I've been thinking about it for days, and let me tell you, it is not an easy pick. On one side you've got "Father Time" himself, Tim Duncan, the ageless hero with four titles to his name. But on the other side? LeBron "The Dominator" James. The best player in the game, bar none. He'll be playing in his third straight NBA finals, and if last year proved anything, it's that he can really step up under pressure when the spotlight shines brightest. Add Dwyane Wade and Chris Bosh to the mix, and you've got a seemingly unbeatable core. A "Great Three," if you will. But that's not all; Erik Spoelstra is a master of strategy and a great "people person" with a deft "common touch." Shane Battier, the ultimate glue guy, rounds out the "murderer's row" of talent and brains. Apologies to the Spurs, but I just don't see anyone beating these guys, even a steady hand like "Old" Tim Duncan. His time has come and gone, and we are now living in the LeBron era. It's impossible to predict how many titles "The King of the Court" will end up winning, but I can say with absolute certainty that in about two weeks, he'll be prancing around "South Beach" wearing two very big rings. Heat in five, and that's another "Ryan Guarantee."
The Multiple-Choice LeBron James Game 7 Recap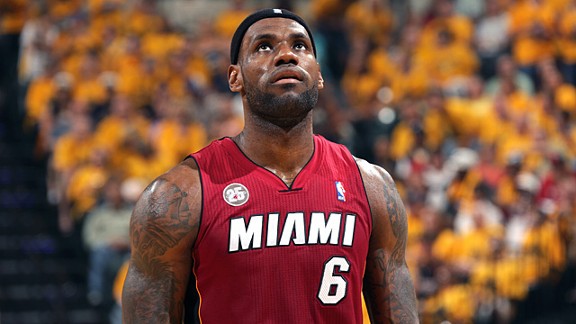 Steve McPherson: After tonight's (gritty win/crushing loss), fans can rest secure in the knowledge that, at last, they've seen the real LeBron James: a player of (near limitless/specific, limited) abilities. As the game unfolded and it was clear that Chris Bosh and Dwyane Wade were (largely ineffective/being rudely pushed aside), we saw the return of someone we had (missed/hoped to never see again): Cleveland LeBron James.
He was once again (the best player on his team/acting like he was the only player on his team) when it counted the most, putting the team (on his shoulders/on the sideline) just as he had in the Heat's previous (win/loss). After that game, when he said, "I kind of just went back to my Cleveland days," he was clearly (calling out Wade and Bosh/misremembering how successful he was on his own). But whatever his motivations, his speech meant little; Wade and Bosh were non-factors once again and (James had to step up/it was James's fault).
When the Pacers pulled ahead of the Heat at a crucial moment, James decided (to improvise/to abandon the plan that got them here). With the rest of the team (flagging/begging to help), it couldn't have come at a (better/worse) time. On the NBA's biggest stage, that decision was (difficult but correct/wrongheaded and disastrous).
More than getting the win, James was intent on teaching a lesson to his teammates: We're all in this (together/to watch LeBron James). Even on nights when they're (not at their best/frozen out of the offense), they shouldn't stop believing in their (leader/"savior"). It's that (winning/losing) attitude that's made him the poster boy for everything that's (right/wrong) with the NBA today.
In tonight's (amazing/disappointing) fourth quarter, LeBron was intent on providing the answer to the question we've always asked about him: Can he do it all on his own? The answer was, of course, a resounding (yes/no).
Filed Under: Andrew Sharp, Brett Koremenos, Chris Ryan, Indiana Pacers, Kevin Garnett, Kirk Goldsberry, LeBron James, Miami Heat, NBA, NBA Playoffs, Paul George, Robert Mays, Roy Hibbert