On the Road (Again) With the U.S. Men's National Team
AP Photo/Geert Vanden Wijngaert
You might know Rob Stone as one of the reporters and play-by-play announcers for ESPN's soccer coverage, or from his appearances on The B.S. Report. Now get to know Rob as a gourmand, world traveler, and raconteur. On the road, overseas, with the U.S. Men's National Team, as it prepared for an international friendly match with Belgium, Rob filed this travelogue from Brussels.
The bonus of being me is that I NEVER look like an American tourist.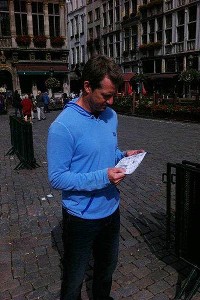 Right. Game day in Brussels began with a panicked shopping trip downtown. During the holidays or at birthdays, nobody is better at making rash purchases then me. But here, I struggled. Chocolate was too easy. Waffles were too messy, and would the TSA let me through with them?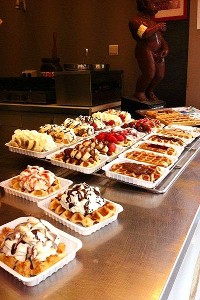 The rest of the day was spent trying not to buy anything that referenced Belgium's "Statue of Liberty," the adorable and odd Mannequin Pis. I somehow resisted buying one of these for each of my rooms.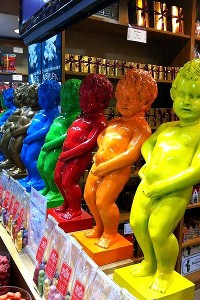 And the actual landmark could hardly be more disappointing.
A. It's buried in some corner, near this rip-off statue.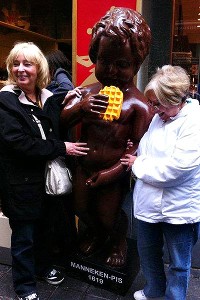 (Hey, lady, my eyes are up here.)
B. Folks flock to it because a travel guide told them to do so, but they don't know the background story.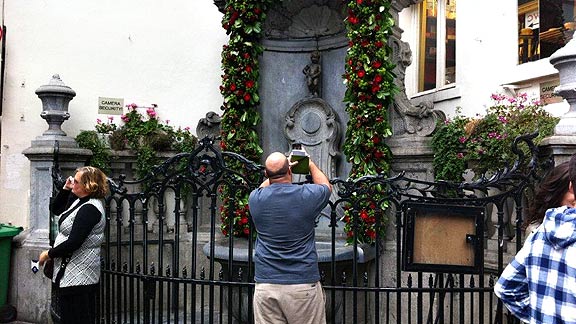 C. And it is constantly being upstaged.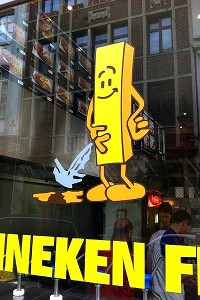 (Maybe my favorite picture of the trip … subliminal Calvin & Hobbes reference.)
After a hearty, well-balanced meal …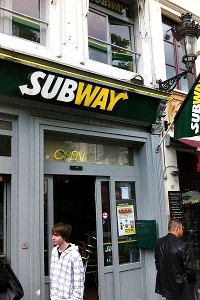 … I went back to the chocolate shop and planned my apologies.
---
I arrived at the archaic King Baudouin Stadium wayyyy too early. But as a perk, I got to stand in the rain sooner than planned.
The bowels of most stadiums feature pictures of famous artists or athletes who performed there. Here is one such example.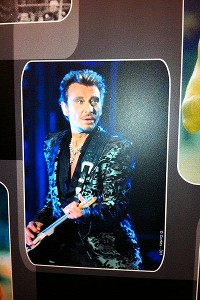 I will give the kidneys of my youngest to anyone who can tell me who this guy is. (Hint: He's French and apparently popular here.) This was an event I am honestly sorry I missed.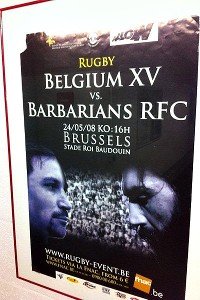 (Would the American government even allow a team to be called the Barbarians? Because if the answer is yes, I am trademarking it now.)
The signs were sometimes confusing: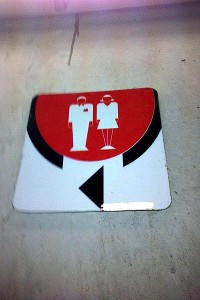 (I guessed that it indicated a men's and women's bathroom about six minutes after I assumed it was warning potential mates to reconsider marriage.)
The press-room refrigerator looked like a college kid's room during spring break party weekend.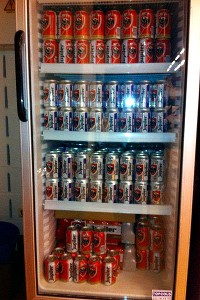 (Yes, that is top-to-bottom beer … good luck finding that in an American stadium.)
Finally it was game time.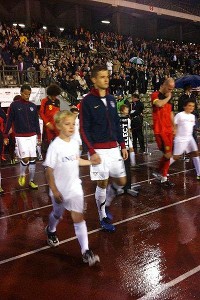 (All our life, we tell kids not to talk to strangers, then we send them walking hand-in-hand with some adult they've never met.)
So here's the takeaway from the U.S. team's 1-0 loss in Belgium: Through three games under Jurgen Klinsmann, no player has taken the opportunity and capitalized more than Brek Shea, who plays for FC Dallas. Not even close. Enjoy him here before he is in Europe. Jose Torres has improved his stock considerably and is one of Klinsmann's favorites. Clint Dempsey is great on the ball … when on the ball (Give him the ball more, please). Juan Agudelo needs to start. And fans of U.S. Soccer, who are still waiting for the first win of the Klinsmann era, are just going to have to try their best to be patient.
Related: Part 1
Follow Rob Stone on Twitter at @robstoneESPN.

---
Follow Grantland on Twitter or check out Grantland's Facebook page.
Read more of The Triangle, Grantland's sports blog.
Contact us at triangle@grantland.com
Filed Under: Jurgen Klinsmann, Soccer, USMNT